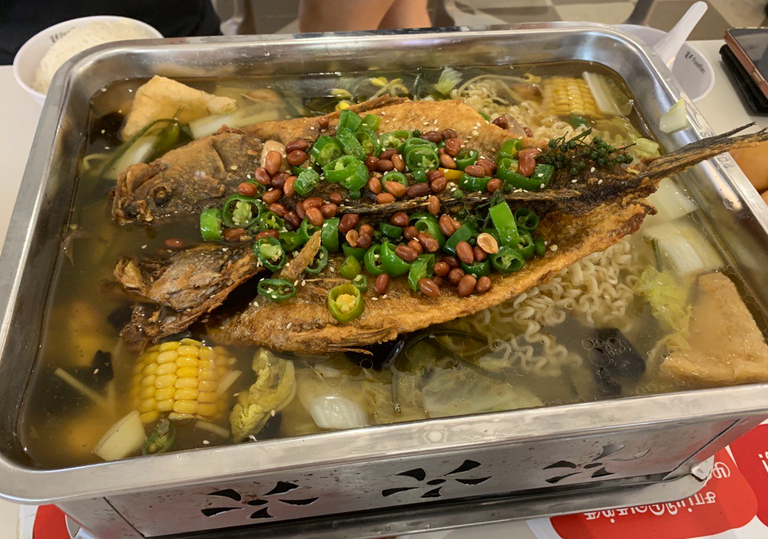 Hey Hive!
First of all, a very Happy New Year to everyone! I took a break over Christmas and New Year to work on some last minute stuff before the new year and also to just take a break from posting for a while. But now we're back with another foodie post! And with there being close to zero covid restrictions now, we are completely free to try out different food places again!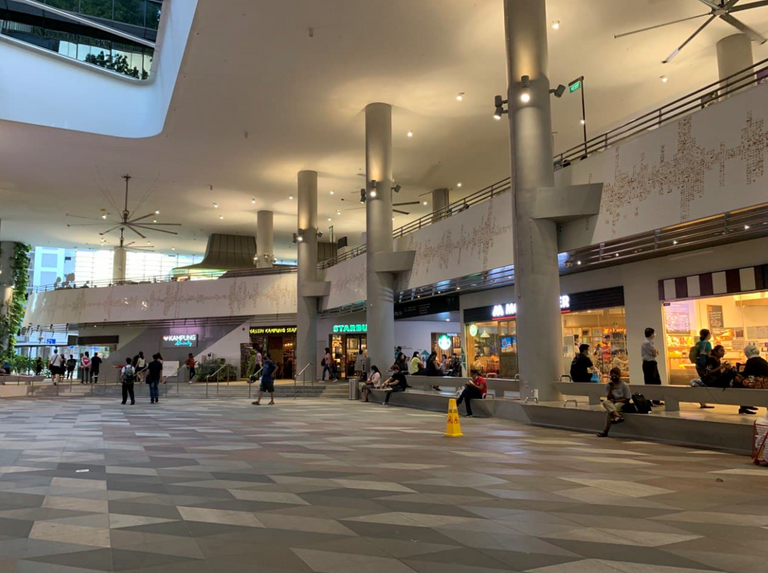 We had plans to meet some friends and they proposed we eat at our neighbourhood hawker center since they wanted to try some food here! So it's back to our local favourite - Kampung Admiralty hawker center!
If you've never patronised a hawker center before, they are typically non-air conditioned buildings that house all kinds of food stalls specialising in one or two signature dishes. They're ubiquitous here in Singapore and Malaysia and are known for delicious and affordable food - the perfect combination!
And because this was part of our community, they often have seasonal decorations up like recently there was some Holly Jolly Christmas ones!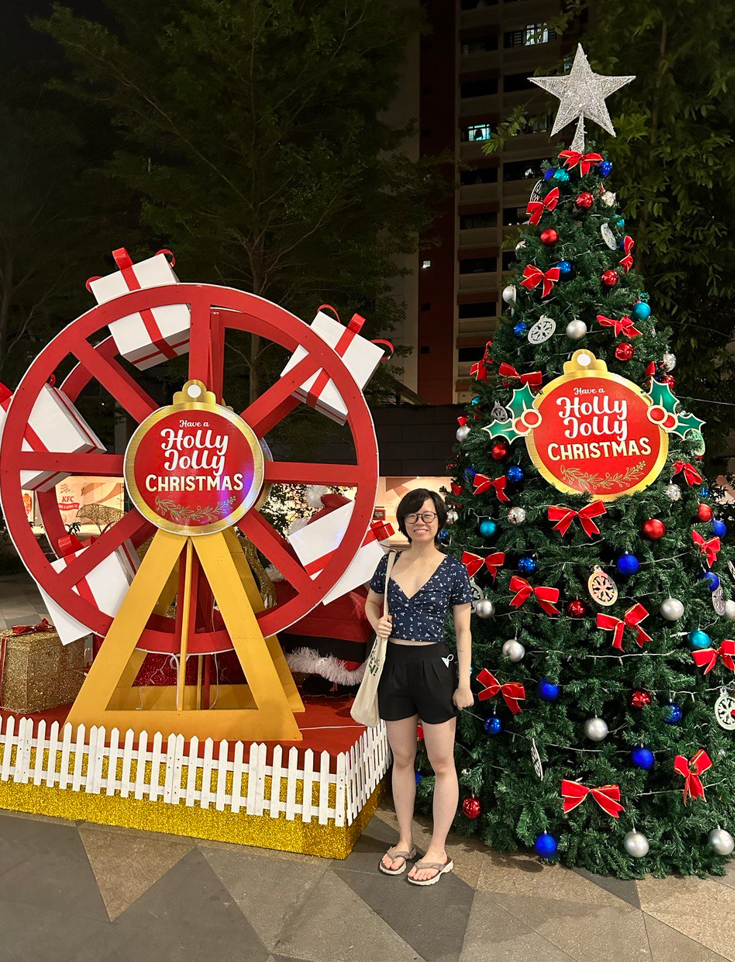 The hawker center upstairs has a ton of different stalls specialising in a myriad of dishes and cuisines!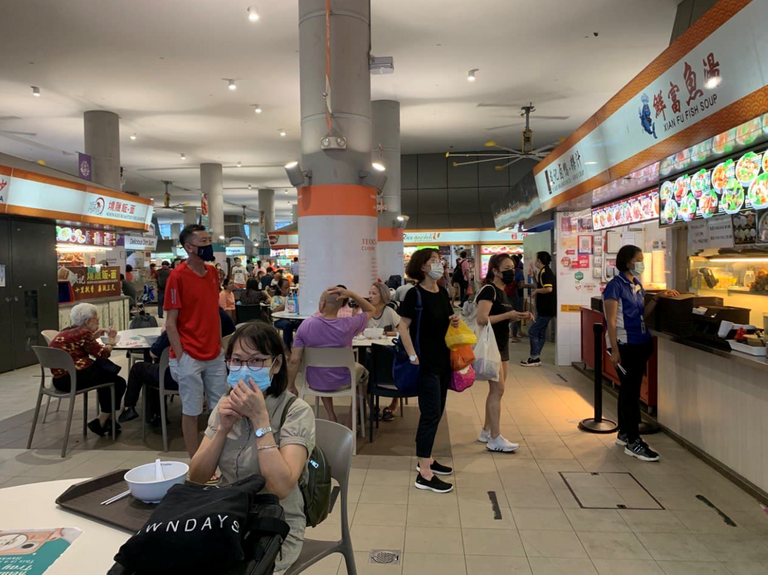 Anyway, we always wanted to try this shop that specialises in grilled fish soaked in gravy since we see people eating it all the time, but since the fish is quite big we thought it'd be better to share among more people rather than just the two of us.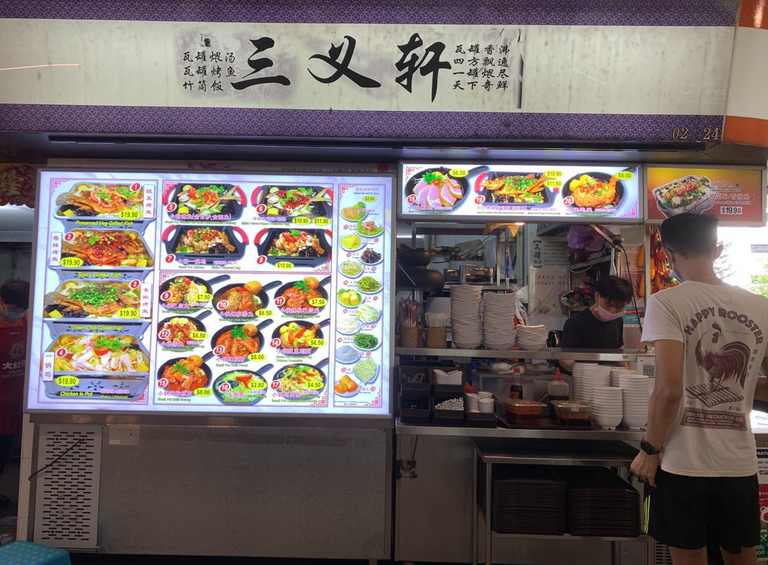 Their menu features quite a few different dishes and other types of meat like chicken, prawns, and different types of fish. But their main dish is of course the grilled fish and there are different flavours as well such as Green Chili, Spicy and Preserved Vegetables.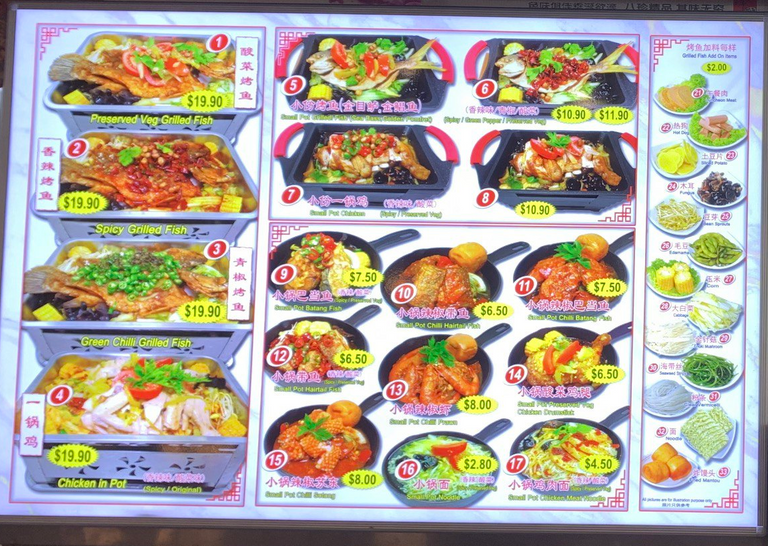 So we decided to order the Green Chili Grilled Fish, and we were reassured that it wasn't too spicy since we were afraid the Spicy Grilled Fish would be too much. Since it was our first time trying this stall and dish, we didn't really know what to expect. And we didn't know this at the time, but the fish already came with different vegetables but you could also order add-ons like other types of vegetables and meat.
We went there during off-peak lunch hour time on a weekend so the hawker center was kinda crowded with people just chilling. But thankfully most people had already eaten so our order was ready about 10 minutes later!
And this was what we got, along with two bowls of rice which we ordered.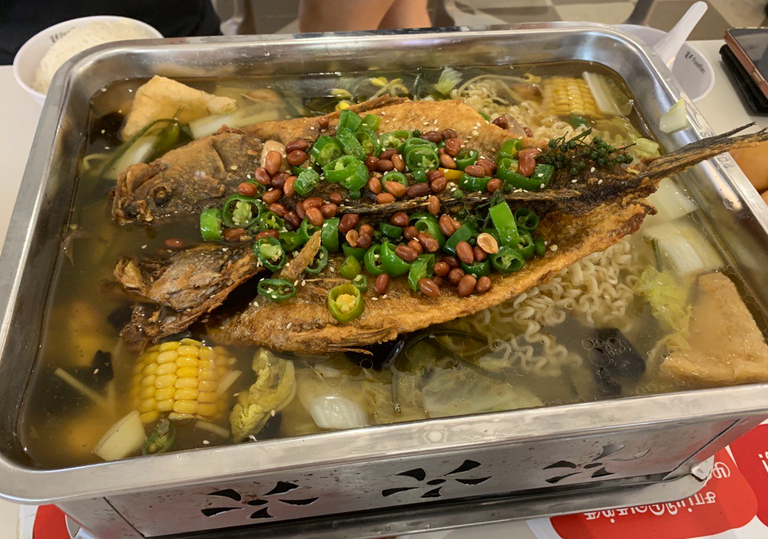 It looked and smelled really good! The skin of the fish was nice and crispy although the bottom half of it was soaked in the broth. We were actually surprised with how much stuff there was in there along with the fish like corn, cabbages, mushrooms and tofu!
We also added in some noodles as an add-on, and these fried mantou (aka steamed buns)! They're Sean's favourites and tasted pretty good! Crispy on the outside, soft and fluffy on the inside and slightly savoury and sweet.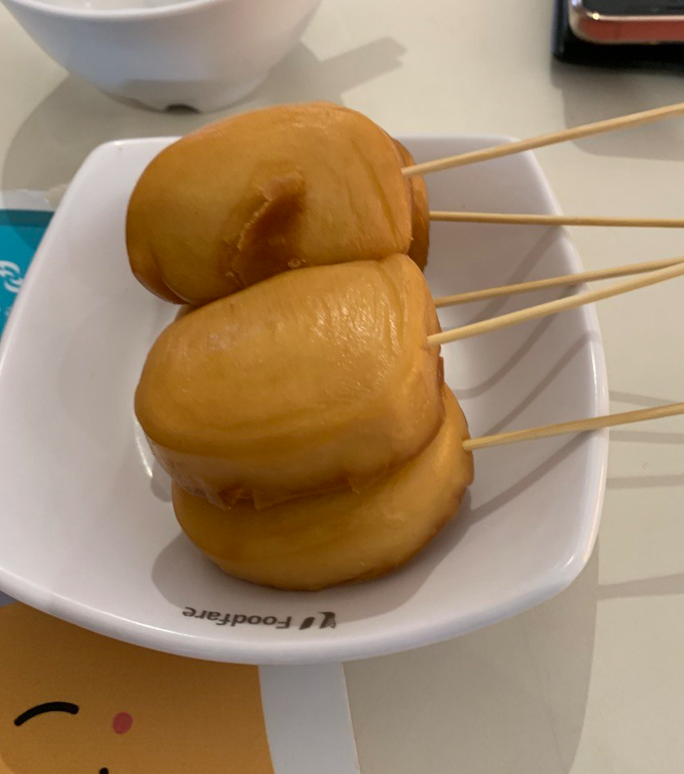 The fish itself was really tasty! The broth might have been slightly oily but it was chock full of flavour! The green chili indeed wasn't too spicy but did add just the right amount of kick to the broth. The crispy fish skin was delicious, but the part soaked in broth was yummy too.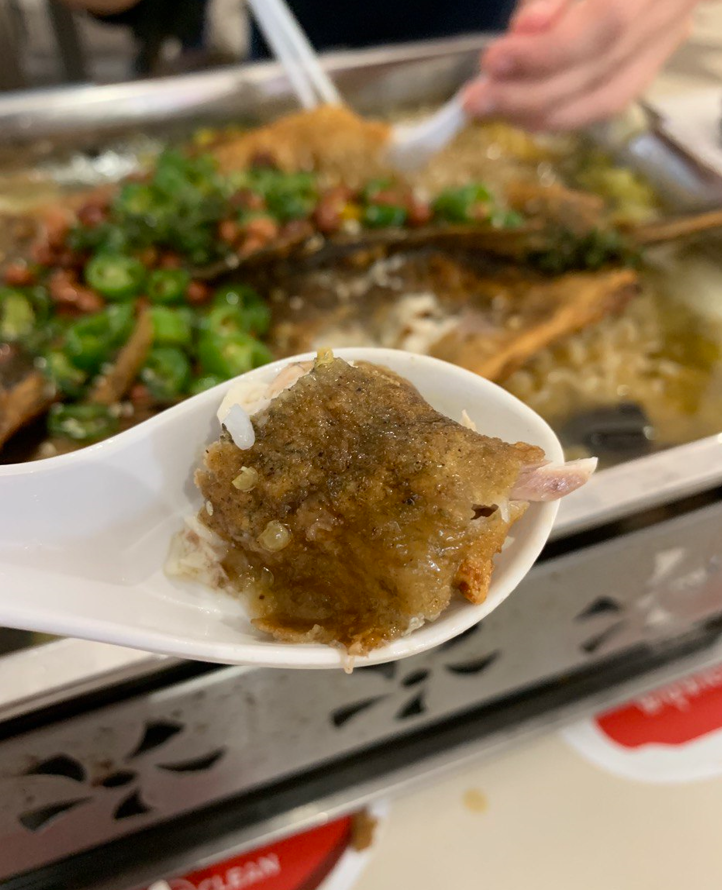 The vegetables in the broth also soaked up all the flavour so the broth was kinda overpowering everything but since they don't have much flavour on their own and the broth was the best part of the dish it was still good. Overall, I'd say it was really yummy indeed!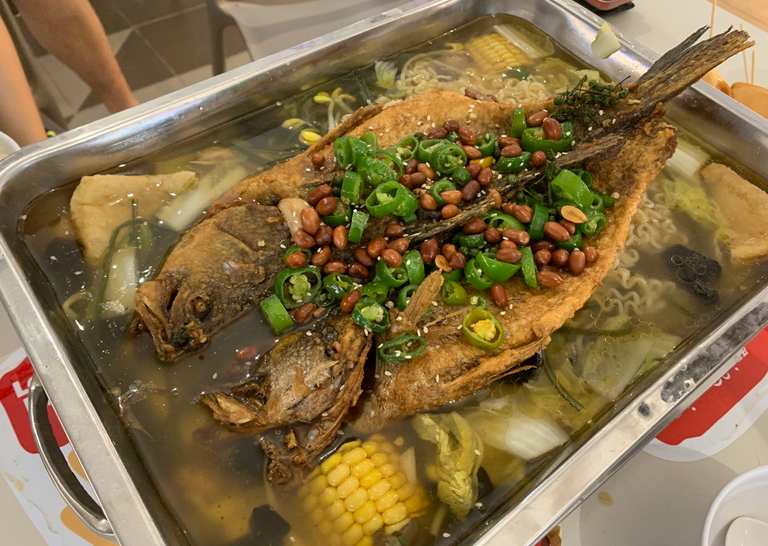 However I think it might not have been enough for 4 people although the girls were full. The guys on the other hand were not fully satisfied from this meal so maybe it would've been better for people with smaller appetites to share just 1 fish. Either that or we should've ordered more rice. We did clean the whole tray though except for the bones and some broth left because of the oil.
So we went to get some extra snacks from another stall called The Original Vadai! Apparently this is a pretty famous chain of Vadai shops across Singapore and it's been here for the longest time but we've never tried them! Vadai are savoury fried snacks native to South India, and I would describe them as savoury donuts with vegetables or prawns.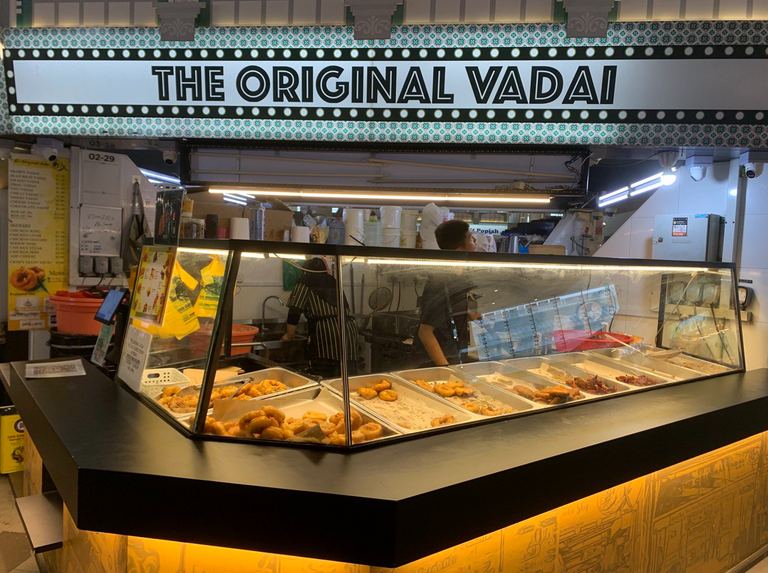 This is their menu featuring different flavours of vadai and skewers! I think the most typical flavour of vadai is definitely the prawn one. I've only had vadai in Malaysia though and while I do like it a lot, they tend to be quite oily and unhealthy so I don't make a habit of eating them often.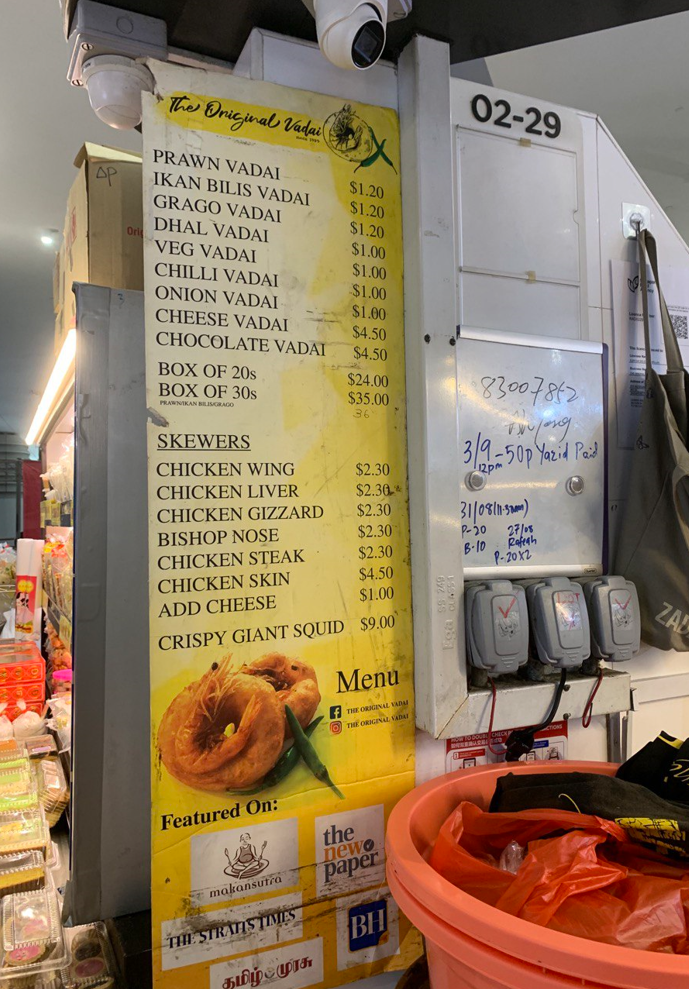 Their shop has a whole display case showing all the different fried snacks! They looked really good and we could smell the savoury aroma standing near the stall.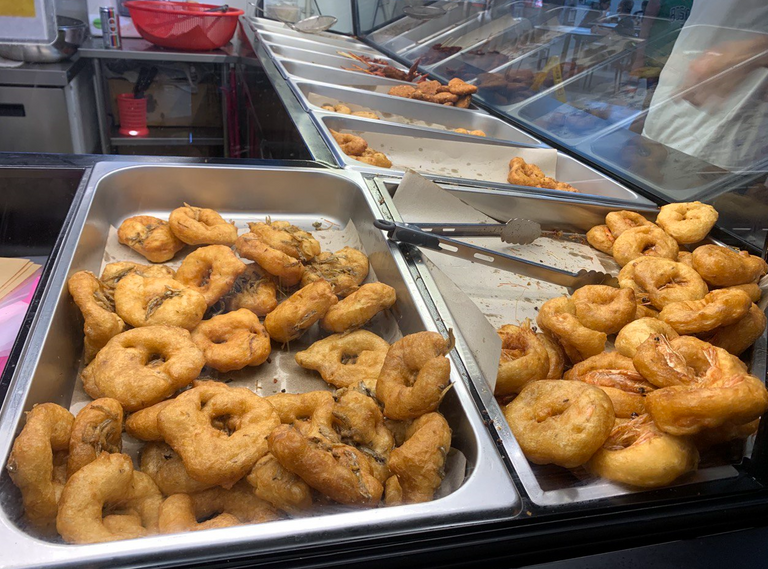 The bag they came in was really cool too and showed the founders of this chain!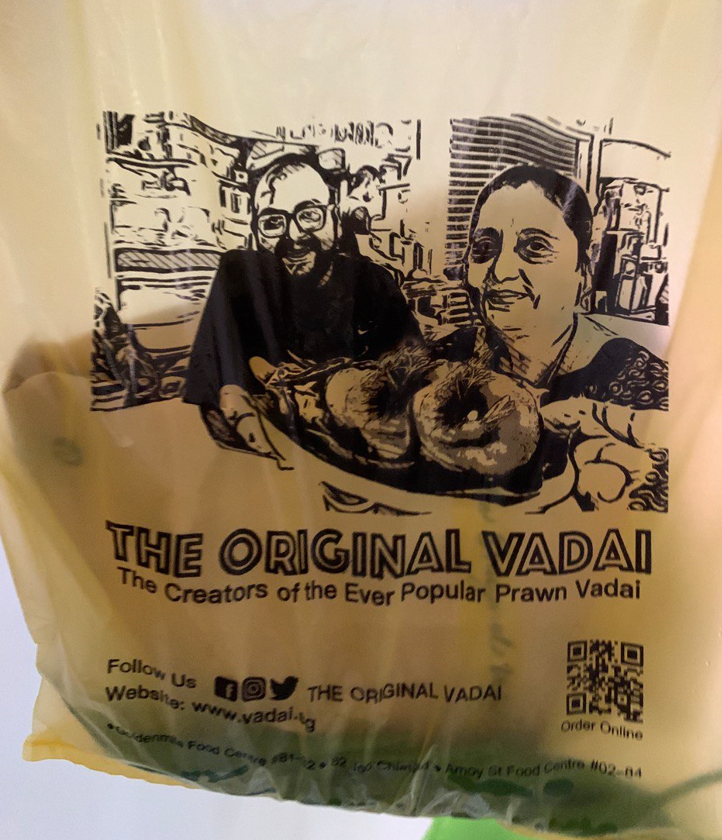 We bought a few different ones to try, mainly the Prawn Vadai and the Ikan Bilis (aka anchovy) Vadai. This was Sean's first time trying vadai and he loved it! It was savoury with some mild spice but also very airy and fluffy! While he doesn't really like prawns he definitely liked the donut part.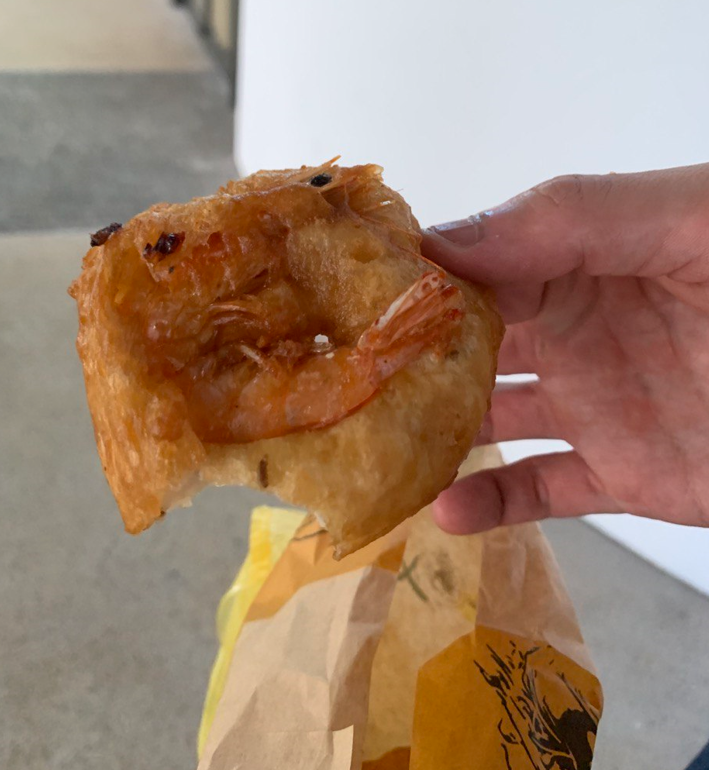 My favourite was the prawn one and since its fried whole you could eat the whole prawn, shell and all. I read prawn shells are quite nutritious, and rich in lean protein, healthy fats and minerals so this was a good and delicious way to consume them!
I'd definitely recommend trying the Grilled Fish and The Original Vadai! If you can find these in your area, give it a try if you can!
Thanks so much for reading!

To find out more about me, check out my intro post here!
---
[//]:# (!pinmapple 1.43976 lat 103.80068 long d3scr)
Check out my previous post in this series!
TacoCat's TrEats #151: Getting Saucy with Roasted Meat Delights! 😋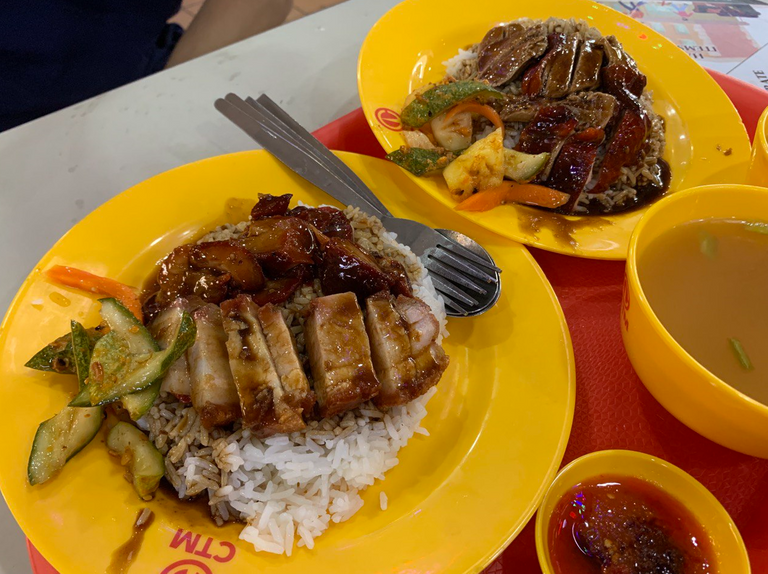 ---
Posted via foodiesunite.net