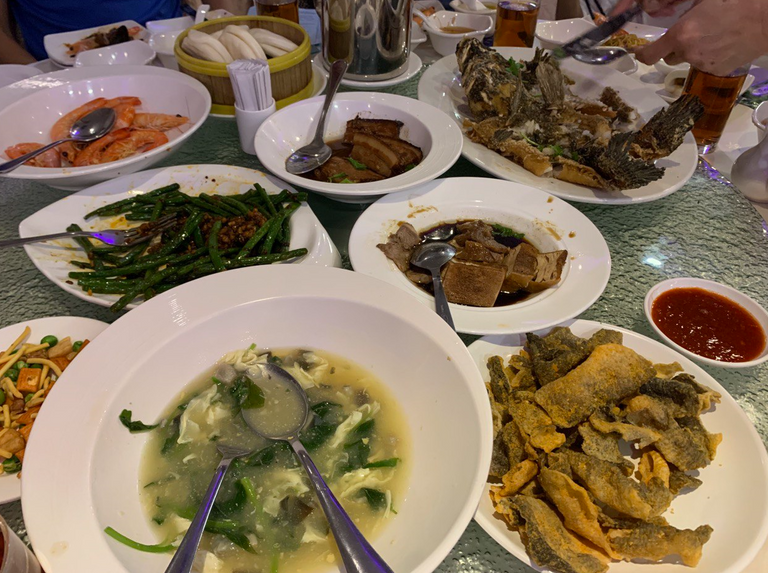 Hey Hive!
We're back with another foodie post! Now that there are close to zero covid restrictions in Singapore, we are completely free to try out different food places again!
Sean's relatives invited us to celebrate his grandmother's birthday with a family dinner at this buffet restaurant called Ban Heng; a veteran of the culinary industry boasting over fifty years of experience in traditional Teochew and Cantonese cuisine. They are known for being a host for weddings, banquets and important dinners such as for the President and several big organisations.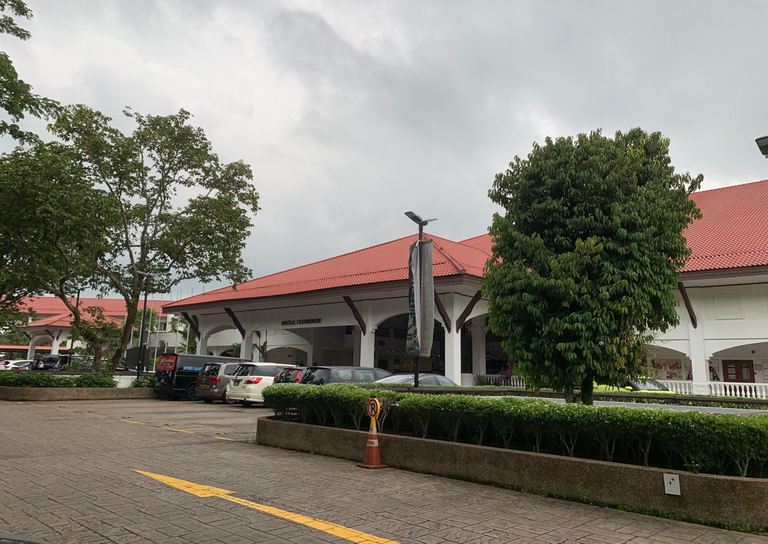 They have two outlets in Singapore, and the one we went to was the main one at Orchid Country Club. It's a little out of the way but the restaurant itself was quite big since they had more space here.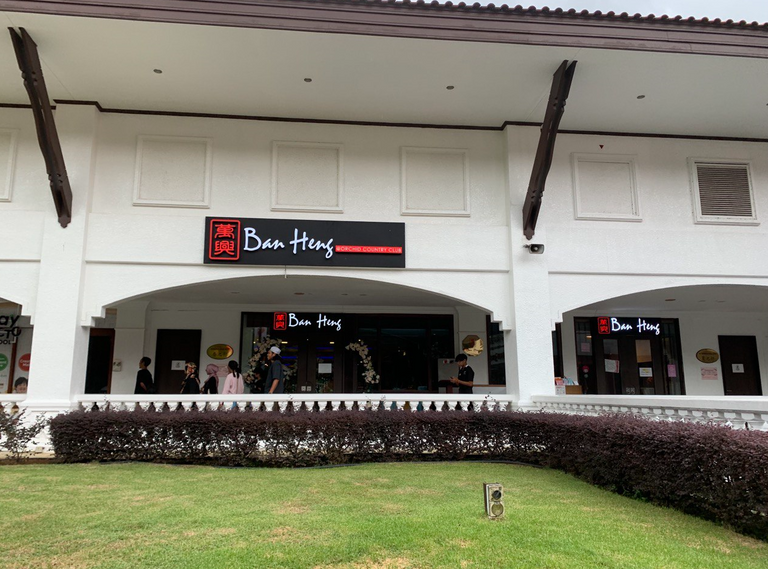 They had a pretty sizable dining hall; you could tell it was made for wedding dinners with the stage at the front and the dressed up chairs and tables.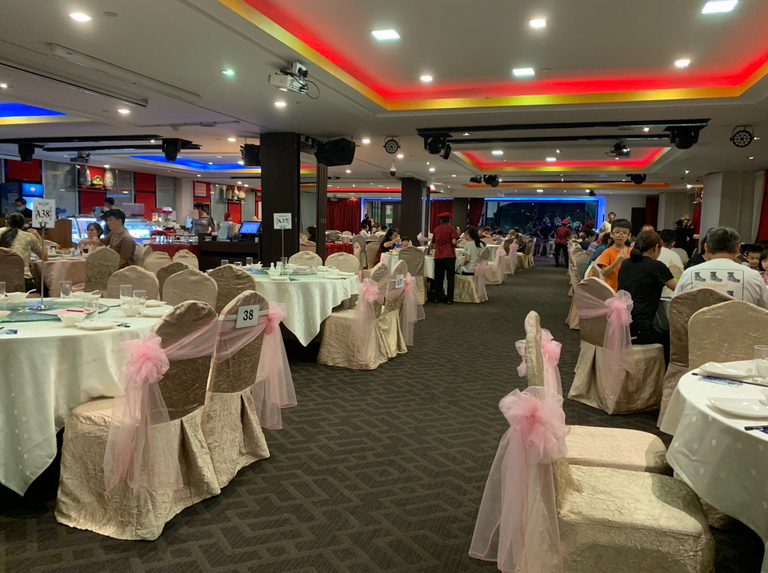 They even had a table full of wedding brochures, different menu sets and awards to encourage people to host their wedding dinners here.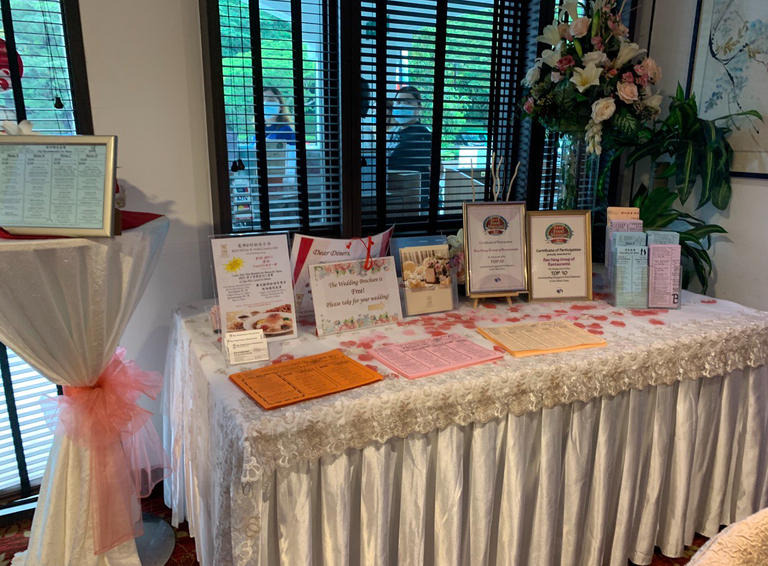 It was a nice venue although maybe a little more old-school and traditional. While not as fancy as a swanky hotel banquet in the city I think a modest wedding here would be quite nice too.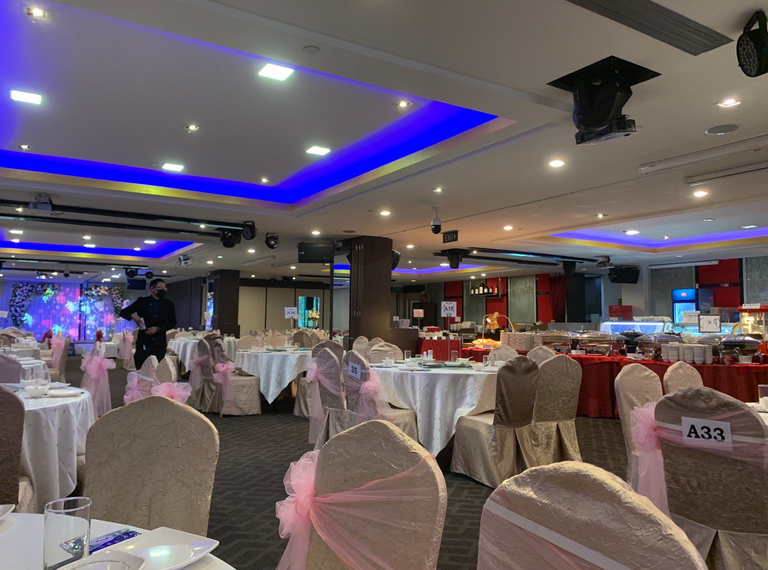 I read that this dining hall can accommodate up to 490 guests at 49 tables, so even though it may not be as fancy as a 5-star hotel, this restaurant is more than capable of hosting a big wedding.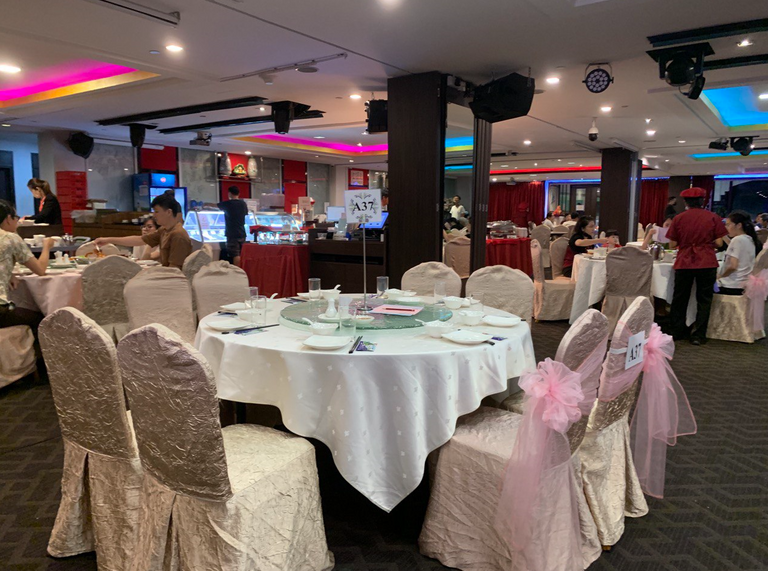 For our dinner though, it was a full buffet where they had cooked dishes out in the middle of the dining hall for everyone to take food from.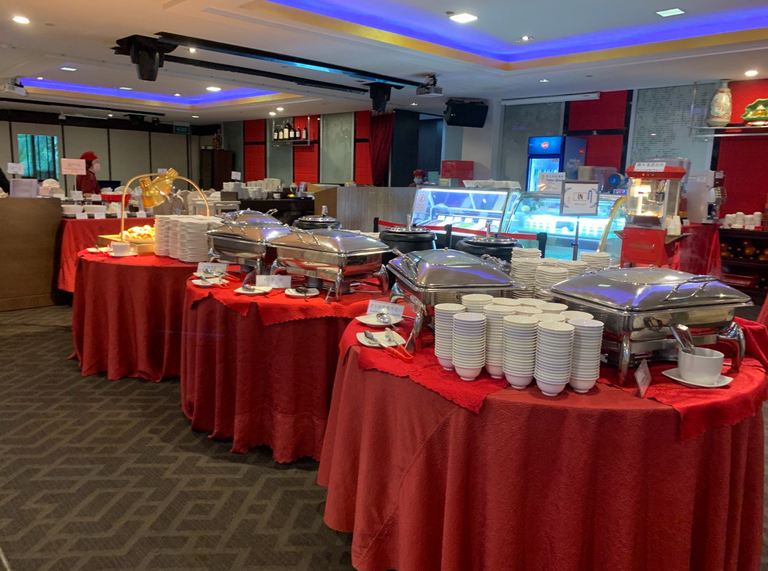 But there was also a menu at each table where you could order dishes from, sort of a la carte but it was also part of the buffet, so you could order as much as you wanted for the same price! It was a pretty good deal ngl, and they had a number of cooked dishes you could order. I guess these were the type of dishes that would be a waste if they prepared too much in advance.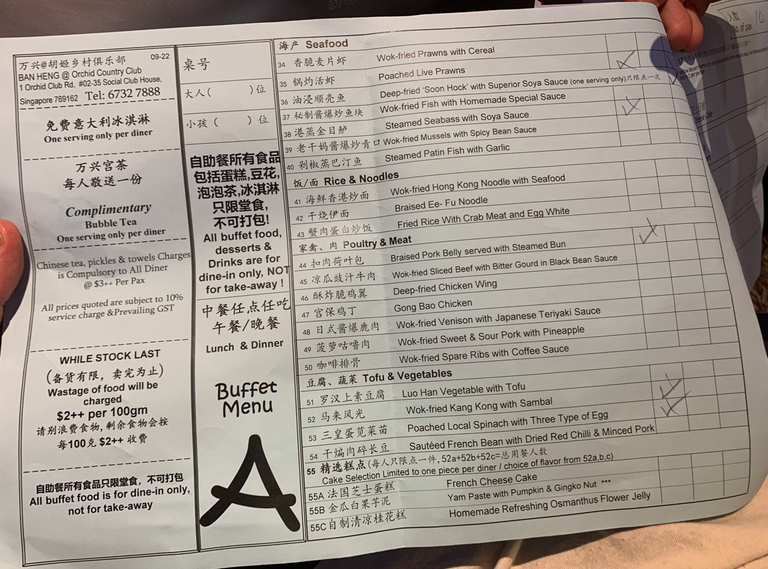 While the older adults looked at what to order from the menu, we went to peruse the buffet dishes and it didn't look like much but there were quite a variety of dishes available! They had carbs like Hong Kong Fried Noodle, Egg White and Crab Meat Fried Rice, and my personal favourite Ee-fu Noodles with Chives and Mushrooms!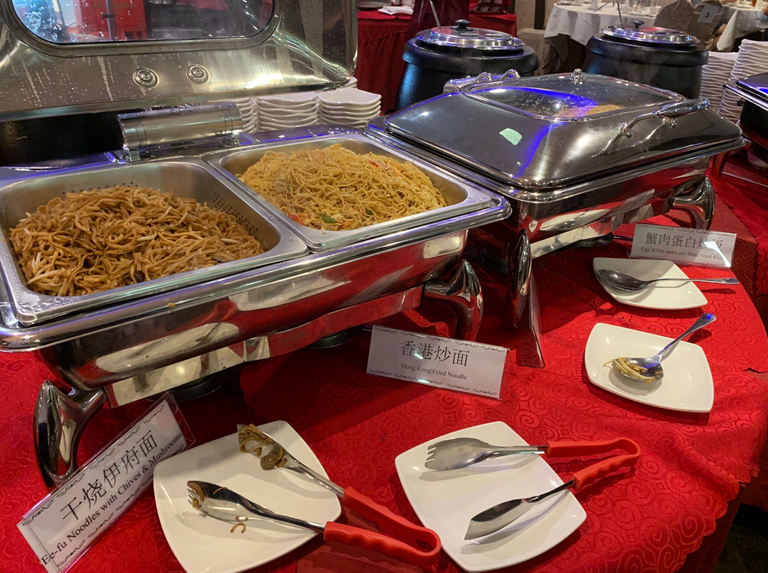 They also had some fried stuff like spring rolls, 5-spice meat rolls (aka Lobak) and Crispy Chicken Wings that tasted just like the ones we air fried at home but still really tasty nonetheless!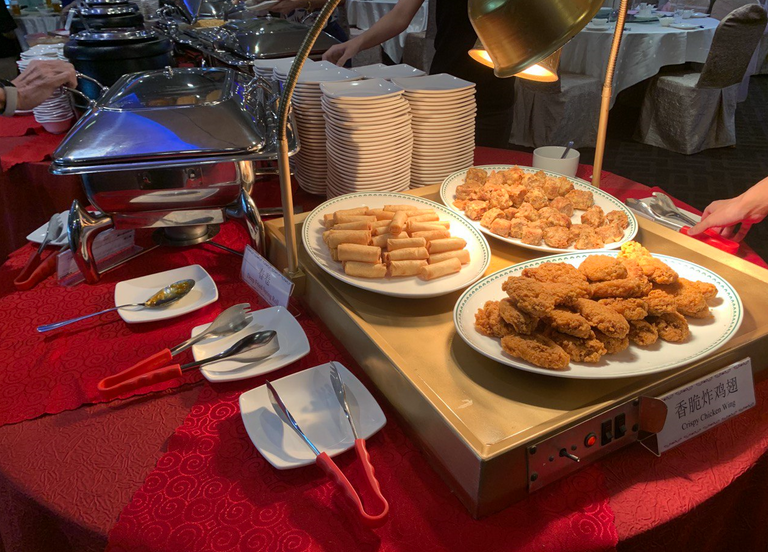 There was some Tofu & Prawns in Chili Crab sauce and some Deep Fried Man Tou (steamed buns) too!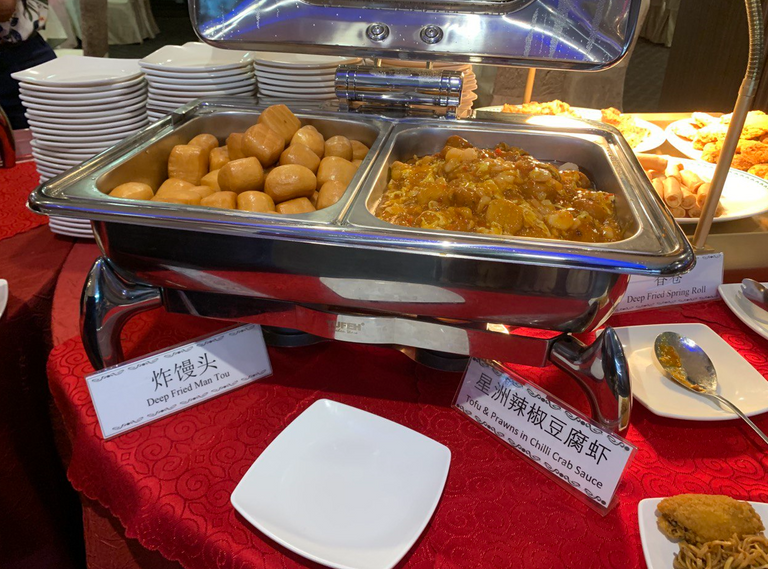 We took a bunch of stuff from the buffet table just to try and see what our favourite was while Sean's aunts ordered some dishes from the menu as well. The dishes we tried were actually really good! I definitely liked the chicken wings, noodles and the tofu in chili crab sauce. The Man Tou was not as crispy as we would've liked and a little plain but still yummy!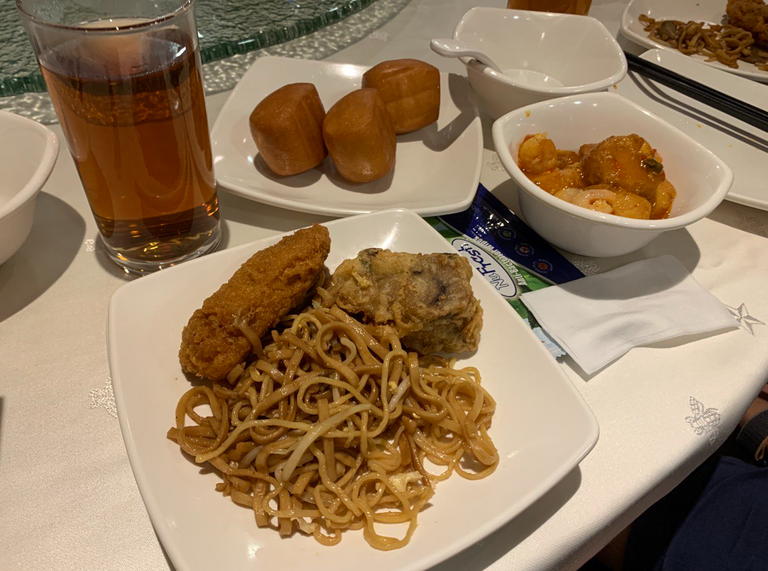 There was some fish maw soup as well that everyone had at our table. It looks like sharks fin soup but thankfully isn't. And while it tasted a little plainer than others I've had it was still nice and hearty.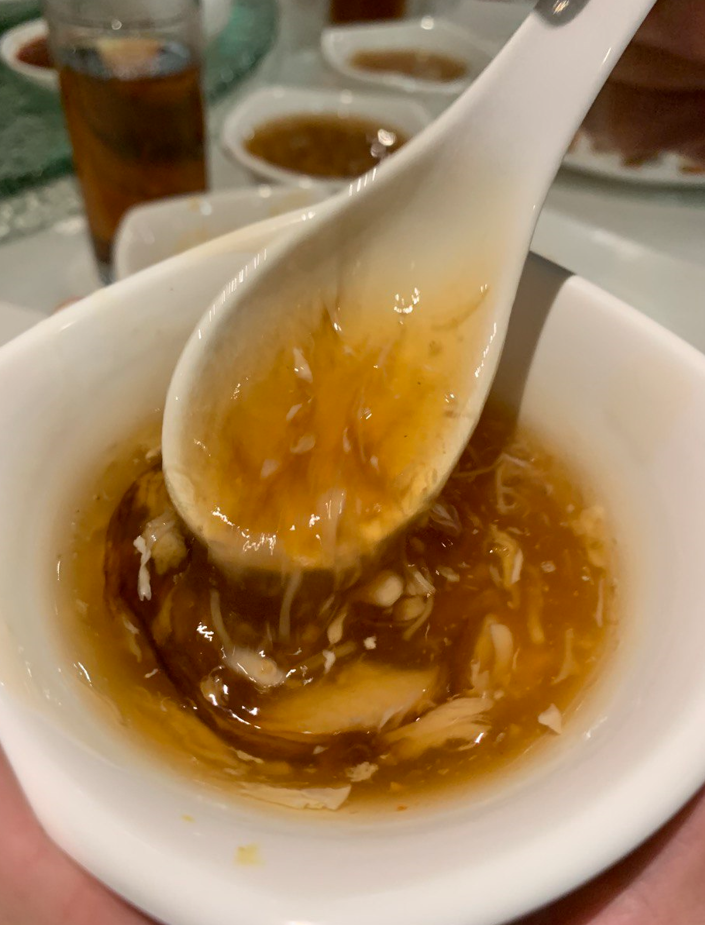 The buffet table actually had some soup, congee and dessert as well.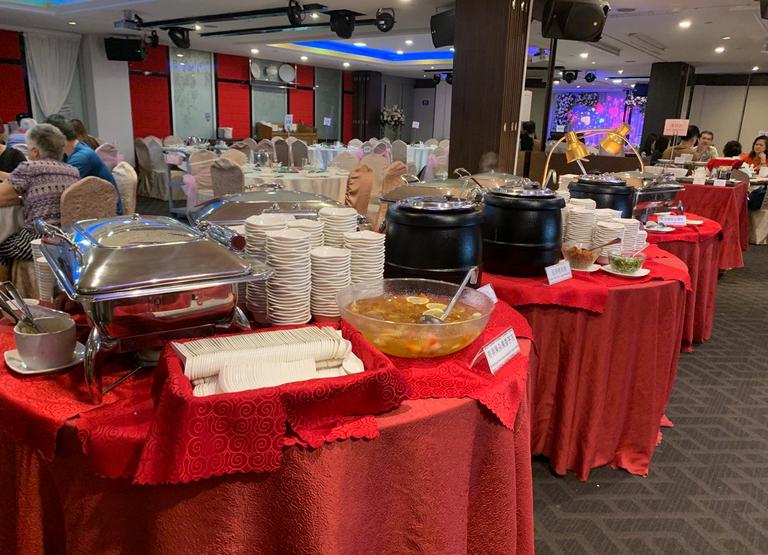 We decided to try their Double Boiled Peanut Sweet Soup since Sean likes that but I just wanted to have a taste. It was pretty alright; it tasted quite healthy.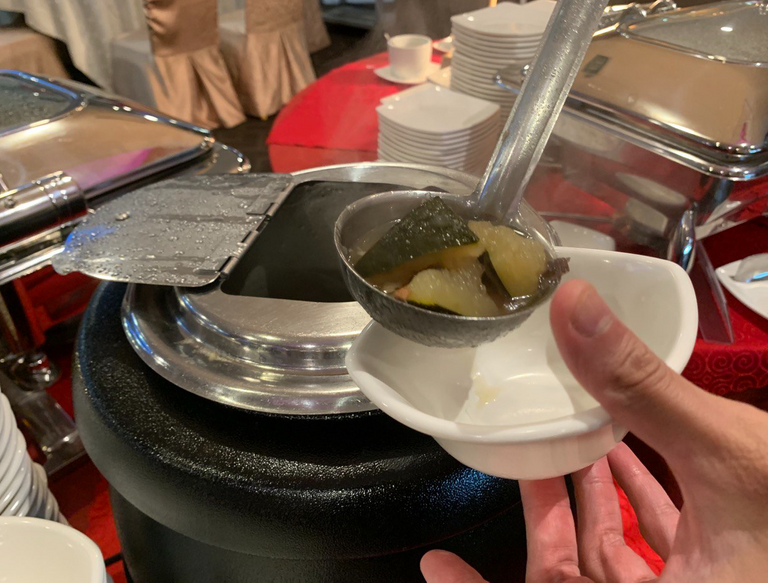 When we returned to the table we were greeted with a whole spread of dishes! I guess this was just a few of what was ordered from the menu.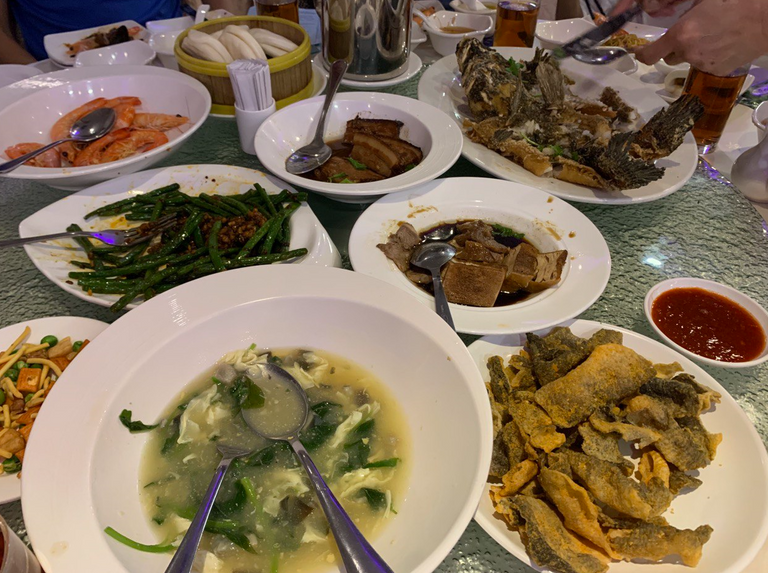 I think I tried almost all these dishes, but my favourites were definitely the Deep-fried Soon Hock fish with Superior Soy Sauce. The Spinach and Three types of Egg was quite good too but it's a pretty common dish in Chinese restaurants here and tasted pretty average. I did try the Sauteed French Bean with Dried Red Chili and it was alright but I'm not a fan of French Beans.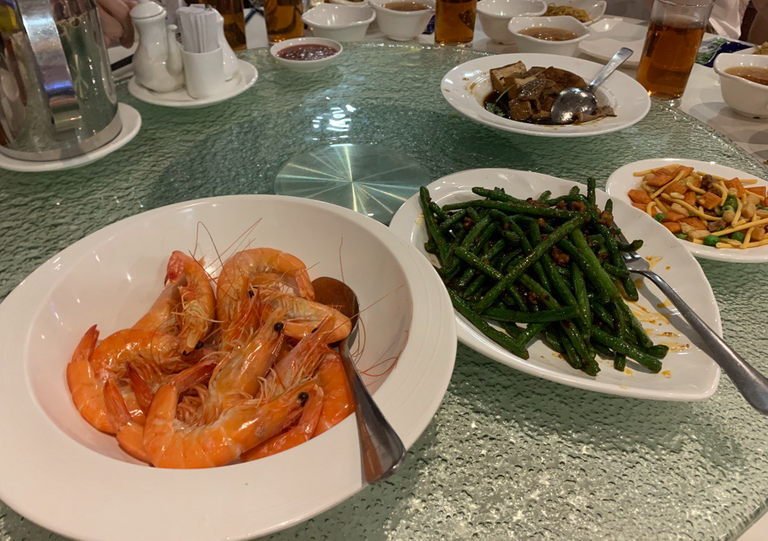 I didn't feel like peeling the prawns so I didn't have any. I heard they were only alright though and tbh they looked kinda plain. I think I would've preferred them with garlic butter sauce or something.
This Deep Fried Fish was one of my favourites but I think there wasn't enough sauce, or meat. It was really crispy though so at least there's that.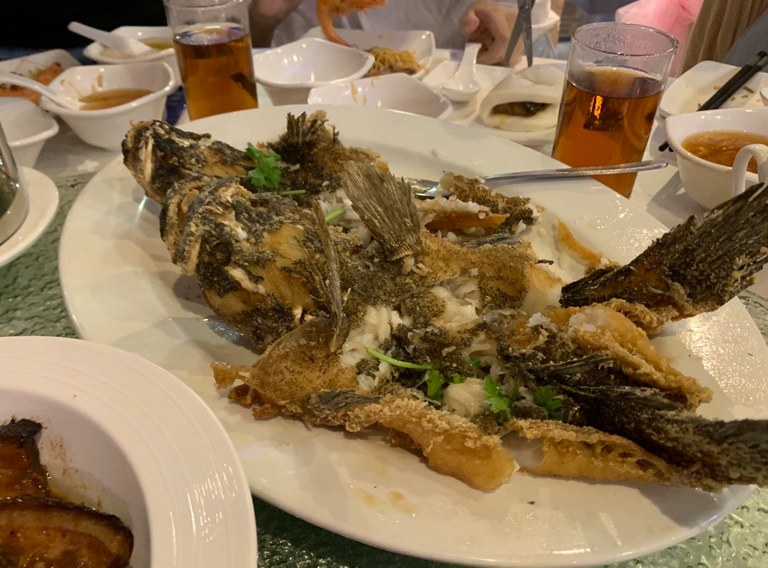 But compared to the Steamed Seabass in Soy Sauce I think the Seabass was superior. The flesh was slightly more plentiful and had a nice and smooth texture.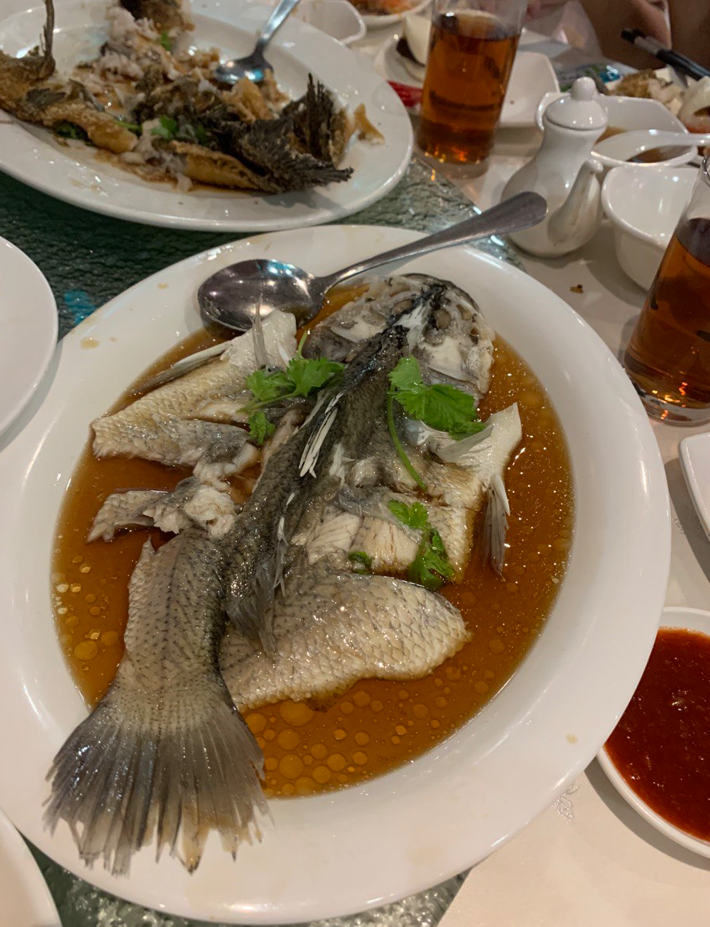 After about 10 minutes, this was the result of the table. I think the table wasn't big enough for all of the dishes we ordered and the waiters struggled to swap the dishes out since they just kept coming!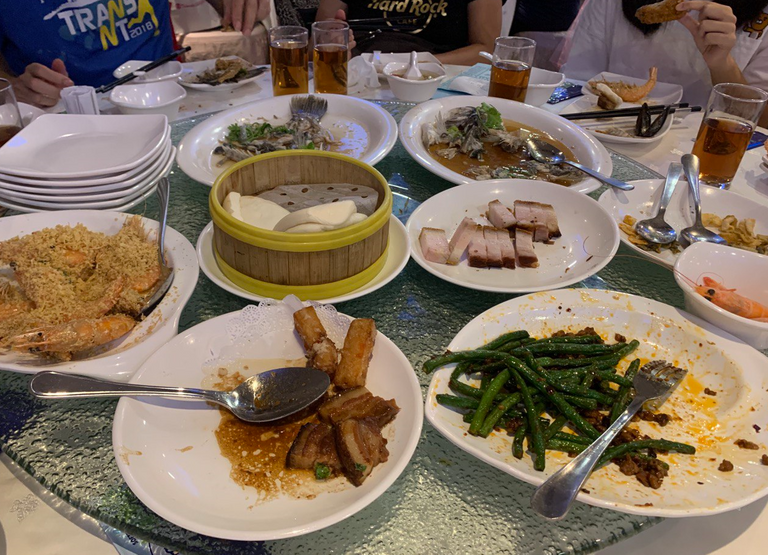 After a few more fishes and we cleared the table as best as we could, then took a walk around the buffet table again to see what else they had that we hadn't tried, and we saw they had some complementary Laksa!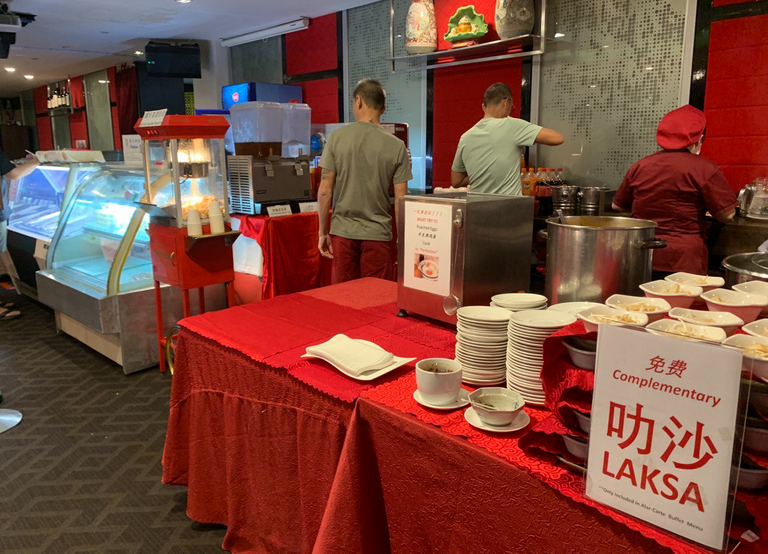 Laksa is a pretty famous dish here in Singapore, and is essentially a spiced noodle soup which features a creamy seafood-based gravy made of prawn stock, coconut milk and a spice paste that contains chilli, onion, garlic, ginger, lemongrass and galangal.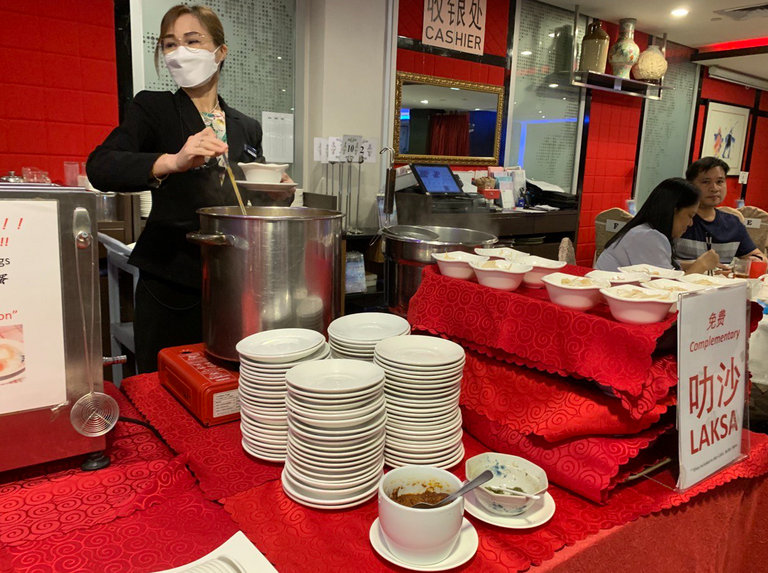 The soup is served with these thick rice vermicelli noodles and I'd say this particular laksa was actually quite yummy! I was already pretty full by then so I just took a taste of Sean's bowl.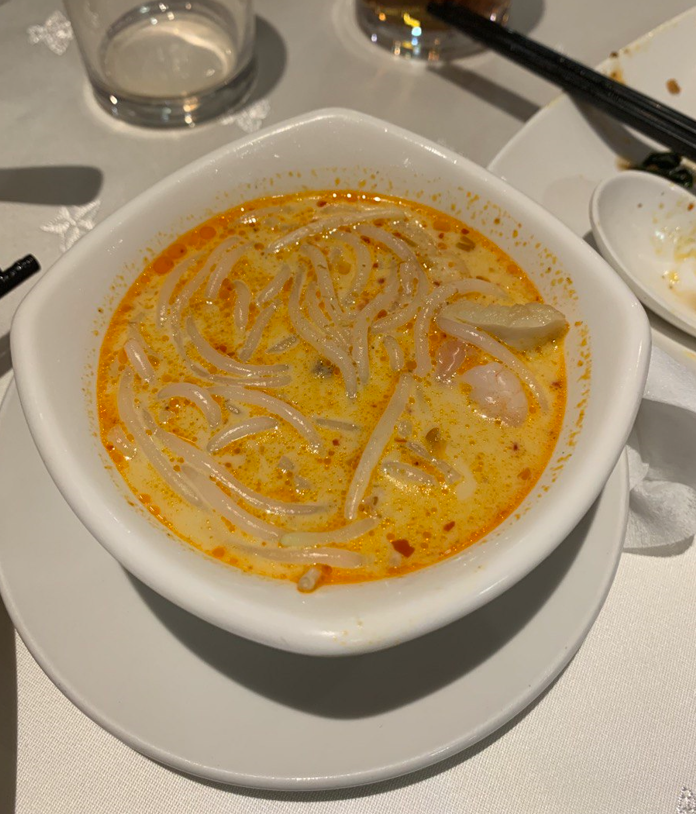 After that I was so stuffed, but it was time for dessert! Turns out each table can order a few different desserts other than the gelato at the buffet and this was what we ordered.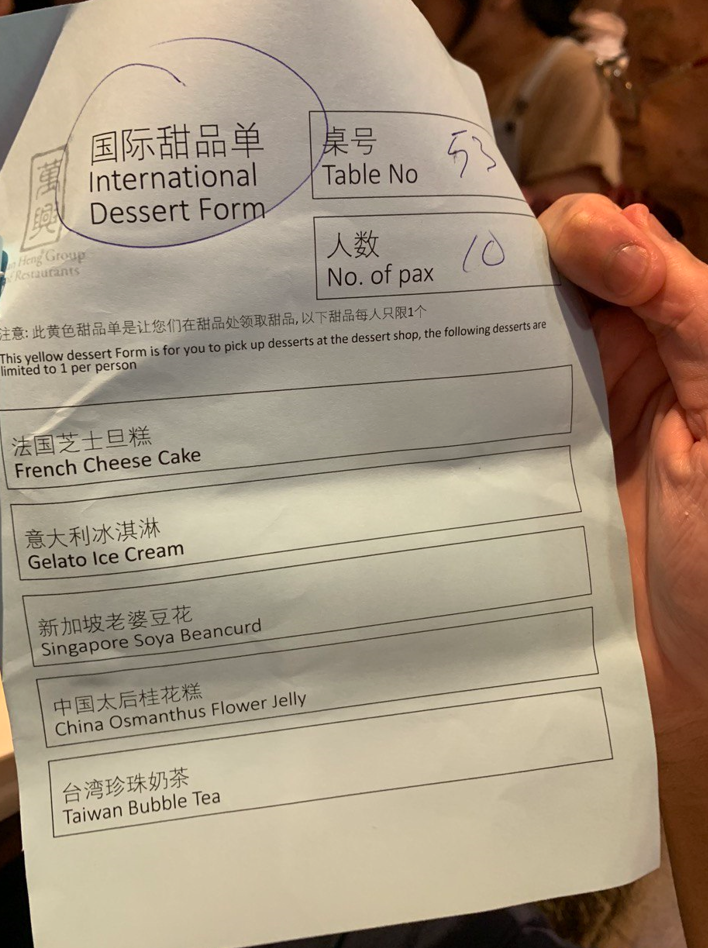 This was the dessert corner at the buffet and there were hot and cold drinks as well like coffee and winter melon tea.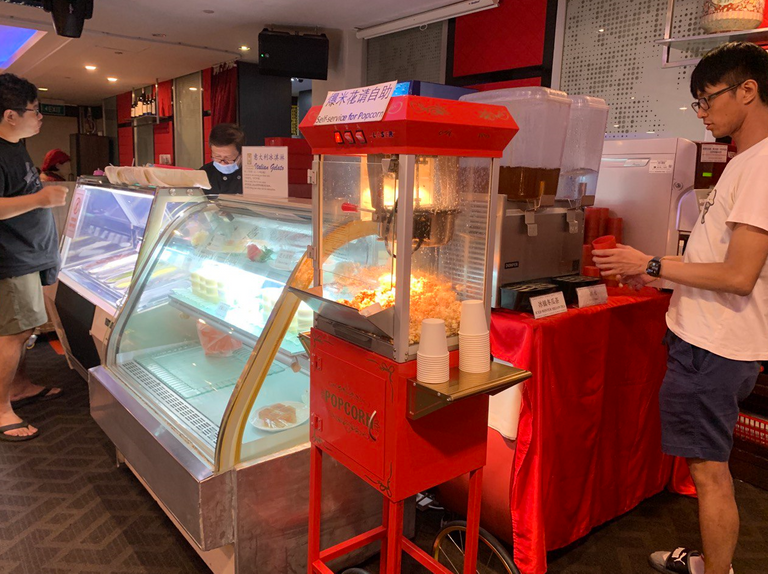 They had a few different gelato flavours like the standard chocolate, vanilla but also black sesame, matcha, passion fruit and cookies and berries?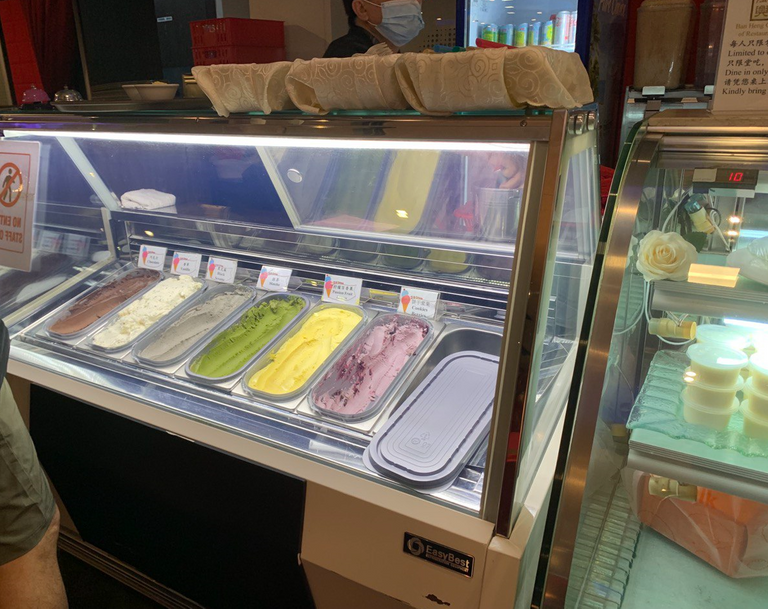 We were served some huge chunks of China Osmanthus Flower Jelly which were actually quite nice and light! There were some red dates in there which I'm not a big fan of but it was a good palate cleanser.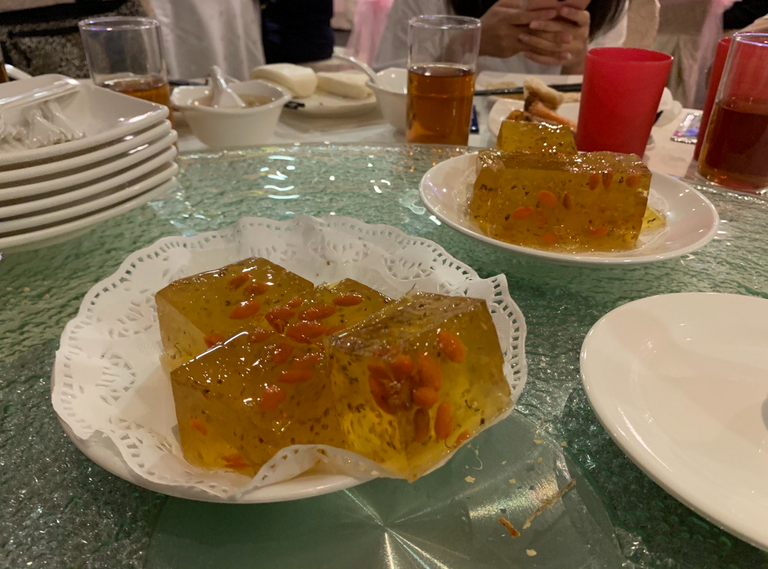 Then Sean's mum ordered the gelato from the dessert table and some soy beancurd. I tried the chocolate gelato which was very rich but still quite nice all the same.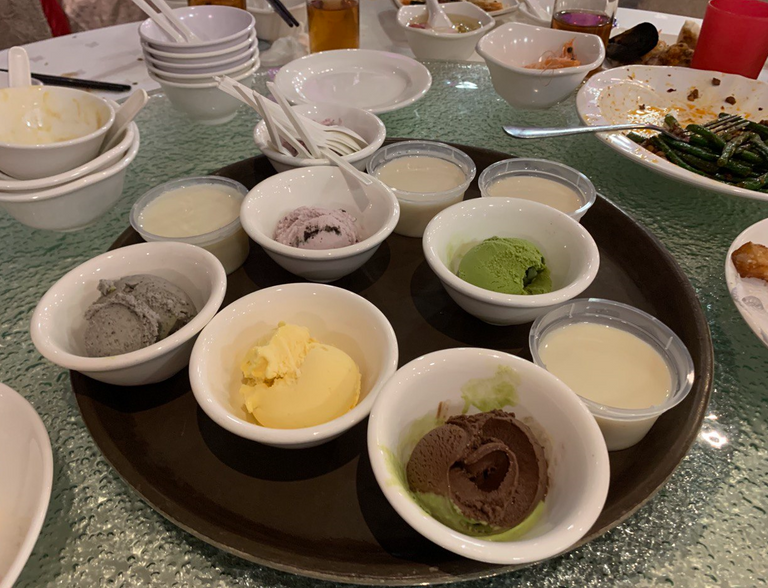 All in all it was a very satisfying meal indeed! I was so full that my stomach felt like it was bursting by the end! I'm not sure how much the buffet costs exactly but for about 30 bucks I'd say we ate our money's worth for sure!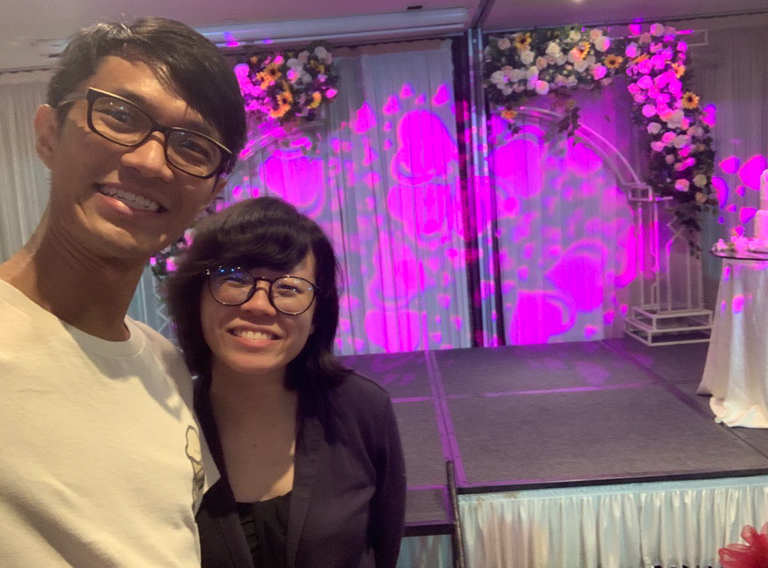 Sorry for the long post but there wasn't a good place to split this so oh well. Thanks so much for reading!

To find out more about me, check out my intro post here!
---
[//]:# (!pinmapple 1.41114 lat 103.84386 long d3scr)
Check out my previous post in this series!
TacoCat's TrEats #152: Deliciously Flavourful Grilled Fish and Indian Donuts! 😋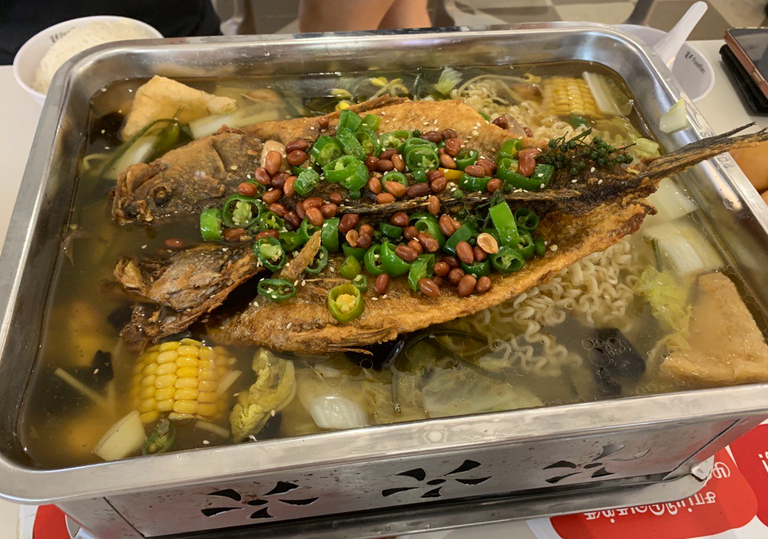 ---
Posted via foodiesunite.net