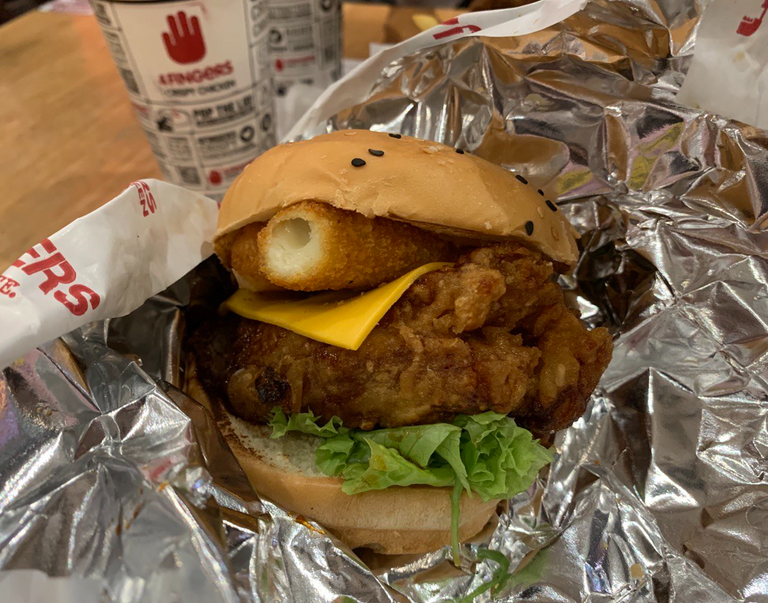 Hey Hive!
We're back with another foodie post! Now that there are close to zero covid restrictions in Singapore, we are completely free to try out different food places again!
The other day we were craving burgers and wanted to try this burger place we read about online, but when we got there to the physical stall we realised they were piled high with delivery orders from the food delivery apps! So we decided to take a detour and go to the mall to look for a burger place instead, and the first place we came across was 4Fingers!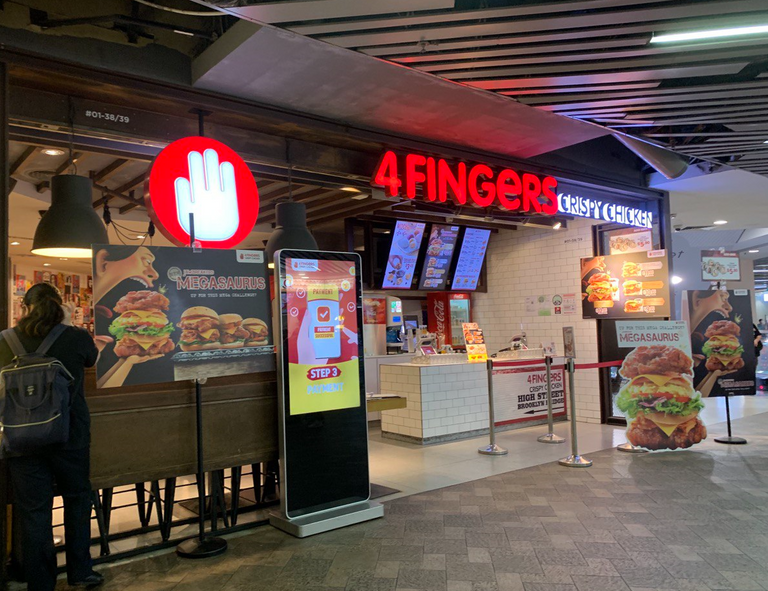 4Fingers Crispy Chicken is a Singaporean multinational chain of fast casual restaurants that specialises in crispy Asian style fried chicken. I always thought it was a korean fried chicken shop for the longest time, and I guess that was what it was marketed as initially since they did have korean words in their design last time.
But it is a pretty big chicken franchise here, and they now have outlets in different countries like Thailand, Malaysia, Indonesia and Australia! It's quite surprising that a Singaporean brand is so successful but I'm proud that it is!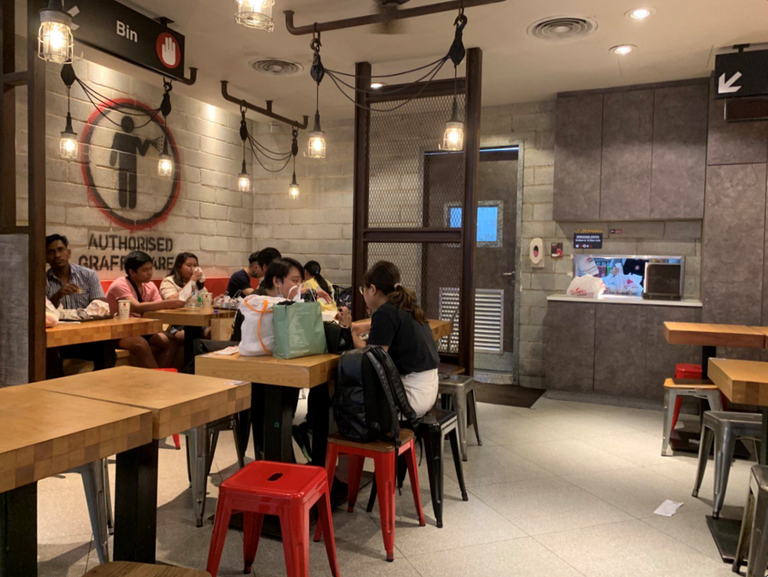 It'd been a while since we patronised 4Fingers since their chicken can be quite expensive, but since they were advertising their special Megasaurus burgers, I thought it might be time to give them a try again!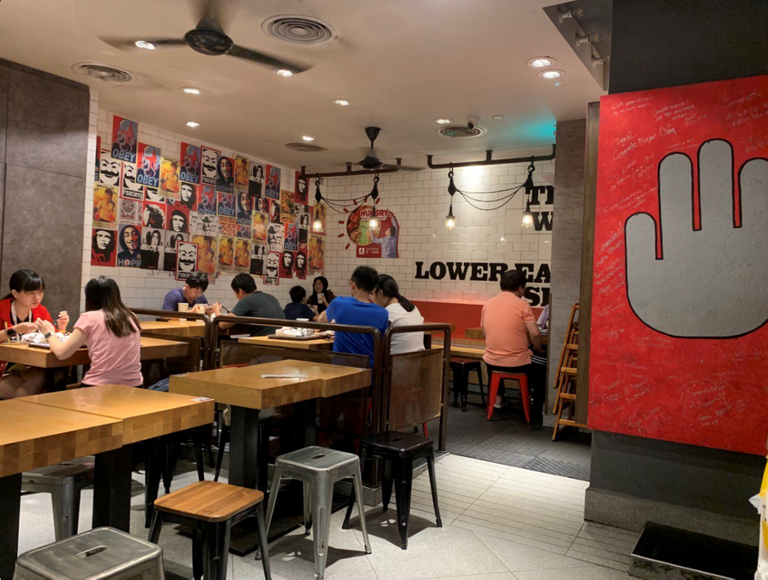 The design of the shop is quite modern and industrialist; with metal chairs and steel grey walls. And for some reason there were a lot of anonymous posters on the wall in the corner too? I think it's to show that they're not a conventional chicken shop or something but it seems a little strange.
But on the other side of that was an Authorised Graffiti Area so I guess they are trying to give that image of rebellion, like its a "cool" chicken shop.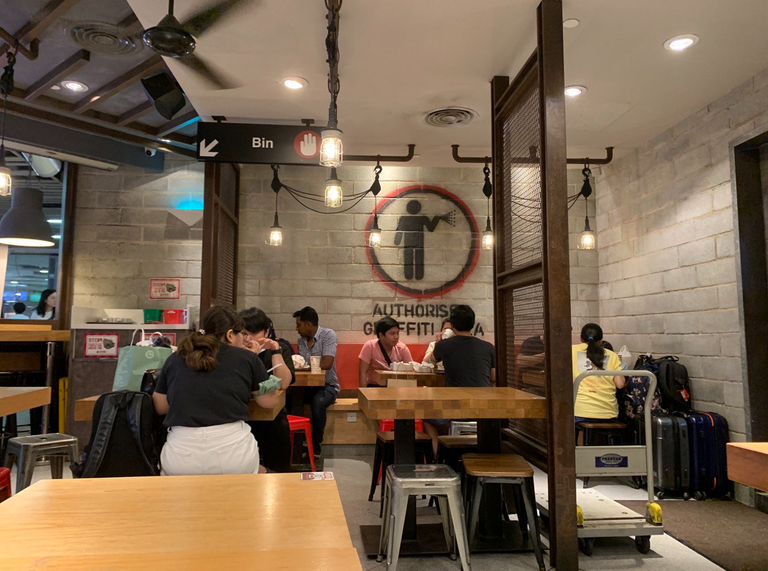 Anyway, their menu features different chicken combos, and there are also chicken and seafood combos, rice boxes, and of course their special Jawbreaker burgers!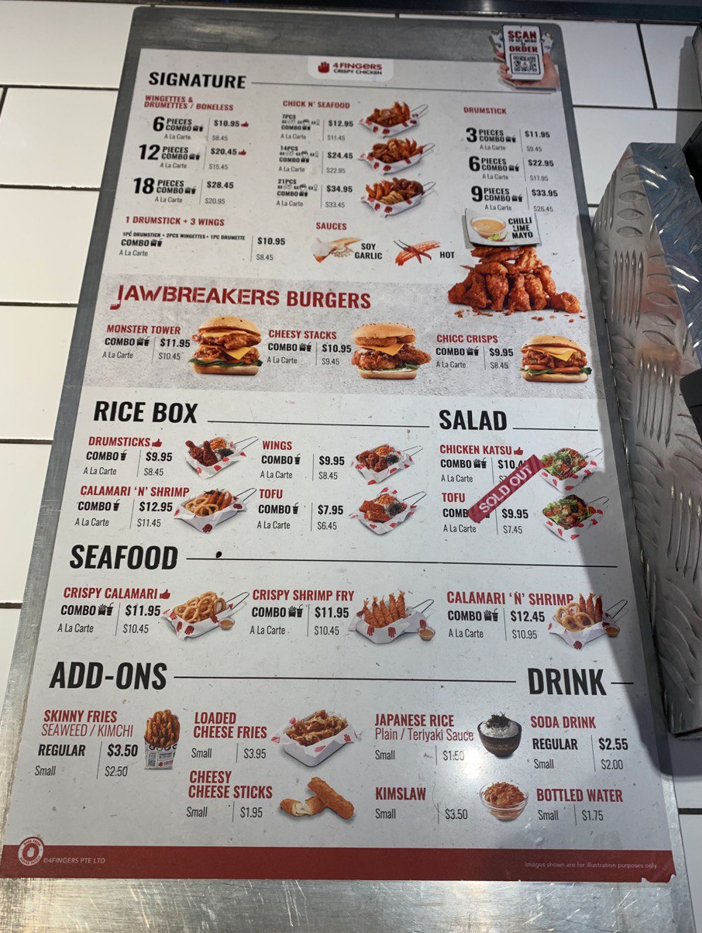 I don't remember them having seafood on the menu but it is pretty interesting that a chicken shop would sell calamari and shrimp/tempura as well.
About 15 minutes later, our order was ready!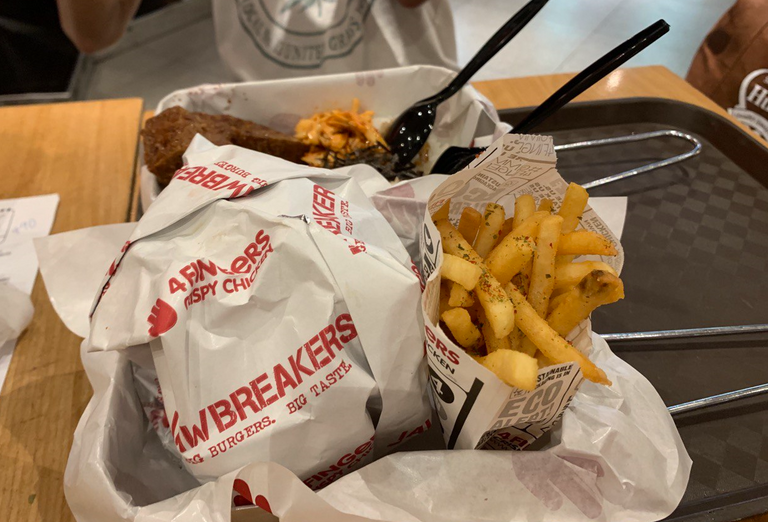 I chose the Cheesy Stacks Jawbreaker burger ($10.95) while Sean ordered the Tofu Rice Box ($7.95).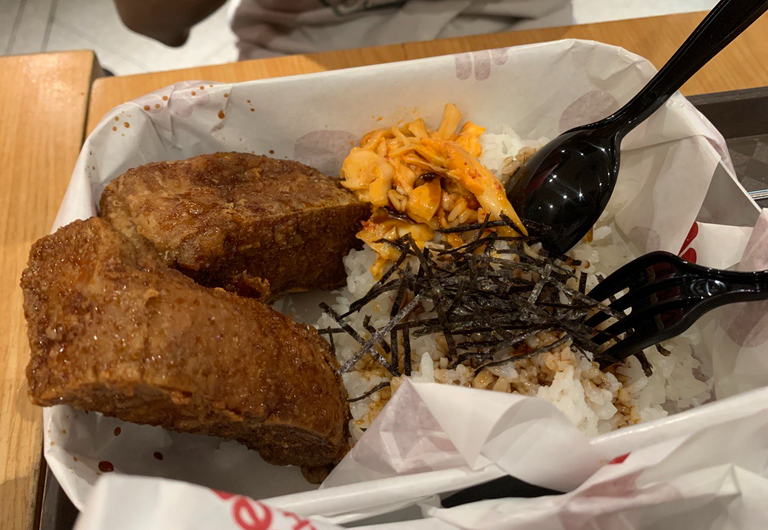 Initially we thought the tofu rice box was a mix of tofu and chicken, so he was kinda disappointed he didn't get a fried chicken piece with the tofu. This must be their way of catering to vegetarians at a chicken shop, although it is a little weird. I guess that's why it was cheaper than the rest of the menu. Sean does like tofu though and it did look good nonetheless so it wasn't a big loss.
Anyway, the real big thing was this HUMONGOUS burger! I can see why it's called Jawbreaker since it was soo huge! I could barely lift it with one hand.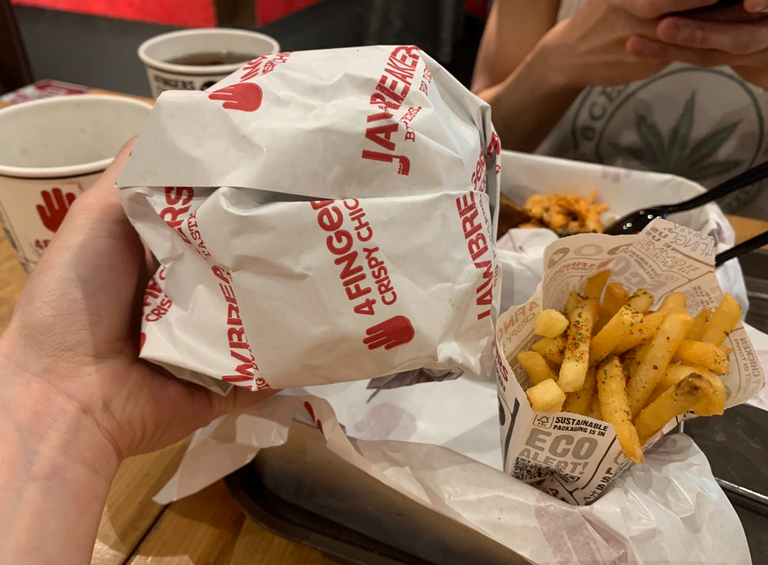 Upon opening the wrapper (which I think is a heat sealed wrapper so it keeps it warm on delivery), the burger was quite a sight. There's a huge piece of chicken sandwiched between lettuce and cheese, and 2 mozzarella sticks on top of that, and thick fluffy buns on top and bottom.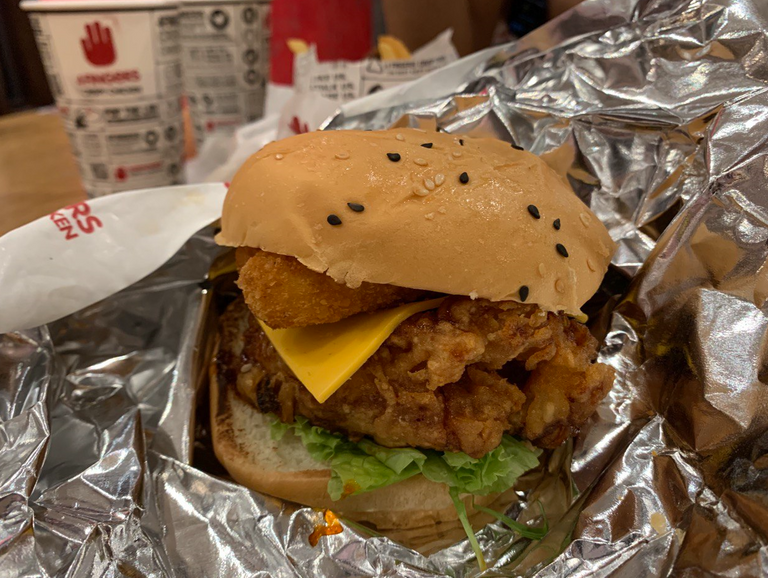 Although the cheese wasn't as melty as I thought it was going to be (especially the mozzarella sticks) it was still pretty impressive, and way too big for my mouth. I tried my best to take a bite of the whole thing but could only make it about 3/4 of the way.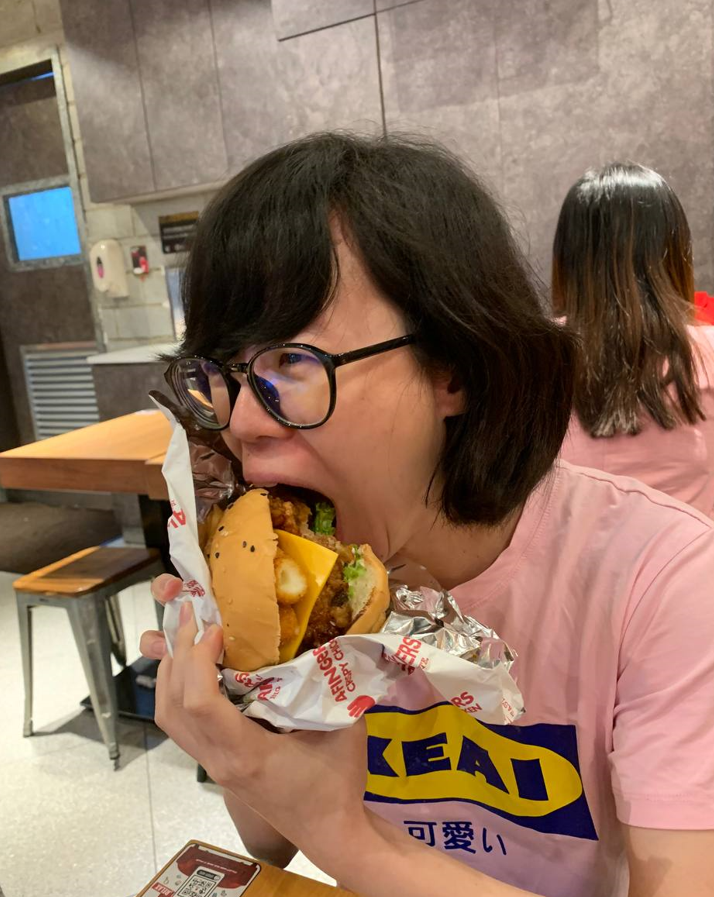 Even Sean could barely fit the burger into his mouth.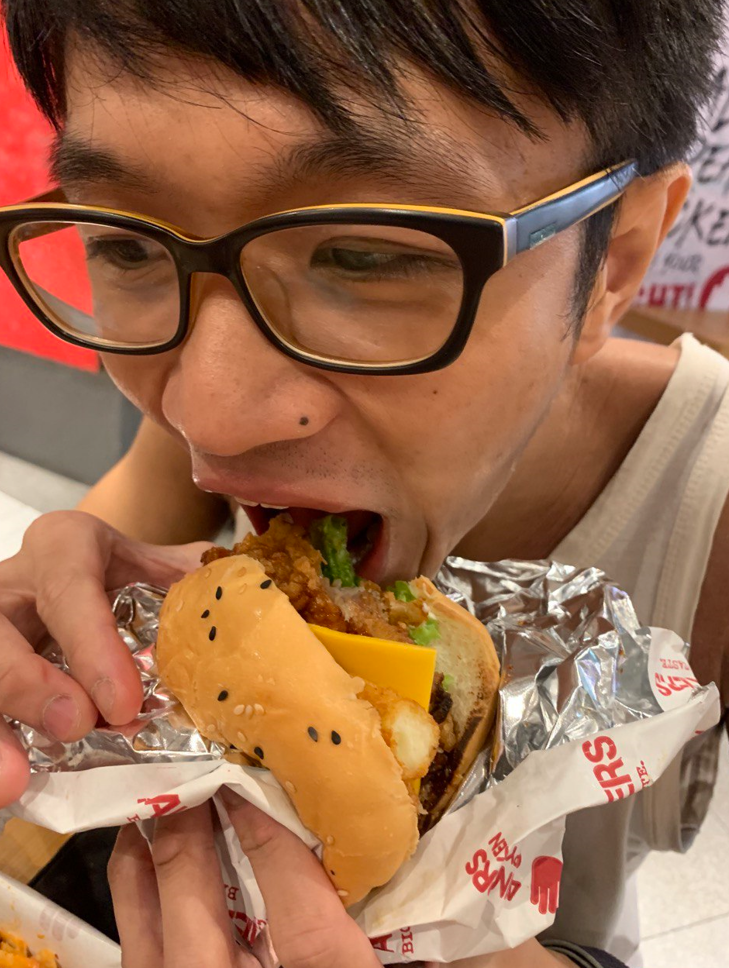 It was definitely a challenge, but the burger was delicious! The chicken was crispy on the outside and juicy on the inside, with a nice sweet and spicy glaze. The cheese sticks were also crispy although the cheese wasn't really melted on the inside, it was still yummy! There was some mayo on the lettuce too so it wasn't too dry although the chicken had sauce on it already. It blended well together though so overall, very yummy indeed.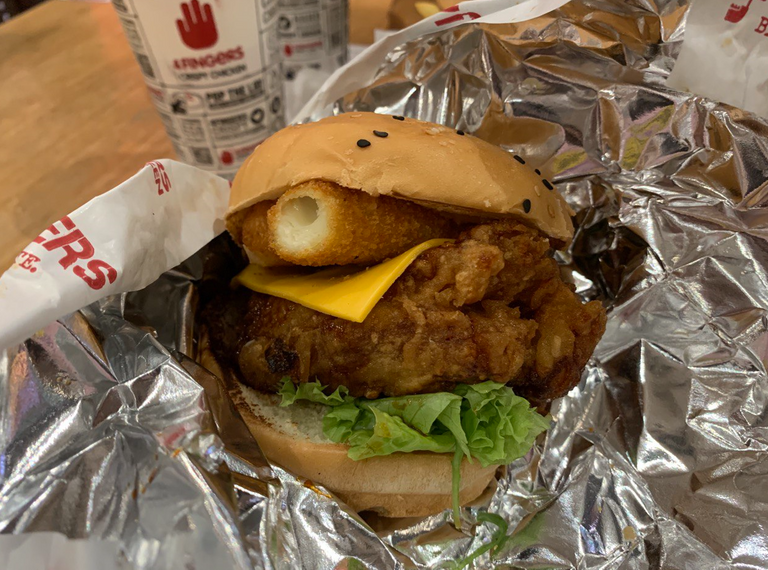 We ordered the burger set so it came with some fries as well, which I forgot to take a picture of until they were almost all gone! But it had a nice sprinkle of seaweed and spicy flakes.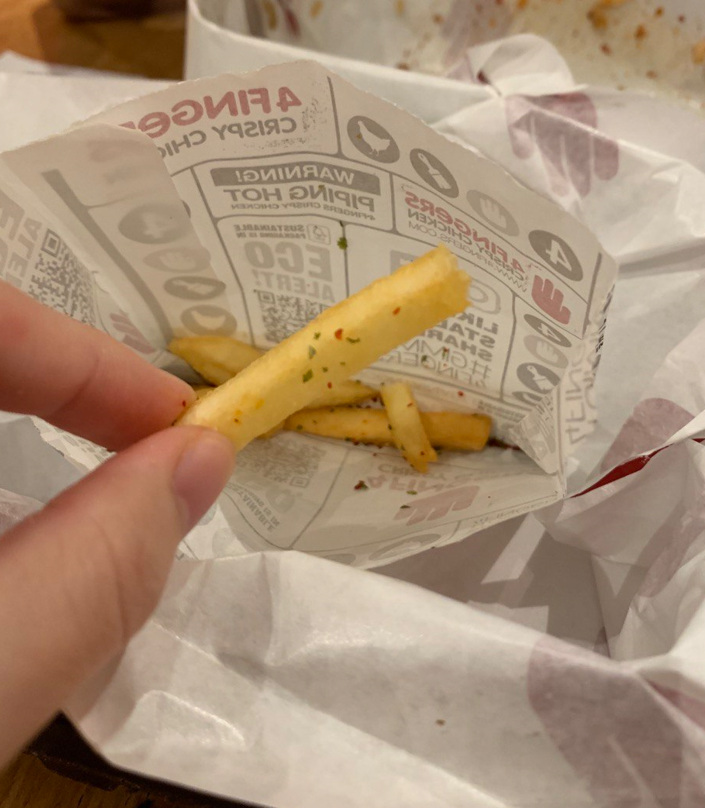 Although it probably isn't my favourite burger I'd say this one could make the list. The chicken was super crispy and had a nice seasoning and sauce and the cheese complemented it really well too. Normally my go-to order at a burger place would be something with mushrooms or bacon but this was really good too.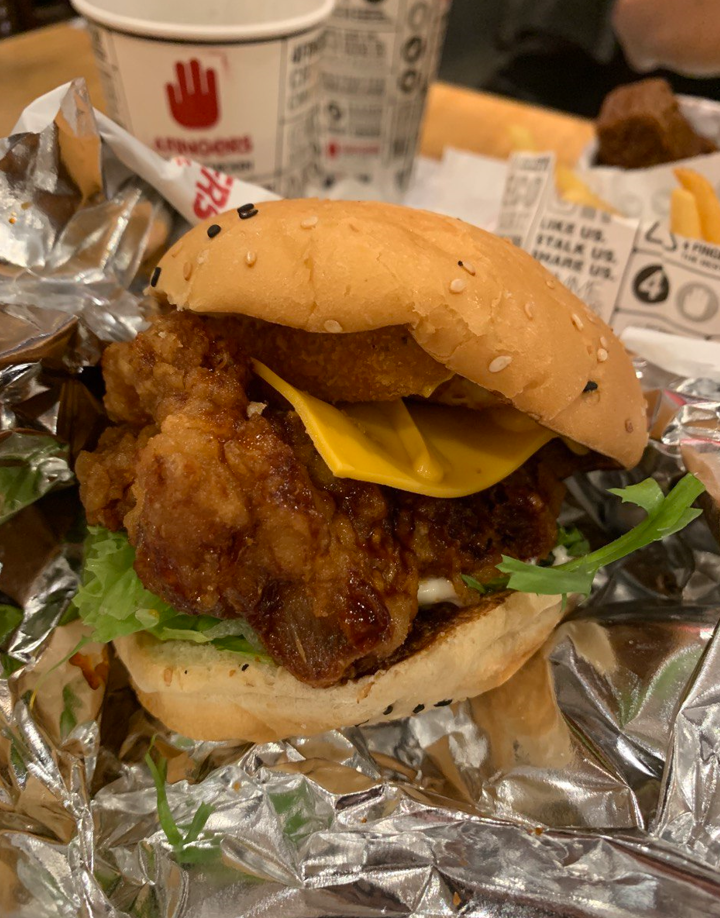 If you have a hankering for chicken burgers (or chicken in general) I'd definitely recommend 4Fingers! The batter is totally different from KFC and they have saucy chicken that is still super crispy! I remember their spicy chicken being quite formidable but delicious so give it a try some time!
Thanks so much for reading!

---
[//]:# (!pinmapple 1.43650 lat 103.78669 long d3scr)
Check out my previous post in this series!
TacoCat's TrEats #153: A Feast from the East! 😋