My wife and son today wanted to eat something special last weekend and when they get another level up of hungry, they become Hangry (Hungry + Angry). This was after golf class so the hunger is set in even further after a workout.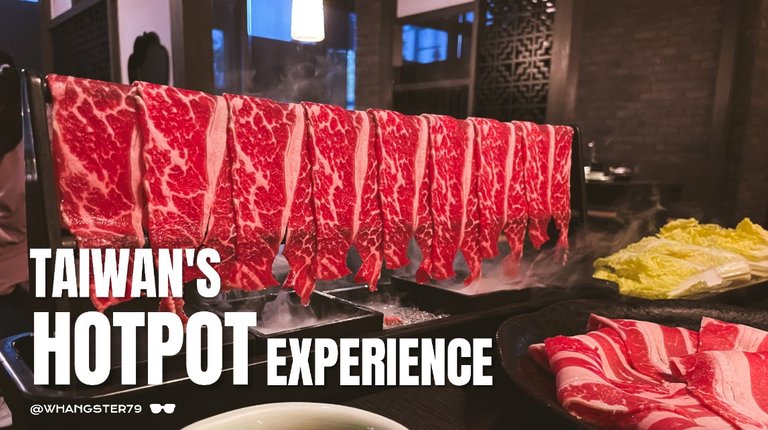 I told my dear wife to find any place she wants to eat however its one of those days when you are so hungry you dont know which place to go cause everything looks good but you want to make sure you got the right choice because if not then the Hangry becomes more Angry. hehehehe.
The Entrance to the Hotpot Restaurant... I was like... damn that's a big red door.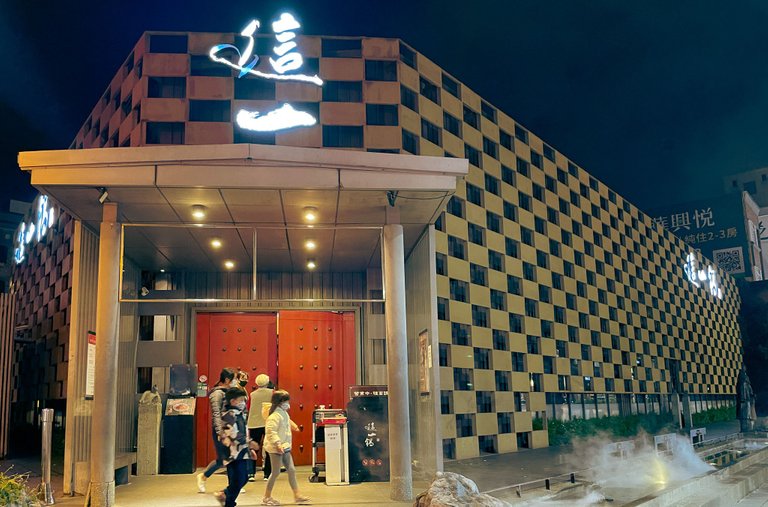 I had to step in and even though I didn't know the region of where I am I basically said,
"Everyone CHILL out~ I got this."
Pulled out my iphone mini and opened up google maps app and typed "Top Restaurant"....
A list of places were coming in and I had no idea what this place was but the reviews didn't lie... from a 5 star rating it was 4.6 stars and it was voted by 4700 people. This had to be it.... this score toppled every single other restaurant by a mile. I didn't show where we were going or what we will eat but I just drove and headed towards the stars. :)
Look at dat big red door... now that is a statement.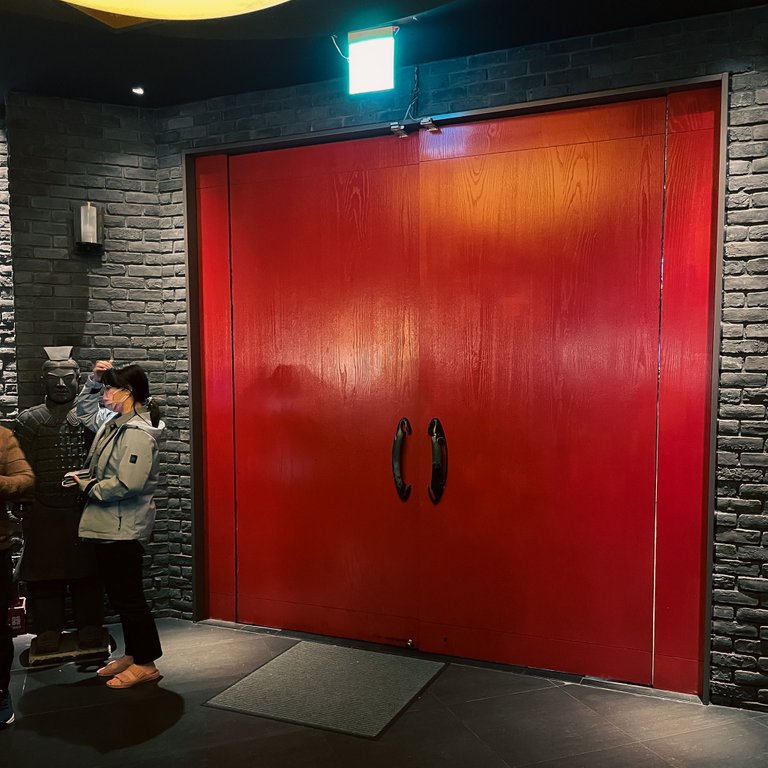 When we almost arrived at our destination my wife was so curious she looked at where we were heading and she stayed calm..... and this ladies and gentlemen... is a good sign.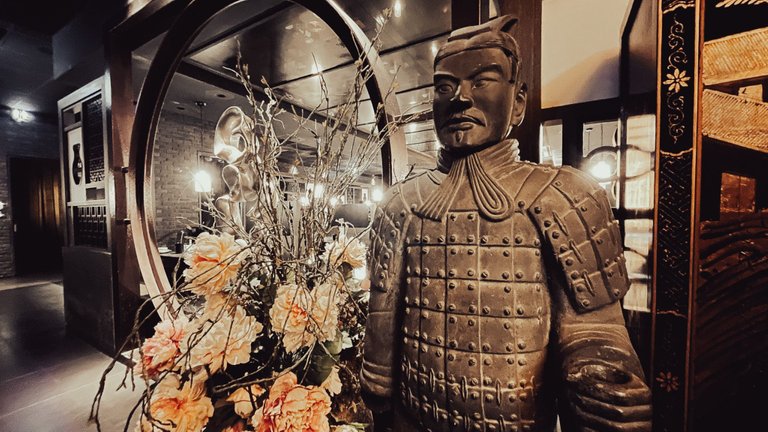 She knew this restaurant already. Me and my son were clueless but if momma is happy then the entire family is happy... good stuff definitely seems to come.
The decorations around the table were very well designed with premium aesthetics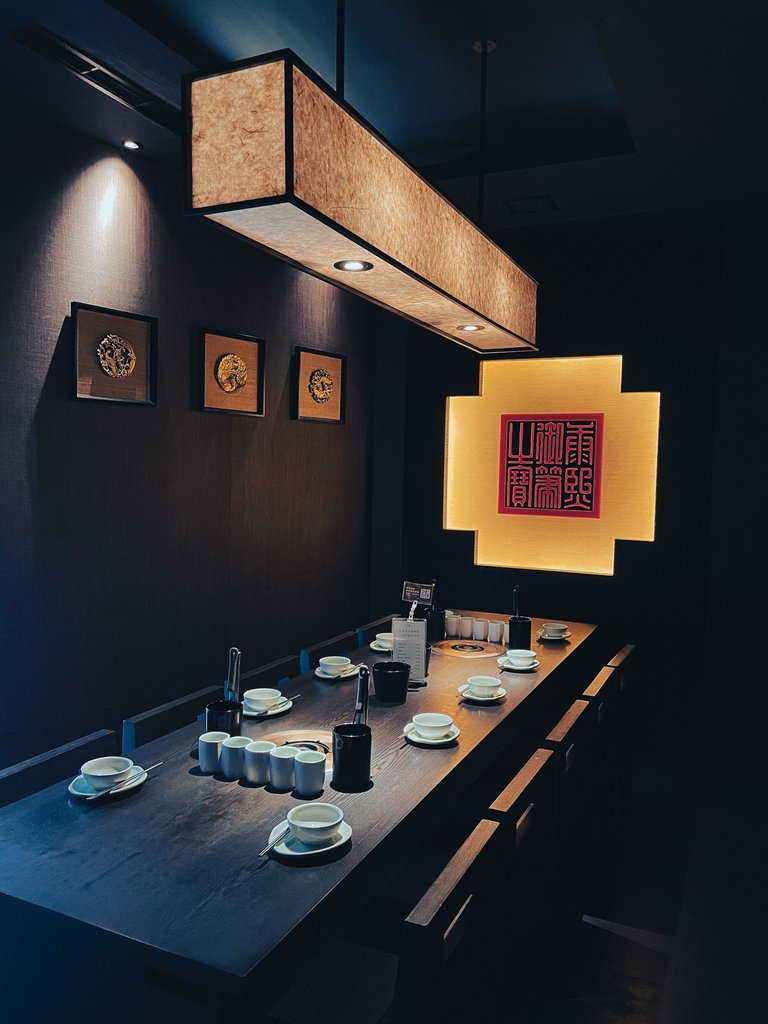 When we arrived she mentioned that this is a famous brand name hotpot restaurant in Taiwan and she said it was a good choice. OK... I guess the Hangry part is solved. :) Now I needed to see and taste how OG legit this place really was. Cause to me... Hotpot is just.... another regular Hotpot. But I couldn't be more wrong in my life.
Now this is what I am talkin about... the OG Hotpot! Even the pot itself looks legit!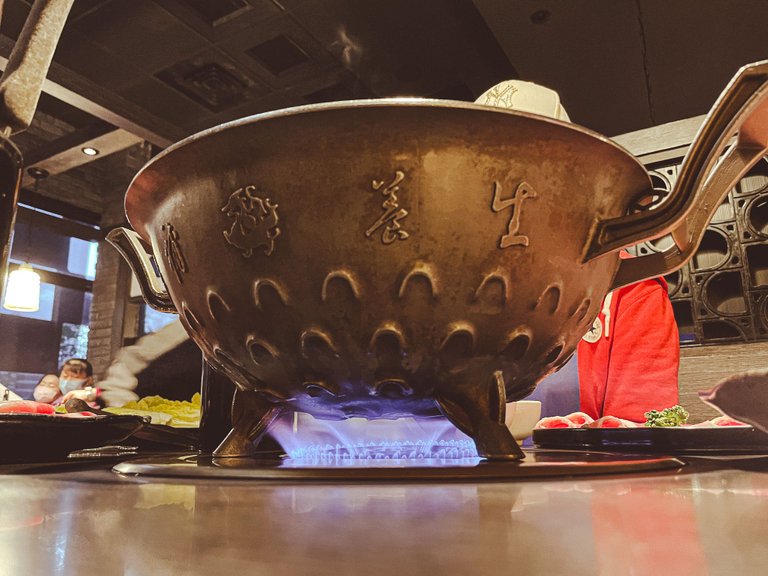 The presentation of the meat was absolutely showcasing the thin sliced, marbling of the meat, and rich red color. Definitely looked premium all the way for showing slices of meat. Nevertheless, everyone wanted to eat that first. Fat and marbling is key for hot pot meat. We ordered beef ribeye and brisket.
AGAIN! Now this is what I am talkin about... OG Legit premium thin sliced beef.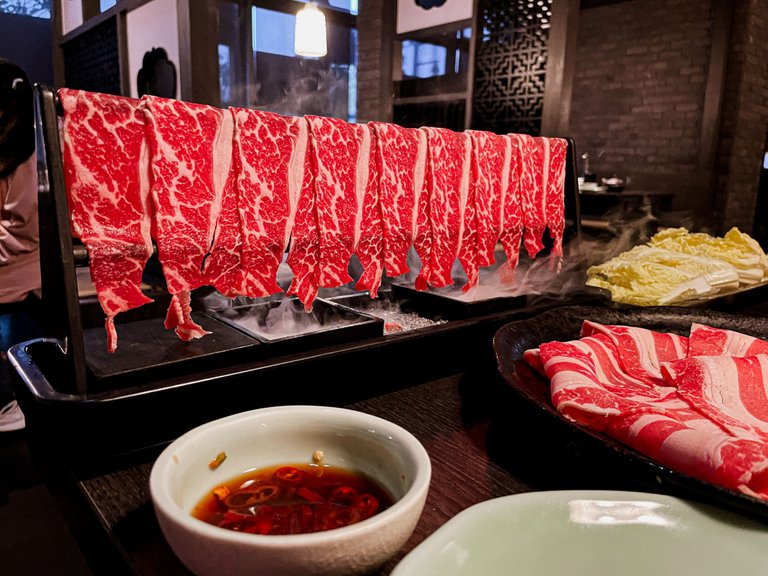 Fat and marbling is key for hot pot meat. This is probably why the presentation was so important to really showcase the quality of the beef.
We ordered two different types of beef originated from US and Taiwan.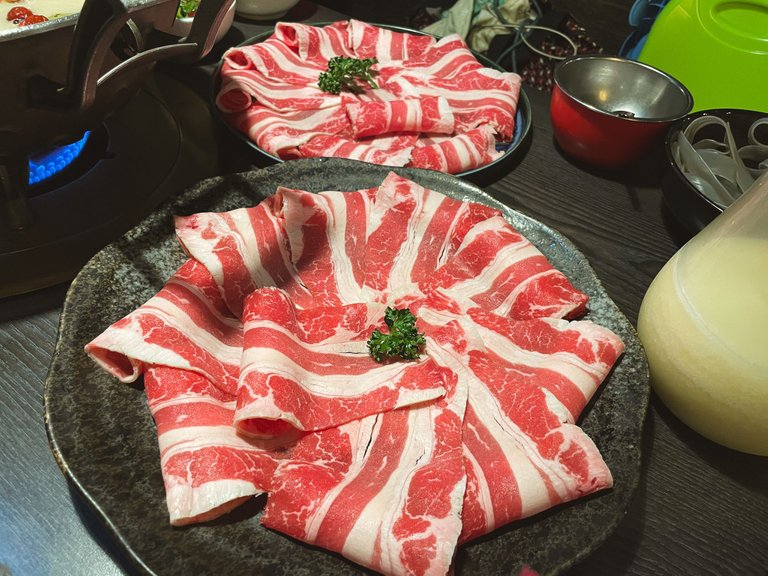 I asked her how come we never came here as a family? and she said because usually its crazy packed and wait time is very long. However today was our lucky day... there was seating. I sense good things will keep on coming. On the menu we ordered a lot cause we were all very starving hungry. For hotpot pretty much everything just comes all at once.
Looking at the picture we sure did order a lot more meat than veggies.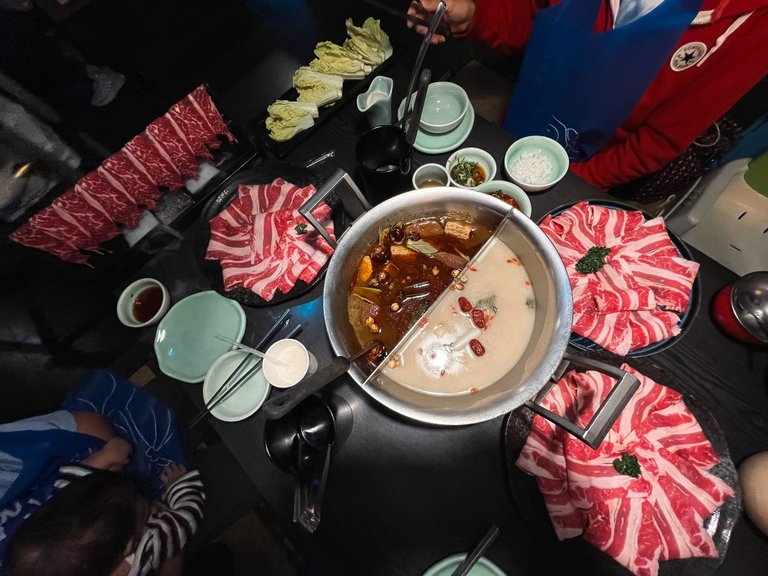 This one is the ready to eat meat from the spicy soup broth added with tofu.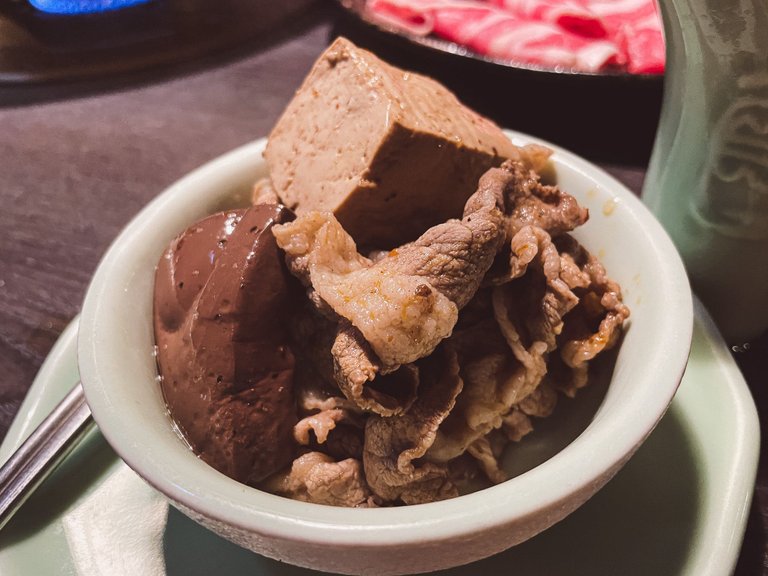 A lot of people were there that day. We were just busy cooking and eating.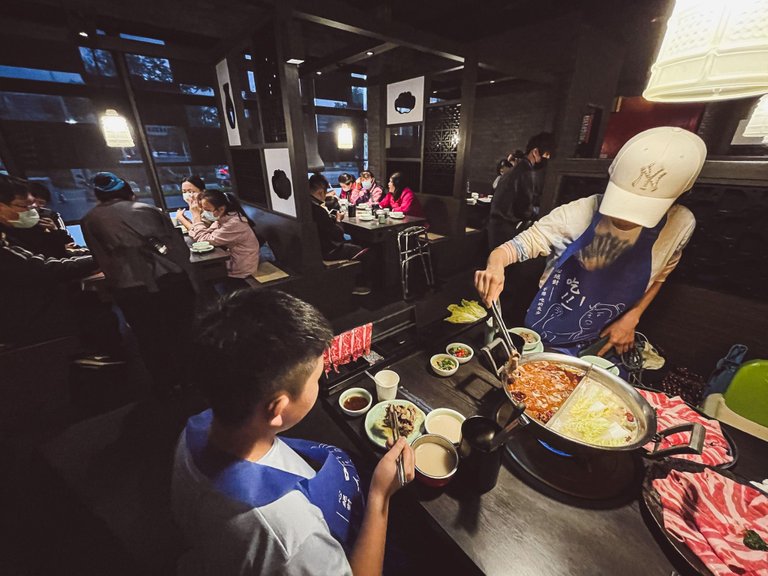 Once the beef is cooked to your likings you use the prongs to take out the meat and place it on your dish.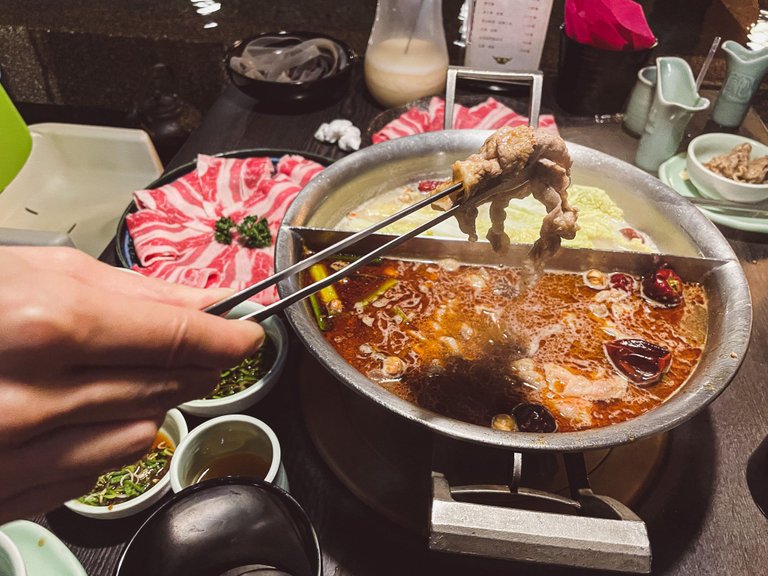 Let me rewind a bit and explain what hotpot is for people who dont know what it is. I introduce to you ladies and gentlemen the Chinese-Taiwanese Hotpot.
What does Hotpot consist of?
Basically, everyone sits around this "hot"pot full of soup at the center of the table and there is raw meats, seafood, vegetables, and tofu on the side prepared for cooking in the boiling pot fresh and raw.
A complete ready to eat boiled beef, boiled vegetables with tofu... accompanied with my favorite two type of dipping's.
Look at that marbling of the beef... nice.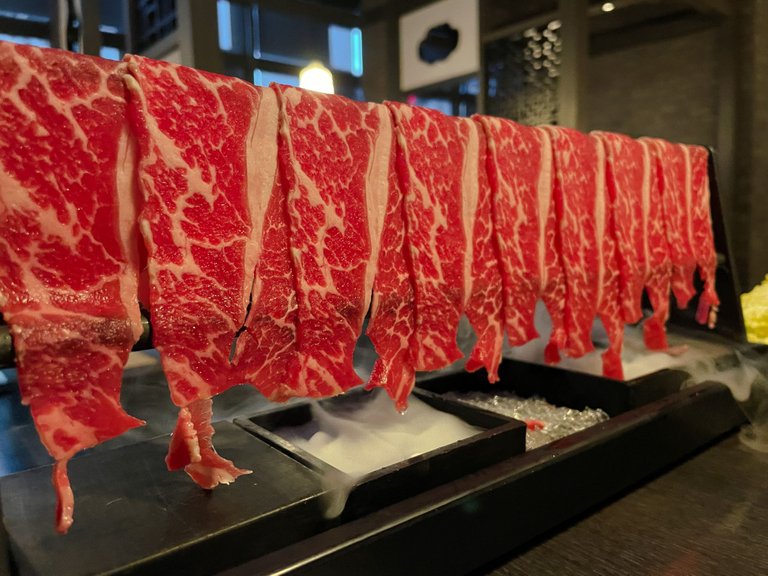 What does Hotpot taste like?
There usually is a divider in the pot where two types of soup base goes in. Spicy soup base and the other is a non spicy clear white broth soup base. The white clear soup base has a mild umami flavor kind of tasting like beef stock but much richer in flavor. The spicy soup is usually deep red, lots of red chili oil, Sichuan pepper...ect. The spicy soup base kind of taste like Like a spicy noodle soup... Kind of.
The two types of soup bases split right down the middle.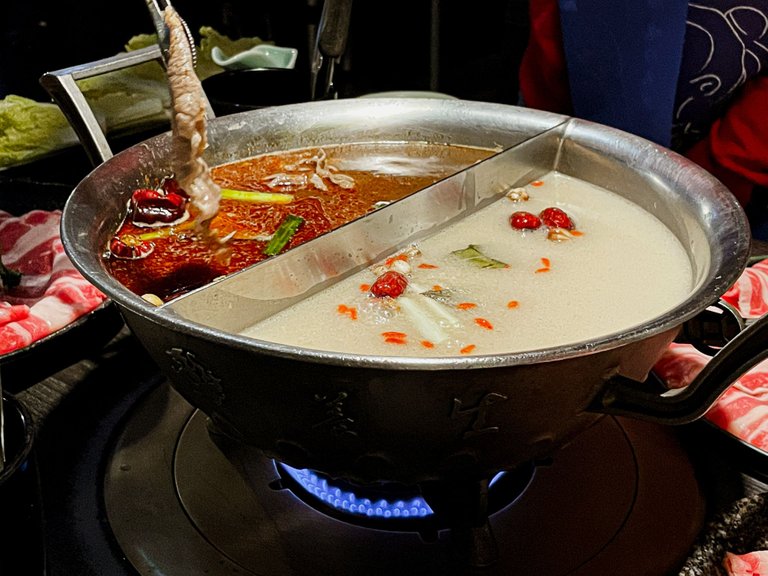 How do you eat Hotpot?
You get your meats and veggies of your portion and basically dip it in the Hotpot soup base you want... wait a few minutes and take them out into a bowl and there is a whole variety of dipping sauces you can choose to dip your veggies and meats... then EAT!!!
You can mix and match all kinds of different dipping sauces and to be honest they are all good!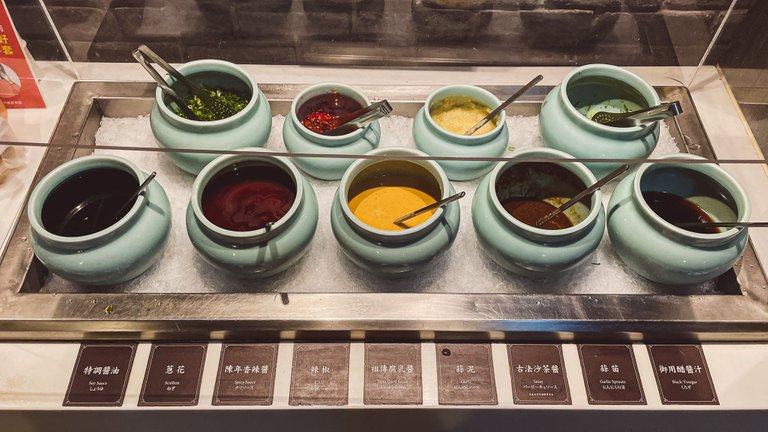 A more soy saucy taste one made on the left, and a more sesame creamy flavor on the right.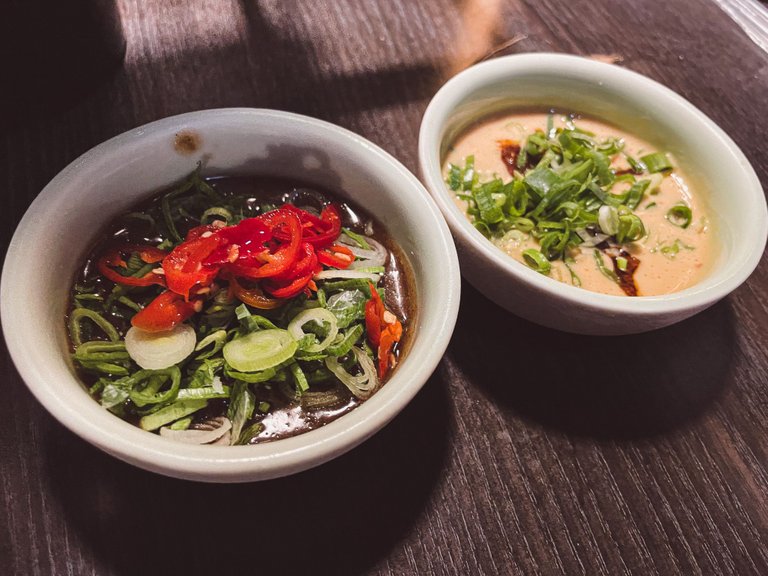 The picture itself is really making me hungry... Ready to eat boiled beef.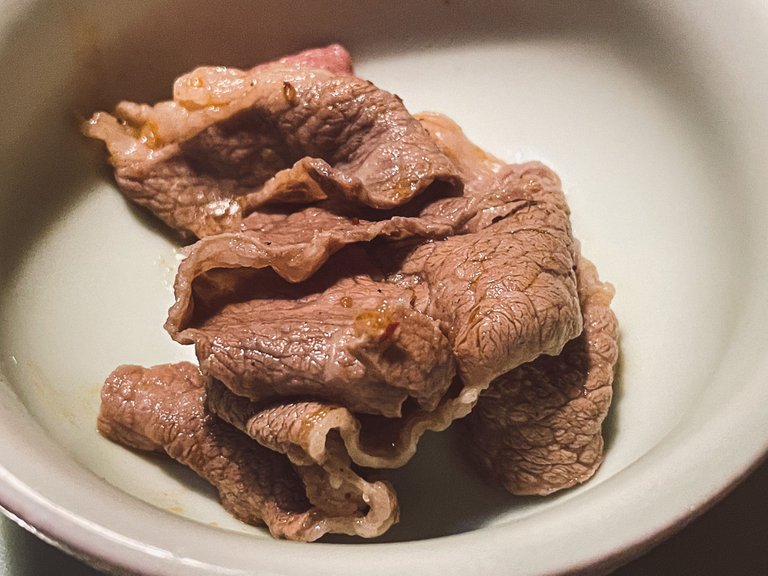 Some people like to have their meats spicy and veggies to the clear broth, however there is no rule... you cook it same way, both way, or even try a different way. :) Usually there is also a bowl of rice that comes with it as well. Yum... just typing this makes me hungry.
The name of this Hotpot Brand is called "Top One Pot"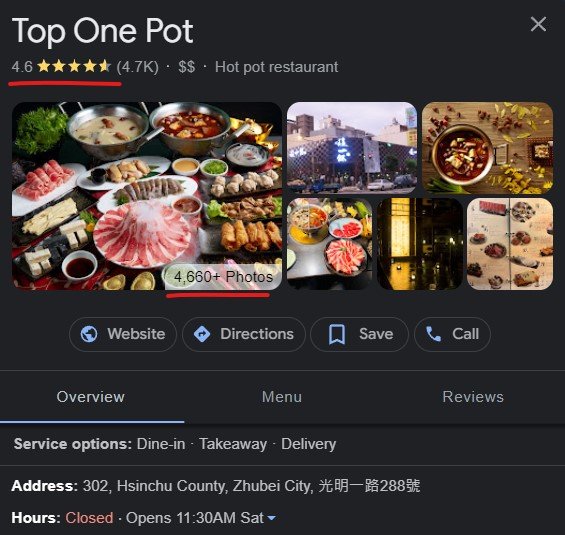 With that many reviews and 4,660+ Photos I mean... I can't be wrong right?
This image exactly was how I discovered this place.
Hotpot is adapted pretty much these days in every part of the world and it shouldn't be too hard to find one. I might be wrong however from my travel experience so far I was able to find them. More cultures are starting to adapt hotpot in families lives now...
Ohhh! and even for my good friend @derangedvisions whom I met at the OCD discord~ even he has a hotpot kit at his household!!! Here is a photo of his hotpot! :) Now thats whats up!! kakakaka!!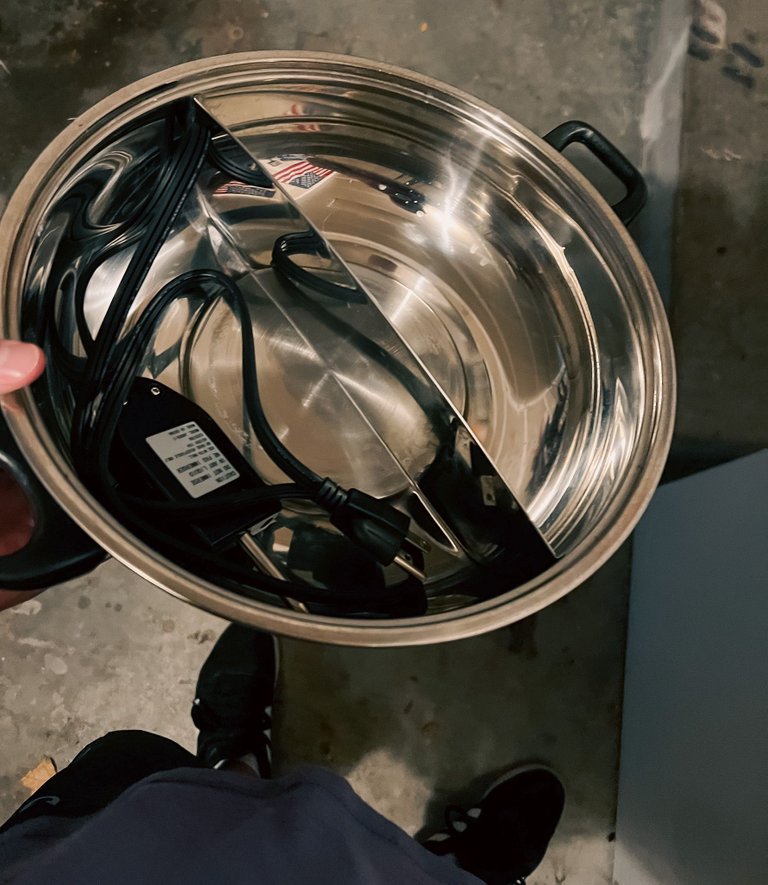 Some asked about how much and where can they get them... It should be easy to get on amazon at around $20.00 Our buddy's hotpot even had the heater coil for the heating element to boil the hotpot. :)
Thanks for checking out my post today. I am always for the look out of cool experiences I can share together with our Hive community. Trying to always find something original and inspire others to do the same... life is too short. Do everything! Cheers n Peace!!
Set the Tone!!!