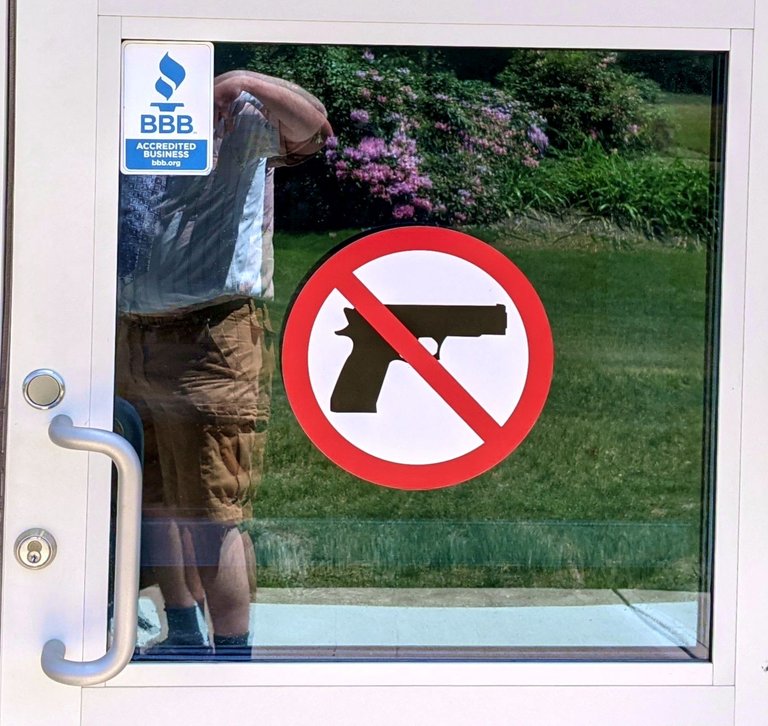 Taunton, Massachusetts
This particular sign adorned the door of a business facility. One finds them on various businesses and entertainment venues. Gun free status is mandated by federal law for all schools. It so happens than Joe Biden, a US Senator from Delaware at the time, was one of the key sponsor of the 1990 law that codified that.
Frankly, I can hardly think of a dumber law. I mean, you can be a professional marksman - but, unless you are a police officer on the job or a licensed security officer, you are not allowed to carry your weapon on the premises. But do you expect a potential mass murderer to respect the sign? I don't think such an expectation would be reasonable. Especially given that, if you are there to commit murder, what's an extra few years' imprisonment for violating a few gun statutes?
Notably, it was after that 1990 law was passed that school shootings became more frequent. Same with other mass shootings which also, predominantly, took place at gun free zones. Which may well have to do with the fact that at those locations one can be all but sure that if one came with a violent intent if there is not a uniformed police officer or security officer in sight one would not encountered anyone with a firearm. By the way, same goes for a berserker armed with a machete - it doesn't have to be a firearm, one can commit a mass murder with many kinds of weapons, especially if intended victims are crowded together, if they are defenseless (children, handicapped people, the elderly, etc.) and if the mass murderer acts decisively and indiscriminately. And, quite likely, that ultimate control has a special appeal to that kind of mass murderer. And, sadly, this gun fee zone law only plays into such an individual's hands.
But what I find amusing is the window into the mind of statists the thinking behind this law offers. They fully believe a law translates into reality on the ground as they believe government verdicts are dictates to reality. And while they are right that government edicts do have some effect - but not necessarily the intended one as people may comply or adjust and bypass the verdict. One only has to read a few history books to know that. But I guess this may be too much to ask of our fellow human of statist persuasion.
References
Gun-Free School Zones Act of 1990 (wiki)
Social media links
Website
Support