The House of Representatives created a subcommittee, a coronavirus crisis task force, which is starting to investigate the large number of alleged COVID-19 deaths in nursing homes. Chair of the committee and House Majority Whip, James Clyburn said in a letter last week:
The Subcommittee is concerned that lax oversight by the Centers for Medicare and Medicaid Services (CMS) and the federal government's failure to provide testing supplies and personal protective equipment to nursing homes and long-term care facilities may have contributed to the spread of the coronavirus and the deaths of more than 40,000 Americans in these facilities. Despite CMS's broad legal authority, the agency has largely deferred to states, local governments, and for-profit nursing homes to respond to the coronavirus crisis
The letter was sent to the 5 largest nursing home companies in the US: Genesis HealthCare, Life Care Centers of America, Ensign Group, SavaSeniorCare and Consulate Health Care. They run over 850 nursing homes with over 80,000 residents. Clyburn is asking for:
details on "coronavirus cases and deaths, testing, personal protective equipment, staffing levels and pay, legal violations, and efforts to prevent further infections." It also wants more clarity regarding how the companies used funds received from the CARES Act.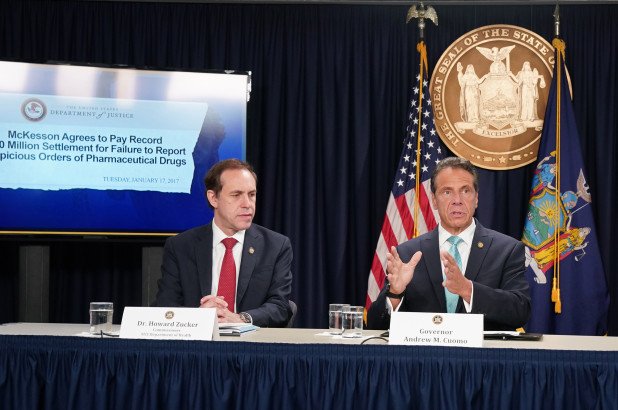 Source
Another member of the select subcommittee on the coronavirus crisis is Steve Scalise. Wiriting in the NYPost, it looks like he is setting his sights on NY Gov. Cuomo for his mishandling of nursing homes.
The Cuomo administration is under investigation for its decision to mandate that nursing homes accept known COVID-positive patients while also prohibiting homes from even testing patients for COVID-19 prior to admission.
Cuomo has over 6,000 deaths under his belt, so to speak. All due to his outlandish orders. Del Bigtree of the High Wire covered this order when it came out, and called out Cuomo for forcibly putting the elderly in nursing homes at risk. Well, it turns out he was right.
Scalise further states how absurd Cuomo's defense is regarding his actions:
New Yorkers deserve accountability and transparency. Cuomo, who is ultimately responsible, has been neither accountable nor transparent.
The governor has deflected responsibility for this mistake to any number of other entities, including, bizarrely, the New York Post. More recently, Cuomo blamed President Trump, saying, "Why did the state do that with COVID patients in nursing homes? It's because the state followed President Trump's CDC guidance." PolitiFact rated this statement "Mostly False."
It looks like Gov. Cuomo is going to face investigation soon enough after the committee gets done with the nursing home companies themselves.
Cuomo isn't the only governor under fire. Scalise also sent letters to 4 other democratic governors, asking why they ignored protocols and forced COVID-19 patients into nursing homes: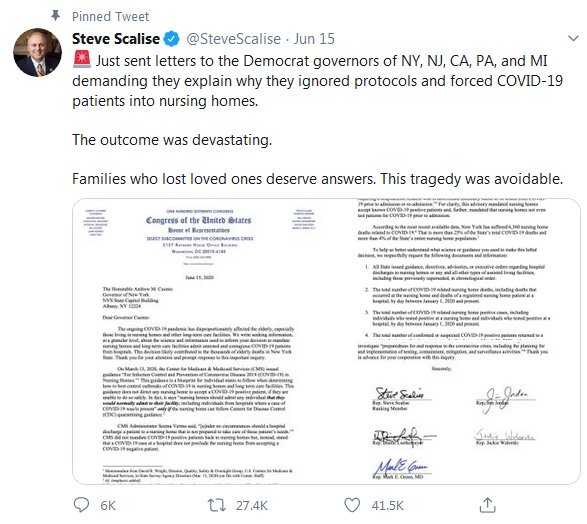 California congressman Mike Garcia is also supports investigating the Governor of California, Gain Newsom. He said in a statement last week:
Rep. Scalise found that the governors of five states forced nursing homes to take in COVID-19 positive patients as part of their response to the pandemic despite guidance from the Center for Medicare & Medicaid Services (CMS) advising against this practice unless the facility could follow CDC's quarantining guidance.
During that briefing, CMS data showed almost 30,000 nursing home residents and nearly 500 staff have fallen to COVID-19. But experts suggest that the number is closer to 60,000.
Instead of the 40,000 number we are given, it seems the true number is closer to 60,000 nursing homes deaths in the US. That's nearly half of all deaths. The elderly and nursing homes were the most vulnerable. In alleged efforts to "protect" everyone, these vulnerable target groups were neglected and even forcibly put in greater danger of contracting the illness. Instead, the politicians chose to lock everyone down and put people out of work. Great job.
Is this just a political stunt? If it is a stunt, it's not partisan, as the subcommittee includes Dems and Reps. Will this go anywhere? Time will tell.