EN
Hello HIVE Community :)!
we of Druckado.de have just desire on the topic 3D scanning.
That's why we unpacked and tested our new 3D scanner from the company Shining 3D.
According to the manufacturer, the scanner should be able to capture the textures of the 3D model with an accuracy of 0.05 mm.
The scanned object must be at least 30x30x30mm and at most 1200x1200x1200mm, but that should be enough for now.😄
DE
Hallo HIVE Community :)!
wir bei Druckado.de haben gerade richtig Bock auf das Thema 3D Scannen.
Darum haben wir unseren neuen 3D Scanner der Firma Shining 3D einmal ausgepackt und getestet.
Der Scanner soll laut Herstellerangaben bis auf 0,05 mm genau die Texturen des 3D Models einfangen können.
Das Scannobjekt muss dabei mindestens 30x30x30 mm und darf höchstens 1200x1200x1200 mm groß sein, aber das sollte erst mal genügen😄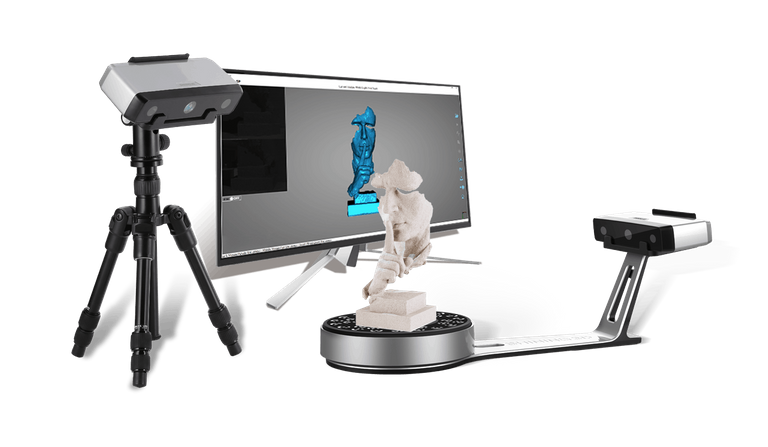 Source = www.einscan.com/
In total, the package contents of the Shining 3D-SP consist of:
1x Shining3D EinScan-SP 3D scanner.
1x stand.
1x turntable.
1x tripod.
1x software.
1x Calibration board.
It is set up and connected in under 20 minutes, the software makes a clear impression and first guides you through a calibration process, which on the one hand improves the accuracy and on the other performs a white balance for colored scans.
Insgesamt besteht der Lieferumfang beim Shining 3D-SP aus:
1x Shining3D EinScan-SP 3D-Scanner.
1x Standfuß.
1x Drehteller.
1x Dreibein-Stativ.
1x Software.
1x Kalibriertafel.
Aufgebaut und angeschlossen ist er in unter 20 Minuten, die Software macht einen übersichtlichen Eindruck und leitet einen erst einmal durch einen Kalibriervorgang, der zum Einen die Genauigkeit verbessert und zum Anderen einen Weißabgleich für farbige Scans durchführt.

For our first attempt, we chose this little friend and his comfy TV chair.
Für unseren ersten Versuch haben wir uns für diesen kleinen Freund und seinen gemütlichen Fernsehsessel entschieden.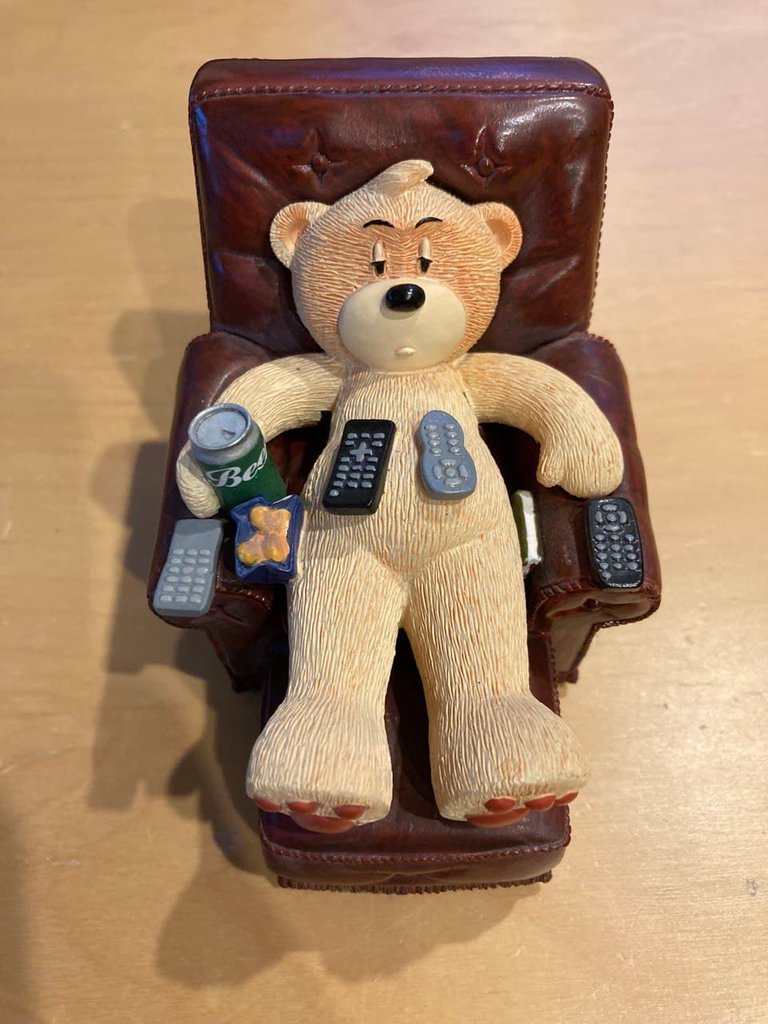 Once everything is set up, scanning is mostly automatic, you just tell the program how many stops and scans you want the scanner to complete in a 360° rotation and you can watch the scanner at work.
Admittedly, this video is played at six times the normal speed, but anyone who deals with 3D printing is already used to waiting.
In addition, it does not stay with one round, you have to scan the object to be detected in other positions to also capture hidden surfaces.
Wenn alles eingerichtet ist, verläuft der Scan weitestgehend automatisch, man sagt dem Programm nur, wie viele Stopps und Scans der Scanner in einer 360° Drehung absolvieren soll und schon kann man dem Scanner bei der Arbeit zuschauen.
Zugegeben, dieses Video ist in sechsfacher Geschwindigkeit abgespielt, wer sich aber mit 3D Druck beschäftigt, ist das Warten schon gewohnt.
Außerdem bleibt es nicht bei einer Runde, man muss das zu scannende Objekt auch in weiteren Positionen scannen, um auch verdeckte Flächen zu erfassen.

In the software it is also necessary to examine the result after each scan and remove unwanted fragments in some places.
In der Software ist es außerdem erforderlich, nach jedem Scan das Ergebnis zu begutachten und an manchen Stellen unerwünschte Fragmente zu entfernen.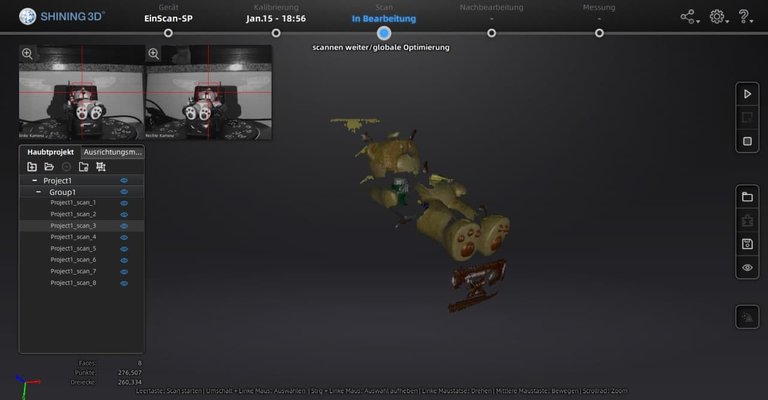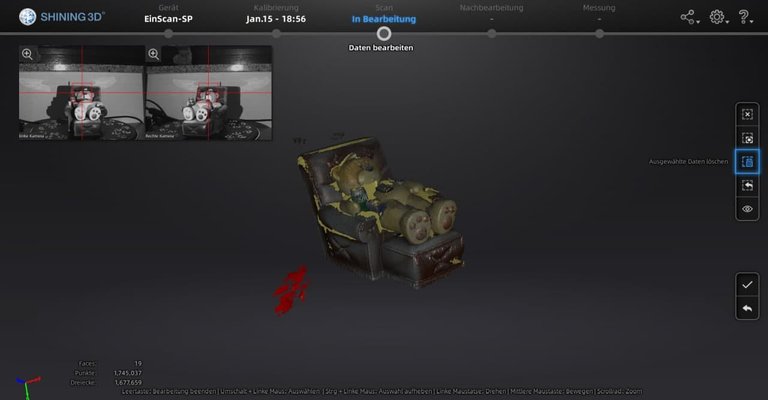 As soon as the resulting point cloud has the desired shape, it can be "mashed" into a 3D model.
Here you still have the option to set the quality, of course we chose the finest and were no less surprised when our result appeared on the screen after about 10 minutes of calculation time.
Sobald die entstandene Punktwolke die gewünschte Form hat, kann man sie zu einem 3D Modell "mashen".
Hierbei hat man noch die Möglichkeit, die Qualität einzustellen, wir haben uns natürlich für die Feinste entschieden und waren nicht minder überrascht, als unser Ergebnis nach ca. 10 Minuten Rechenzeit auf dem Bildschirm aufgetaucht ist.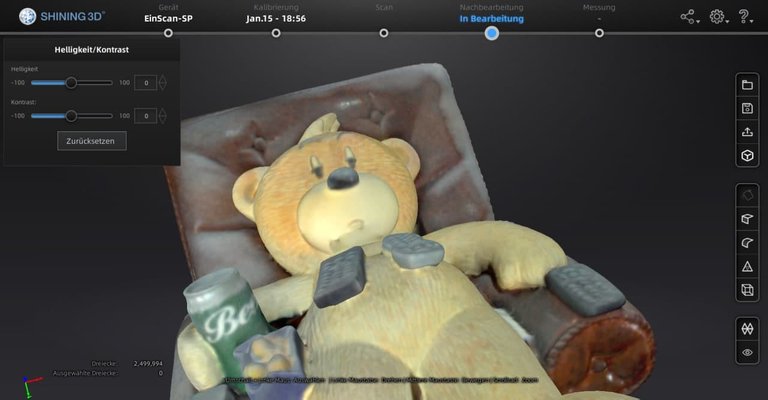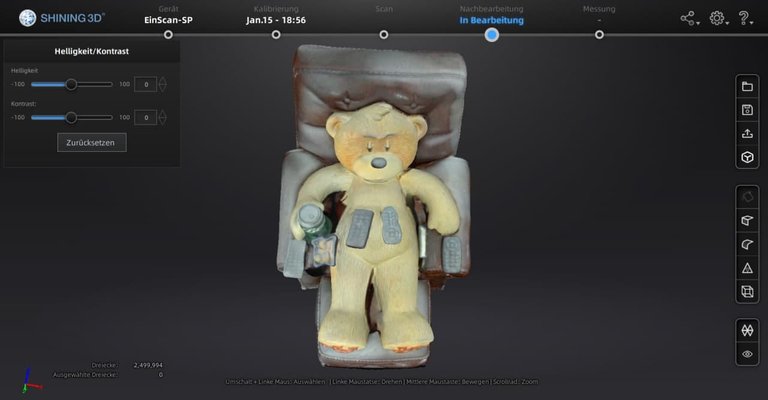 Our 3D model now counts 2.5 million polygons and is ready for any kind of further processing or can of course be printed out 1:1.
Stolze 2,5 Millionen Polygone zählt unser 3D Modell nun und ist bereit für jede Art von Weiterbearbeitung oder kann natürlich auch 1:1 ausgedruckt werden.

Conclusion:
All in all, we got a very good result quite quickly with the scanner,
However, some patience is necessary.
The scanner has some problems with glossy and black surfaces, and we haven't yet had any success with things that don't fit on the rather small turntable.
We'll see what else we can do with the scanner in the future.
We hope you enjoyed our little presentation and have a good time.
Fazit:
Alles in Allem haben wir mit dem Scanner doch recht schnell ein sehr gutes Ergebnis erhalten,
allerdings ist einiges an Geduld notwendig.
Mit glänzenden und schwarzen Flächen hat der Scanner ein paar Probleme und mit Dingen, die nicht auf den recht kleinen Drehteller passen, haben wir noch keinen Erfolg gehabt.
Mal sehen, was wir in Zukunft noch alles mit dem Scanner anstellen werden.
Wir hoffen, unsere kleine Präsentation hat euch gefallen und wünschen euch noch eine schöne Zeit.
---


Druckado.de - your provider for everything related to 3D-printing - HIVE payments accepted!

Join our Discord Server.

Thanks for your interest!
Have a great time and see you soon, your
druckado.de - Team.