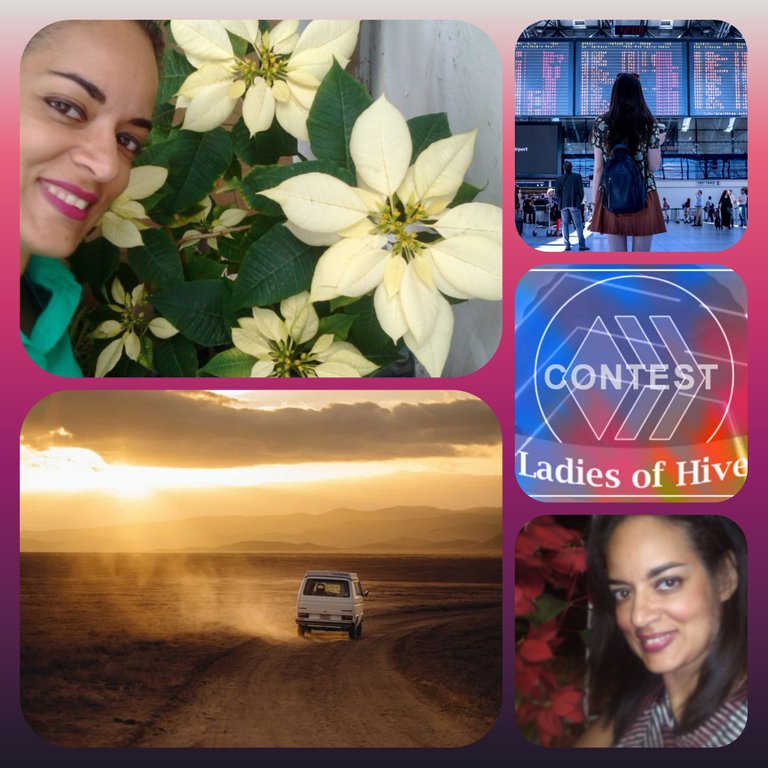 Hello creatives of this beautiful community of empowered women. This week I really liked the questions, so, without thinking too much I wanted to write the first thing that came to my mind when I read the questions.
The first question is:
Which plant best describes you and why?
Quickly came to my mind the Christmas flower a flower that I love among so many flowers in the world.
I searched in social networks, its scientific name which is Euphorbia pulcherrima, has several names depending on the region of Latin and Central America where it is present, names like: Christmas Eve flower, poinsettia, pascuero, federal star, shepherdess or poinsettia, among others.
I was very pleased to learn that this beautiful flower has a national day in Mexico, where it is native, yes, on December 8 is celebrated its day, and the streets and houses are decorated with this colorful beauty.
The Christmas flower represents me since I was a child, it is born and blooms in the most beautiful month, which is December, the month of my birthday.
It is a festive flower, it decorates houses and tables in the month of December, it indicates joy, gifts and sharing.
On December 20, which is my birthday, these flowers came to my house to decorate and celebrate with me.
My father used to give me a red plant for my birthday, once, he brought me almost a tree.
It is almost a tradition that in every house there is a pot with this flower. It signals the arrival of the holidays, and I love to be cheerful and celebrate wherever I go, where I am cheerful and share with friends and family.
Once I decorated my birthday cake with a Christmas flower made in fondan.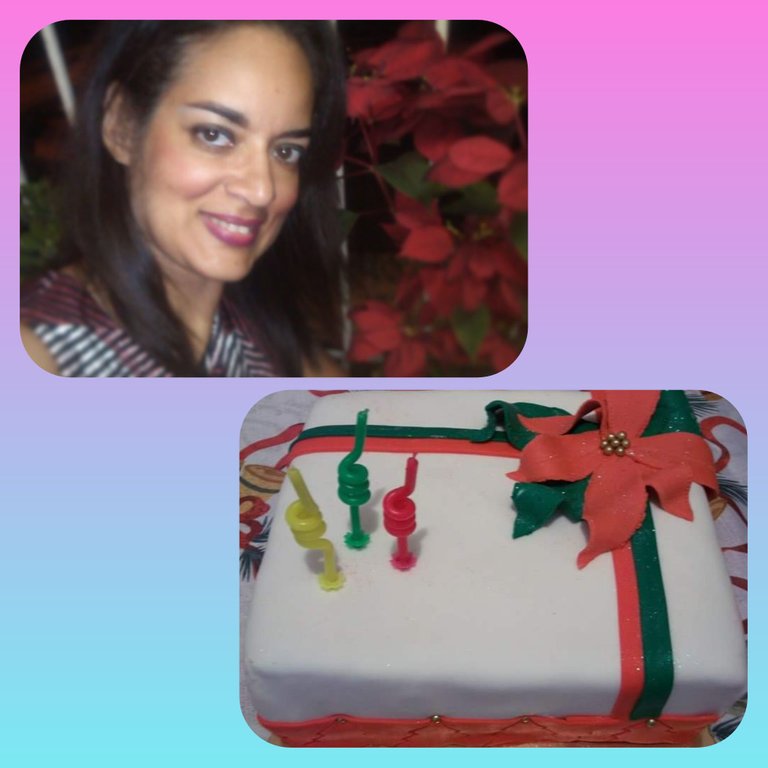 This flower, has several colors between red, very elegant, cheerful white, flirtatious pink.... These are the ones I have seen.
Once I had to organize a big party with many guests, about 30 tables, and I asked to bring 30 red bushes to decorate the evening.
The saleswoman was very grateful for the purchase and gave me a white flower bush. I brought it home 🏵️ I took care of it for several years and it grew into a big bush.
This plant gave me beautiful white flowers every December.
This allowed me to detail, that they are fragile, require care, attention, are strong trunk and can have these plants great height.
Their leaves are soft and unfold from the center, becoming small and getting bigger, their green leaves have a particular shape...
These white flowers that accompany me, look like mandalas.
A flower for a flower, strong and sensitive, which expands joyfully, exposing its beauty and elegance.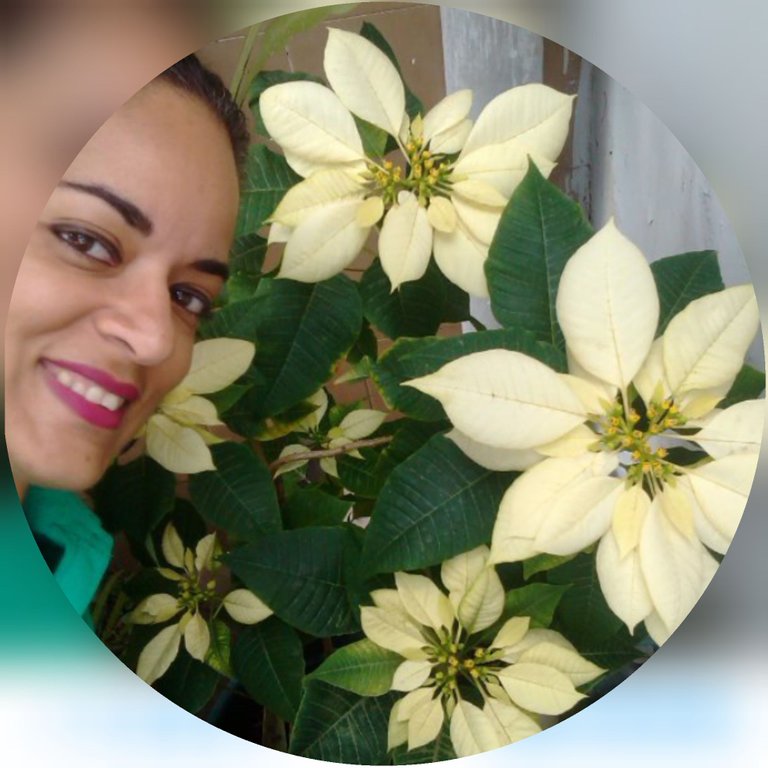 On the other hand this question that I ask myself in different ways, the confinamieto by the coronavirus has left me, few possibilities to have the rhythm of life, to enjoy travel and the company of friends and family.
As the restrictions of Coronavirus lessen, what are you most looking forward to and why? When do you think you will achieve it?
What I would do, to the extent possible, is to travel by road or air.
Traveling by road is a unique experience, when I drive on the highways in search of a place to know and explore, the journey is very rich, feeling the sensation of freedom, the air on my face. With the joyful company of friends, likewise, the pleasure of meeting others, who are waiting for me to take a walk, have a party or just see other landscapes. Away from a place where I have felt embedded for a year.
On the other hand, traveling by plane to other countries, fulfilling dreams and goals in other latitudes. To take flight and live the adventure. A new beginning.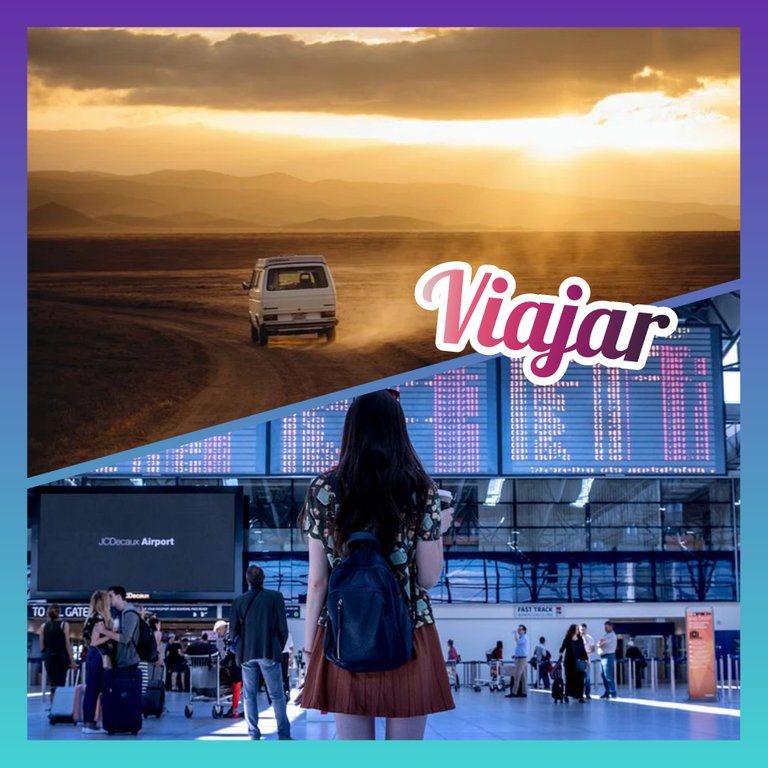 To achieve this, maybe I will come soon to travel by road, it is a journey in my country, on roads that I know and if I do not drive myself, then taking a bus is a good option.
Traveling by plane requires more organization, so I will decide whether to get vaccinated or not. I do not trust these drugs and I know that they intend to ask for this as a requirement to go to other countries.
For the time being, I will live what I have to live without losing hope to take the road and arrive with well being to other environments.
Thank you for reading, supporting and commenting.
I invite my new friend and namesake @yenmendt y s @carmend1 to participate.
![2_20210518_073219_0001.png](https://files.peakd.com/file/peakd-hive/jennynas/Ep
Translated with www.DeepL.com/Translator (free version)


Español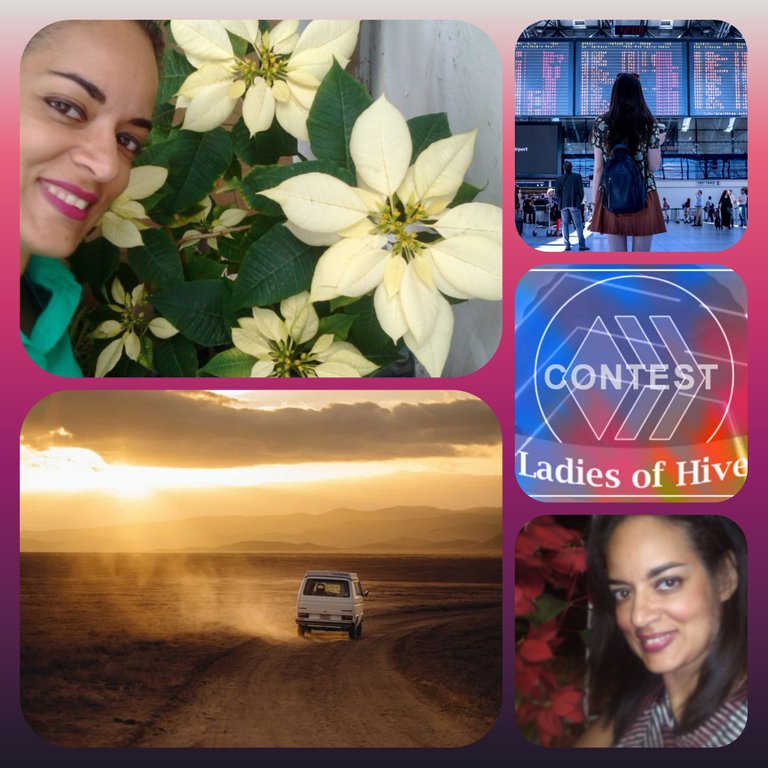 Hola creativas de esta linda comunidad, de mujeres empoderadas. Esta semana me han gustado mucho las preguntas, así que, sin pensar mucho quise escribir lo primero que vino a mi mente cuando leí las preguntas.
La primera pregunta es:
¿Qué planta te describe mejor y por qué?
Rápidamente vino a mi mente la flor de navidad una flor que me encanta entre tantas flores en el mundo.
Indague en las redes sociales, su nombre científico el cual es Euphorbia pulcherrima, tiene a su vez varios nombres según la región de Latino y Centro América donde este presente, nombres como: flor de Nochebuena, flor de pascua, pascuero, estrella federal, pastora o poinsetia, entre otros.
Me dió mucho gusto, conocer que está hermosa flor, tiene un día nacional en México,de donde es nativa, sí, el 8 de diciembre se celebra su día, y se decoran las calles y casas con esta colorida belleza.
la flor de navidad, me representa desde pequeña, nace y florece el mes mas bello, que es dicembre el mes de mi cumpleaños.
Es una flor fiestera, decora casas y mesas en el mes de diciembre, índica alegrias, regalos y conpartir.
El 20 de diciembre, que es mi cumpleaños, en mi casa llegaban estás flores a decorar y celebrar conmigo.
mi papá me regalaba para mi cumpleaños una planta roja, una vez,me trajo casi un arbol.
Es casi tradición que en toda casa este presente un matero con esta flor. Indica la llegada de las fiestas, y a mi me encanta llegar alegre hacer fiestas donde vaya, donde soy alegre y compartir con amigos y familiares.
Una vez decore mi torta de cumpleaños, con una flor de navidad elaborada en fondan.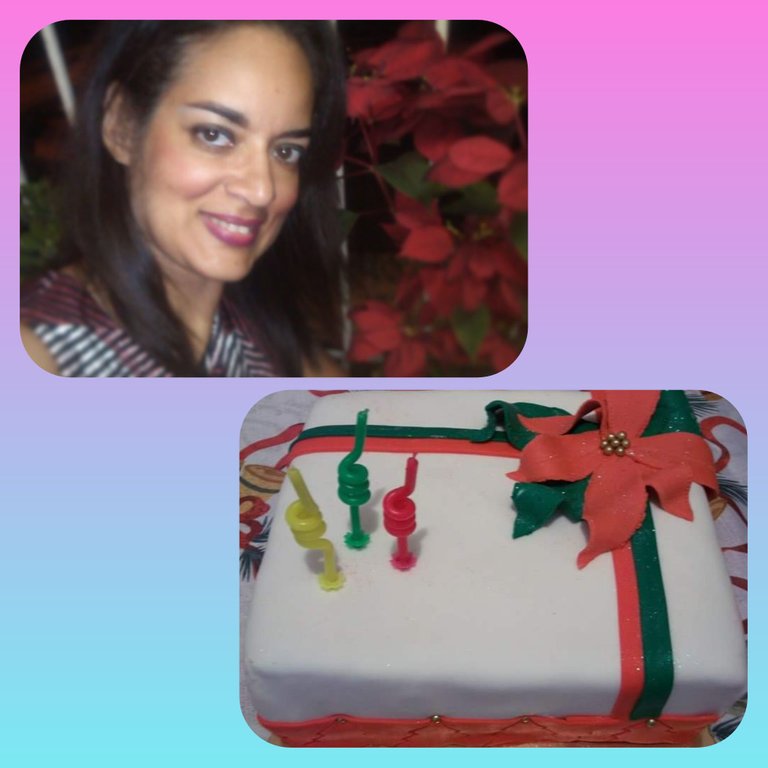 Esta flor, posee varios colores entre el rojo, muy elegante, blanco alegre, rosado coqueto... Son las que he visto.
En una oportunidad me tocó organizar una gran fiesta con muchos invitados, 30 mesas aproximadamente, y pedi traer 30 matas rojas para decorar la noche.
La vendedora muy agradecido por la compra, me regalo una mata de flor blanca. La cual, me traje a casa 🏵️ la cuide durante varios años y creció y se convirtio en un gran arbusto.
Esta planta me regalaba en diciempre hermosas flores blancas.
Esto me permitio detallar, que son frajiles, requieren cuidado, atención, son de tronco fuerte y pueden tener estas plantas gran altura.
Sus hojas son suaves y van desplegandose desde el centro, observandose pequeñas y cada vez más grandes, sus hojas verdes poseen una forma particular...
Estaa flores blancas que me acompañan, parecen mandalas.
una flor para una flor, fuerte y sensible, que se expande alegre, exponiendo su bella y elegancia.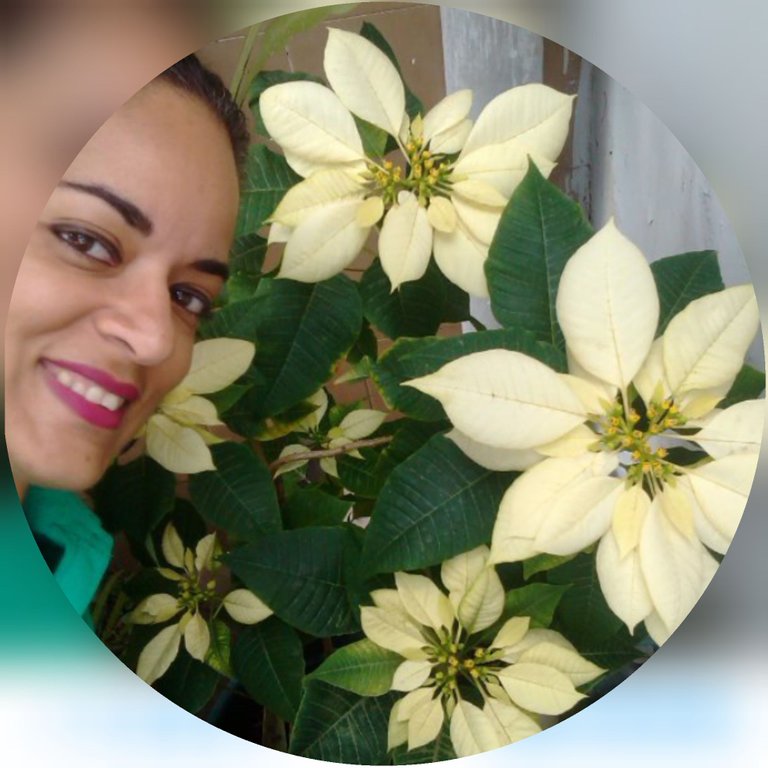 Por otro lado esta esta interrogante que me hago de diferentes formas, el confinamieto por el coronavirus nos me ha dejado, pocas posibilidades tener el ritmo de vida, de disfrutar de viajes y de la compañía de amigos y familiares.
A medida que disminuyen las restricciones de Coronavirus, ¿qué es lo que más te ilusiona y por qué? ¿Cuándo crees que lo conseguirás?
Lo que haría en la medida de las Posibilidades, es viajar por carretera o en avión.
Viajar por carretera es una experiencia única, cuando manejo por las autopistas en busca de un lugar para conocer y explorar, el recorrido es muy rico, sintiendo la sensación de libertad, el aire en mi rostro. Con la compañía alegre de amigos, asi mismo, el placer del encuentro con otros, que me esperan para pasear, hacer una fiesta o solo ver otros paisajes. Fuera de un lugar donde me siento incrustada desde hace un año.
Por otro, lado el viajar en avión a otros países, cumplir sueños y metas en otras latitudes. Tomar vuelo y vivir la aventura. Un nuevo comienzo.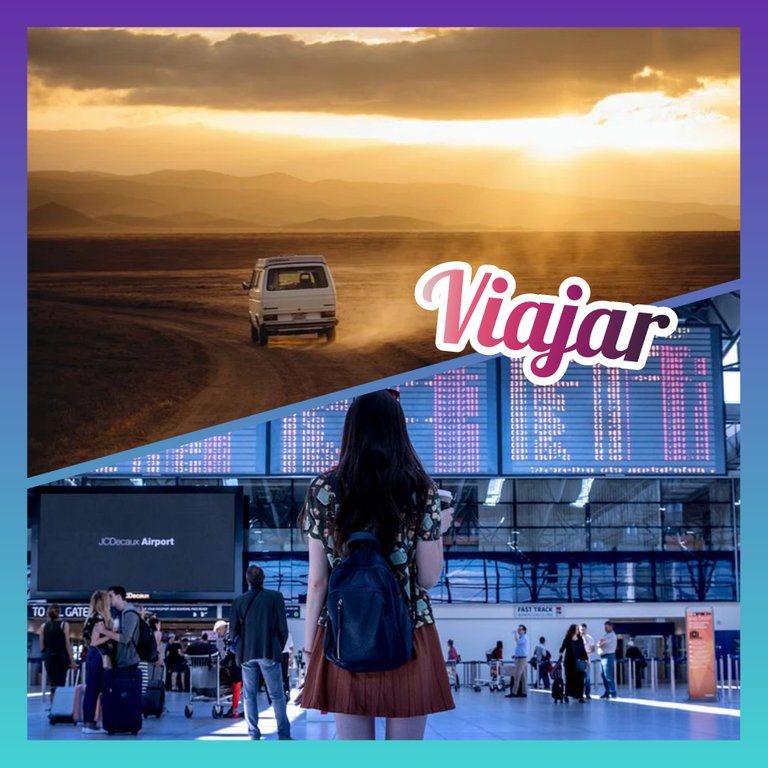 Para lograrlo, tal vez llegué pronto el viajar por carretera, es un recorrido en mi país, por caminos que conozco y si no menejo yo, pues tomar un autobus es una buena opción.
El viaje en avión requiere más organización, pues decidir si me vacuno o no. No confío, en estos farmacos y sé, que se pretende, pedir esto como requisito para salir a otros paises.
Por lo pronto, vivir lo que toca vivir sin perder la esperanza de tomar caminó y llegar con bienestar a otros ambientes.
Gracias por leerme, apoyarme y comentar.
Invito a participar a mi nueva amiga y tocaya @yenmendt