Ecency.com just go whole a lot better with advanced editor options, translated into 7 new languages, mobile navigation improvements, performance improvements on feeds and more. Read on to learn more about new changes that went live to our website.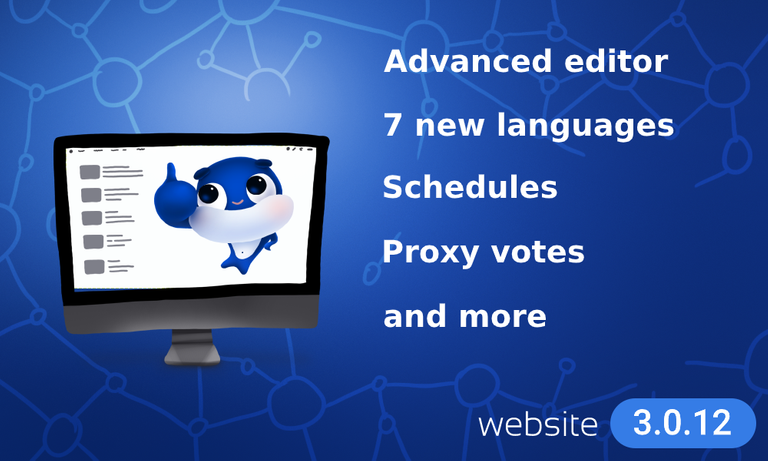 What's new
Advanced editor section, includes setting beneficiaries, scheduling post, auto reblogging community posts, selecting post payout types.

Schedules page, now you can see your scheduled posts and move them to draft for edit, delete and schedule more posts easily.

7 new languages, Spanish, Hindi, Indonesian, Portuguese, Serbian, Finnish and Ukrainian, thanks to these awesome people https://ecency.com/contributors.

Witness page now shows votes of proxy, if you have proxied your voting rights.

Added Voting power indicators on User menu.

Contributors page giving credit for everyone who contributing to our ecosystem. We will be improving this more and adding more people, if you are missed, please contact us, this is first iteration and we want to add everyone who made Ecency what it is today. 😍

Navbar improved for mobile devices as well as simplified for desktop users.
Fixes on Proposals page.
Performance improvements on community and global feed to reduce number of RPC requests. Even more fast navigation and loading pages 🚀
Various other optimizations and corrections which you can monitor from our official Github page
We are expecting to release desktop app with these new changes in couple days after thorough checks as usual.
Are you developer or translator or just want to contribute to Ecency? Feel free to check our opensource projects and join our discord to get in touch.
Stay healthy, stay excited, stay united! Don't forget to share news with your friends.
---
Ecency: https://ecency.com/proposals/141
Hivesigner: Vote for Proposal