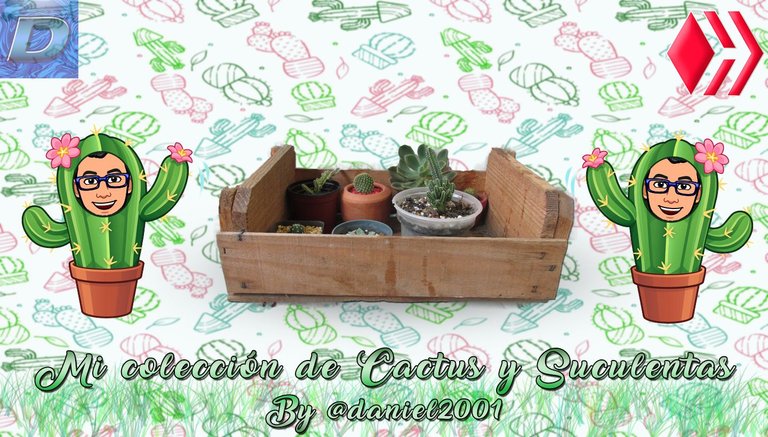 ¡Saludos amigos de Hive! nuevamente por aquí les habla su amigo Daniel Ramos o también conocido como Dany Rams trayendo contenido nuevo a mi blog, en ésta ocasión les traigo algo difente, algo más que solo música en piano o flauta dulce, se trata de un post que había querido hacer desde hace tiempo pero que no me había propuesto a armar pero al fin ha llegado el día.
Para los que me conocen desde un inicio en mi blog saben que además de ser música también me gusta hacer otras cosas y entre ellas está la jardinería y la ecología, por ello hoy les muestro mi colección de cactus y suculentas que he ido cuidando desde hace varios meses para acá. Espero les guste el post...
Greetings Hive friends! here again your friend Daniel Ramos or also known as Dany Rams speaks to you bringing new content to my blog, this time I bring you something different, something more than just music on piano or recorder, it is a post that I had wanted to do for a long time but that I had not proposed to put together but the day has finally come.

For those who know me from the beginning on my blog, you know that in addition to being music I also like to do other things and among them is gardening and ecology, so today I show you my collection of cacti and succulents that I have been taking care of for a long time. several months here. I hope you like the post...

¿Como llegué al mundo de los cactus y suculentas?
How did I get to the world of cactus and succulents?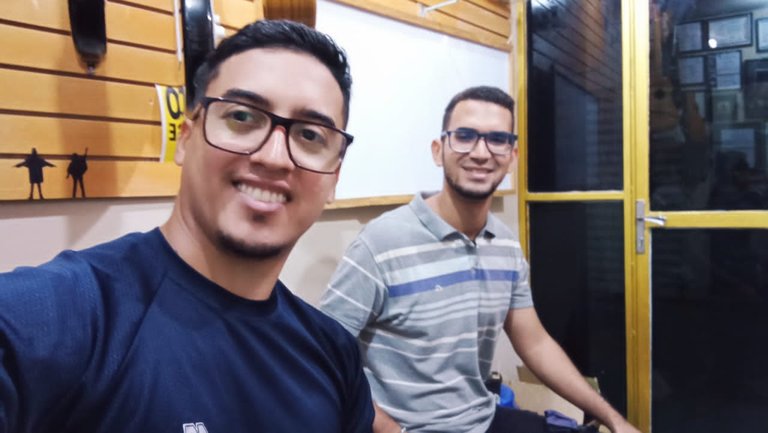 Bueno les comento que desde hace tiempo mi abuela siempre le han gustado las plantas y creo que yo heredé ese gusto y afición entonces siempre he estado en torno a las plantas de mi casa, luego en el conservatorio conocí a un músico llamado Johakson (el de la foto) el cual es un amante de los cactus y suculentas y como consevamos la amistad de vez en cuando me regala una que otra plantita. Johakson es un guitarrista y tiene su propia academia musical y bueno ese es el sitio donde voy a buscar los cactus jejeje.
Well, let me tell you that my grandmother has always liked plants for a long time and I think I inherited that taste and fondness, so I have always been around the plants in my house, then at the conservatory I met a musician named Johankson (the one from the photo) who is a lover of cacti and succulents and since we maintain friendship from time to time he gives me one or another little plant. Johan is a guitar player and he has his own music academy and well that's the place where I go to look for the cacti hehehe.

Mi colección
My Collection
Como pueden observar mi pequeña colección se basa en una cesta de madera que mi mamá me dio para colocar varios cactus ahí, poco a poco se han ido sumando más plantitas y bueno por ahora conviven bien jejeje y ahora les haré la presentación de cada una de ellas:
As you can see, my small collection is based on a wooden basket that my mom gave me to place several cacti there, little by little more plants have been added and well for now they coexist well hehehe and now I will present each one of them they:

Acanthocereus Tetragonus
Castillo de Hadas
Fairy Castle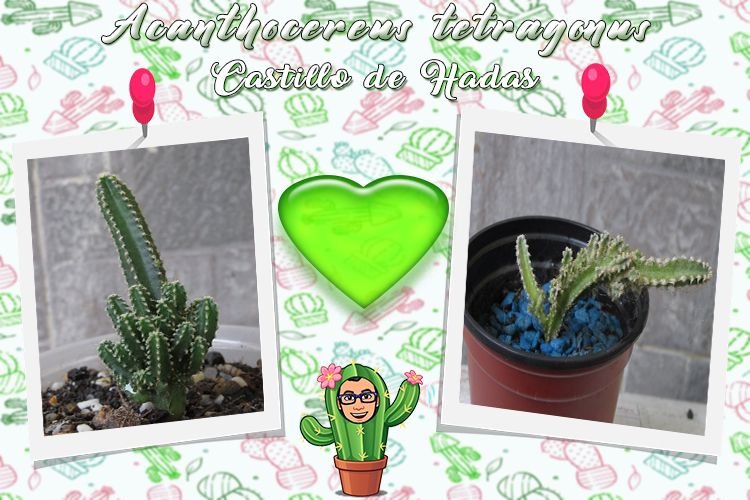 Éste cactus es uno de los primeros que tuve, se le conoce como "Castillo de Hadas" por la forma en la que crecen todos los retoños a su alrededor. Como ven en la imagen yo poseo dos, uno que se coló por ahí con unos que trajo mi mamá y el otro me lo regaló mi amigo johakson, el segundo se ve algo caído por que le faltaba agua pero en el momento de las fotos le apliqué agua a todas.
This cactus is one of the first ones I had, it is known as "Fairy Castle" because of the way all the shoots around it grow. As you can see in the image I have two, one that slipped in there with some that my mom brought and the other was given to me by my friend Johnson, the second one looks a bit droopy because it lacked water but at the time of the photos it I applied water to all.

Opuntia Microdasys
Orejas de Mickey
Mickey Ears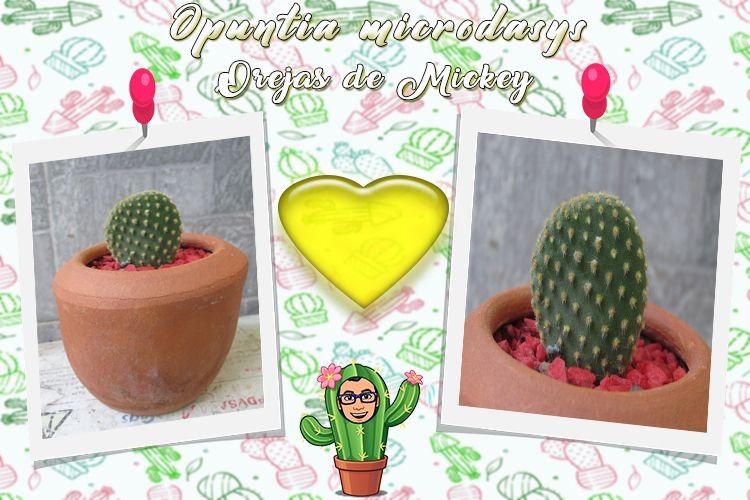 De éste cactus creo que varios hemos tenido en nuestras casas o lo hemos visto en otro lado, es conocido como "Orejas de Mickey" o "Mickey mouse" y existen de 3 especies que son amarilla, roja y una blanca pero en mi caso es amarilla. El por que de éste nombre es por que cuando le salen retoños salen en forma de "orejas" y como dato curioso también se le llama "Cegadora" ya que los algunos animales como las vacas suelen chocar con ella y por lo diminuta de sus espinas las deja ciegas.
I think that several of us have had this cactus in our homes or have seen it elsewhere, it is known as "Mickey Ears" or "Mickey Mouse" and there are 3 species that are yellow, red and white but in my case it is yellow. The reason for this name is because when shoots come out they come out in the form of "ears" and as a curious fact it is also called "Blinder" since some animals such as cows usually collide with it and because of the tinyness of its spines blinds them.

Graptoveria Fénix
Ésta hermosa suculenta es mi más reciente regalo de mi amigo Johakson, la Graptoveria Fénix tiene éste peculiar nombre ya que es una planta que al exponerse a los rayos del sol suele cambiar de color a un tono rojizo en las puntas de sus hojas, es una suculenta muy resistente y el día que me regalaron que la traía por la calle a merced del sol logró cambiar un poco su color pero de verdad que es muy hermosa.
This beautiful succulent is my most recent gift from my friend Johakson, the Phoenix Graptoveria has this peculiar name since it is a plant that when exposed to the sun's rays usually changes color to a reddish tone at the tips of its leaves, it is a very resistant succulent and the day they gave me that I brought it down the street at the mercy of the sun it managed to change its color a little but it is really very beautiful.

Echeveria Imbricata
Blue Rose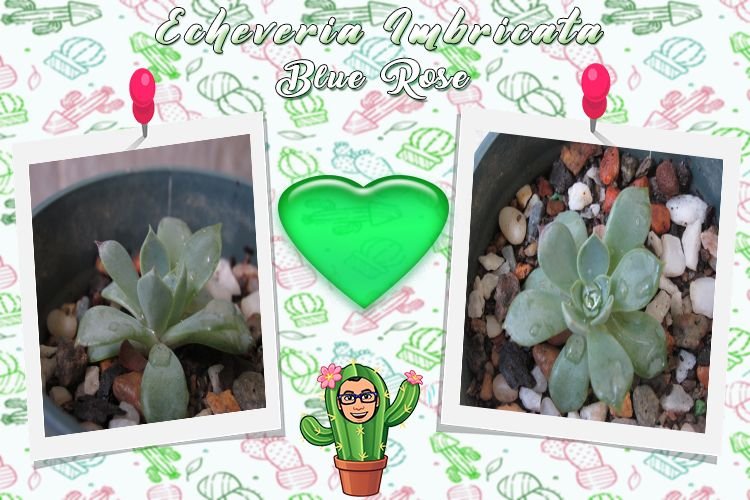 Seguimos con las suculentas y es que ésta pequeña flor fue la primera suculenta que me regaló johakson, la Echeveria Imbricata es sumamente hermosa, tiene el aspecto de una flor y la que ven en la foto es un esqueje que ha ido creciendo de a poco, se le conoce también como "Blue Rose" por ser de un color verde azulado.
We continue with the succulents and this little flower was the first succulent that johakson gave me, the Echeveria Imbricata is extremely beautiful, it looks like a flower and the one you see in the photo is a cutting that has been growing little by little, It is also known as "Blue Rose" because it is bluish-green in color.

Echinopsis Subdenudata
Cactus Lirio de Pascua
Easter Lily Cactus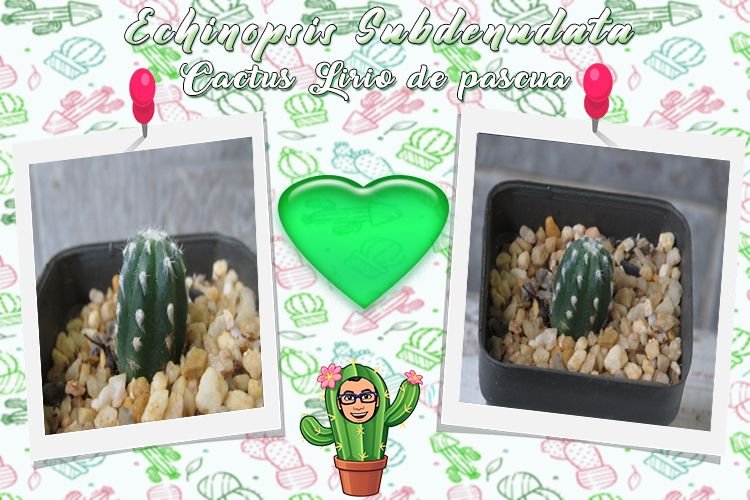 La Echinopsis Subdenudata es un pequeño cactus muy especial, es uno de esos que da una flor muy hermosa, por eso se lo pedí a mi amigo por que quería ver como florecía además de que también suele tener varios esquejes que se pueden volver a cultivar. El color de la flor es blanca con toques amarillos, algo verdaderamente hermoso que quiero presenciar.
The Echinopsis Subdenudata is a very special small cactus, it is one of those that gives a very beautiful flower, that's why I asked my friend because he wanted to see how it bloomed, and it also usually has several cuttings that can be grown again. The color of the flower is white with yellow touches, something truly beautiful that I want to witness.

Echinopsis Calochlora
Cojín de Suegra
Mother in law Cushion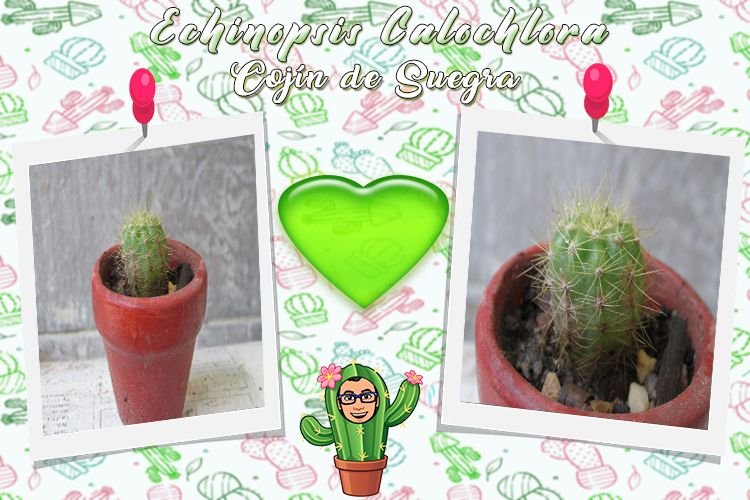 Y por último tenemos a la Echinopsis Calochlora que es uno de los primeros cactus que me regaló mi abuela y que también he ido cultivando aquí en casa. El nombre científico está bien pero el nombre común es algo gracioso pero el motivo es por que cuando le empiezan a salir retoños al cactus se agrupan en muchas direcciones haciendo parecer que es un pequeño "cojín" o algo así pero para los que quieren empezar con ésto de los cactus ésta es una buena opción. Nunca le he visto alguna flor a éste cactus pero es bastante sencillo y fácil de cuidad.
And finally we have the Echinopsis Calochlora which is one of the first cacti that my grandmother gave me and that I have also been growing here at home. The scientific name is fine but the common name is kind of funny but the reason is because when the cactus starts to sprout they group themselves in many directions making it look like it's a little "cushion" or something like that but for those who want to start with this cacti this is a good option. I have never seen any flowers on this cactus but it is quite simple and easy to care for.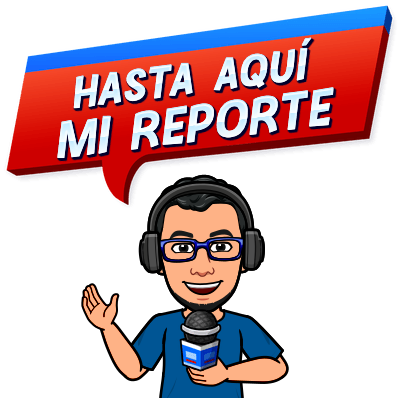 Imagen realizada con la App "Bitmoji"
Image made with the "Bitmoji" App

¡Gracias por ver el post!
¡Espero les haya gustado!
Thanks for watching the post!
I hope you liked it!