Important First Note:
Before we even begin I want to clarify something. I (@tibfox) think many of you have heard of the Vienna Gate and if not - check the linked post made by the amazing @hiq.magazine team. If you are lazy or have visual impairments then listen to the @hiq.smartcast by following this link.
This account and the community has no relations to the @hiveeurope account involved in the "vienna gate" and is here to only serve the community and no personal wallet!
No workshops
No paid onboarding
No key theft
No "AI"
No sock puppets
No lies
Let's keep this story out of this community from now on to only be positive and constructive. I know I started with this bold but important thing here but I really wanted to make sure that you know about the motives of this account ;)
now that we have this out of the way:
---
embedded from
wikimedia
Welcome to "HIVE Europe"
After listening to the above mentioned smartcast I thought that it is time to create a real and positive community aiming to support the Europeans on our beloved HIVE blockchain and more precisely their meetups and networking.


So I created @hive-eu and the HIVE Europe community to open it up for all of you in the hopes that you will join and help this idea become reality in near future.




As usual the first step for a successful account/community is to write a post - so here we go. But before that I have also created a discord server just because I know it will be helpful in future.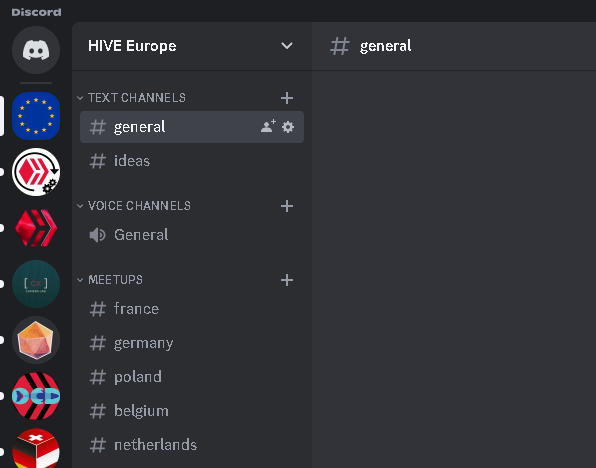 Currently I am the only one in there (I feel very lonely) and as you might guess I could need some helping hands and suggestions to bring this idea forward. If you want to help then please enter this discord server. Obviously it is pretty silent there but that will change hopefully soon ;)
---
Purpose of the Community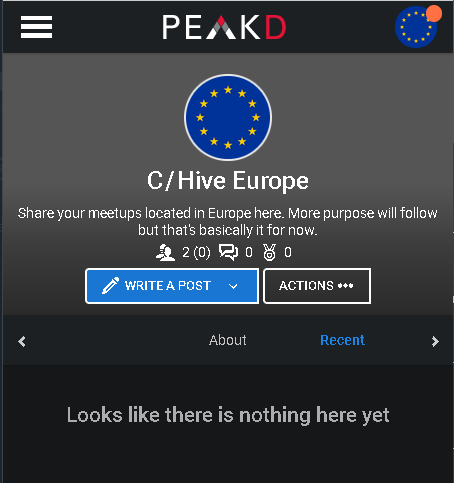 For now the only "use case" of HIVE Europe is to support European meetup related posts. That means:
Announcements
Recaps
News about HIVE Europe
Just create your post in the community or cross post into it. Preferred language of the post (or a portion of it) is obviously English to reach as many potential attendees as possible.

What matters is that HIVE Europe contains as much European meetup information as possible understandable for everyone.


Of course that could change if we decide to open the community to "Europe related posts" or something like that.. But this will be a collective decision and will not happen in the near future I think.
---
Purposes of the Account
I will use the account @hive-eu to manually vote on posts published inside the community but for now this will not have a big effect. As we progress on building this community obviously it would be great to see some incoming delegations but let's discuss that in the discord or in upcoming posts. The moment we ask actively for delegations I will create an automation to pay out the majority (or even 100%) of the curation rewards coming from delegations just like I did with DIYHUB.
Every meetup announcement will be reblogged to increase exposure so following the account will have a positive effect.
I will also write posts about the state of HIVE Europe and everything related to the account.
Perhaps we will have a big happening somewhere in Europe some day organized by @hive-eu. Who knows? Until then this account will help you to create more exposure for your meetup.
---
Already Existing Geo-Based Communities
I know that there are geography based communities like C/Deutsch D-A-CH or C/Italy & Italians on HIVE but they are not well known to be the spot to search for a meetup. If you check common European countries you will not even find an active HIVE community even though there are a lot of people using HIVE in these countries (Germany is an exception here somehow).
I also think that it would be very beneficial to know when a community meetup happens in the neighboring country next to you. I mean we live in the Europe of 2023 - travel time and costs have decreased a lot in the past decades. And who knows if someone from the UK is coincidentally in France and wants to join a meetup but simply doesn't know where to search for it.
High Speed Railroad Network of Europe - embedded from
wikimedia
Name Dropping to Further Illustrate the Issue
@detlev for example organizes meetups for a long time in Aachen which is very close to the Netherlands, Belgium, Luxemburg and France. But do you think a new user from Belgium would find out that a next meetup is in planning by @detlev?
@blue.rabbit started to organize meetups in the area of Lake Constance - France is not far away but do the French know about that?
@reiseamateur takes care of promoting meetups all around the German speaking landscape - but people from outside of these countries perhaps don't know him so they never get fresh news about upcoming meetups in their neighboring countries e.g. Austria.
---
Finally a Personal Example
I live in the north of Germany so I am surrounded by Denmark, France, the Netherlands and Belgium. Including Germany itself I have 5 countries I could potentially travel to in a "relatively short" timespan. I went to a great Dutch Meetup last year organized by @coldbeetrootsoup. Not that I have actively searched for it or got notified by a ping of my username or something - I am a friend of the organizers and got asked to come. I had a lot of fun with @soyrosa @artakush @minigunner @brittandjosie @loonatic just to name a few and I am very happy that I made the 5h long ride from Hamburg to The Hague.
For a Dutch meetup you normally would not think about pinging German or French HIVEers even though they could be interested to join. But even if someone from another country finds out about your event: If there is no relation you've already built on HIVE (like I did with the organizers of the Dutch Meetup) the person would not feel the need to come. But you know what can build relations so strong that you drive hours to get to a meetup?
A Community on HIVE!
---
This is the idea I wanted to pitch to you with this first post. I hope you find it interesting, share this post with your friends and perhaps you want to help me grow this idea to an actual well known instance for meetups all around Europe.
Thank you very much for your time and your comments in advance. If you want to join the team then make sure to enter the discord server and let's have a chat!
Peace!