Hello friends, today I share a collage I made from magazines and recycled cardboard.
Que tal amigos, hoy comparto un collage que realice a partir de revistas y cartón reciclado.
A few days ago I was cleaning my home and I came across some old magazines, I started to look through them and I was inspired to make a collage from them.
Remembering in my childhood I used to make a lot of collages, when I was bored I would cut out images and form scenes from comic books and NBA basketball magazines. Of course at that time I didn't know that this art of making compositions with different materials and images is called collage.
Hace unos días estuve realizando tareas de limpieza en mi hogar y me tope con unas viejas revistas, me puse a ojearlas y me inspire a elaborar un collage a partir de las mismas.

Recordando en mi infancia que solía hacer muchos collages, cuando estaba aburrido recortaba imágenes y formaba escenas a partir de historietas y revistas de basket de la NBA. Claro en esa época no sabia que este arte de realizar composiciones con diferentes materiales e imágenes se denomina collage.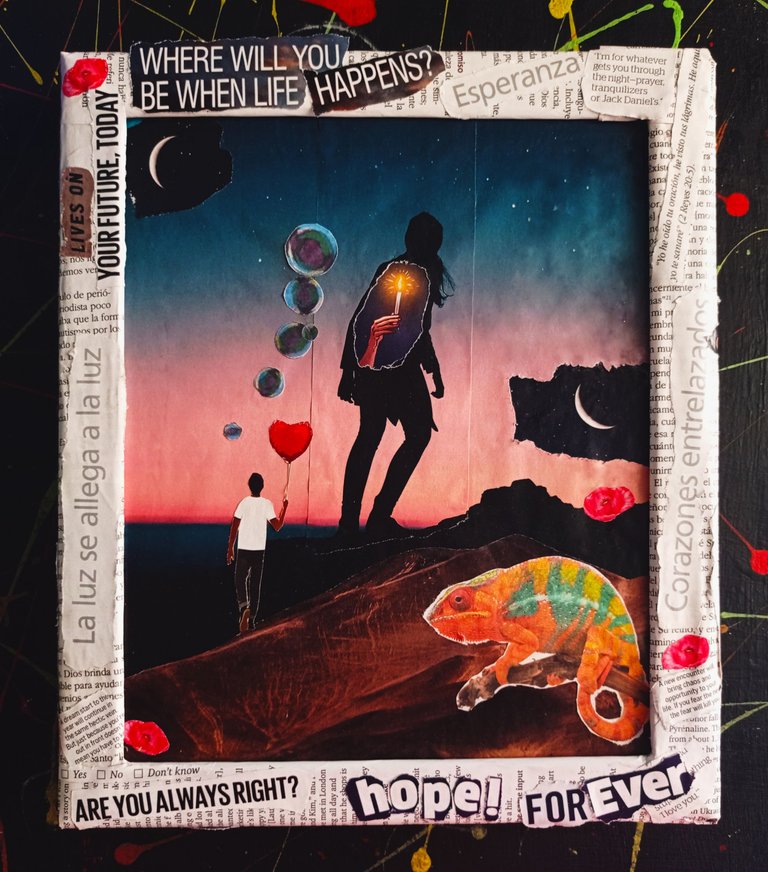 It is worth mentioning that making a manual or analog collage for the first time after you are used to making digital compositions is a total challenge, you feel a bit like a fish out of water in my case without being able to manipulate the images, resize, change hue, adapt them to the work you want to represent.
But it was fun to do it this way, I need to improve my technique a little to get a better finish in the final result.
Vale mencionar que elaborar un collage manual o análogo por primera vez luego que ya estas habituado a hacer composiciones de manera digital resulta un reto total , te sientes un poco como pez fuera del agua en mi caso sin poder manipular las imágenes, redimensionar, cambiar tonos, adecuarlas a la obra que buscas representar.

Pero fue entretenido hacerlo de esta manera, me falta mejorar un poco la técnica para obtener un mejor acabado en el resultado final.

Recycled magazines
Cardboard
Cardboard bar
Scissors
Blades
Cutter
Pencil
White glue
Paintbrush
Adhesive tape
Revistas recicladas
Cartón
Barra de cartón
Tijeras
Cuchillas
Escuadra
Lápiz
Pegamento blanco
Pincel
Cinta adhesiva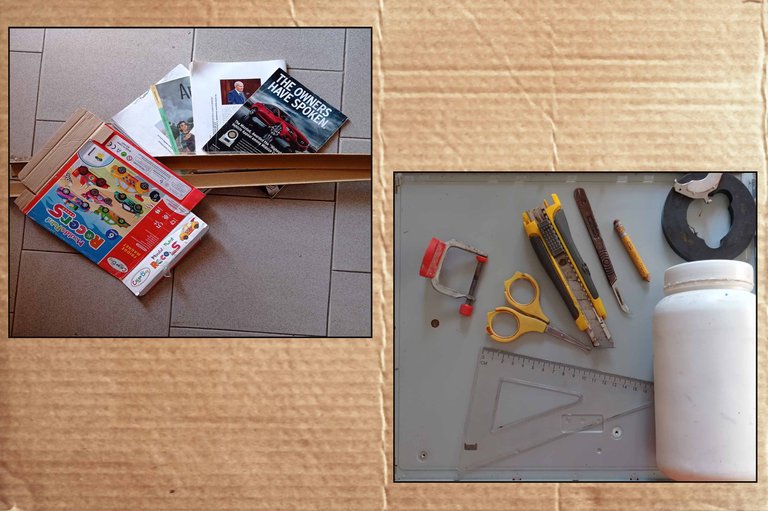 To begin this work I set out to assemble the frame or picture, I cut two pieces of 29cm and two pieces of 25cm from the cardboard tube and joined them to form a rectangle, supporting myself with the square and gluing the edges together with white glue, holding them with adhesive tape until the glue dried.
Para comenzar esta obra me dispuse a armar el marco o cuadro, corte dos trozos de 29cm y dos trozos de 25cm del tubo de cartón y los uní para formar un rectángulo, apoyándome con la escuadra y pegando los bordes entre si con pegamento blanco sujetando con cinta adhesiva hasta que el pegamento secara.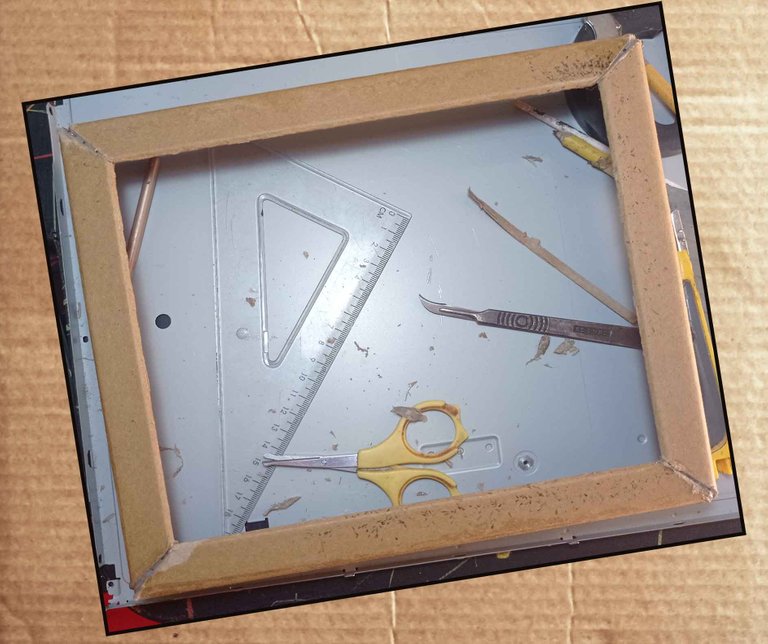 While the glue was drying on the frame I was cutting out pages with letters from magazines and selecting some phrases to cut out to cover the frame.
Mientras se secaba el pegamento del marco fui recortando paginas con letras de las revistas y seleccionando algunas frases para recortarlas para forrar el marco.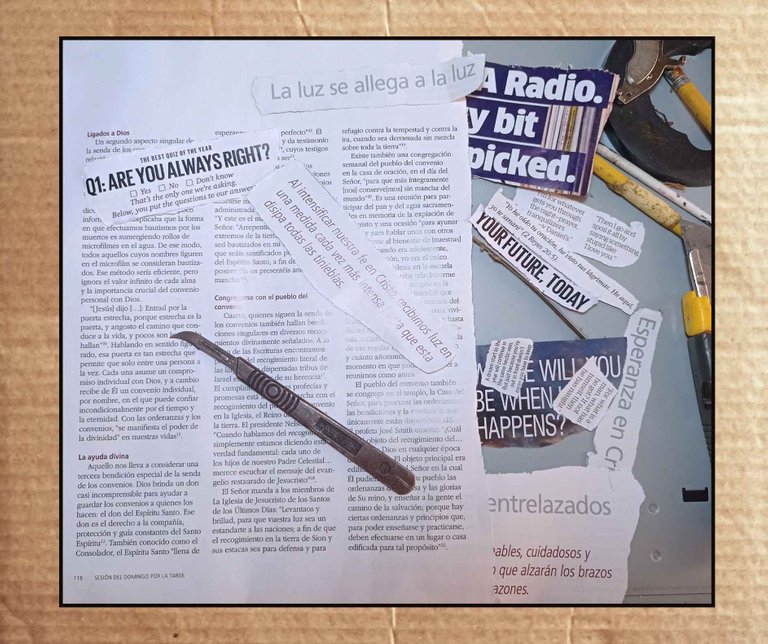 Using the brush, apply glue all over the surface of the frame to cover it with the pages with letters from the magazine and glue the cut-outs with phrases on top.
Empleando el pincel aplique pegamento por toda la superficie del marco para ir forrando el mismo con las paginas con letras de la revista y encima pegue los recortes con frases.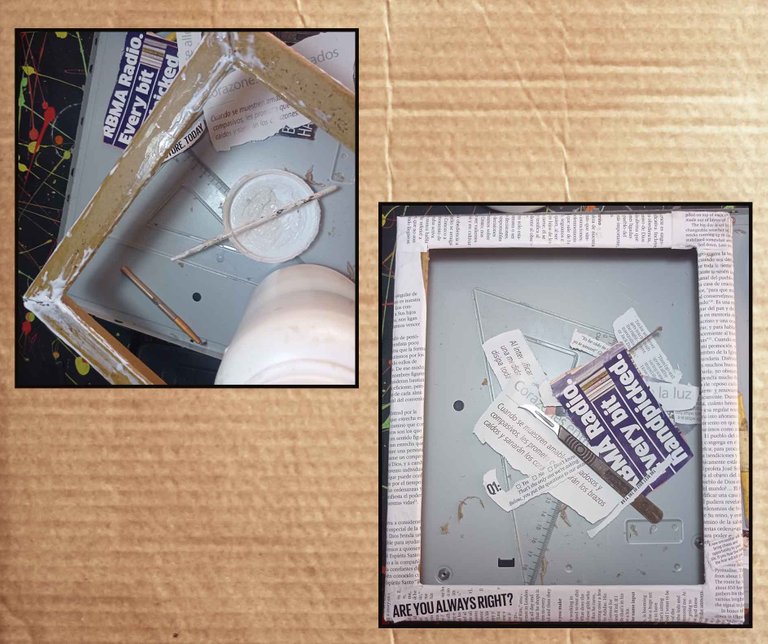 Here you can see the finished frame with its details, for this one I chose and cut out some motivational phrases in English and Spanish language.
Aquí se puede apreciar el marco culminado con sus detalles, para este escogí y recorte algunas frases de motivación en idioma ingles y español.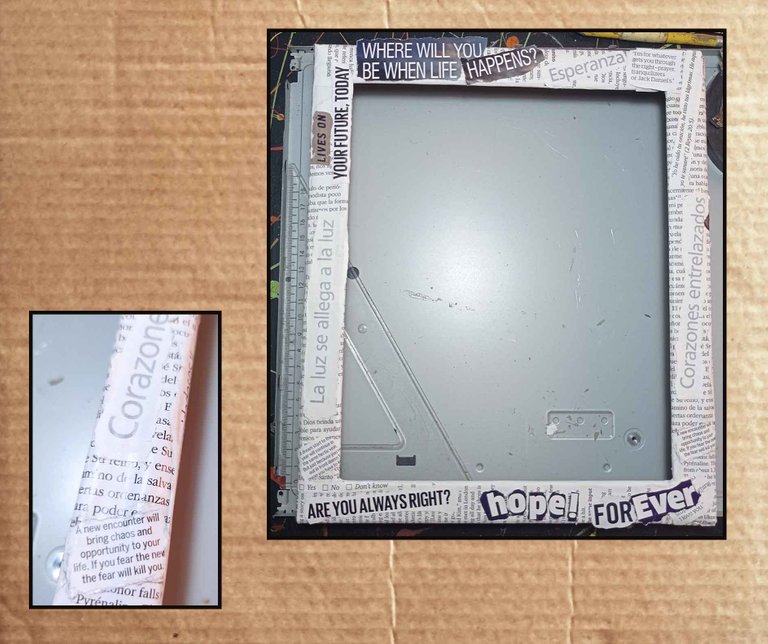 At this stage I cut a rectangular piece of cardboard to fit the frame I made, this piece of cardboard would be a kind of canvas where I will start to paste the images I was choosing to start making the collage.
Then I was looking through the magazines and selecting all the images that caught my attention and then I was cutting each one of them.
En esta etapa corte un trozo de cartón de forma rectangular que encaje en el marco que realice, este trozo de cartón seria una especie de lienzo donde comenzare a pegar la imágenes que iba escogiendo para comenzar a elaborar el collage.

Luego fui buscando entre las revistas la imágenes y seleccionando todas las que me iban llamando la atención para después ir recortando cada una de ellas.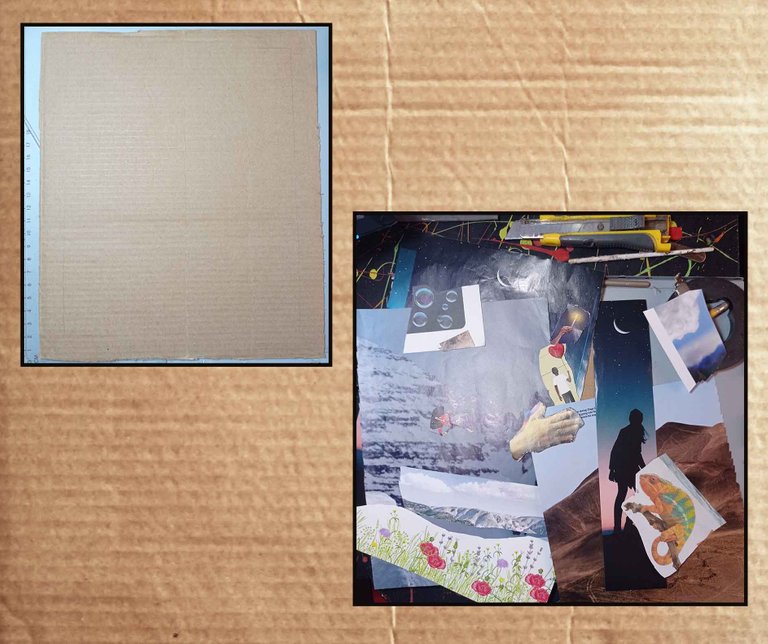 With all the possible images selected, I cut out each one of them to present them on the piece of cardboard or canvas and making combinations between the images to visualize how the composition of the images would look like in order to create the collage.
Ya con todas las posibles imágenes seleccionadas fui recortando cada una de ellas para ir presentándolas en el trozo de cartón o lienzo y realizando combinaciones entre las imágenes para lograr visualizar como quedaría la composición de las imágenes para elaborar el collage.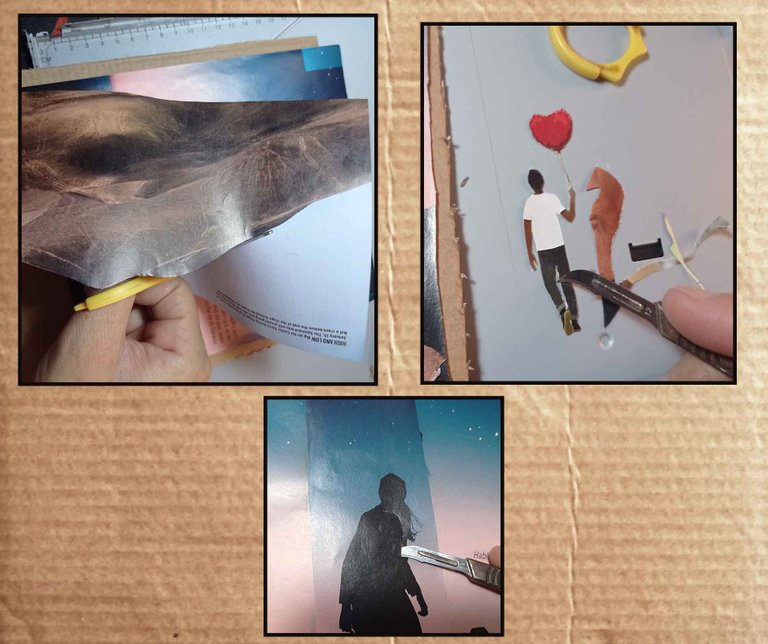 Once I had established how I was going to assemble the collage I applied the final cutout to each of the images. I also thought of adding some small details, like making a cut or incision in the silhouette of the girl to incorporate the cutout of the hand holding a candle so that it would look like it was illuminating from inside the girl, I also made two cuts in the sky in the background to incorporate a moon in the background.
To finish I glued all the images to the cardboard to make the collage and once the glue was dry I joined the collage with the frame.
Al tener establecido como iba a armar el collage fui aplicando el recorte final a cada una de las imágenes. Ademas se me ocurrió agregar unos pequeños detalles, como hacer un corte o incisión en la silueta de la chica para incorporar el recorte de la mano sosteniendo una vela para que tuviera la apariencia de que esta iluminando desde el interior de la chica, también realice dos cortes en el cielo de fondo para incorporar una luna que quedara intercalado en cada uno de ellos.

Para culminar fui pegando todas las imágenes al cartón para armar el collage y una vez secado el pegamento uní el collage con el marco.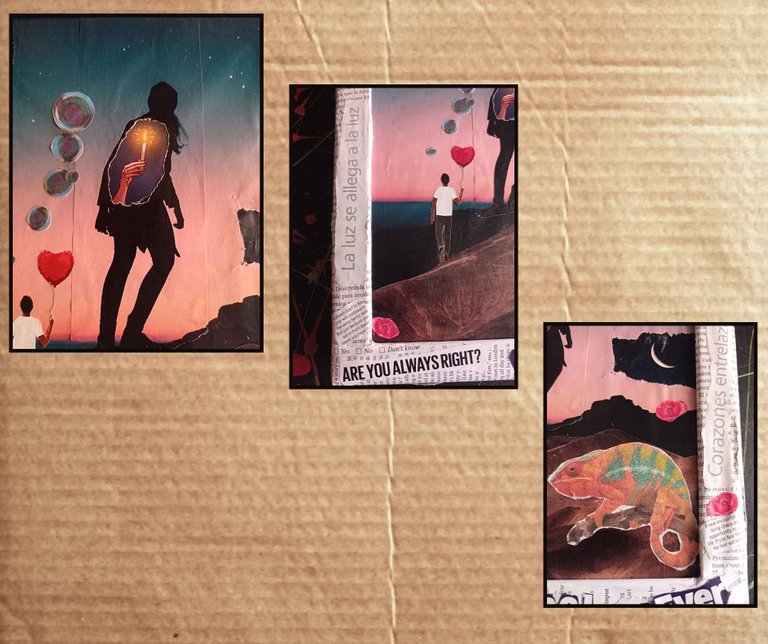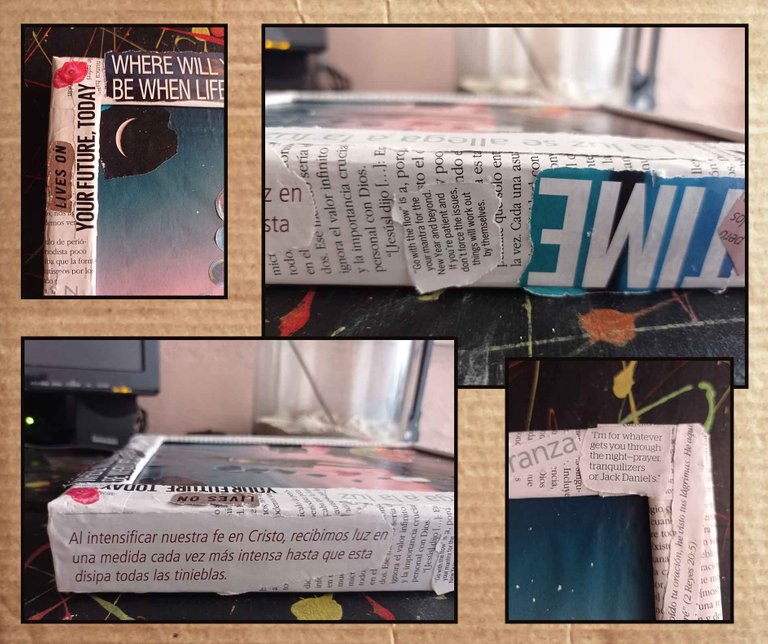 Well friends this was the process of this little project, I hope you like it and serve as inspiration for many.
Bueno amigos este fue el proceso de este pequeño proyecto, espero sea de su agrado y sirva de inspiración para muchos.

All photos are my own. / Todas las fotos son de mi autoria.
The editions were made in Photoshop. / Las ediciones las realice en Photoshop.
I translated it using DeepL Translator. / La traduccion empleando DeepL Traductor.