A pleasure, colleagues, to continue with you sharing new creativity.
Today I made a paper holder, in order to use it for my bathroom, I loved this color of fabric that I used for this, it has several colors and so it can be combined with everything.

Un gusto compañeros seguir con ustedes compartiendo nuevas creatividades.
En el día de hoy realice un porta papel, con la finalidad de utilizarlo para mi baño, me encanto este color de tela que utilice para esto, tiene varios colores y así se puede combinar con todo.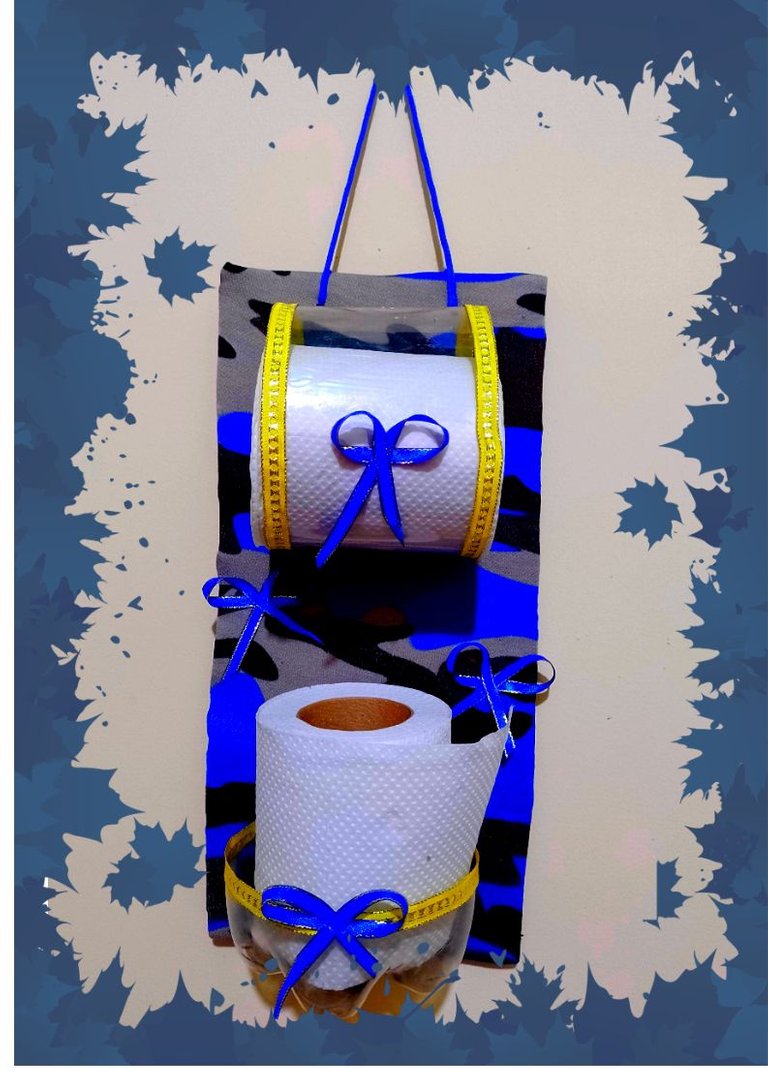 Materials:
√ 1 Bottle of soft drink.
√ Scrap of fabric.
√ Cardboard.
√ Yellow tape.
√ Blue cord.
√ Silicone gun.
√ Scissors.

Materiales:
√ 1 Botella de refresco.
√ Retazo de tela.
√ Cartón.
√ Cinta amarilla.
√ Cordón azul.
√ Pistola de silicona.
√ Tijera.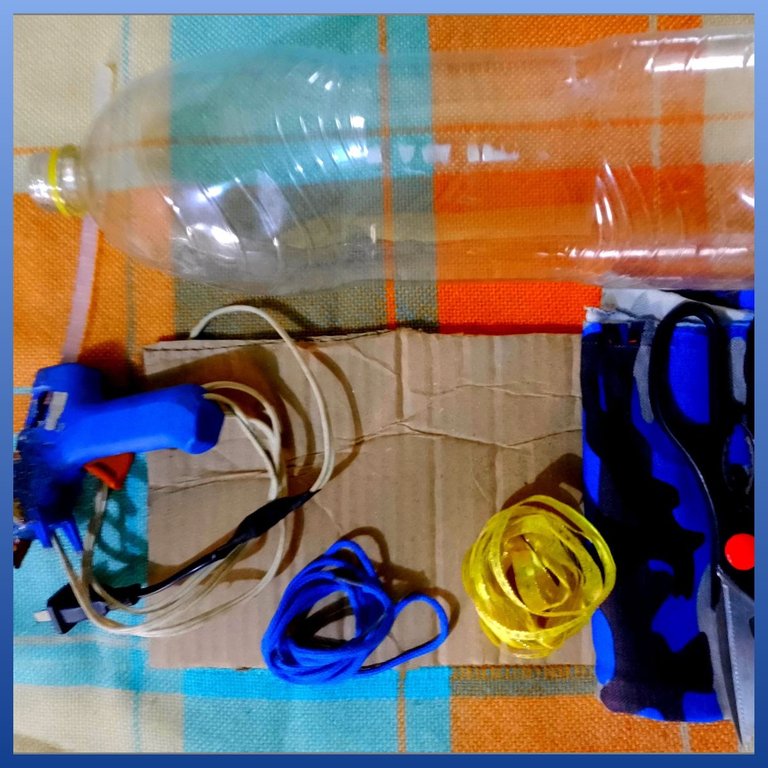 Step 1:
Cut the smooth part of the bottle, and the bottom part that I am going to use.

Paso 1:
Corte la parte lisa de la botella, y la parte de abajo que voy a usar.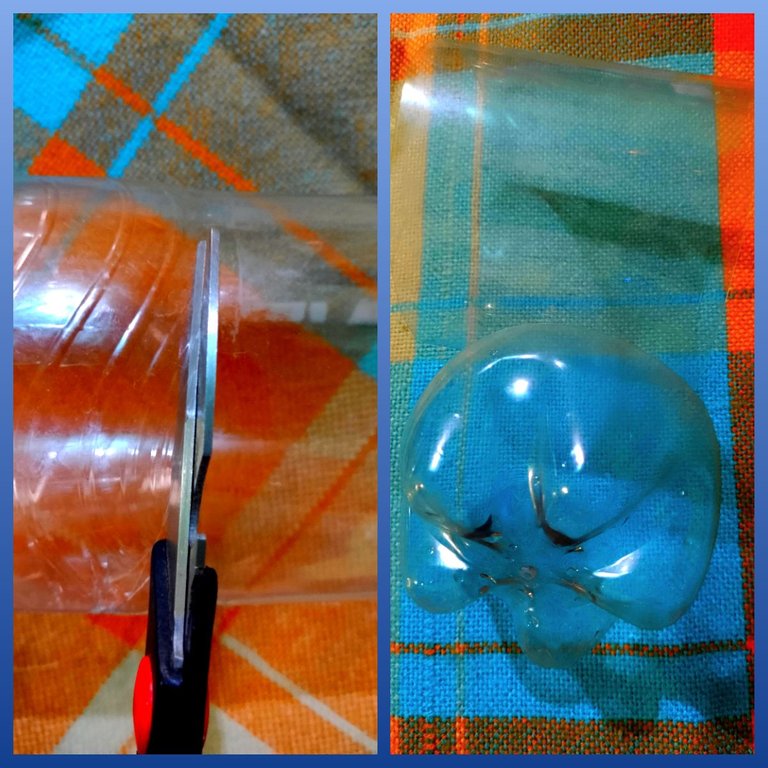 Step 2:
Use a cardboard for the base measurements, 16 cm wide x 35 cm long. I proceeded to cover the cardboard, gluing well on the back, but so that the selvedge would not remain like this, I glued part of the yellow tape all around.

Paso 2:
Use un cartón para la base de medidas, 16 cm de ancho x 35 cm de largo. Procedí a forrar el cartón, pegando bien por la parte de atrás, pero para que no quedaran el orillo así, pegue en todo el alrededor parte de la cinta amarilla.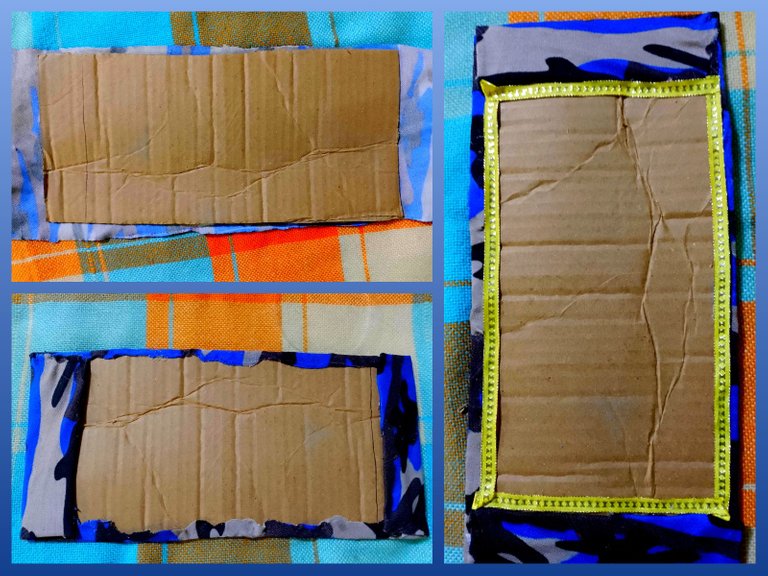 Step 3:
In this part, paste the rest of the yellow tape around the entire contour, in order to make a decoration on the edges of the plastic. As I know that hot silicone, when applied to the plastic, would deform it, what I did was make a few small holes in both, leaving it this way.

Paso 3:
En esta parte, pegue en todo el contorno lo restante de la cinta amarilla, para así hacerle un decorado en los orillos del plástico. Como sé que la silicona caliente, al aplicarlo sobre del plástico lo deformaría, lo que hice fue hacer unos pequeños agujeros a ambos, quedando de esta manera.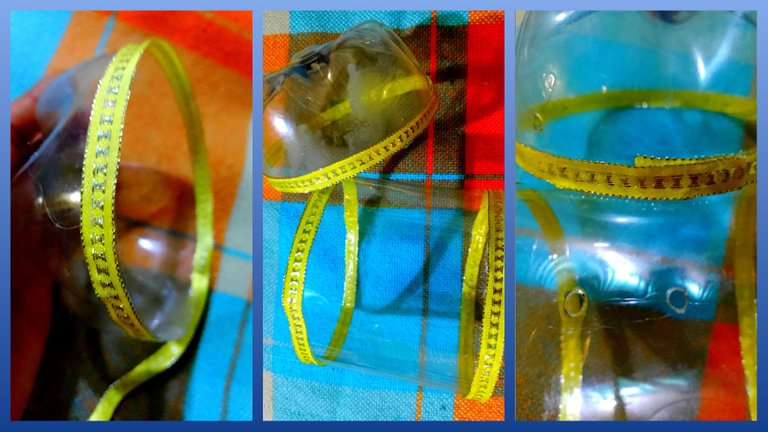 Step 4:
With the scissors, I made both holes, in order to pass the cord and glue, which would form the handle, I did this part in this way so that the weight has more support for the cardboard. Now through the holes that I had made in the previous step to the plastic, I introduced the cord there, in the same way I made both holes with scissors, and I introduced those cords, tying a small knot at the back.

Paso 4:
Con la tijera, hice ambos orificios, para así pasar el cordón y pegar, que formarían el asa, esta parte la hice así con la finalidad de que el peso tenga más soporte al cartón. Ahora por los orificios que había hecho en el paso anterior al plástico, por allí introduje el cordón, de esta misma manera hice con la tijera ambos orificios, y esos cordones los introduje, haciendo un pequeño nudo por la parte de atrás.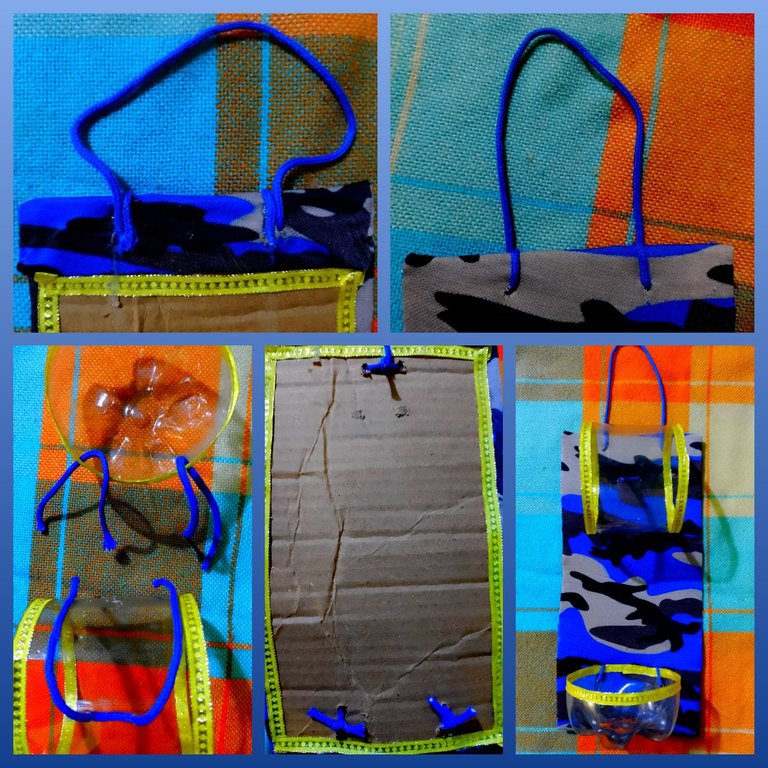 That being the case, in order not to leave it so simple, for my part I made some ties with a blue ribbon, and I glued them, making a decoration. This is how this paper holder looks, simple but pretty, I hope you like it, and that at some point you really make one to decorate your bathroom, and of course have a specific place to put your toilet paper to use.

Siendo así, para no dejarlo así tan sencillo, de mi parte hice unos lazos con una cinta azul, y los pegué, haciendo un decorado. Así quedo este porta papel, sencillo, pero bonito, espero que sea de su agrado, y que realmente en algún momento hagan uno para que decoren su baño, y claro tengan así un lugar específico para colocar su papel higiénico a utilizar.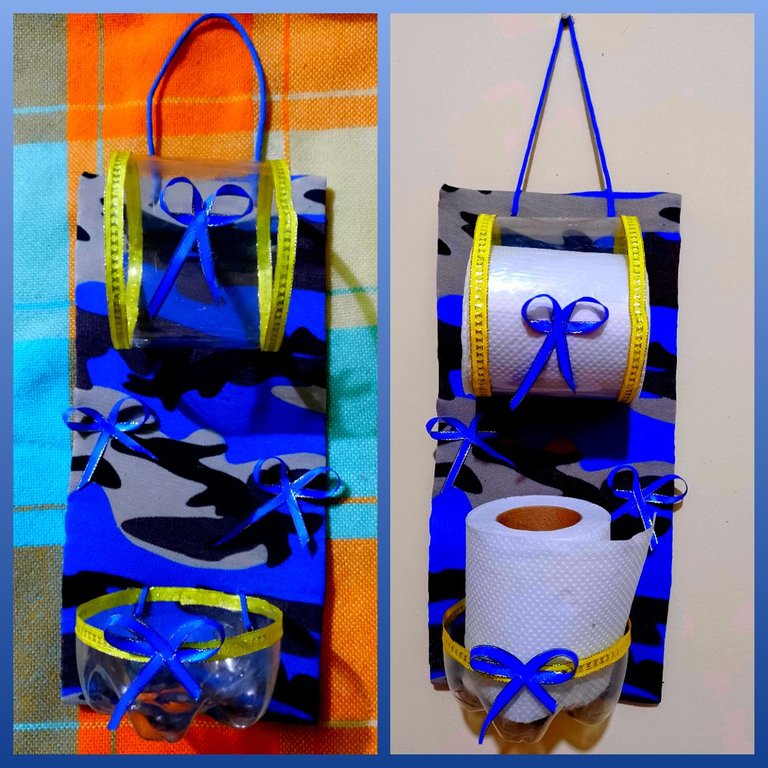 The photos were taken from a Xiaomi Mi A2.

Collage making program: Fotojet Link
Translated from google translator Link
Photo editing program: PhotoFiltre 7

Las fotos fueron tomadas desde un Xiaomi Mi A2.
Programa para hacer el collage: Fotojet Enlace
Traducido del traductor de Google Enlace
Programa para editar fotos: PhotoFiltre 7

I say goodbye until another opportunity.
Thanks for your support.

Me despido hasta otra oportunidad.
Gracias por su apoyo.

Copyright @imargasa. All rights reserved.