« If you don't like what you're harvesting, you'd better change what you've been sowing »
• Jim Rohn •
---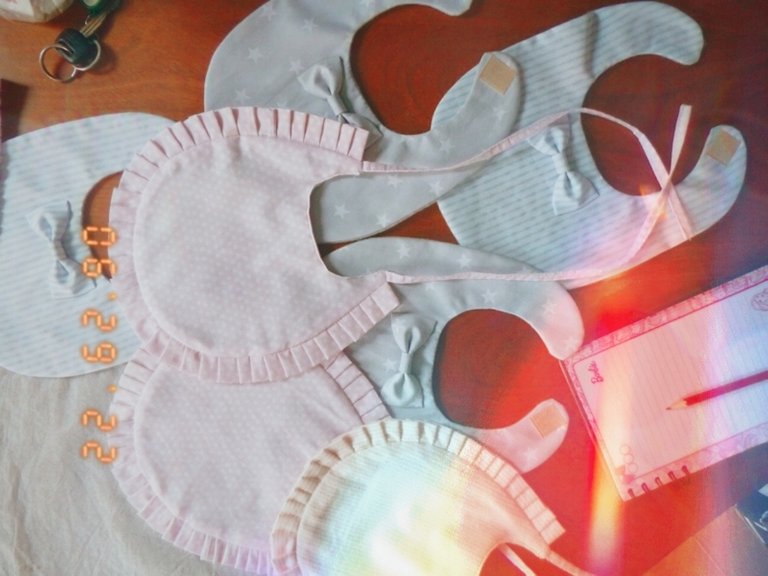 ✦ 🌺 🍵 🍃 ✦



¡Hola a todxs!, hoy ha sido un día nublado. Supuestamente hace horas debimos haber sido golpeados por una tormenta (¿huracán?), pero todo esta muy tranquilo y la verdad lo prefiero así.
Desde ayer estaba intranquila pensando en todos los nidos de aves que he visto, y los polluelos que escucho; si el viento o la lluvia es muy fuerte temo que los animales pequeños sufran, esa idea me angustia...
Hello everyone!, today has been a cloudy day. Supposedly hours ago we should have been hit by a storm (hurricane?), but everything is very quiet and I really prefer it that way.
Since yesterday I was uneasy thinking about all the birds' nests I have seen, and the chicks I hear; if the wind or rain is too strong I fear the small animals will suffer, that idea distresses me...
---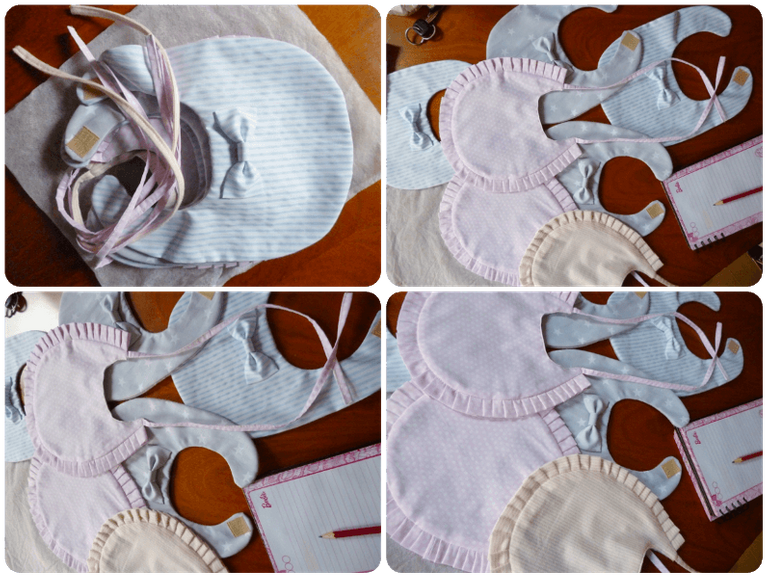 ✦ Afternoons like this are my favorite for small projects, it's cold and the coffee tastes so much better ✦
---
Para mantenerme ocupada y evitar la ansiedad, he pasado el día editando algunas fotos de comisiones entregadas hace unas semanas; hoy quiero compartir este pequeño pero muy lindo recopilatorio de una tarde de costura normal para mi 🧶 💕
To keep myself busy and avoid anxiety, I've spent the day editing some photos of commissions delivered a few weeks ago; today I want to share this small but very cute recollection of a normal sewing afternoon for me 🧶 💕
---
• 𝑅𝑒𝓁𝒶𝓍𝑒𝒹 𝒮𝑒𝓌𝒾𝓃𝑔 𝒜𝒻𝓉𝑒𝓇𝓃𝑜𝑜𝓃 •
« 𝙸𝚗𝚙𝚒𝚛𝚊𝚝𝚒𝚘𝚗𝚊𝚕 𝙸𝚍𝚎𝚊𝚜 𝚏𝚘𝚛 𝙳𝚒𝚏𝚏𝚎𝚛𝚎𝚗𝚝 𝙱𝚒𝚋 𝙳𝚎𝚜𝚒𝚐𝚗𝚜 »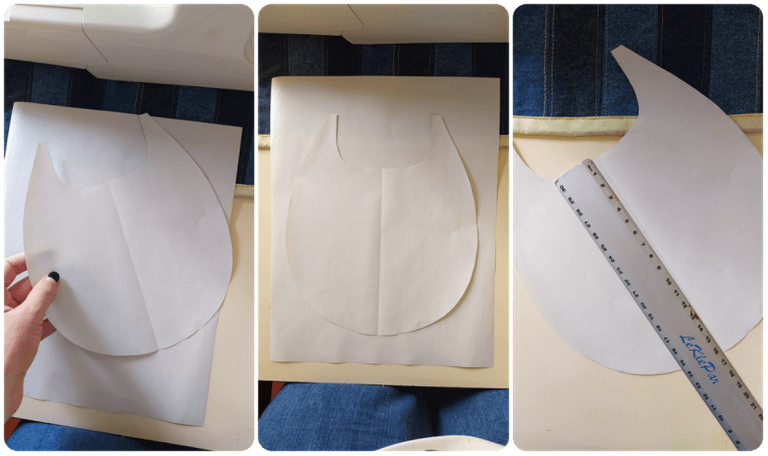 ✦ This model can easily be made from a standard basic pattern ✦



---
✦ Este día tuve que elaborar un nuevo patrón para babero, un poco mas alargado, y mas ovalado/gordito en su parte inferior.
✦ This day I had to work out a new bib pattern, a bit more elongated, and more oval/chubby at the bottom.
---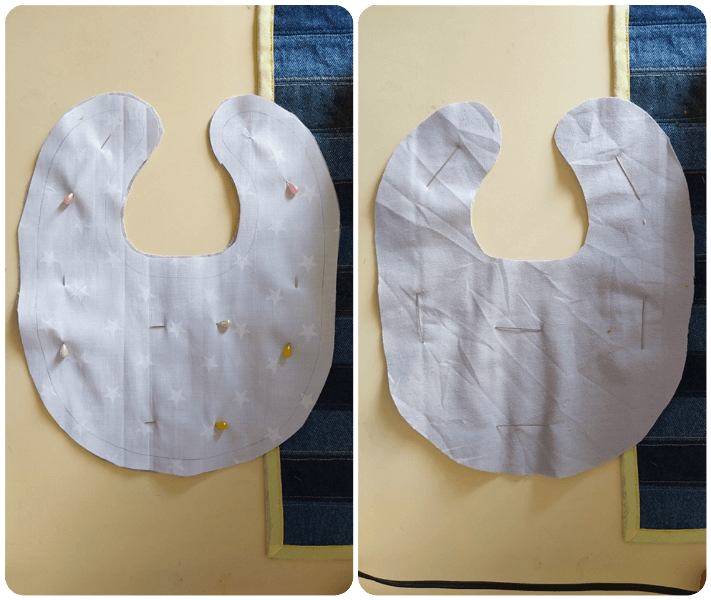 ✦ Apart from that, I also worked on a model that I have previously shared here. This design is very popular and sells quite well 💖 ✦



---
✦ Como he demostrado en post anteriores, el procedimiento es bastante fácil una vez que generamos el patrón guía: Solo debemos duplicarlo en la tela principal (estampada, de camisería) y la tela del reverso (toalla o lanilla).
✦ As I have demonstrated in previous posts, the procedure is quite easy once we generate the pattern guide: We just need to duplicate it on the main fabric (printed, shirting) and the backing fabric (towel or fleece).
---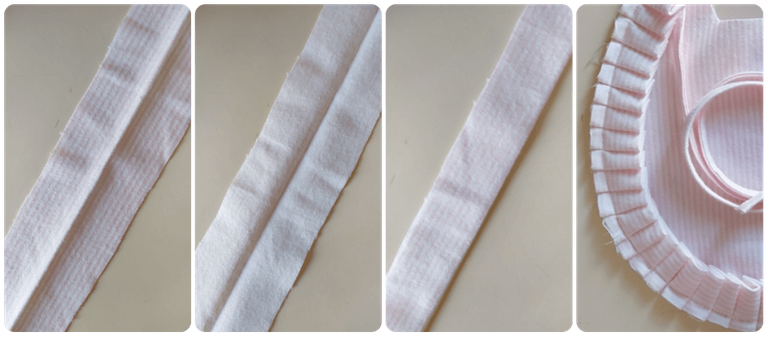 ✦ As always, the clothes iron is your best friend! ✦



---
✦ Algo nuevo que no había mostrado antes aquí, es cómo hacer este borde plisado. El truco es elaborarlo previamente aparte, y luego instalarlo en la cara frontal del babero como se ve en la fotografía.
✦ Something new that I haven't shown here before, is how to make this pleated border. The trick is to pre-draft it separately, and then install it on the front face of the bib as seen in the picture.
---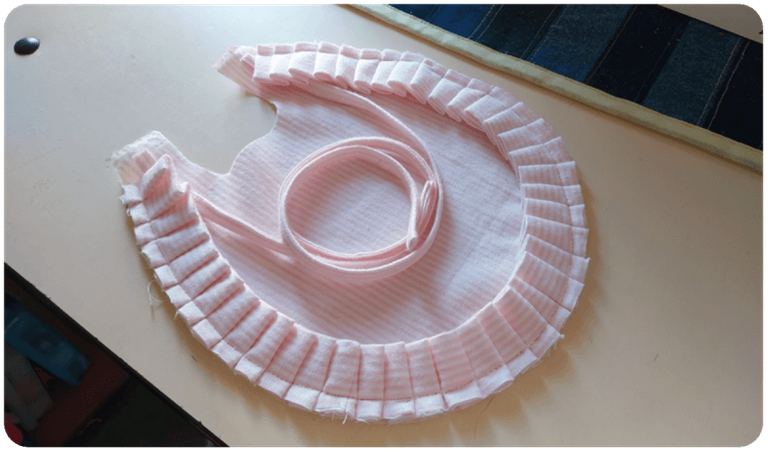 ✦ The width of the tape for plating was 7 cm, folded in half. And of the bib straps, 6 cm ✦



---
✦ Así debe ser el resultado preliminar; me gusta pensar en todas estas pequeñas piezas como "almohadas", porque todo el proceso consiste en coser "hacia dentro" todo lo necesario lo mas bonito que puedas, para luego ponerle "la otra tapa", coser y voltear.
✦ That's what the preliminary result should look like; I like to think of all these little pieces as "pillows," because the whole process consists of sewing "inward" everything you need as nicely as you can, then putting "the other top" on, sewing, and flipping.
---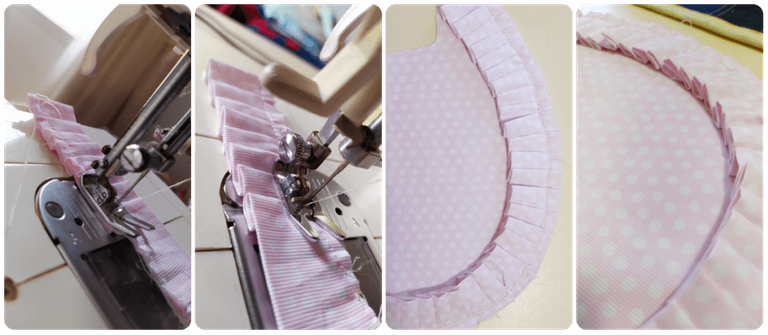 ✦ It is not necessary to sew by hand beforehand, it can be taken directly to the sewing machine ✦



---
✦ En estas fotos puede ver como se genera el plisado. ¡También se trata de una tela diferente!, las fotos de arriba con lanilla suave, crea mucho volumen y es esponjosa al tacto, en cambio esta ´polka dot rosa´, es sintética y su textura rayada es muy diferente.
✦ In these photos you can see how the pleating is generated. This is also a different fabric, the photos above with soft fleece, it creates a lot of volume and is fluffy to the touch, on the other hand this 'polka dot pink', is synthetic and its striped texture is very different.
---




✦ The back is made of soft gray wool, very pleasant ✦



---
✦ Aquí podemos ver como se ven las piezas antes de ser volteadas: Para asegurar unos bordes suaves, el margen de tela interior se corta dejando pequeños triángulos.
✦ Here we can see what the pieces look like before they are turned over: To ensure smooth edges, the inside fabric margin is cut off leaving small triangles.
---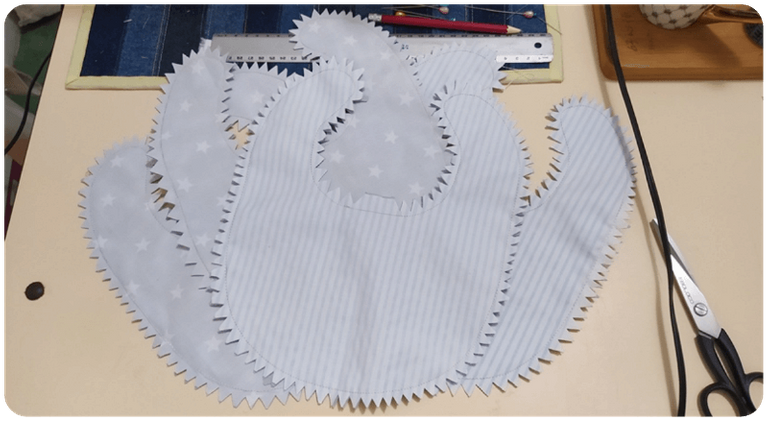 ✦ This is a very synthetic fabric, not my favorite but it is the one the client requested ✦



---
✦ La abertura que se deja para poder voltear las piezas puede ser donde tu quieras, yo prefiero dejarla en esa zona porque es fácilmente disimulada por los detalles que verán mas adelante.
✦ The opening that is left to be able to flip the pieces can be wherever you want, I prefer to leave it in that area because it is easily concealed by the details that you will see later.
---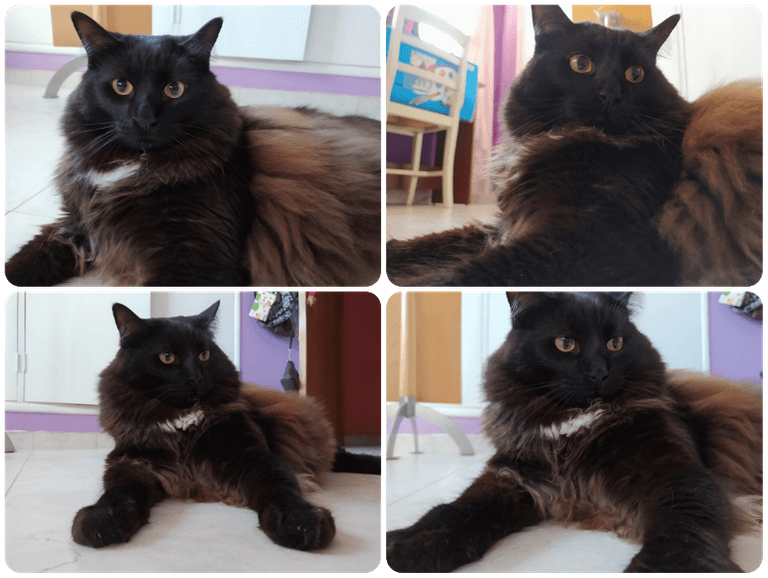 ✦ Pictures I took of Salem, @Vanuzza kitten, she adopted him some time ago, I think in these pictures he was 1.5 years old, he is a young kitten, he is very well taken care of, he was rescued from the street when he was two or three months old ✦



---
✦ Como siempre, una vez que cosemos (cerramos) todas las piezas y las volteamos, las aberturas se planchan y se cierran con costura invisible 👌 ✨
✦ As always, once we sew (close) all the pieces and flip them over, the openings are ironed and closed with invisible stitching 👌 ✨
---
---
« 𝔽𝕀ℕ𝔸𝕃 ℝ𝔼𝕊𝕌𝕃𝕋 »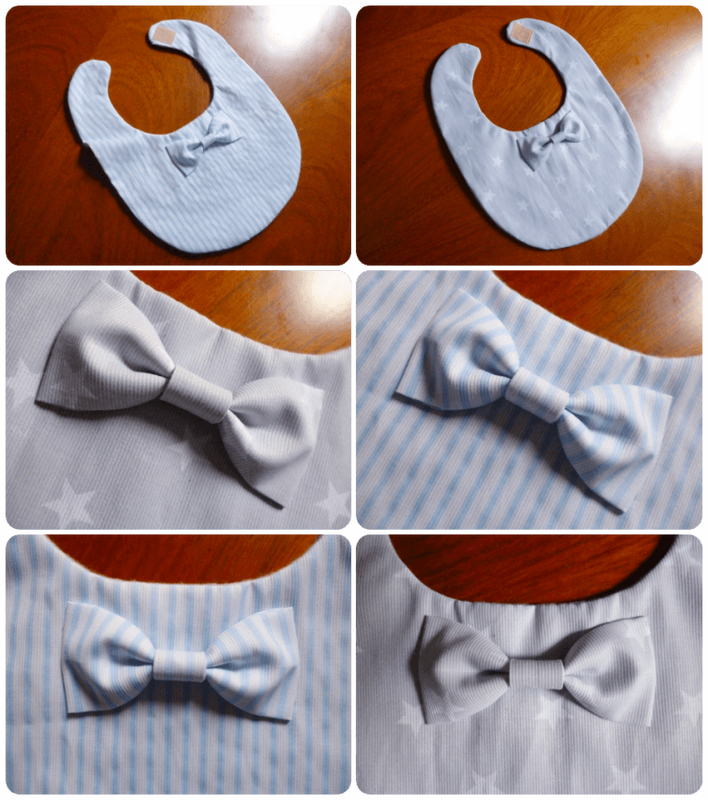 ✦ To make the ties, simply cut out a 14 cm x 8 cm rectangle, fold it twice from the ends inwards, and sew them together smoothly before passing a strip of the same fabric through the center ✦



---
Y así transcurrió mi tarde, cortando y cosiendo pequeñas piezas de tela suave. Con el tiempo, desde 2019, este se ha convertido en un ejercicio agradable, y a veces me encuentro haciendo todo casi mecánicamente, sin pensarlo demasiado, cosa que es un gran logro para mi, que tiendo a sobre-pensar demasiado las cosas, y repasar hasta 10 veces la tarea mas sencilla antes de asegurarme de haber terminado.
And so went my afternoon, cutting and sewing small pieces of soft fabric. Over time, since 2019, this has become an enjoyable exercise, and sometimes I find myself doing everything almost mechanically, without overthinking it, which is quite an accomplishment for me, who tends to over-think things too much, and go over the simplest task up to 10 times before I'm sure I'm done.
---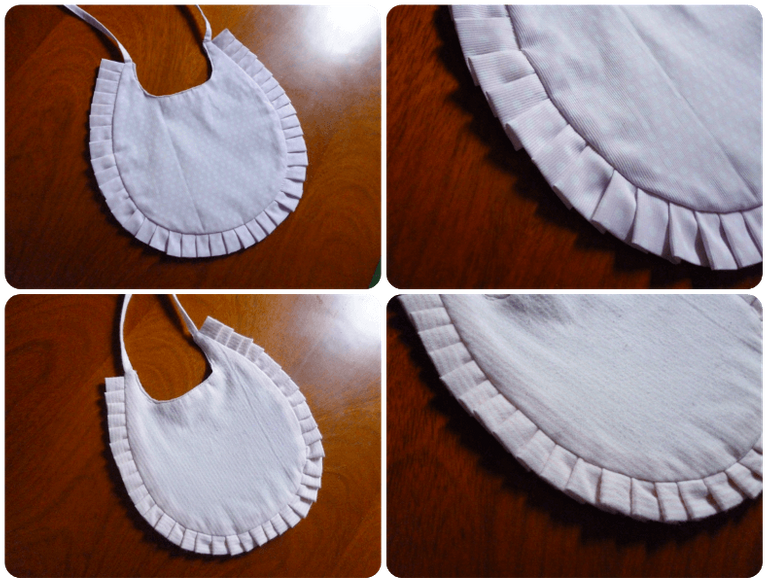 ✦ I think it would look better with some bows and pearls ✦



---
Espero se animen a intentar coser este tipo de piezas, créanme que son un gran regalo, no he visto aún a una mamá que no se le ilumine los ojos al verlos 🥰, ¡les deseo a todos una agradable noche!, y ojala la tormenta no sea lo que dicen en las noticias 🤦‍♀️ ⛈
I hope you are encouraged to try sewing these types of pieces, believe me they are a great gift, I have yet to see a mom whose eyes don't light up when she sees them 🥰, I wish you all a pleasant evening!, and hopefully the storm isn't what they say on the news 🤦♀️ ⛈
---
---
¡Muchas gracias por leer!
✨ 🍓 ✨ Happy, soft, and creative day to all ✨ 🍓 ✨
✨ 🍃 ✨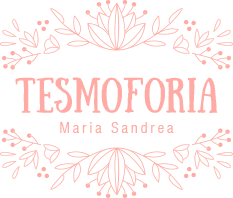 🍓 Autoría del texto y todas las imágenes: @Tesmoforia 🍓
📷 Herramientas: Lumix Panasonic DMC-FH2/Smartphone 📷
🚨 ¡Por favor no tomes, edites ni re-publiques mi material sin mi permiso! 🚨
💌 ¿Deseas ponerte en contacto conmigo? Tesmoforia 🍓#8715 💌
✨ Translation done with Deepl - Separadores ✨
---









⚜ 𝙰𝚕𝚕 𝚁𝚒𝚐𝚑𝚝𝚜 𝚁𝚎𝚜𝚎𝚛𝚟𝚎𝚍 / © 𝚃𝙴𝚂𝙼𝙾𝙵𝙾𝚁𝙸𝙰 - 𝟸𝟶𝟷𝟾/𝟸𝟶𝟸2 ⚜