It is the end of November.
December is coming and another 1 month it ll be January 2022. The time is feel so fast and too precious to be waste.
It's already pass 7 month i play in rising star. I see a lot of new thing happening in rising star community . If last time , the player can be count in one page of ranking but now it is more than 2000 verify player . I believe there will be more to come , and i heard there were many development will come sooner.
The latest update about the game is the pack price has been change due the HIVE market price.
You can get more info about it on this link
Since today is the last of NOVEMBER , I try to open the 12 new card packs . Hope i ll good card .












I guess it's not the day i get new epic and lagendary. Try again next month. :p.
LET'S DO THE LUCKY PICK
Before i proceed with the lucky pick , i would like welcome our new part list @callmelula . I hope you ll enjoy playing this game.
CONGRATULATION TO @tawadak24 (641726) for being our lucky person today

1000 STARBITS AND 49 GABE FOR OUR LUCKY PERSON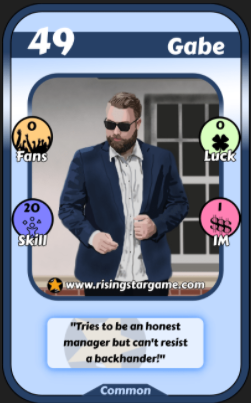 I wish everyone have a great day in early of DECEMBER. KEEP ON ROCKING AND HIVE ON