Hello Friends,

Corona cases are on the rise around the World. Sports is back with full swing with even spectators allowed to watch the match from the ground and much water has flown under the bridge since the Corona made it's introduction couple of years back!!!!
Yeah, time has been running fast and I found some time after a long time to write a blog on Hive Blockchain!!!!
Here I am sharing the details of the rewards I got from the just concluded Splinterlands season and I have to admit, I have got one of the best rewards in recent time with huge amount of DEC rewarded with couple of Legendaries and Chaos Legion packs as well!!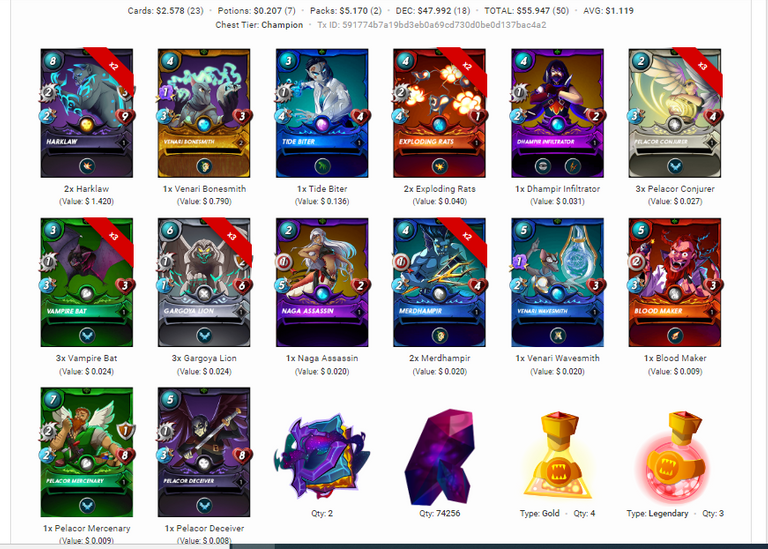 The DEC reward I got from multiple chests was 74256 and I can tell it assuredly that this is the highest amount of DEC I got either from daily rewards or from season end rewards!!!
Although the price of DEC is too low to make a huge amount from it, but, it almost gets me close to $50 worth Crypto from the DEC earned.
To add to the DEC, there were couple of Legendary Harklaw as the most rewarding cards and I also got couple of Chaos Legion packs as we can see from the screenshot!!!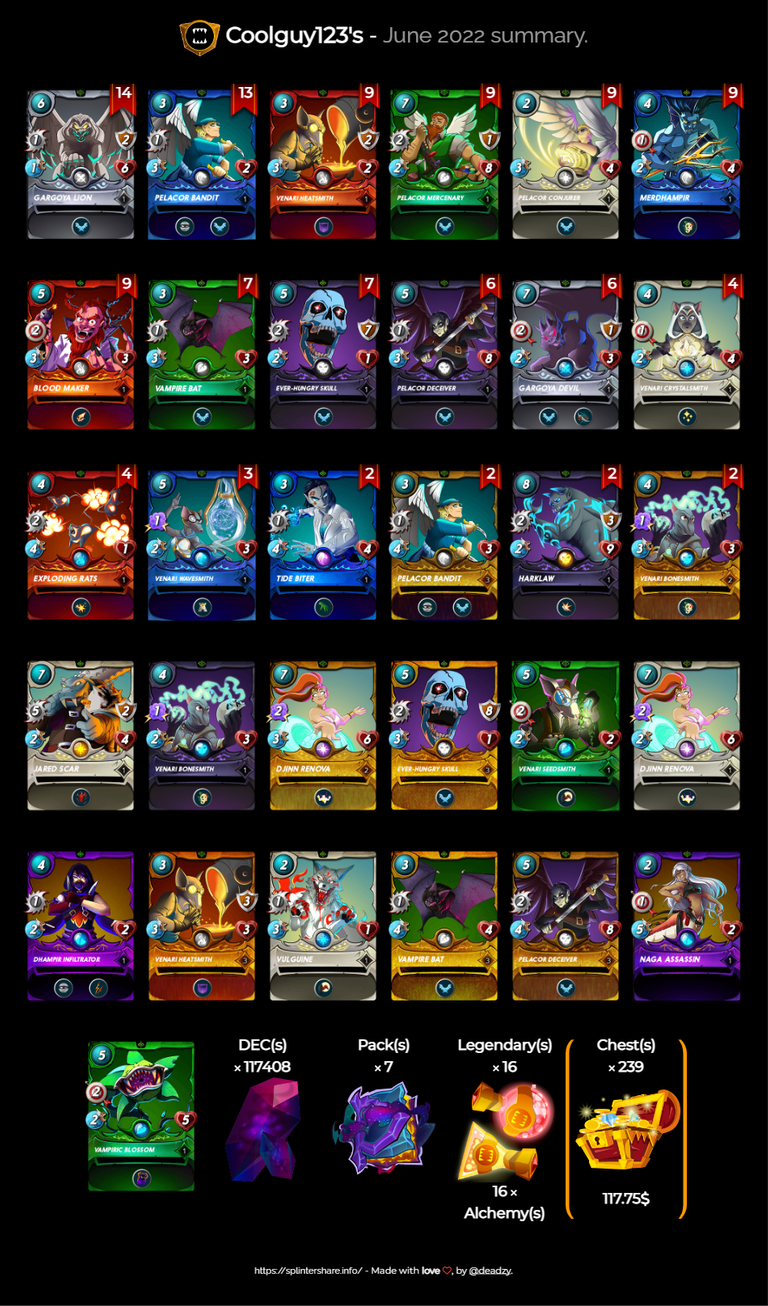 The average for each season for me for the last 2 seasons stands around $60 worth rewards as I got a total of $117 worth assets including DEC and cards and for the couple of hours I spend daily, i's not a bad amount.
The new rewards system is good for me so far although I am not able to spend more time and battle it out more to earn more daily and season end rewards, but whatever I earned aren't bad as the stats show and this is just the beginning with just One season over with new rewards system.
With splinterlands coming up with regular updates changes to the system to make it more rewarding for regular players, there will be more better days to come and the cards from what I have shown in above screenshot, may not be that worthy now, but these will be having better value as the cards reaches the printing limit and people have to buy those from the market!!!!
The new season has begun well for me as I could earn 10+ chests from daily quest and hope to continue with same speed and earn more than what I could in the last season.
With First Chaos Legion summoner due to be airdropped soon (another 154K packs remaining for the next airdrop), I keep my fingers crossed to earn a gold foiled One as I will have assured 6 cards from the airdrop for the 3600+ packs I have purchased so far!!!!
Wishing you all better play and better rewards from this new season and also wishing for more cards from the airdrop too :)
Thanks and Have a good day :)

Join the new Official Telegram for Splinterlands via link given below to participate in contests and have fun.
---
Not yet signed up for Splinterlands?
You can join using my referral link: splinterlands.io and get some monsters from me :)