Hello #splinterlands gamers and hive community
The session is coming to the end once again...
My goal for this session is reached again and as a quest reward there were some good things 😉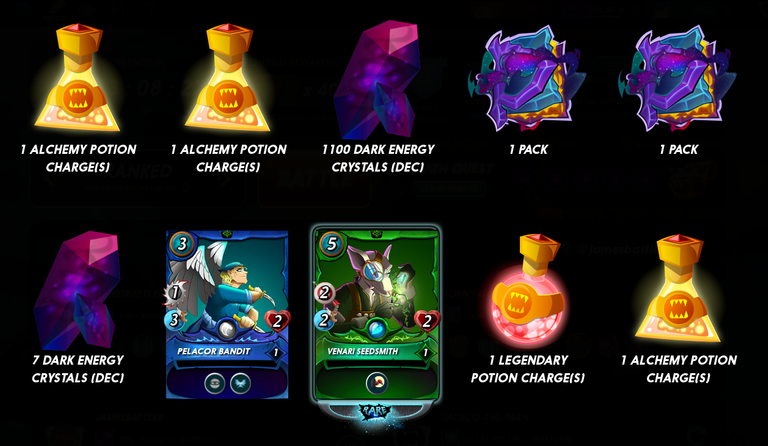 Potions, DEC's, 1 Rare and 2 Packs... What more do I want 😇
Later there are 40 chests for the session. I'm curious what's in there 😁
By the way, I had also made a mistake in my last post and was still assuming that I'm going in the direction of Diamond II. But I have not been since the last session, because I play for the time being only up to Diamond III ... insofar, everything is good! I am in Diamond III and that is still good 😅 The session wasn't so hard for me this time because I didn't have the pressure to go up to Diamond II at the end of the session.
So it can go from me for a while 😉 And as long as there is always something good in the chests, there is nothing to complain about 😇
How did your session go? Are you satisfied so far?
@jamesbattler sends his regards
And do not forget!
!!! The whole life is a miracle !!!

DE-Version

Hallo liebe #splinterlands Gamer und Hive Community
Die Session geht wieder ein mal zu Ende
Mein Ziel für diese Session ist auch wieder erreicht und als Quest-Belohnung waren auch noch gute Sachen dabei 😉
(Bild s. Oben)
Tränke, DEC's, 1 Rare und 2 Packs… Was will ich mehr 😇
Später gibt es dann noch 40 Kisten für die Session. Bin mal gespannt was da so drin ist 😇
Ich hatte mich übrigens auch in meinem letzten Post vertan und ging da noch davon aus das ich ja in Richtung Diamond II unterwegs bin. Bin ich ja aber seit der letzten Session schon nicht mehr gewesen, da ich ja vorerst nur bis Diamond III spiele… Insofern ist alles gut!!! Ich bin in Diamond III und das ist immer noch gut so 😅 Die Session war für mich diesmal nicht so heftig da ich gerade zum Ende der Session nicht mehr diesen Druck hatte noch unbedingt auf Diamond II hoch zu müssen.
So kann es von mir aus noch eine Weile gehen 😉 Und so lange in den Kisten auch immer wieder was Feines dabei ist gibt es nichts zu meckern 😇
Wie ist eure Session so gelaufen? Seid ihr soweit zufrieden?
Liebe Grüße von @jamesbattler
Und nicht vergessen!
!!! Das ganze Leben ist ein Wunder !!!