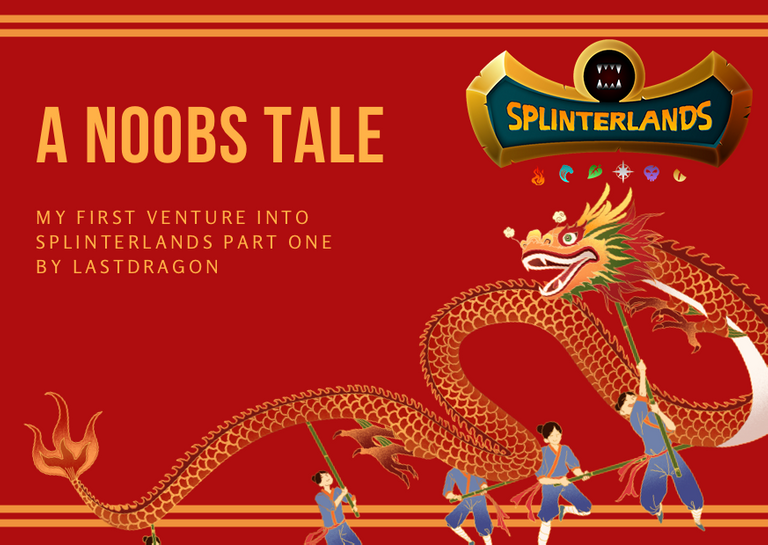 In this series I am going to talk about my journey in Splinterlands.I am a brand new player. One that has no history with this game and extremely limited experience with block chain games in general.Please don't see any of this review as negative, I absolutely love Splinterlands and the future I believe it holds!
The Good:
Let's start with the good things I have noticed. As a new player there have been many things that I really like about the game. The main one being that you don't have to know anything about block chain or crypto currency to simply play. Below are a few amazing aspects about the game I have experienced.
Paypal and Apple App Payments enabled! This makes it easy to fund your account and it's an established portal that the masses understand.

There are actually a lot of cards available! I"m all for rare cards and limited released...but seriously the amount of packs they have allows for everyone to play and I love this! The whole...you need a bot to be able to even get packs upsets me.

You own your cards. You can do with them what you want. Buy/Sell/Rent

Investment potential Cards seem to be raising in value which is great news. I love that I can actually see ROI on the cards that I own, and that I can easily rent or sell them later if I decide to stop playing.

Playable game actually exists !!! So many blockchain games are asking you to invest in their "Concept"... to me this is dangerous and high risk. I can not believe I see people dropping THOUSANDS of dollars on games that MIGHT produce an ROI with no guarantee.

Game is constantly changing with different rulesets. One deck doesn't win it all!

Market seems to be healthy. It does seem like there is a decent amount of sales and purchases happening daily. Devs super transparent about the money makes me feel good.

Meta seems to be different based on rank. I like that the low level meta seems to be different than the higher ranked metas. I will explore this further in my next posts.

I want to be clear, this game needs handholding at first to understand all the rules and game modes. This might be the coolest community I have ever met. Even top tier players have gone out of their way to help me ! Thanks @4-freedom @almightymelon @iviaxpow3r @theconaman and so many others for the major questions I have had throughout this process!
The Bad:
Although I love the basic mechanics of the game, for a new player ohh my goodness it's confusing. You don't know what cards to use, you don't know how to actually play, and even if you want to moderately fund your account...you just need help.
It's expensive. Where I believe that the pack cost is reasonable and in line with many other Collectable Card Games. You need to spend to be relatively competitive. Not only that but then Card Power comes into play which makes it even harder to know what to do.

Lets talk about CardPower. I completely understand in order to combat the bots (which for some reason are allowed in a competitive game) you need some sort of mechanism to make sure you are rewarding actual players. But Card Power is weird, and feels like it forces you to spend even more money.
Until I actually spoke to some seasoned players, I didn't know I should buy gold cards just to get myself into the higher ranks. Yes I know the gates are there to protect us as well because those higher ranks have better cards. But the mechanic is confusing at best and sort of...makes you wonder if you can ever invest a moderate amount instead of a large amount to advance.
There are very few current guides on how to play the game that are current. Huge shoutout to @theconaman for helping me with his youtube content. Please understand we need short and to the point content guys. It's very overwhelming when starting out. Break it down into small chunks that make it much more noob friendly. Also make more content! I know I will be working on this as well because I really do think this is an untapped potential of a market. God's Unchained is talking meta after every weekend, and it surprises me we don't see it here as well.

What cards do I buy?? Ok in this game it's not a straightforward answer. I didn't even know about the chicken and the ooze until day 3. But card selection is for another post.





Yet another wallet. Ok so now I"m working on the hive network...I was just starting to sort of understand the wax network. It's part of my positives as well...thank goodness you don't have to know anything about hive to play...but truthfully the whole concept of crypto and blockchain mechanics need to continue to simplify or it will remain a barrier for entry.
The Confusing:
I found my first few hours in this game to be extremely frustrating. There are a TON of mechanics, there are a lots of things that unless you are willing to jump into discord and do tons of research...it's just hard to understand. Do you really think the less driven will stay let alone invest if the process isn't streamlined? My guess is the answer would be no.
I will say that the time investment is 100% worth it though. Keep at it, and keep asking questions, in the end the journey has been amazing and I have met so many cool people in the process.
Confusing gameplay for the new player. Tons of mechanics that are just hard to understand. Yes I understand novice and bronze league don't have as many mechanics, but card mechanics alone are hard to understand. You need help to work through what to do and when. And this takes patience and time.

Ok buy gold cards to advance in ranks but they have different values? Yeah, this continues to mess with me a bit. I have seen the charts and I am starting to understand it a bit better...but man I just want to sit in silver...what do I need to buy LOL!

Rental system is great for limited budgets I am looking forward to the explanations that @bulldog1205 is about to give in his next youtube series...because not only would I like the option of being able to rent...but I would like to be able to to invest and then rent my cards out as well. But this gets back to the entire hive ecosystem that I am still trying to wrap my head around.
Join me in my journey through Splinterlands?
Click here to Join Splinterlands and climb the ranks of success!