Hello #splinterlands fans! ⭐star💫 here again (@star-shroud) from the @SHIELD-OF-GLORY guild 🛡️ with moros👑 (@m0r0s) leader of the CARDS OF FURY guild 🔥 We're back with the next edition of the BRAWLS OF STEEL - END OF SEASON report ⚔️
As usual, moros👑 used his power of illumination (lumos! 🧙) to reveal and collect valuable treasures of in-game brawl data, from the deepest dungeons of the #hive blockchain. As far we know, there's literally NOWHERE ELSE TO GET THIS DATA PUBLICALLY (unless you explore those dungeons and reveal the data yourself). In other words, next-level brawl data for the serious splinterlands player---delivered just for you, right to your screen! 😁
Keep in mind though, our proprietary GUILD RANKING SYSTEM (based on brawl results, not ranked season play) sometimes differs substantially from the guild rankings reported by the game. We think our rating system is better though, as described in our previous posts, for example here.
Please enjoy, comment and provide feedback in the comments section---we love to chat back with the community about these topics! 🏘️
TIER 3: IT'S BACK!
Of course, the biggest story of the past two seasons has to be TIER 3 BRAWLS! 🎉 They're back! 🥳 They're better than ever! 🙌 And, hopefully, this time they're finally here to stay 🤣 Btw if you aren't familiar with basically anything we've said so far, don't worry, we have some "INTRO TO BRAWLS" posts coming soon---just hang tight. For now though, we'll assume most of our readers understand the basics.
As you know, there are five so-called "TIERS" of brawls in the game. If you don't like the word "tiers" then just think of them like five different leagues. TIER 1 is the lowest and least competitive league, whereas TIER 5 (when it's eventually initiated) will be the highest and most competitive. As with ranked play, the higher the league, the higher the brawl rewards! Right now that means crowns 👑 and merits 🏅 but soon it will mean SPS as well 💰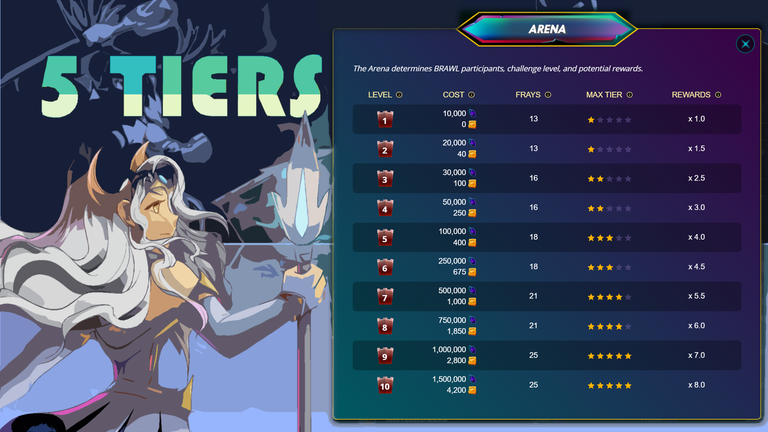 A guild's maximum TIER is ultimately determined by the level and size of its arena (see 👀 above). As of the time this article was posted, 554 guilds were active in TIER 1, 206 guilds were active in TIER 2 and 9 guilds were active in TIER 3. There are currently no guilds active in TIER 4 or TIER 5.
SEASONS 92 and 93
TIER 3 has been periodically been tested out over the past 6 months or so, but became fully active again two seasons ago during SEASON 92. By the time we figured out how to find, gather, separate and report the in-game data for both TIER 2 and TIER 3, it was almost the start of SEASON 93 ... 🤣 ... so (if you're following that 🤷‍♂️) we decided to just do a special DOUBLE 2X SEASON edition this time instead. In the future, we hope to improve some efficiencies and drop the report right at end of season, every season 💪
Ok, so with all that in mind, on to the good stuff!
SEASON 92
SEASON 92 | TIER 3 | Results
As you can see (below 👀), the unquestionable skill of SUMMONERS TRIBE was on display in the arena yet again, taking first place in TIER 3 for SEASON 92 with 597 total points---despite only playing two of the three TIER 3 brawls that season. Congrats to those brawling savants for yet another masterful performance!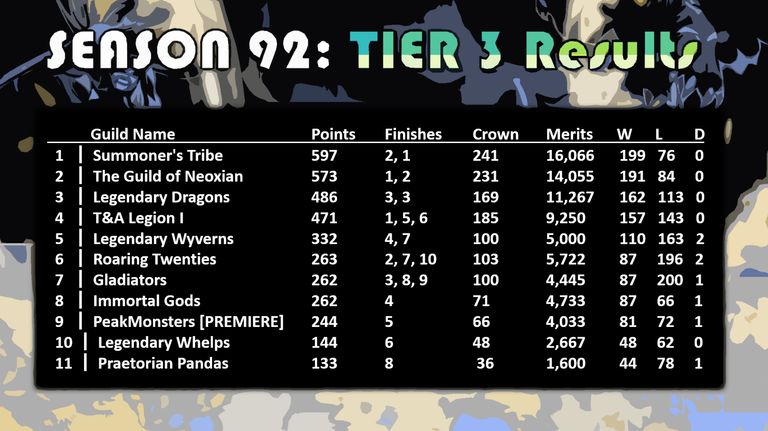 Also a huge congrats to GUILD OF NEOXIAN who, despite also playing in only two of those three brawls, came in an extremely close second with 573 points. GoN also handed ST their first brawl loss (i.e., a non-1st place finish) in a verrry long time 💪 In third place, LEGENDARY DRAGONS scored an impressive 486 points.
SEASON 92 | TIER 3 | Top Players
The results of SEASON 92 are a little more difficult to interpret than usual because---like you saw above---certain guilds only participated in some of the TIER 3 brawls, while others participated in all of them. As the guilds playing in TIER 3 become a more consistent group, we expect that data to further solidify and look cleaner in future reports.
In addition, we've been debating the most equitable way to calculate individual player rankings for each fray. The issue here is that different players in different brawls---even though they're in the same fray---can end up with a different number of battles depending on how many other guilds are in their particular brawl, in any given cycle. To compensate for this, the ranking system we came up with (for now) is therefore based on what we are calling a brawl POINTS PER BATTLE ratio or, more simply, a player's "PPB" score 📈
As an example of how this works, imagine two hypothetical players in the same tier and the same fray, but battling in different brawls. The first player has six battles in their fray. The second player has eight battles in the same fray, simply because their brawl has more guilds participating. If the first player goes 4-2 and the second player goes 4-4, both will have scored 12 points (3 points/win) for their guild 🏆 Nice!
Yet the first player scored 12 point over six battles, giving them a PPB of 2.00 (12/6=2) whereas, the second player scored the same number of points but over eight battles, giving them a lower (worse) PPB of 1.50 (12/8=1.5).
We've come to believe this is the best way (for now) to compensate for the kind of disparities illustrated above. We also believe it is superior to just using winrate for a variety of somewhat boring reasons that we won't get into now 🤓 for now ... let's just see the rankings!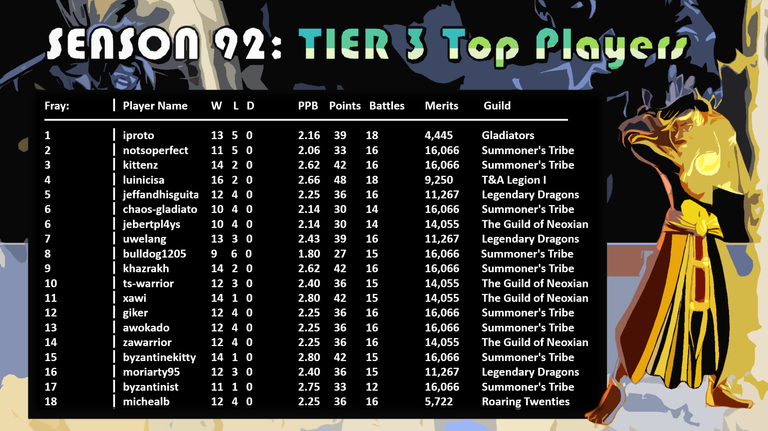 As you can see (above 👀), the top players in each fray generally had a PPB >2.00. @xawi (14-1) from GoN and @byzantinekitty (14-1) from ST tied for the highest overall PPB (2.80).
SEASON 92 | TIER 2 | Results
Not to be outdone by the emergence of TIER 3, the brawls in TIER 2 only continued to heat up in SEASON 92 🔥 In fact, both of our own guilds (SHIELD OF GLORY and CARDS OF FURY) held tight in TIER 2 for SEASON 92 and SEASON 93. This is of course due to the current disparity in brawl rewards, not for a lack of wanting to progress. Believe me when I tell you its been hard to hold some of our members back! For a more in-depth look at the very-serious, very-real rewards issue, see the commentary section in our special 100th centennial brawl cycle edition here.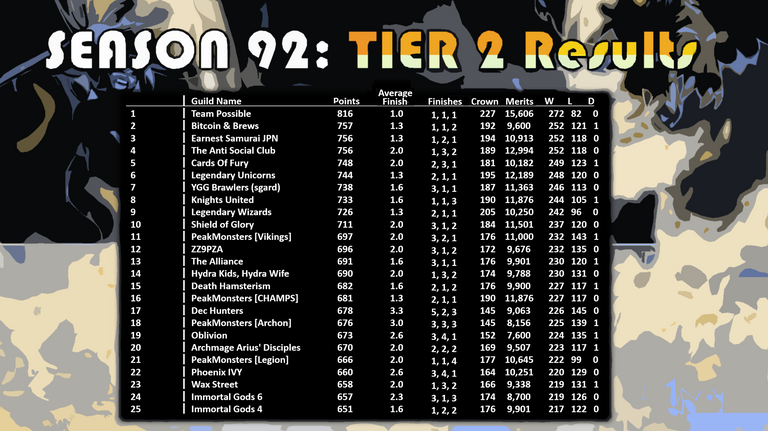 As you can see (above 👀), TEAM POSSIBLE took home the top spot in TIER 2 for SEASON 92 with a total of 816 points. Other notable performances came from BITCOIN & BREWS (757 points), EARNEST SAMURAI (756 points), ANTISOCIAL CLUB (756 points) and moros' own CARDS OF FURY, which took the fifth spot with 748 points.
SEASON 92 | TIER 2 | Top Players
As you can see (below👀), @baupade of OBLIVION had a perfect PPB of 3.0 in SEASON 92, going 26-0 in fray 7. Congrats to baupade 🙌 quite an accomplishment at any level!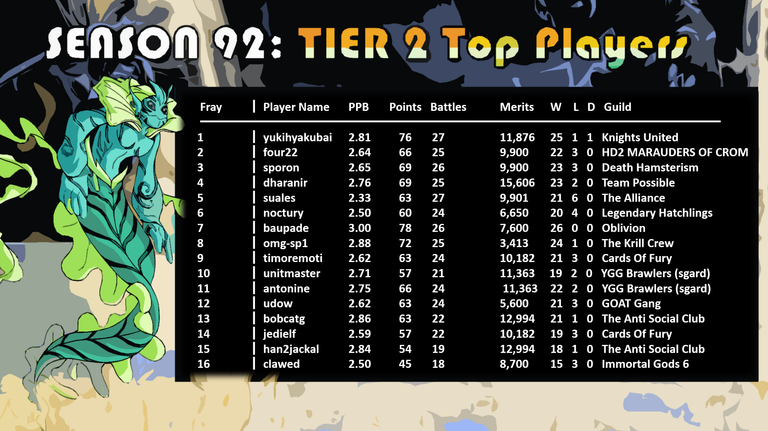 Other notable performances came from by @yukihyakubai (25-1) of KNIGHTS UNITED with a PPB of 2.81 in fray 1, @omg-sp1 (24-1) of KILL CREW with a PPB of 2.88 in fray 8, and a duo of stellar performances from ANTISOCIAL CLUB's @bobcatg (21-1; PPB = 2.86) in fray 13 and @han2jackal (18-1); PPB = 2.84) in fray 15.
SEASON 93
SEASON 93 | TIER 3 | Results
Season 93 saw some guilds leaving TIER 3 and others join, including perennial powerhouse IMMOIRTAL GODS. Despite that, SUMMONER'S TRIBE continued its unparalleled success in the arena, taking first place with 699 points overall.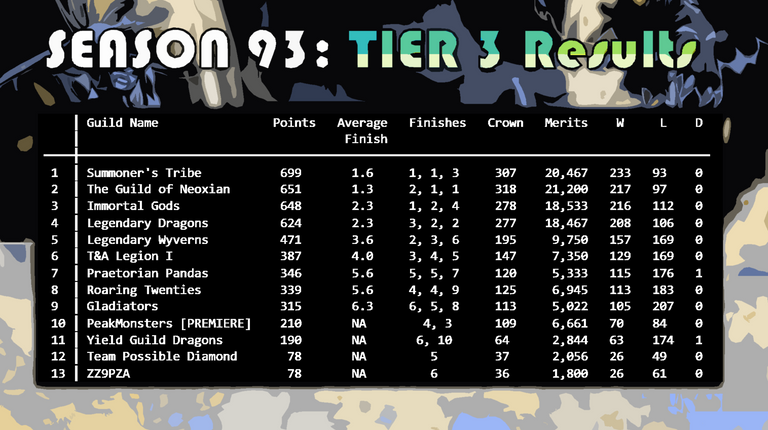 Once again GUILD OF NEOXIAN was the bridesmaid, coming in second place with 651 points despite winning more overall crowns. IMMORTAL GODS and LEGENDARY DRAGONS came in a close third and fourth with 648 and 624 points respectively. The rest of the pack fell relatively far behind these four TIER 3 powerhouses.
SEASON 93 | TIER 3 | Top Players
As the new TIER 3 system began to settle in, and players starting to find a rhythm in their new spots, SEASON 93 ended up with a number of truly impressive individual performances! Probably none were as impressive though as those from the highest gold foil specific frays.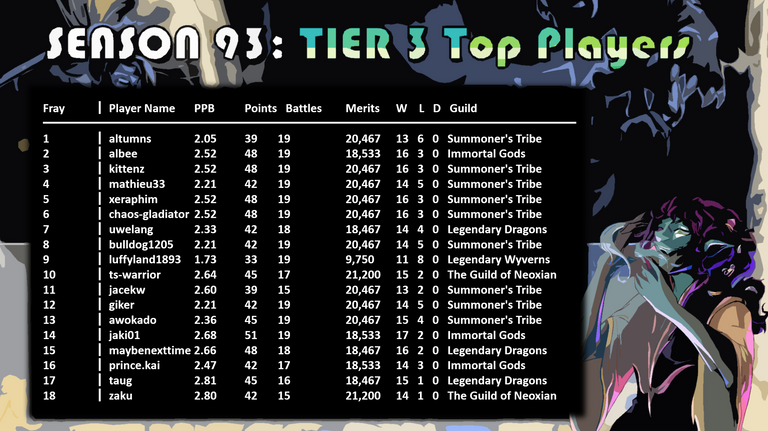 In particular, @zaku from GoN went an incredible 14-1 (PPB = 2.80) in fray 18 (GOLD FOIL | Gold Summoner Lvl | Modern), while @taug from LEGEDNARY DRAGONS slayed it in an incredibly difficult fray 17 (GOLD FOIL | Gold Summoner Lvl | Wild) by going 15-1 (PPB = 2.81).
SEASON 93 | TIER 2 | Results
Previous TIER 2 champion TEAM POSSIBLE found it difficult to replicate its success in SEASON 93, despite coming in a respectable sixth place with 767 points. This cycle it was LEGENDARY WIZARDS 833 points) and LEGENDARY WHELPS (792 points) of the LEGENDARY guild system taking first and third place, respectively. KNIGHTS UNITED came in just short of LEGENDARY WIZARDS, taking second place with 831 points.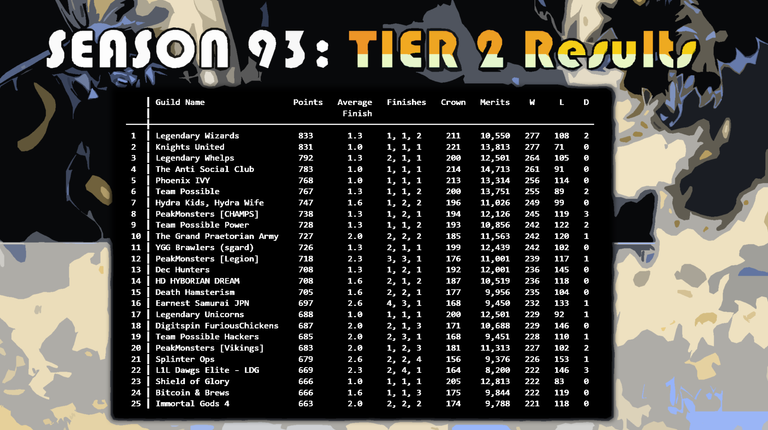 ANTISOCIAL CLUB and PHOENIX IVY filled out the rest of the top five, scoring 783 and 768 points, respectively.
SEASON 93 | TIER 2 | Top Players
This season also saw some knock-out individual performances in TIER 2 including a pair of perfect PPB scores of 3.0 from @onefapman (25-0) from IMMORTAL GODS 6 in fray 3 and b (19-0) from LEGENDARY UNICORNS in the gold foil fray 13.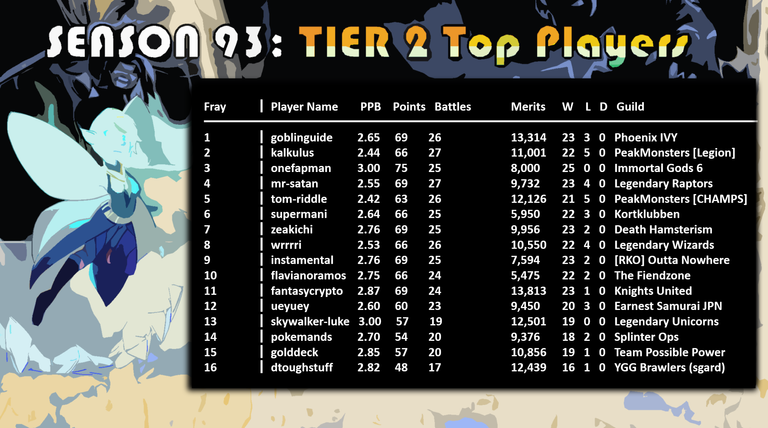 ALL NEW SECTION : "Front Row Seat"
If you've read our previous reports, you know that we're always trying to add fresh content, and analyze the game in new and interesting ways. To that end, we're excited to add a new section featuring brawl battle replays from notable players in the community. For now, we're tentatively calling this section "FRONT ROW SEAT" because it's like a front row seat to watch interesting players in game fight it out in the arena!
Right now we've kept this section relatively brief until we can gauge people's feedback. If people like this, then in the future we'd really love to add more battles (including ranked battles) and spin-off "FRONT ROW SEAT" into its own series 🚀 Btw if anyone is interested in working with us to write these or other posts, we have more ideas than time, so please tag me on our guild's public discord and let me know what you are interested in writing about 👋 Even if you're not into that, join the public chat on our guild's discord bc it seems to be growing into something more and more special everyday.
Anyway, without further adieu, here is the very first-ever, "alpha" edition of "FRONT ROW SEAT!" ⚔️
CONCLUSION
We hope you enjoyed reading the latest edition of the BRAWLS OF STEEL end of season report. If you did, please remember to UPVOTE 👍 COMMENT 😎 and REBLOG 🚀 We look forward to constructive feedback and suggestions from the community especially in the comments section, as we continue to add fresh, new content to improve each season's report. We'd love to chat with you there!