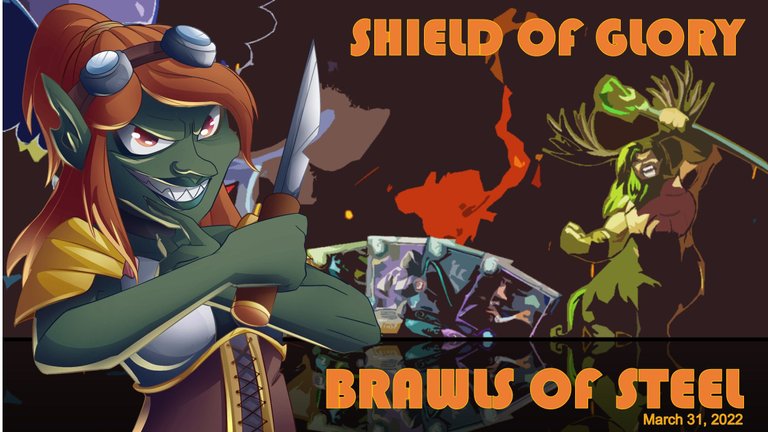 Welcome back Splinterlands fans! @star-shroud here, from the SHIELD OF GLORY guild on Splinterlands, with the next installment of our Brawls of Steel report. Not only did SHIELD OF GLORY come in #1 again in the latest brawl, we currently hold the #2 guild ranking overall after the end-of-season rankings reset. To be fair to the folks at PEAKMONSTERS [VIKINGS], this was a really close brawl where the difference between #1 and #2 came down to a single draw vs. loss scenario. Yet, with another first place victory (2 in a row, and 3 out of the last 4), SHIELD OF GLORY is showing that we're here and ready to play!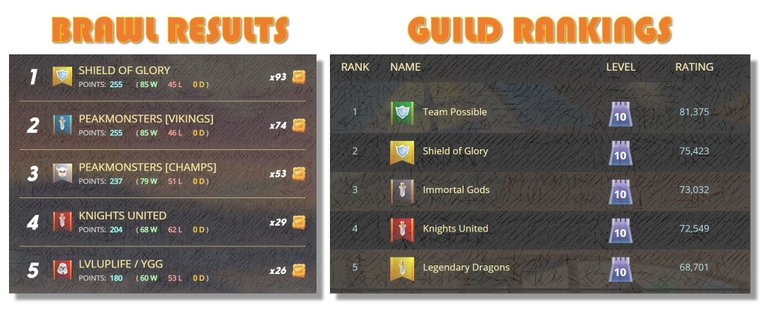 BATTLES
Let's start out by analyzing two of the top SHIELD OF GLORY brawlers, @anasazi and @steemitromney. Both came up big this time around, shutting out the competition with 9-0 wins! As anyone who plays the game knows, a 9-0 shutout is never easy to get under any condition.

Looking first to @steemitromney's performance--wow, would you see what a difference a single choice can make? Fray 7 (silver/wild) saw a relatively high 58 mana cap with a NO NEUTRALS ("taking sides") ruleset. The available splinters were Fire, Death, Earth and Dragon. @steemitromney's team from Shield of Glory defeated @z4orce's team from Knights United in a near mirror-match of Yodin on Yodin blast-fueled fun, fire and fury! Both players used the same summoners to summon the same monsters, in the same order, except for @steemitromney summoning Djinn Inferni for the fifth slot vs @z4orce's choice of Elemental Phoenix. Djinn Inferni's GIANT KILLER ability made all the difference in this one, taking out Magnor early and leading to a defeat for @z4orce's team. As a reminder, monsters with GIANT KILLER ability do double damage against targets that cost 10 or more mana to play. The full battle can be viewed on the Hive blockchain here.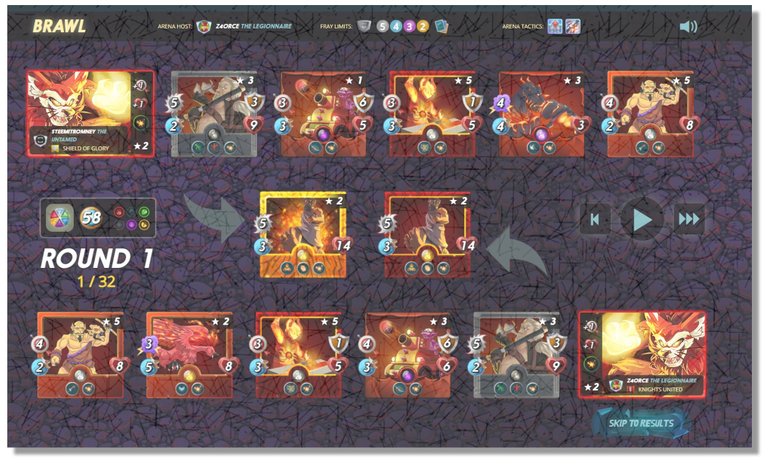 Next we saw @anasazi's team defeat the team from @rosa35 of Peakmonsters [Vikings]. Notoriously powerful Gladius Quora Towershead was worn down by @anasazi's tested-and-true combination of Lama Mage and Flesh Golem. The Fray 3 spot (bronze/wild) was a low 13 mana with ARMORED UP/CLOSE RANGE ruleset. Both players used solo monster strategies. In the end, fatigue wore down Quora and left Flesh Golem the victor. Water, Earth and Dragon were the available splinters. The full battle can be viewed on the Hive blockchain here.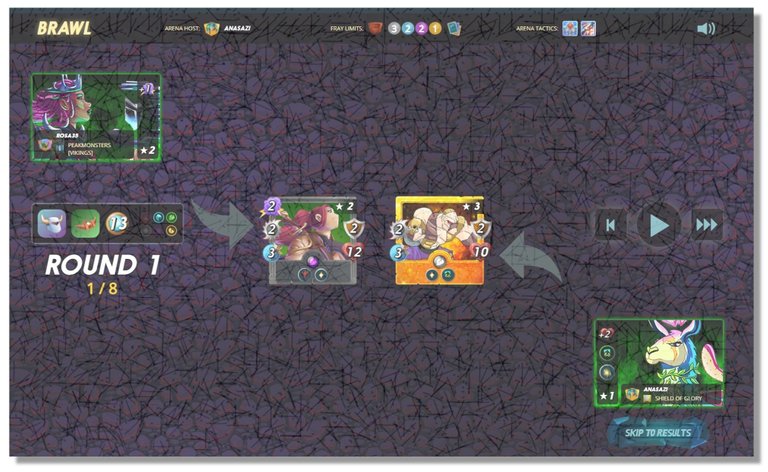 Turning to @star-shroud (that's me) I had a solid 8-1 performance in the Fray 8 spot (silver/wild). I also had one the most fun brawl battles I've ever taken part in!

In a mid-level 30 mana battle with an UNPROTECTED/RISE OF THE COMMONS ruleset, Gladius Katrelba Gobson went completely wild, BLOODLUSTING 5X TIMES with with her powerful double-strike sneak attack. In some ways, Katrelba is like Silvershield Assasin, but with bloodlust instead of poison. Death and Earth were the available splinters. The full battle can be viewed on the Hive blockchain here.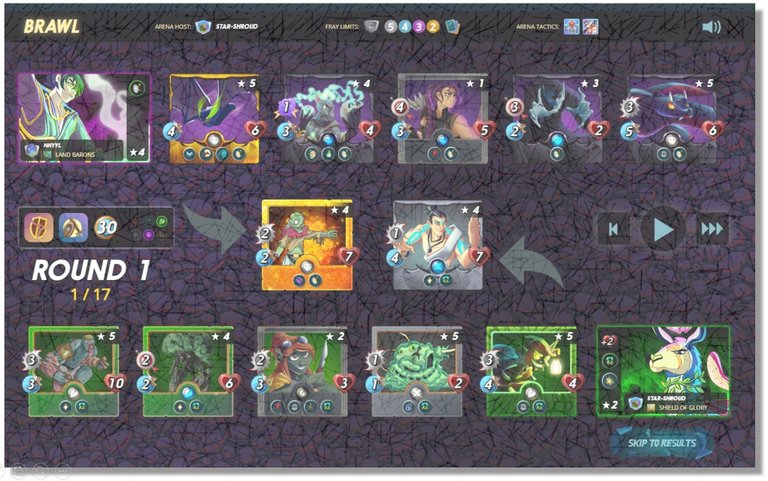 Just look how Katrelba built into an unstoppable force with 5 x Bloodlust kills!

Next we move on to Shield of Glory's newest member, @ducecrypto, who found his rhythm in Fray 14 (GF/bronze/modern) with a dominating 5-1 performance.

A particularly hard-fought battle was played between @ducecrypto's team and @john9inch's team from Peakmonsters [Vikings]. The choice of Chaos Legion water summoner Kelya Frendul made a big difference here. It was a mid-level 38 mana battle with an UNPROTECTED/RISE OF THE COMMONS ruleset. Water, Death and Earth were the available splinters. Kelya's +1 armor and +1 speed turned the tide on an otherwise strong team put forth by @john9inch's summoner Vera Salacia. The full battle can be viewed on the Hive blockchain here.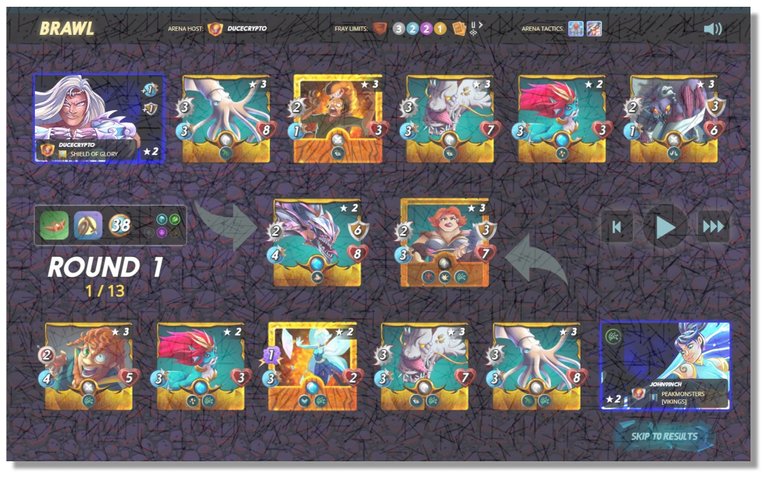 The other top performers were @vugtis and @champion-slayer, throwing down 7-2 performances.

An especially fun match was played between @champion-slayer's team and @lchoeng's team from Knights United. The Fray 5 spot (bronze/chaos legion only) was a mid-level 29 mana battle with REVERSE-SPEED ruleset. Both players used Chaos Legion fire summoner Tarsa to summon Gladius Chimney Wallstop in the second slot (the 'reach' position), but @champion-slayer's choice of legendary Chaos Legion promo card Grum Flameblade as 'tank' won the day. The choice of Scavo Hireling for armor repair was also a difference-maker here. Fire, Life and Water were the available splinters. The full battle can be viewed on the Hive blockchain here.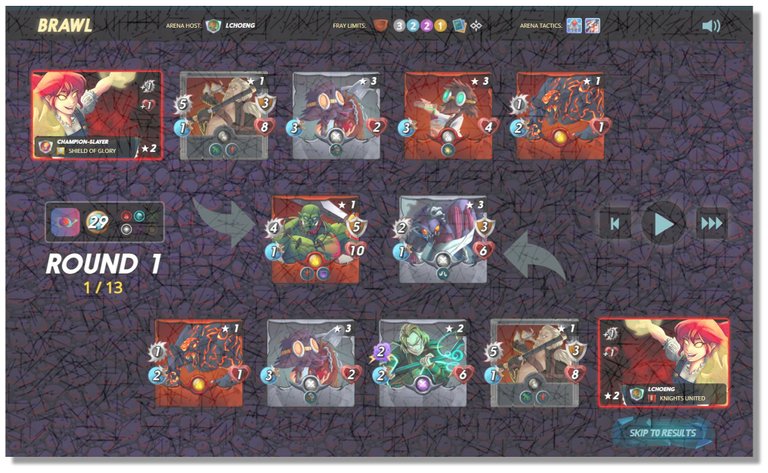 Grum bloodlusted first, and continued bloodlusting all the way to victory!

THE SPOILS
Overall, the guild won 93 crowns for its first-place finish and each participating member received 5,231 merits. As a reminder, crowns are a shared reward that can be used by the guild for different purposes, most often for upgrading the guild's buildings. Merits, on the other hand, are individual rewards which cannot be transferred out of the game, but which can be used to purchase items in the guild store such as Gladius Case booster packs.

The spoils were enough for us to upgrade our store to level 6!

Blood Stones are now in stock!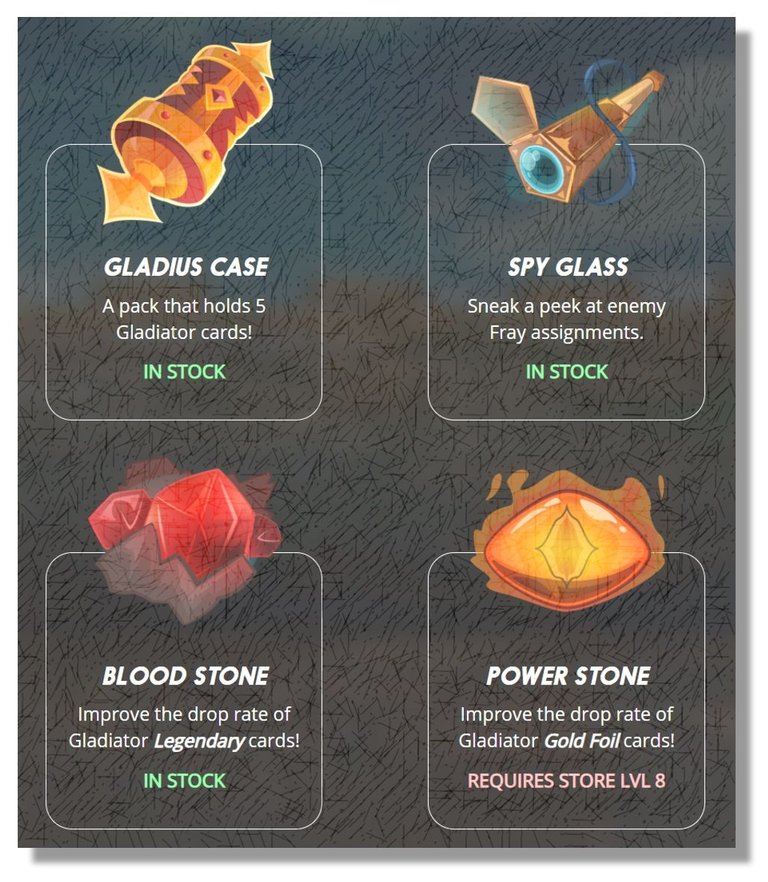 We've recently had discussions within our guild about whether blood stones are really worth it? They're not exactly cheap at 60 Merits a pop. Instead, would it be better to use the Merits to purchase as many Gladius Case booster packs as possible? If the ultimate goal is a maxed-out, fully-stocked Gladius deck, then in the long run it might make sense to max out on Gladius Case booster packs. If there's someone out there good enough at math to figure out the optimal amount to spend on packs vs. stones, let us know in the comments section.
GUILD STATS
Turning finally to guild stats, the top 5 who will keep their fray for the next brawl (or have first choice of an unclaimed fray) are @anasazi, @steemitromney, @star-shroud, @ducecrypto, and @vugtis (tie-breaker over @champion-slayer based on W/L% for all recorded brawls).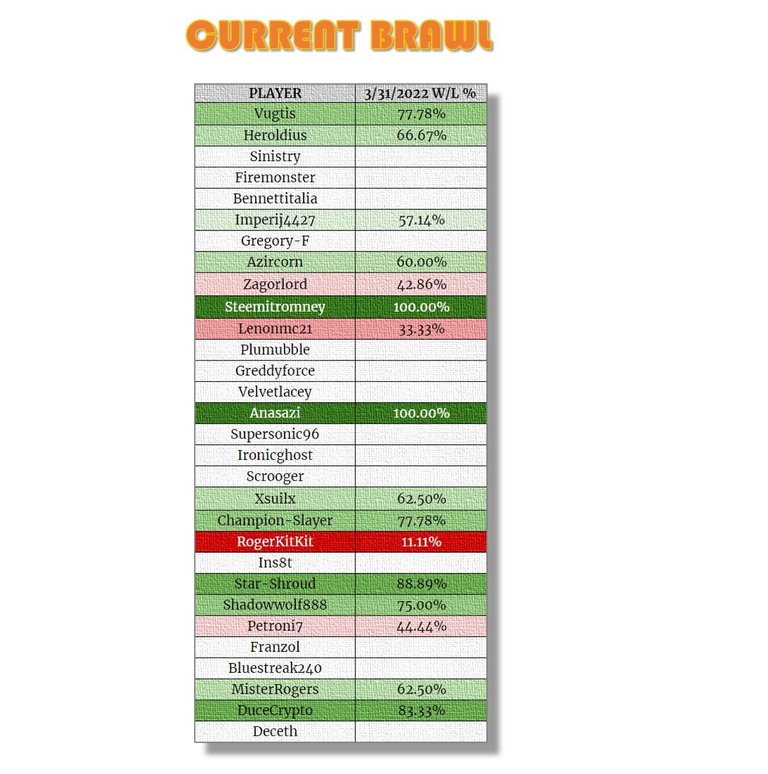 The bottom 5 who will sit the bench for the next brawl, heal their wounds, analyze their cards and strategies, and then come back stronger than ever next time are @rogerkitkit, @lenonmc21, @petroni7, @xsuilx, @misterrogers. Especially for the latter two, that's a tough outcome because 5-3 records don't feel like bench-worthy performances. Partly it's because we're improving as a guild, so staying out of the bottom 5 is getting tougher and tougher. When looking at the stats, also take note of the effect that gold fray brawlers cannot be benched.
Tough decisions--but we have to make those tough decisions to maintain a balance between putting forth our best team each and every brawl, while also allowing a chance for everyone in the guild to get their turn to play if they want it.
For total W/L% in all recorded brawls to-date, @steemitromney pulled further away from the pack, holding strong to the GOLD STAR position with his 9-0 shutout. Congratulations to @anasazi who leaped into the SILVER STAR position with his 9-0 shutout! And this week, @vugtis retook his place in the top 3, just barely edging out our fearless leader @zagorlord and the perennial performer @xsuilx for the BRONZE STAR position.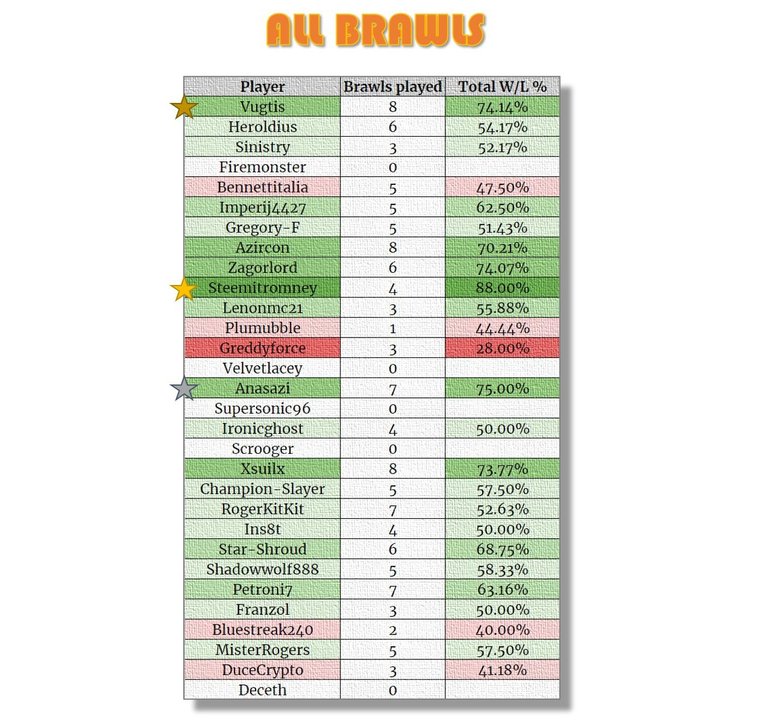 Finally, we finish up with an analysis of fray-by-fray statistics. As pointed out in the last report, Shield of Glory has had some consistently weak performances from certain frays, especially ones with bronze league summoner caps. This week, those spots made improvements but we still have a ways to go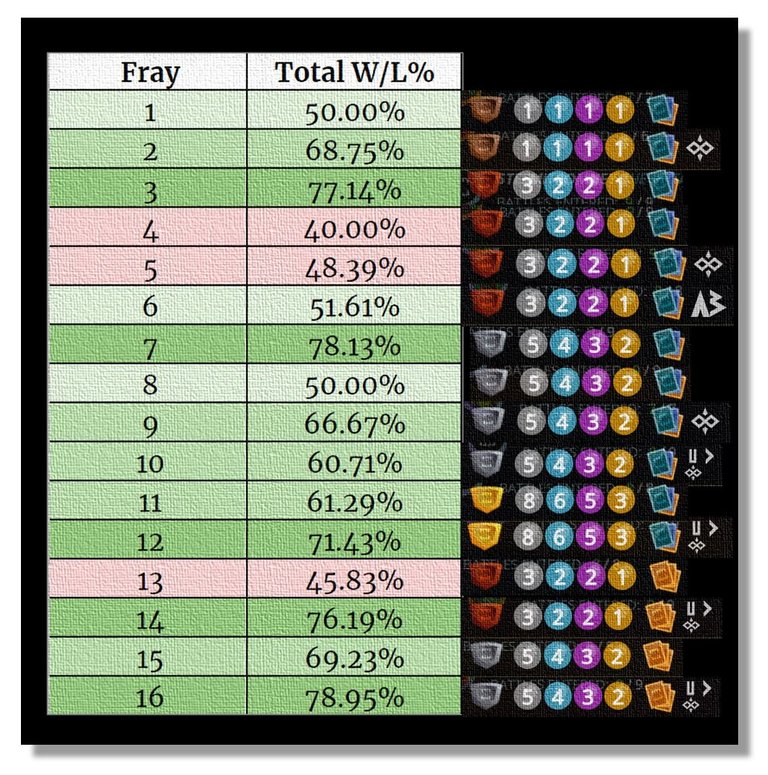 In future, reports we will feature fray-by-fray statistics for each guild member, but for now, keep battling, keep grinding and keep supporting each other on our path to glory!