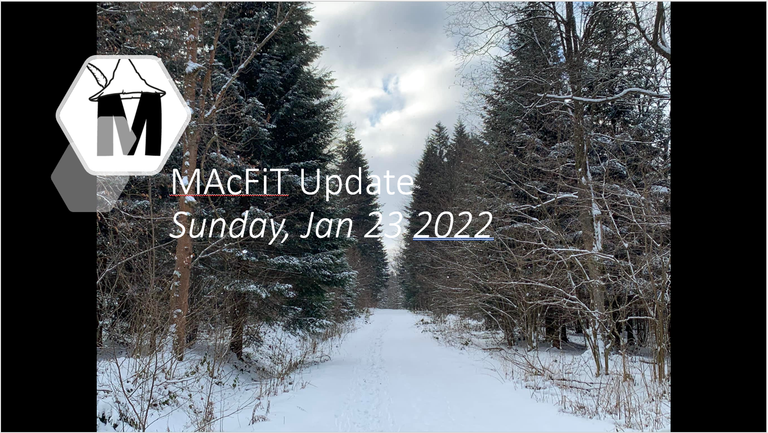 Hello @actifit ' ters,
The highlight of today's update is of course the Semifinals of Champions League. @browery and @merthin have come victorious from tight duels, with very high scores and will face off each other in the Final (on Wednesday, Jan 26). @browery thus have broken his semifinal spell - he had been that high 3 times already, but never made it into the Final. For @merthin, it's going to be the second Final. He won the initial Season back in the summer of 2021.
The results mean that both finalists and @masoom have secured a slot in Season 6 Champions League without qualifications - either as the Defending Champion or one of the 3 highest ranked players, who get automatic admission.
@ptaku and @bucipuci can also get the automatic admission, however some conditions must be satisfied:

In the meantime, there's remote battle for the next Season - pre-qualifiers have started this past Friday and we have a full set of scores from that day.
Latest Matches - Saturday, Jan 22
Champions League Semifinals
SF1: @masoom vs @browery 29:27 (28509-26514)
First Leg: 31:41 (31349-40559); Winner: @browery (1 win both, aggregate score 60:68)
SF2: @merthin vs @bucipuci 35:22 (34625-21979)
First Leg: 39:49 (38515-49372); Winner: @merthin (1 win both, aggregate score 74:71)
Currently Playing - Sunday, Jan 23
Consolation Cup Semifinals
SF1: @grecki-bazar-ewy vs @ptaku
First Leg: 31:30 (30755-30072)
SF2: @manuvert vs @practicaleric
First Leg: 34:28 (34035-27786)
Next on Schedule - Season 5 Finals
Champions League
Wednesday, Jan 26
Consolation Cup
Thursday, Jan 27
Season 6 pre-qualifiers
Important for the listed below - Sunday is your second day of pre-qualifiers. They last 4 days and your 3 best results will be selected (applying bonuses for @poliac and #poprzeczka players, as mentioned when the pre-qualifiers were announced).
Here are the results of the first day (Friday) and current table which takes into account the said bonus. Players in green would qualify to Round 1 of Champions League qaulifiers, while those in yellow will compete in Round 1 of Consolation Cup qualifiers. Some players have had a very good start, some are in a strong middle group and for some... there's room for improvement.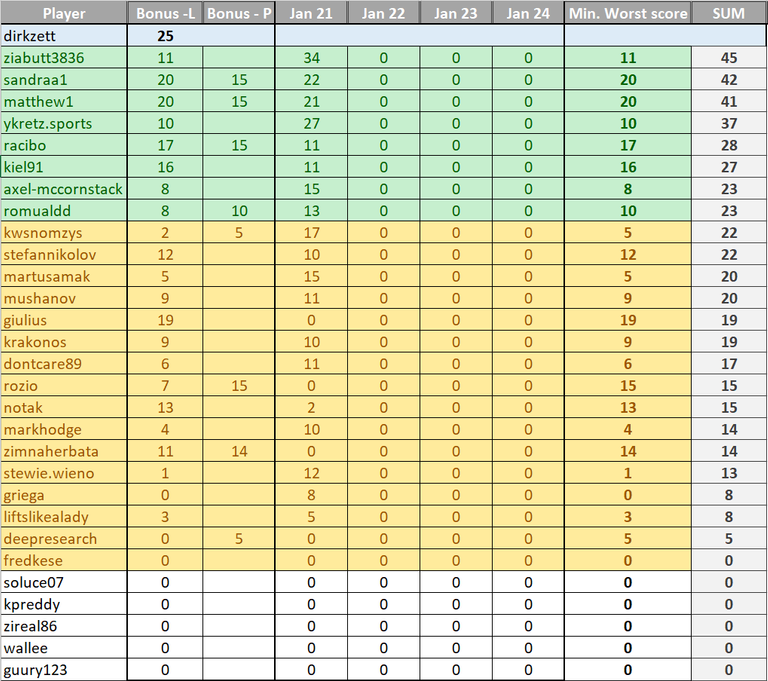 @dirkzett has already got a Wild Card, as the top League One player as of round 15 of @poliac League, edition 6. He will start qualifications from Round 2.
Friday-Monday, Jan 21-24
Participating:
@sandraa1
@matthew1
@giulius
@racibo
@kiel91
@rozio
@zimnaherbata
@notak
@stefannikolov
@ziabutt3836
@ykretz.sports
@romualdd
@krakonos
@mushanov
@axel-mccornstack
@dontcare89
@martusamak
@kwsnomzys
@deepresearch
@markhodge
@liftslikealady
@stewie.wieno
@fredkese
@soluce07
@kpreddy
@griega
@zireal86
@wallee
@guury123
Details in this announcement.
---