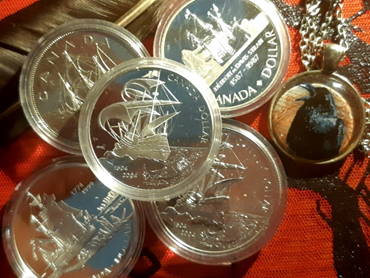 P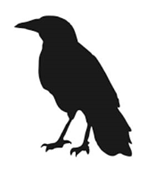 "Black birds tend to like Shiny Things." ~ The Bloody Raven
Three objectives and two ships left France, Le Don de Dieu,"The Gift of God" and the "Good Renown" Pierre Dugua de Mons sold his property to finance this expedition to establish a base in New France, also called Acadia. Henry IV of France bestowed upon Pierre Du Gua de Mons the title of Vice Admiral and first Lieutenant of Arcadia and was granted a monopoly of the lucrative fur trade. Upon his shoulders Henry IV commissioned Dugua De Mons the responsibility to Colonize Arcadia, Christianize and secure exclusive trade with it's inhabitants and possibly find the passage to the East Orient.
In 1604 Du Gua De Mons, with Cartographer with Navigator Samuel de Champlain, and 100 men adding three more ships entered Passamaquoddy Bay at the mouth of the Saint Croix River and established the First French settlement on Saint Croix Island.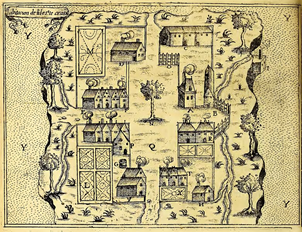 W1.
The buildings of St. Croix Island by Samuel Champlain 1613 under Public Domain, a layout of the first 1604 French settlement on Saint Croix as documented by Samuel de Champlain before it was dismantled and moved the following year to the better location at Port Royal.
2004 Canada Proof & BU Dollar First French Settlement Commemorative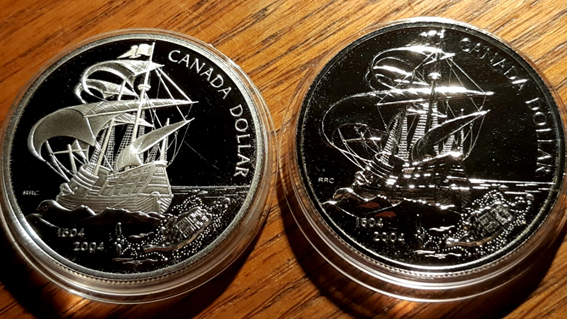 Reverse: Sailing Ship 'Le Don de Dieu', Map of St. Croix Island
Legend: CANADA DOLLAR, RRC 1604 - 2004
Silver 0.925, 25.175g
36.07mm Diameter, 3.02mm thickness
Artist: Robert-Ralph Carmichael
Note: Numista states 0.9999 silver purity whereas RCM states 0.925
The first year proved difficult with the harsh North American Winter and Scurvy inflicting casualties among the settlers. In 1605 the colony was moved across the Bay of Fundy to a place called Port Royal, today it is called Annapolis Royal, Nova Scotia. While the Fur trade languished and losses mounted due to illegal trade by Interlopers and smugglers (Arrrh! Privateers I say), the Port Royal Colony grew despite difficulties becoming the French cultural center of Acadia until the British destroyed it 1613 as the same region was both claimed and contested by England and France.
2004 Canada Proof & BU Dollar First French Settlement Commemorative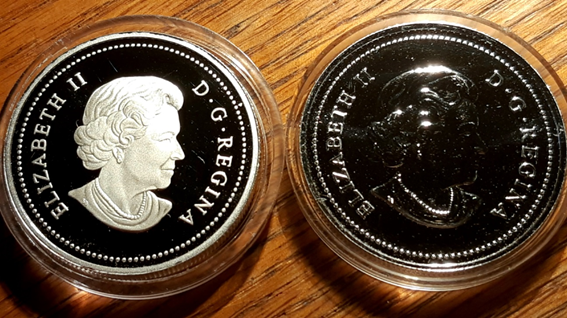 Obverse: Elizabeth II facing right,
Legend: ELIZABETH II D · G · REGINA
Proof 106,974, BU 42,582, Fleur De Lis Privy 8,315
Reference KM# 512
Artists: Susan Taylor, Susanna Blunt
The coin to watch for is the version with the Fleur de Lis Privy mark at the 4 o'clock position of the reverse with the small mintage 8,315 that were issued only in the Ile Sainte-Croix coin & stamp sets.
There is very little information of the ships other than the names of two principal ships; the other three ships and ship types remain a mystery outside the scope of this article. Likely small merchant class Caravel/Ketch, I always like to know the ship statistics like size, class, burden, crew size, and of course armament.
While Champlain continued exploring, mapping the Atlantic coast and the Great lakes Du Gua De Mons eventually was forced to return to France to protect his company business and leaving his college Samuel de Champlain to carry on the exploration and charting of New France.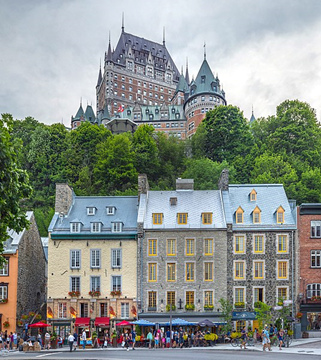 W2
In July 2nd 1608 Champlain with three ships including Le Don de Dieu arrives to the location today known as Vieux, Quebec and founded Quebec City of New France. Today the ship is remembered in Quebec City's Motto: Don de Dieu feray valoir, "I shall put God's gift to good use."
Champlain chose the location of Fort Saint Louis, a strategically defensible prominence atop of what is known as the Upper Town, a nearby geographical high point overlooking the cape. That position was later tested by a British Invasion force led by General James Wolf in 1759.
Bonus Silver coin
2004-1604 France ¼ Euro 400th Anniversary of Samuel de Champlain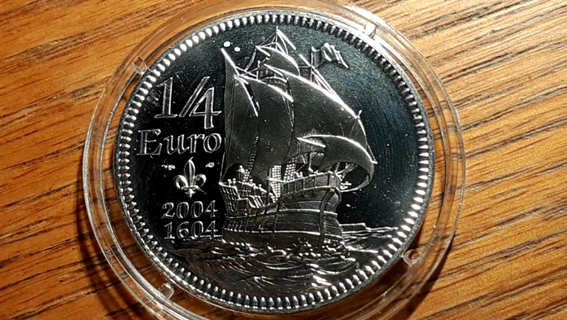 Reverse; Ship 'Le Don de Diue'
1/4 Euro, 2004 – 1604
Silver 0.900, 22.20g
37mm Diameter, 2.02 mm Thick
Edge: Serrated
In 1620 Champlain was made Governor of New France but returned to France when the lands were ceded in 1629 to England. In 1633 upon his reinstatement as Lieutenant Champlain returned to Quebec following a Peace treaty with England serving only two years before passing away.
Even though Dugua de Mons' Fur Trade never flourished as expected, the importance of Champlain's work having established these settlements were important in maintaining the French presence in the New world and as an integral part of Canada.
2004-1604 France ¼ Euro 400th Anniversary of Samuel de Champlain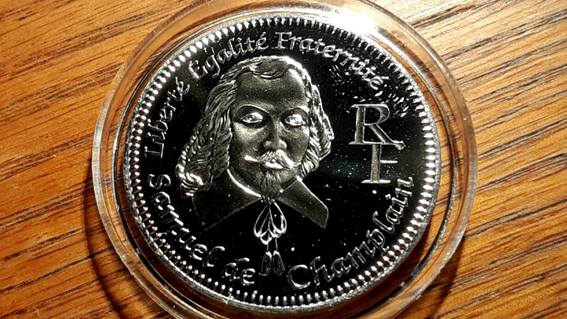 Obverse; Portrait of Samuel de Champlain
Liberté Egalité Fraternité, RF, Samuel de Champlain
Reference KM#1372
Mintage of 15,105 Proof
Le Don de Dieu Replica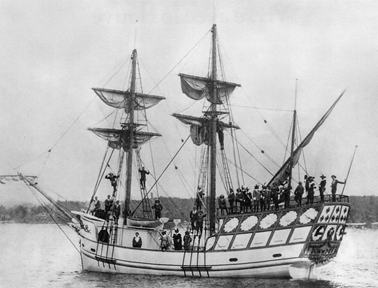 W3
The replica of Le Don de Dieu was featured at the 300th Anniversary of the founding of Quebec on July 23rd 1908.
Replica Ship Stats:
Burden tonnage: 3 Tons
Length: 31 ft, or 9.4m
Propulsion: Sail
Builder: J. Chapdelaine, Sorel, Quebec
Launched: 1907


My further research into the whereabouts of the replica was fruitless I assume that the ship was not preserved in any facility for posterity. The construction was based on historical descriptions and known construction practices of 17th century France.
My Thoughts on these coins
The Canadian version is beautifully done going for the 3/4s stern view of the ship, the inset St Croix inset map locating the very first French settlement. I also see some corroboration and collaboration the RCM with the French Mint as their coin presented the same ship as a 3/4s bow view of the ship. These would have made an interesting paired presentation set.
The Bloody Raven's Thoughts
What a tiny ship! Could barely fit twenty-five crew and where would my hot tub and treasure be stowed? Guns, no guns? Sure these are fine additions to the Silver ships fleet but outfitting the real ships as Pirate ships can be a problem. Pierre de Mons could have spend a bit more silver for bigger ships, then we can deal with his Interloper issues easy peasy!
I hope you enjoyed this very special feature
And thank you for stopping by my Pirate Blog today.


The #piratesunday tag is the scurvy scheme of Captain @stokjockey for #silvergoldstackers and #sgs-community pirates to proudly showcase their shiny booty and plunder for all to see. Landlubbers arrrh…welcomed to participate and be a Pirate at heart so open yer treasure chests an' show us what booty yea got!


R

References
1. My own pictures shot with a Samsung SM-A530W
P. Image under Pixabay
R. Clip art from 123RF
W. Wiki Commons
Sources
mint.ca: 400th anniversary French Settlement
W1. Buildings of St Croix Island by Samuel de Champlain under Public Domain
W2.Veuix-Quebec as Today by Wilfredor under CCO 4.0
W3. The 1908 Replica of the Le Don de Dieu by E. Lalierte under CCO 4.0
Canadian Museum of History: Samuel de Champlain 1604-1616
Biography.com: Samuel de Champlain
Dictionary of Canadian Biographies: DUGUA DE MONTS, PIERRE
"Et lux in tenebris to serve laboro, sum sicarius" "I work in the shadows to serve the Light, I am an Assassin"