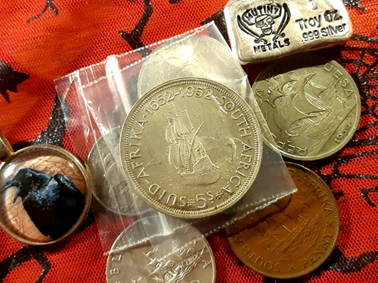 P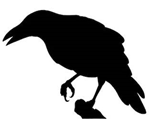 "Black birds tend to like Shiny Things." ~ The Bloody Raven
In my last article, I mentioned that the English First Fleet ships lead by Captain Arthur Phillips made one last stop over to Cape Town to stock up on farm animals on the last leg of the voyage to New South Wales eventually leading to the founding of Australia.
About 285 Years earlier in 1503 the Portuguese landed there but were turned away several years later as relations with local herdsmen became hostile. That didn't deter other ships that used Table Bay's natural geography and resources as convenient anchorage for rest and resupply.
1952 South Africa 5 Schilling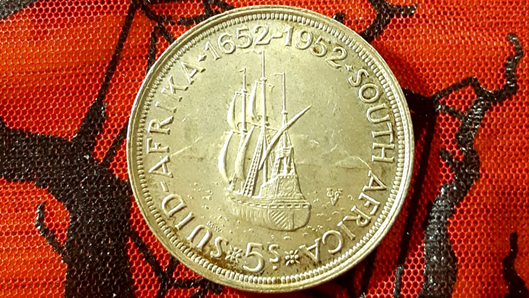 Reverse: The Drommedaris, SUID-AFRIKA-1652-1952-SOUTH AFRICA-5s-
Silver 0.500, 28.28g
38.61mm diameter, 3.06 mm Thick
It wasn't until about 1647 when The Haarlem, an earlier Dutch ship of the Dutch East India Company, ended up wrecked on the shores of Table Bay. While fifty eight of the crew were sent home Sixty two men stayed to recover as much of the cargo as possible. When the remaining crew returned back to Holland they reported favorably regarding the friendliness of the local Khoisan natives and the lush fertile soil most suitable for planting important crops like citrus fruits to prevent scurvy.
The long trade route from the Dutch Republic to the Dutch East Indies in Batavia took a toll on crew and passengers, and causalities were often high. The answer was obvious.
1952 South Africa 5 Schilling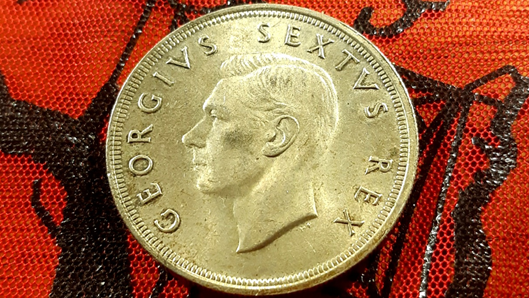 Obverse: King George Facing left, GEORGIVS SEXTVS REX-
Mintage of Unc 1,698,000, Proof 12,000
KM# 41, Hern# S317
Edge: Milled
The Directors of the Dutch East India Company decided it would be prudent to establish an outpost serving as a refreshment way station for Dutch company ships en-route to and returning from Batava. A man by the name of Jan Van Riebeeck was contracted to oversee the establishment of this potentially valuable post.
And on April 6th, 1652 sailing aboard the Drommedaris Jan Van Riebeeck arrived with two other ships; De Goede Hoop and followed by The Rejiger arriving the next day. The Drommedaris continued it's journey and departed from the Cape on 25 May 1652, arriving in Batavia on 22 July 1652.
Bonus Coin
1 Penny Georg e V The Drommedaris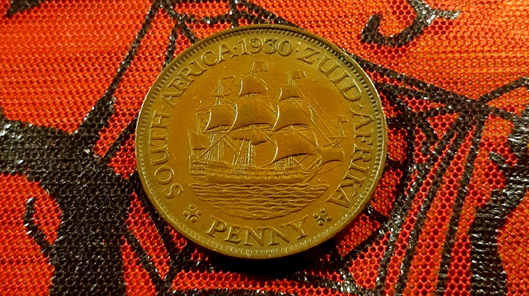 Reverse: Ship The Drommedaris sailing right
Legend; SOUTH·AFRICA· 1930 ·ZUID·AFRIKA, KG
Bronze, 9.45g
31mm diameter, 2.04mm thickness
Van Riebeeck was instructed to just establish the post with clear intentions not to build permanent colony and that the local Khoisan inhabitants should be treated with respect.
The Fort of Good Hope was built and its only purpose is to be a Refreshment Station providing fresh water, food and aid for Company ships. However in its first year, unfamiliarity with the seasonal weather of the region proved disastrous as heavy rains that winter washed away their simple shelters and crops leading to nineteen deaths.
1 Penny George V King George V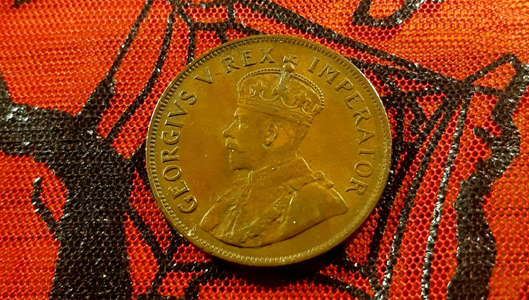 Obverse: King George V facing left
Legend; GEORGIVS V REX IMPERATOR, BM
Mintage of 754,294
reference KM# 14.2, Hern# S85-90
Edge; Plain
The completed fort provided an important role as the Dutch eventually went to war against the English. This then marked the first permanent European settlement in the region. Eventually the Company made a decision to turn the outpost into a colony by allowing the sailors and soldiers working for the company to settle in and around the Fort with their families working their own parcel of land.
Immigration of other Europeans and slaves followed and integrated into the Dutch colony. Van Riebeeck put Land ownership policies in place, policies that eventually sow social divisions long before South Africa became an independent country.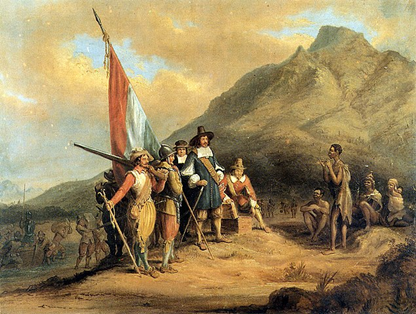 Jan van Riebeeck arrives in Table Bay in April 1652 by Charles Davidson Bell under Public Domain

R

Quick Facts
Some details on the Drommedaris; a Dutch Jaght built in 1645 by Amsterdam Yards with a 560 ton burden. 40 meters long including the bowsprit. The Term Jaght is precursor to the current usage, Yacht. Meaning: "a light, fast-sailing ship," small fast ship designed to pursue smugglers, pirates and criminals.
There was a full sized Replica built of the Drommedaris that sailed Table Bay Harbor in 1952 in celebrating the 300 year anniversary during the Van Riebeeck festival in 1952. Here's a link of a lovely model of The Drommedaris since every picture available is copyrighted.
Established in 1602 The Dutch East India Company was also known as The Vereenigde Oostindische Compagnie (VOC) is a conglomeration of several prominent Dutch trading companies headquartered in Amsterdam.
Batavia was the Capital of the Dutch East Indies. It is now Jakarta, Indonesia.
My Thoughts on the Coin
From looking at past articles you can tell I love coins with sailing ships. The silver 1952 South Africa Five Shilling coin is a fine addition to the Silver fleet. Rather than a Broadside profile typical with most Ship coins the Drommedaris is presented from the Stern ¾ view as if viewing from the deck of the Rejiger prior to landfall.
As a typical business strike both the subject and background has a consistent matte finish that resists fingerprints from handling but an issue when it comes to photography.
Hmmm, I know I saw this design somewhere before, the 5 Shilling coin…. Ah yes!
Nope… close… I can see where @thedamus got his Inspiration!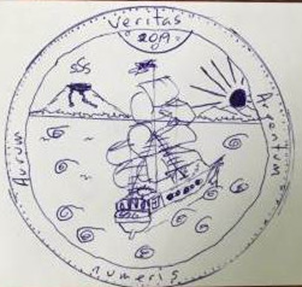 Flipping…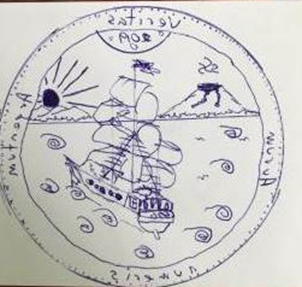 One of the Finest entries in the 2019 Steem Silver Round competition
I recalled voting this as a sentimental favorite.
After all we're Silver Stacking Pirates!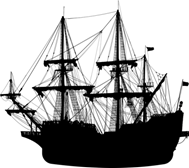 P

References
1. My own pictures shot with a Samsung SM-A530W
P. Image under Pixabay
R. Clip art from 123RF
W. Wiki Commons
Sources
Numista: Founding of Capetown
Summerschol.uct.ac: Wreck of the Haarlem
sahistory.org.za : The Arrival of Jan Van Riebeeck
History of the Yacht/Jaghts
Wiki: Jan Van RiebeecK

Banner by @thekittygirl
"Et lux in tenebris to serve laboro, sum sicarius" "I work in the shadows to serve the Light, I am an Assassin"