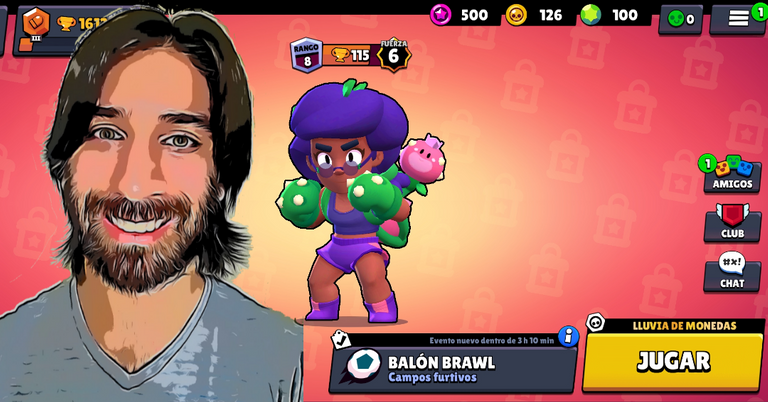 ---
Saludos, estimados gamers. Espero estén teniendo una excelente semana y aprovechando todo al máximo. En mi caso sigo jugando de manera constante Brawl Stars, en esta ocasión les comentaré un poco sobre Rosa, una Brawler que he usado muy poco, aunque si tiene su gran poder, similar al que nos ofrece El Primo, es por eso que no dude en usarla, aprovechar al máximo lo que nos ofrece en el ataque cuerpo a cuerpo con esos puños bastante poderosos, es muy buena cuando estamos a corta distancia y lo que nos ofrece al atacar, realmente son buenos golpes, nada que le de ventaja al Brawler enemigo en ese momento solo si tiene una velocidad muy buena como para alejarse de ella al momento de recibir esos impactos, es por eso que se hace divertido, pero no es apto para todo jugador.
Greetings, dear gamers. I hope you are having an excellent week and making the most of everything. In my case I keep playing Brawl Stars constantly, this time I will tell you a little about Rosa, a Brawler that I have used very little, although she has her great power, similar to what El Primo offers us, that's why I don't hesitate to use her, make the most of what she offers us in the melee attack with those powerful fists, It is very good when we are at close range and what it offers us when attacking, really are good hits, nothing that gives advantage to the enemy Brawler at that moment only if it has a very good speed to move away from it at the time of receiving those impacts, that is why it is fun, but it is not suitable for all players.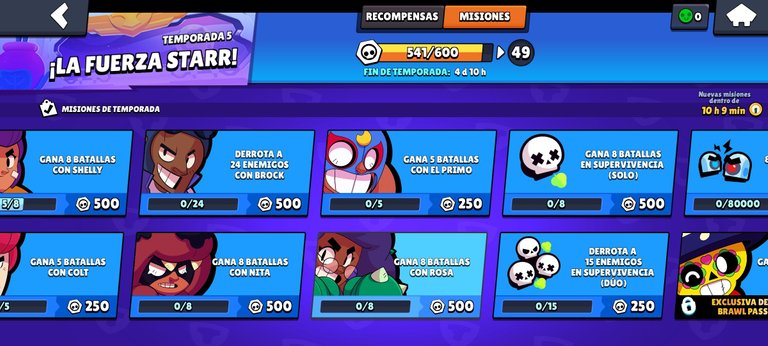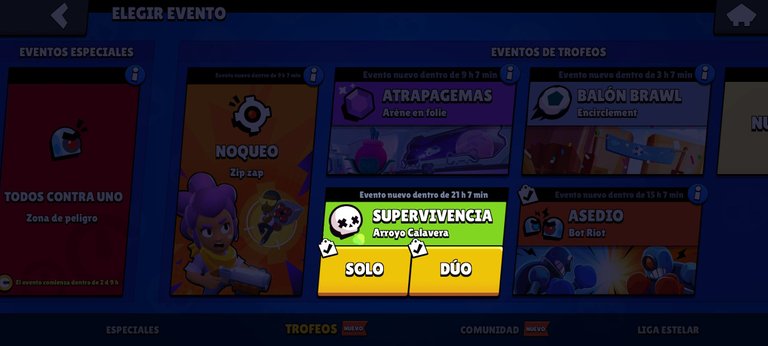 ---
Las misiones con Rosa no estuvieron complicadas, más bien fue algo sencillo, porque me pedía ganar ocho partidas con esa Brawler, algo muy rápido de hacer, es por eso que aproveché en sumar otra misión, la cual fue vencer en partidas de supervivencia solo, en cierto punto las mezclé e hice otras particulares en infligir daño y todo eso, así que pude avanzar como tres misiones en ese momento, dándome bastante poder en las fichas para elegir los próximos cofres o ganar algún objetivo en particular. No cabe duda que esta es de las mejores maneras de subir rápidamente de nivel acá, más que eso, obtener las gemas fácilmente para luego si queremos obtener alguna skin o el Brawl Pass.
The missions with Rosa were not complicated, rather it was something simple, because it asked me to win eight games with that Brawler, something very fast to do, that's why I took advantage of adding another mission, which was to win in survival games alone, at a certain point I mixed them and did other particular in inflicting damage and all that, so I could advance as three missions at that time, giving me enough power in the chips to choose the next chests or win a particular goal. There is no doubt that this is one of the best ways to level up quickly here, more than that, to get the gems easily for later if we want to get some skin or the Brawl Pass.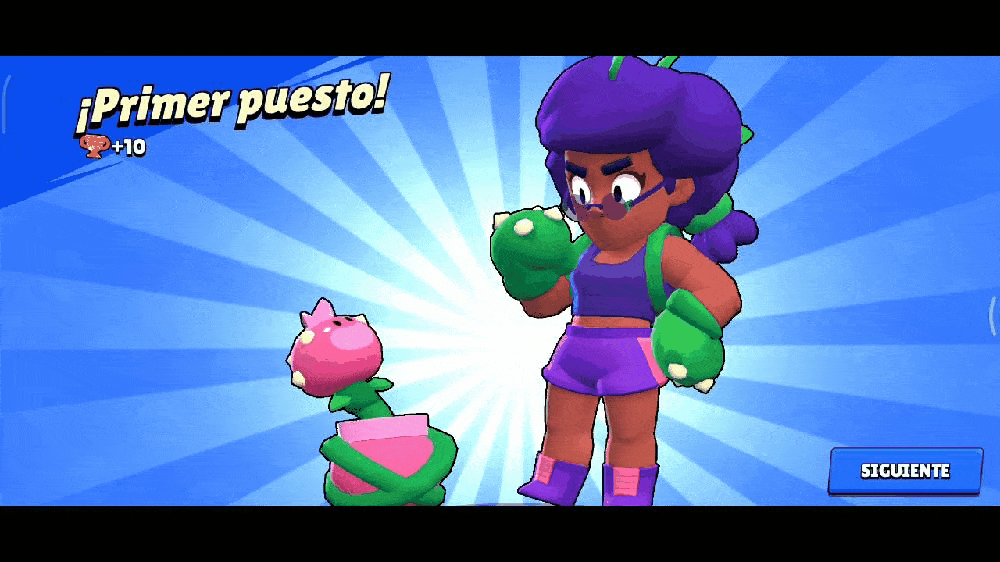 ---
En esta batalla de supervivencia solo, hice lo que acostumbro. En este caso busqué tener la energía lo más pronto posible para poder aumentar mi poder de golpe, manera de poder arrasar con los Brawlers que se me acercaran, lo cual fue muy rápido, por ser cuerpo a cuerpo, la resistencia es excelente y más por la habilidad especial que nos ofrece su planta, que es un aligera protección para evitar ser eliminado en este estado, yo lo veo como una invulnerabilidad temporal que me permite repartir golpes rápidamente para destruir al Brawler enemigo, acá tengo un par de gif donde muestro cuando pude derribar a otro Brawler rápidamente sin ser eliminado, es una de las ventajas al usarla.
In this battle of survival alone, I did what I usually do. In this case I sought to have the energy as soon as possible to be able to increase my power of blow, way to be able to raze the Brawlers that approached me, which was very fast, for being melee, the resistance is excellent and more for the special ability that offers us its plant, which is a light protection to avoid being eliminated in this state, I see it as a temporary invulnerability that allows me to deal blows quickly to destroy the enemy Brawler, here I have a couple of gif where I show when I could knock down another Brawler quickly without being eliminated, it is one of the advantages when using it.
Traslated with DeepL

Las capturas de pantalla fueron tomadas en una sesión con mi usuario en Brawl Stars desde un dispositivo Xiaomi Redmi Note 9s. La imagen de portada fue elaborada con la aplicación Spark Post usando mi animación
---
The screenshots were taken in a session with my user on Brawl Stars from a Xiaomi Redmi Note 9s device. The cover image was crafted with the Spark Post app using my animation

---

---