Heeeyho Readers! Let's talk about survivalism!
---
"Nobody knows more about survivalism than those who've had to flee their homes."
That said, this post goes beyond exalting my experiences on the road as an adventurous brokepacker; it aims to discuss information on how to survive in case of a severe crisis — observe the world and interpret accordingly.
Any sane reader may notice that the situations I put myself — and the mistakes once made — are miserable. Cycling across Europe during the winter? An adventure. I dislike the term 'adventure' at any rate. Norwegian explorer Roald Amundsen once said: "Adventure is just bad planning". It doesn't matter how rough the conditions are if we are prepared. So, let's talk about planning.
Surviving Winter On The Road
There's no such thing as bad weather, only unsuitable clothing. This famous quote is extendable to the extremes; whether in a bicycle trip or if we lose our shelter (homes) being prepared to endure the winter outdoors is our primary goal.
I will divide our survival capability in three categories: shelter, nutrition, and clothing.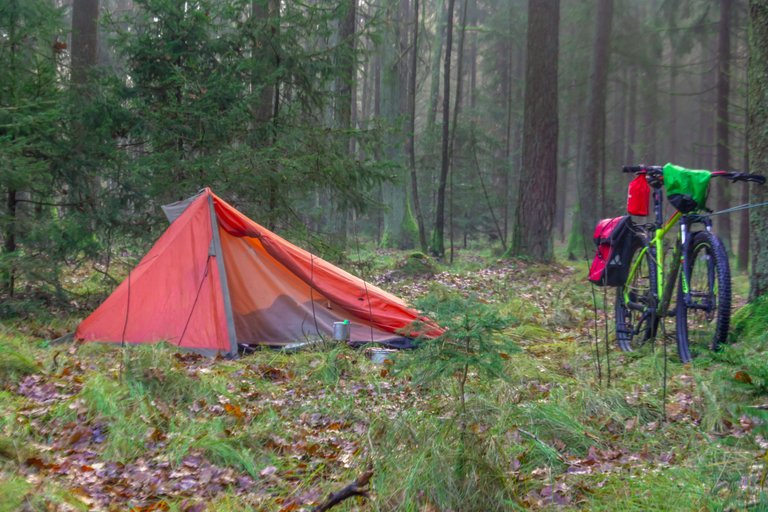 Camping in a forest, Austria, Nov. 2019
---
Shelter
Sheltering is the alliance of a safe and discrete location to sleep, any well-protected enclosure, and a way to maintain heat.
The best way to find a safe spot to sleep is to look around. Generally, as far away as possible from major cities is advisable. Local woods, amid bushes, asking people nearby small communities. Humans generally have a decent instinct to sense fear; that is, you'll know if a place is unsafe. Experience will enhance that.
I've used a tent 90% of the time during my trips as a well-protected enclosure . It's also one piece of equipment that is always ready to go at any time. A good camping tent should:
Be lightweight and compact
Have a waterproof rating of at least 1500mm
Easy to assemble/disassemble
A strong structure against the wind
Some people like to use hammocks or bivouac bags, but none of these options are as protected as a good ole camping tent.
Lastly, we should be able to maintain our bodies warm during the night. Hypothermia is, unfortunately, the main cause of deaths among homeless people in southern Brazil.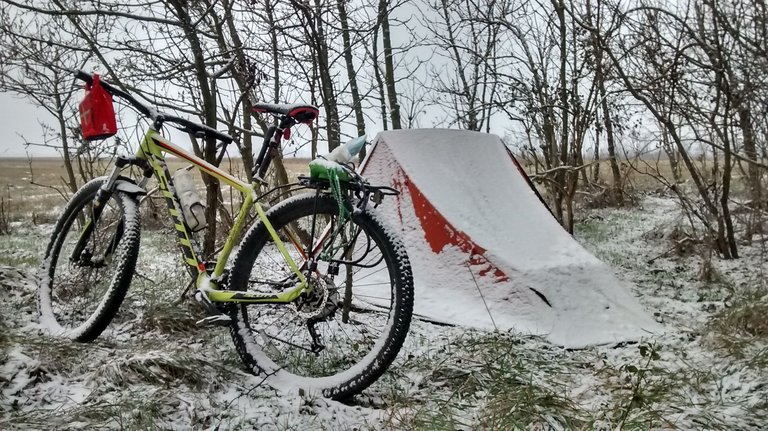 Camping in -10ºC, Hungary, Nov. 2019
---
Winter nights require specialized equipment. The photo above is from a field in Hungary, when the temperatures reached -10ºC. Meanwhile, I slept comfortably using a sleeping bag rated for comfort -5ºC over a Sea-to-Summit insulated sleeping pad. Proper sleeping gear do not come in cheap, although it's an investment worth every cent. Remember, we gotta be prepared.
Let's skip the details about gear in this post. Below is a rough guide.
Reputable sleeping bag brands rate their sleeping bags according to the norms EN 13537 and ISO 23537 (extreme, limit, comfort temperatures).
Sleeping pads depend on their R-value (its capacity to resist heat flow through it. The higher a pad's R-value, the better it will insulate you from cold surfaces.
With a combination of an instinct to find appropriate sleeping spots, a decent tent, and a specialized sleeping bag and pad, you are set to sleep anywhere — I mean it from experience.
Nutrition
Surviving winter conditions also require a reinforced calorie intake. Finding nutritious food — that's rich in fat, carbohydrates and proteins — is easy in a normal-functioning society. Just grab a lot of pasta, tuna fish, peanut butter, fruits, oat meals, rice, etc. Anything that won't rot and fits in a backpack.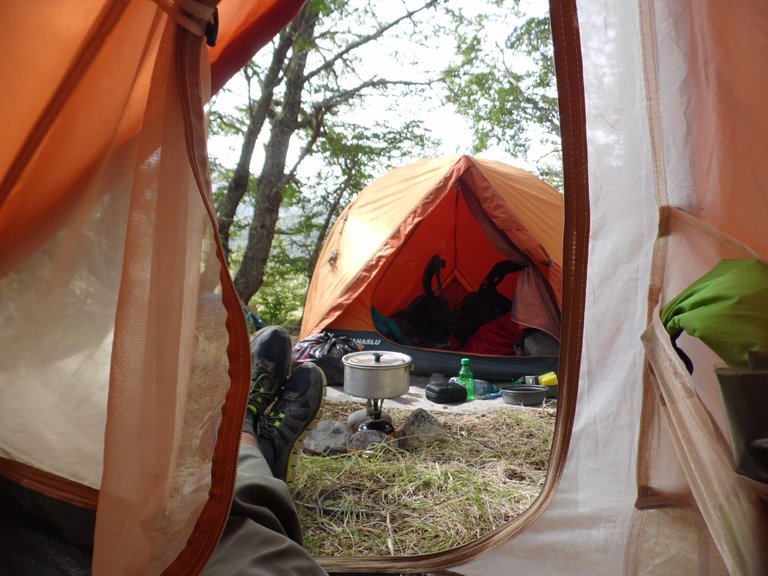 Cooking on the outskirts of a village in Chile
---
Life gets a little bit more difficult in case of a crisis, considering we won't have money and markets will run out of stock quickly (because of a broken supply chain and inflation).
What would you do in this situation?
Clothing
Are you prepared to sweep your wardrobe and grab clothes to run away in five minutes? Survival clothes are versatile. They keep you warm and dry. Some pieces are multi-purpose. Compactness is important.
My clothing options diminished since I started traveling. Today, my wardrobe is composed of a handful of technical clothes that serve a day-to-day life and outdoors activities. In case of a crisis it takes a minute to throw them in a backpack and go.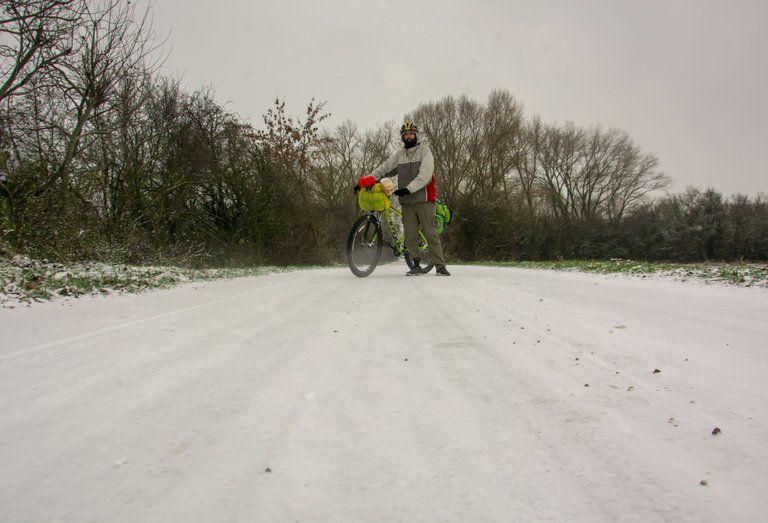 Cycling during the winter
---
Trousers that turn into shorts, thermal shirts, fleece tops, and a good waterproof jacket covers any condition. It's not about fashion, but survivalism. Jeans and wool jackets are heavy and won't dry easily. Think of layers of clothes that complement each other. Thermal layers goes over the skin, followed my insulated tops/trousers, followed by jackets.
Survival clothes should last a long time, be easy to wash/dry, be discrete and technical, fit in a medium-sized backpack. As you can see, clothing is a topic worth an entire post (soon).
Conclusion
Evidently, chances are slim that such a severe crisis will struck us without previous notice. However, by failing to prepare you are preparing to fail. Even if you don't plan to go out camping or on a bicycle trip, having critical equipment ready may serve multiple purposes, like in a bankruptcy situation or loosing your house for a natural disaster.
Are you prepared?
Peace.
---
Did you know that I have a book out? Check this!
Access Link: https://www.amazon.com/dp/6500272773?

---
If you enjoyed this post consider leaving your upvote for a hot coffee.
~Love ya all,

---
Disclaimer: The author of this post is a convict broke backpacker, who has travelled more than 10.000 km hitchhiking and more than 5.000 km cycling. Following him may cause severe problems of wanderlust and inquietud. You've been warned.
---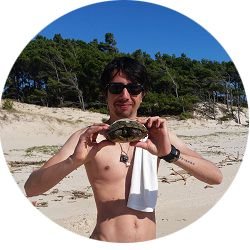 I'm Arthur. I blog about Adventure Stories, Brazil, Travel, Camping, & Life Experiences.
Follow me to stay tuned for more craziness and tips.