---
If You Didn't Hear The Buzz About D.Buzz, Then Check This Out!
Well I've been active now in the hive.blog platform for a month and I've decided to start doing a few reviews to help spread the word and share what we have going on here.
Firstly if you are a total newbie around here, can I please encourage you to come and hive on board and follow the guideline that I have put together with the help of a few other "Hivians" who came before me.
🔖 https://bit.ly/hivevipaccount
Let's call this your "Main Hub" follow the instructions and you will be soon be checking out other dapps which is shorthand for decentralized applications.
So 4 weeks back I discovered the hive.blog platform but personally for me it was the introduction of @threespeak that really captivated me because it's a video and streaming platform and its functions really help me with the fact that before anything else I'm a saxophonist, musician, singer, songwriter but as a vehicle to help give me more time freedom to focus on my passion, i'm also an affiliate marker and crypto trader in training.
Cutting a long story short I'm very keen on using whatever skills i've developed along the way and use them to share value and influence others to come along and taste the honey I stumbled across at the hive.
SO WHAT IS D.BUZZ?
Well I put it like this....
Dbuzz is like a decentralized Twitter
When I "Buzz" rather than "Tweet"
and other users upvote it,
I get rewarded in crypto...
Now along my journey here I bumped into the coordinator for d.buzz @chrisrice about two weeks back and this enthusiastic genuinely great guy and his team have been working hard to enhance the features of dbuzz and I have to admit they are doing an awesome job.
Find out about the project updates here https://hive.blog/hive-139531/@dbuzz/d-buzz-project-update-for-6-18-2020
And if like me, you like a competition from time to time and like the chance of winning prizes, there's now a weekly competition where you could get your hands on some of the good stuff over at there store shop so go and have a look https://hive.blog/hive/@dbuzz/monday-challenges-prizes-and-fun-from-d-buzz-round-1
Now don't forget if you haven't yet joined hive, get yourself set up.
🔖 https://bit.ly/hivevipaccount
Share some love and Subscribe to my threespeak channel
🎦 https://3speak.online/user/clivemartin
Please help us to spread the word in twitter
Oh and drop me some feedback on the d.buzz trailer and you are free to download for promo purposes.
I'll catch ya soon 😀
@clivemartin
The Saxtrepreneur 🎷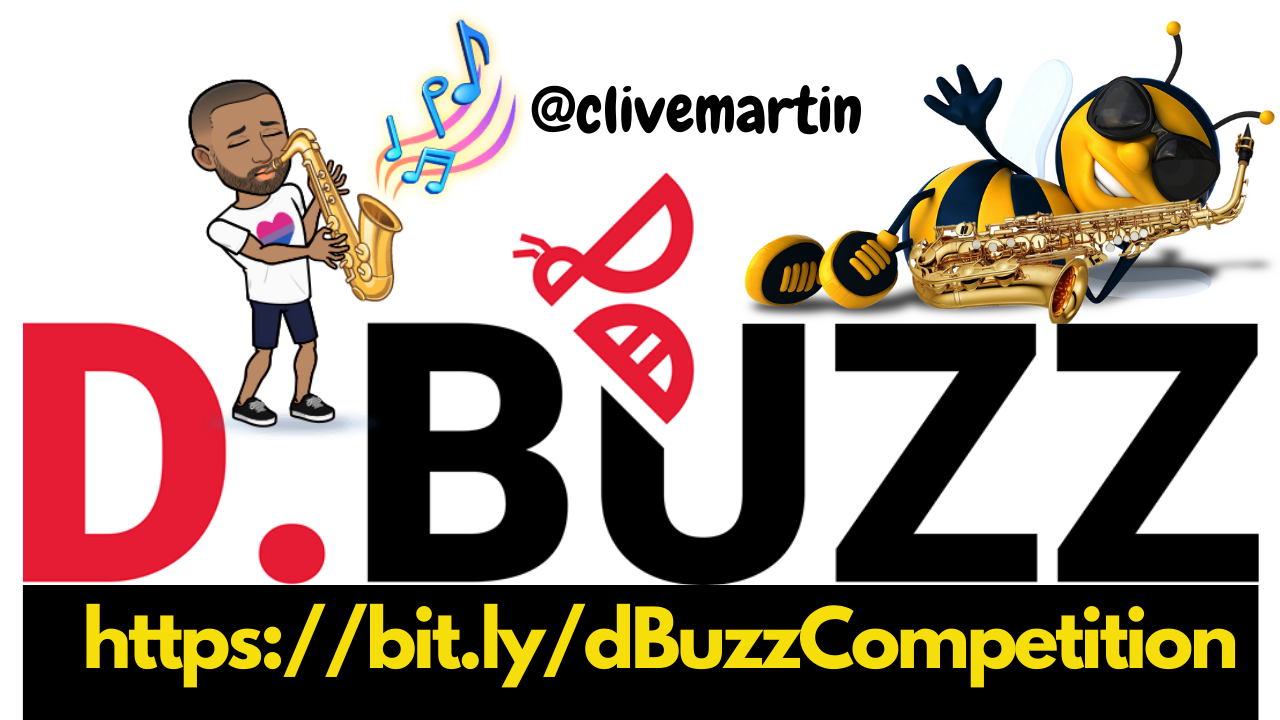 ---
▶️ 3Speak