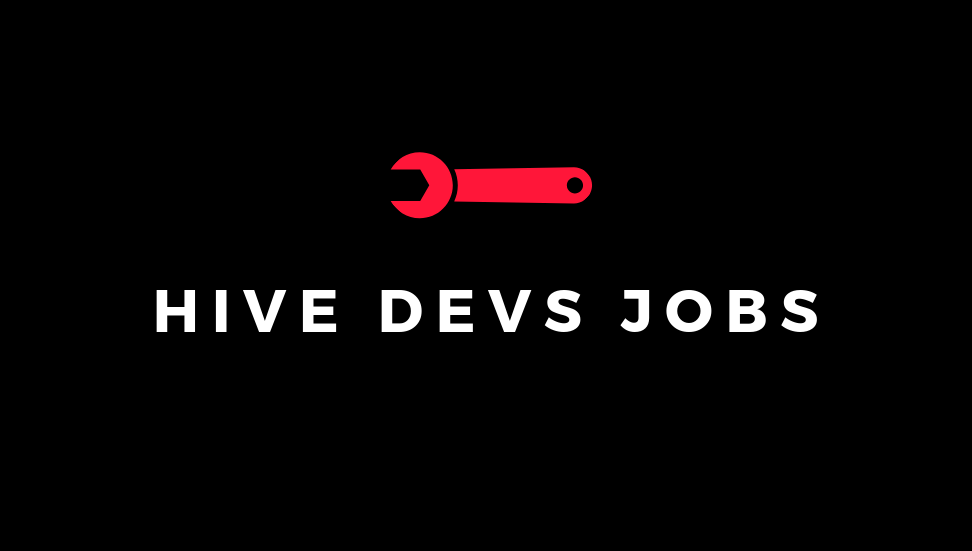 TL;DR: If you are a developer seeking work please go to https://guiltyparties.com/dev-jobs-portal/ and fill out the form. I will be in touch as suitable opportunities arise.
Building on Hive
There are a lot of Hive-based projects, both existing and new, looking for developers. These projects are all different. They have different goals, different designs, different functionalities. Some are frontends, some are NFT dapps, some are bots and scripts that run in the background.
Hive Disrupts Traditional Employment
Hive is potentially a great indirect employer for developers and other IT professionals all over the world. No dapp or project on Hive ever discriminated against developers based on their education, certifications or geographical location; these same parameters are used to reject competent applicants that are missing a tick in the box in the corporate world. Those who wish to work in the Hive ecosystem are given a chance to learn and grow the skills they enter with. Most projects that are looking to hire are more open to have someone who wants to increase their skill join them as long as they are an open-minded and sincere individual than to have someone with a twenty year career but no genuine interest.
It's very common for individuals developing at startups, particularly in the cryptosphere, to have short stints on projects. The project fails, the company shuts down, there is a rug-pull, loss of investment, and so on. On Hive, even if the individual project fails, the underlying technology and ecosystem remain the same. Developers can transition to other projects or start their own once they get a foothold in the community. There is no need to re-learn or to go through drawn-out hiring competitions for positions that fail to exist within a few months.
Debunking Misconceptions
The general misconception that some still believe is that Hive-based projects are paying less than others. This is untrue. Hourly wages range from $20 to over $100 on average for the most part. Anyone who tries to convince a developer to work for upvotes doesn't fare well. The remuneration is based on what the project can afford and its general budget, not on the location of the developer. I've never seen a project offer $20 to a developer from Nigeria and $80 to a developer from the Netherlands for the same exact job -- a common practice in the corporate world.
Those projects that know me and ask me for connections to developers know that any attempt at lowballing rates gets them nowhere. Ever since the inception of Hive in 2020, these lowball type attempts all but vanished. Projects have more confidence in Hive and invest more. Decentralization is synonymous with stability.
Ideal Candidates
self-starters who can work with minimal supervision
truthful about their level of proficiency
learners and open to new ideas
honest and trustworthy
team players who can collaborate
respect others
believe in Hive and willing to go above and beyond
There are times where shit hits the fan and you have to come through for your project, team and sometimes even for the rest of Hive. If you're that kind of person, then I can guarantee there's a place for you somewhere within the ecosystem. Your location, age, gender or any other form of identity don't matter. Even the language you speak doesn't matter all that much; Hive is so diverse that there's bound to be a team that speaks your native language or dialect that's looking for a developer. That level of organic diversity is another core strength of Hive.
Original announcement and FAQ: https://hive.blog/developer/@guiltyparties/dev-jobs-portal
Dapp Founders and Project Owners
The Hive Devs Jobs Portal isn't a service that only benefits developers. It's meant to be a two-way street that equally supports new and existing Hive-based dapps and projects.
It works in a very simple way. Those who need developers send me a direct message on Discord preferably and let me know about the position they're trying to fill. If I have someone on the list that's a good fit in terms of experience, language and rates then I'll put them in contact. If I don't, I'll keep an eye out until a suitable developer comes along. The founder or their team engage with the developer in a two-way interview after the initial connection is made.
Trust and Security
No one wants to end up with a developer that screws their project. If one project fired a developer or had a developer breach trust in any way, most of the time I'll be the first one to know about it. This isn't that common but it does happen everywhere. Just because we're the Hive ecosystem and seek to do good, we must still watch our backs. Since user account keys and other information that's personal to Hive users is often involved when it comes to dapps, it's important to ensure that those who have access to it or can get access by leveraging their position are normal, honest individuals.
There have been large scale compromises of projects and dapps over the years. There have also been numerous cases of developers lying about their credentials and accepting payments without doing their jobs. The later is sometimes the direct result of incompatibility within teams. The former is blatantly criminal. All in all, it's always best to simply send over a message to myself and double-check if the person you're attempting to hire is known and if they are, if they're known for something no one should be known for.
Extra
In no particular order this may answer some of the most common questions:
I don't ask for or accept any remuneration for this service, never have, and never will.
Yes, developers who are not yet established on Hive are welcome.
Yes, developer teams are welcome. There are extra verification procedures for those.
No, I will not put developers in touch with opportunities outside of Hive unless it is a vetted partner that is Hive-connected.
No, you cannot pay developers in upvotes, curation % rewards or shares. All developers deserve to be paid a fair wage.
Yes, some projects do require NDAs to be signed and for that a legal name must be used. This is not the norm but happens.
Yes, your developer rate is confidential and you may adjust it as required while interviewing with the hiring project.
Wait times for both developers and projects vary.
Yes, I will check references as required.
Don't lie about your capabilities (if developer) or specs/budget (if project). That wastes everyone's time.
Work on bots such as comment/post bots, curation bots (including downvote bots), trading bots, vote-selling bots, or any other bots that aren't part of a dapp or project is out of scope. I won't accept these types of requests.
Yes, you can build your own NFT platform on Hive and hire developers to do so.
No, I won't help anyone "clone" someone else's work.