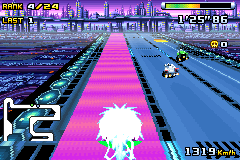 ---

---
Because F-Zero GX was NOT the final game on the series ever released. Though it definitely was the last big bombastic console release that definitely left the players with a feeling of endless nostalgia from how it perfected the X formula and concluded its story mode with Captain Falcon's retirement.
...But in an alternate universe, Captain Falcon was still racing and tagged along at times with a cop officer frozen in time from many years ago that awakened in the future. This is where the F-Zero GP Legend anime entered the fray, as it would be followed soon after with an accompanying game for the GBA in 2003.
Oh, I mean 2004, it got delayed that much to match with the US broadcast of the anime.
Being on the GBA, it was in the same vein as Mario Kart Super Circuit as a take on the original F-Zero with Mode 7...but noticeable improved compared to their first go at this (Maximum Velocity) with the cues they took on gameplay and precision from the console games. It was not a game to dethrone the console kings, but it was a fun distraction on the go that improved on the foundation of the first SNES and GBA games.
And then F-Zero Climax happened.
...And then F-ZERO CLIMAX HAPPENED.
...
...
...what- WHAT?
WHAT DO YOU MEAN YOU DON'T KNOW YOU DON'T KNOW WHAT F-ZERO CLIMAX IS?
checks imaginary notes
Oh. It never released outside of Japan. So that makes for a total of three to four F-Zero games never localized, but even more conceningly that this very last entry in the series never released internationally on the GBA or Virtual Console. It only received a re-release in the Wii U Virtual Console, but as I said, it was exclusive to Japan.
For anyone that played GP Legend, it might look very familiar, but if you are wondering if you missed out about a few cool extra machines and modes, a large set of new maps in Grand Prix, and a custom macine editor...then yes, you have!
And yes, that also happened with F-Zero X Expansion Kit. Go figure.
(Gameplay by arronmunroe)
In any case, the game does control slightly different with additions like the Boost Fire (tapping boost twice, on top of using your health, will use a boost capsule saved per lap like in the first game for a faster boost), the Spin Boost Fire (spin and boost for a faster but harder to control boost; you can even use this and the normal Boost Fire together), side attacks, and...well, not much else. The most notable difference aside from that is that races are now 3-laps instead of 5-laps.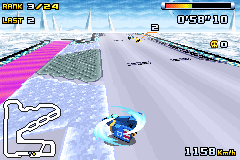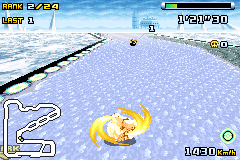 How much you like this game will depend if you liked GP Legend or not (as well as if you like the new adjustments and extra content replacing the Story mode of the last game), since it sort of feels like an expansion to that. An interesting feature is that playing the Grand Prix cups in different dificulties will give you different sets of tracks, either harder versions of previous one or brand new ones. This doesn't happen in Platinum Cup however, where you're instead put into almost all of the original F-Zero tracks back to back, being around 7-8 races instead of just 5.
(Gameplay by arronmunroe, I haven't recorded myself playing this up to this day lol)
If anything, the GP Legend anime failing internationally meant that this wouldn't have a place to release overseas as it got cancelled early before finishing, as Climax based itself off the anime after it ended, with the avaliability to unlock a powered-up Zoda, a disguised Falcon as the driver of Red Bull, Clank Hughes and the new Dragon Bird GT, and an alternative Ryu Suzaku taking on the mantle of Captain Falcon with the Blue Falcon GT after the end of the anime.
And it also means that people around the world didn't get to watch the epic "FALCON PUNCH" that ended everything until the advent of the internet allowed this alongside many other otherwise unseen overseas marvels of the universe to be finally seen.
To see that F-Zero was not doing much through these anime and portable affairs internationally was quite disheartening, considering that international audiences were definitely crazy for the console games, but if that failed (and it also didn't manage much in Japan)...then that's probably what sealed F-Zero's fate in Nintendo's eyes and left it in hiatus until this day.
If you ask me, I have played through this game from almost all of what it offered (aside from most of the Zero Test and Challenge trials) a few years ago on my hacked O3DS, and it definitely was a blast despite its limitations, but it definitely hits more in a "retro-styled" experience as well as a sight of the Blue Falcon's last race ever, more than a true send-off that F-Zero GX was in a grand scale.
But at least this game left us with some interesting new renditions of some classic F-Zero themes, as well as some brand new ones.
So even if F-Zero Climax was not the greatest send-off to this legendary franchise, it clearly was one poured with a lot of attention and love from their developers (including to integrate a move straight from the anime and even almost all the characters seen in it), only held back by being a GBA game...and yet still managing to do the best with that considering how it improved GP Legend's base, as well as how the display can get so fast sometimes that it can actually be a bit slow to emulate in some low-end devices compared to other GBA games.
A beast that pushed the GBA's limits for high-velocity racing in a bite-sized form, a clear upgrade from the first GBA title (MV) that took on the cues of the console games to deliver something, while not insanely remarkable as X and GX were, definitely had the feeling of a final game to mark the legendary Falcon's departure from the spotlight since 2004 up to this day.
And while it is definitely unlikely that he returns (mostly because of how MK8 took the anti-gravity concept, so for Nintendo creatives, F-Zero would need SOMETHING else just to innovate as a new game, as well as how execs haven't expressed any interest on it), even if it has only lived on through Smash Bros and the MK8 DLCs, this franchise is definitely gone now...but absolutely not forgotten. And hey, at least F-Zero X got a re-release on the Nintendo Switch Online service, which is not THAT much, but at the very minimum they bothered to bring that one back.
---
Thanks for reading! If you want to see me talk about any other known or unknown GBA gem, then let me know in the comments to check it out!
---

---
Spanish translation with DeepL. All screenshots were captured by myself.
---
Español
---
Porque F-Zero GX NO fue el último juego de la serie. Aunque sin duda fue el último gran lanzamiento bombástico para consola que dejó en los jugadores una sensación de nostalgia infinita por cómo perfeccionaba la fórmula X y concluía su modo historia con la retirada del Capitán Falcon.
...Pero en un universo alternativo, el Capitán Falcon seguía compitiendo y a veces acompañaba a un agente de policía congelado en el tiempo que despertó en el futuro. Aquí es donde entra en escena el anime F-Zero GP Legend, al que seguiría poco después un juego para GBA en 2003.
Me refiero a 2004, ya que se retrasó para coincidir con la emisión del anime en EE UU.
Al ser para GBA, estaba en la misma línea que Mario Kart Super Circuit, como una adaptación del F-Zero original con el modo 7... pero mejoró notablemente en comparación con su primer intento (Maximum Velocity) gracias a la jugabilidad y precisión que tomaron de los juegos de consola. No era un juego para destronar a los reyes de las consolas, pero era una distracción divertida que mejoraba la base de los primeros juegos de SNES y GBA.
Y entonces llegó F-Zero Climax.
...Y entonces LLEGÓ F-ZERO CLIMAX.
...
...
...qué... ¿QUÉ?
¿QUÉ QUIERES DECIR CON QUE NO SABES QUE NO SABES LO QUE ES EL CLÍMAX F-CERO?
checks imaginary notes
Oh. Nunca se estrenó fuera de Japón. Así que ya son tres o cuatro los juegos de F-Zero que no se han localizado, pero lo más sorprendente es que esta última entrega de la serie nunca se lanzó internacionalmente en GBA ni en la consola virtual. Solo se reeditó en la consola virtual de Wii U, pero como ya he dicho, era exclusivo de Japón.
A cualquiera que haya jugado a GP Legend le resultará muy familiar, pero si te estás preguntando si te has perdido algunas máquinas y modos adicionales, un gran número de mapas nuevos en Grand Prix y un editor de macros personalizado... entonces sí, ¡te lo has perdido!
Y sí, eso también ocurrió con F-Zero X Expansion Kit. Imagínate.
(Gameplay por arronmunroe)
En cualquier caso, el juego se controla de forma ligeramente distinta, con añadidos como el Boost Fire (si pulsas dos veces el botón de impulso, además de usar tu salud, usarás una cápsula de impulso guardada por vuelta como en el primer juego para un impulso más rápido), el Spin Boost Fire (gira e impulsa para un impulso más rápido pero más difícil de controlar; incluso puedes usar este y el Boost Fire normal a la vez), ataques laterales y... bueno, no mucho más. La diferencia más notable es que ahora las carreras son de 3 vueltas en lugar de 5.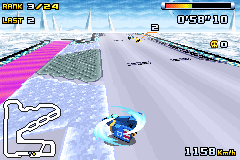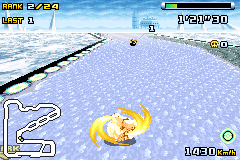 Lo mucho que te guste este juego dependerá de si te gustó GP Legend o no (así como de si te gustan los nuevos ajustes y el contenido extra que sustituye al modo Historia del juego anterior), ya que en cierto modo parece una expansión de aquel. Una característica interesante es que jugar a las copas Grand Prix en diferentes dificultades te dará diferentes conjuntos de pistas, ya sean versiones más difíciles de las anteriores o totalmente nuevas. Sin embargo, esto no ocurre en la Copa de Platino, en la que te enfrentas a casi todos los circuitos originales de F-Zero, con unas 7 u 8 carreras en lugar de solo 5.
(Gameplay por arronmunroe, no me he grabado jugando a esto hasta el día de hoy lol)
En todo caso, el fracaso internacional del anime de GP Legend significó que este juego no tendría lugar en el extranjero, ya que fue cancelado antes de terminar, ya que Climax se basó en el anime después de que terminara, con la posibilidad de desbloquear un Zoda potenciado, un Falcon disfrazado de piloto de Red Bull, Clank Hughes y el nuevo Dragon Bird GT, y un Ryu Suzaku alternativo asumiendo el papel de Capitán Falcon con el Blue Falcon GT después del final del anime.
Y también significa que la gente de todo el mundo no llegó a ver el épico "FALCON PUNCH" que acabó con todo hasta que la llegada de internet permitió que esto, junto con muchas otras maravillas del universo que de otro modo pasarían desapercibidas, se vieran por fin.
Ver que a F-Zero no le iba mucho a través de estos anime y portátiles a nivel internacional era bastante descorazonador, teniendo en cuenta que el público internacional estaba definitivamente loco por los juegos de consola, pero si eso fracasó (y tampoco lo consiguió mucho en Japón)... entonces eso fue probablemente lo que selló el destino de F-Zero a ojos de Nintendo y lo dejó en hiatus hasta el día de hoy.
En mi opinión, he jugado a casi todo lo que ofrecía este juego (aparte de la mayor parte de las pruebas Zero Test y Challenge) hace unos años en mi O3DS pirateada, y sin duda fue una pasada a pesar de sus limitaciones, pero sin duda pega más en una experiencia de "estilo retro", así como una visión de la última carrera del Halcón Azul, más que una verdadera despedida que F-Zero GX fue a gran escala.
Pero al menos este juego nos dejó nuevas e interesantes versiones de algunos temas clásicos de F-Zero, así como otros totalmente nuevos.
Así que, aunque F-Zero Climax no fuera la mejor despedida para esta legendaria franquicia, está claro que sus desarrolladores le pusieron mucha atención y cariño (incluyendo la integración de un movimiento sacado directamente del anime e incluso de casi todos los personajes vistos en él), sólo frenado por ser un juego de GBA... y aun así consiguiendo hacer lo mejor con ello teniendo en cuenta cómo mejoró la base de GP Legend, así como cómo la pantalla puede llegar a ser tan rápida a veces que realmente puede ser un poco lenta de emular en algunos dispositivos de gama baja en comparación con otros juegos de GBA.
Una bestia que superaba los límites de la GBA en cuanto a carreras de alta velocidad en un tamaño reducido, una clara mejora del primer título de GBA (MV) que adoptaba las señas de identidad de los juegos de consola para ofrecer algo que, si bien no era tan increíblemente notable como X y GX, definitivamente tenía la sensación de un juego final para marcar la salida del legendario Halcón de los focos desde 2004 hasta hoy.
Y aunque es poco probable que vuelva (sobre todo porque MK8 adoptó el concepto de la antigravedad, así que para los creativos de Nintendo, F-Zero necesitaría ALGO más para innovar como nuevo juego, además de que los ejecutivos no han expresado ningún interés en él), aunque solo haya sobrevivido a través de Smash Bros y los DLC de MK8, esta franquicia se ha ido definitivamente... pero no se ha olvidado en absoluto. Y oye, al menos F-Zero X se ha reeditado en el servicio online de Nintendo Switch, que no es tanto, pero como mínimo se han molestado en recuperarlo.
---
Muchas gracias por leer! Si quieres verme hablar de otra joya, sea conocida o desconocida de GBA, hazmelo saber en los comentarios para echarle un vistazo!
---

---
Traducción al español hecha con DeepL. Todas las fotos capturadas por mí.