I don't know if any of you have played it, but I bring today one of the games that characterized the beginning of my life in video games, today I will talk about a pioneer in vehicular combat games.
No sé si alguno de ustedes lo habrá jugado, pero traigo el día de hoy uno de los juegos que caracterizo el principio de mi vida en los videojuegos,el día de hoy les hablaré sobre un pionero en los videojuegos de combate vehicular.
Vigilante 8 🔥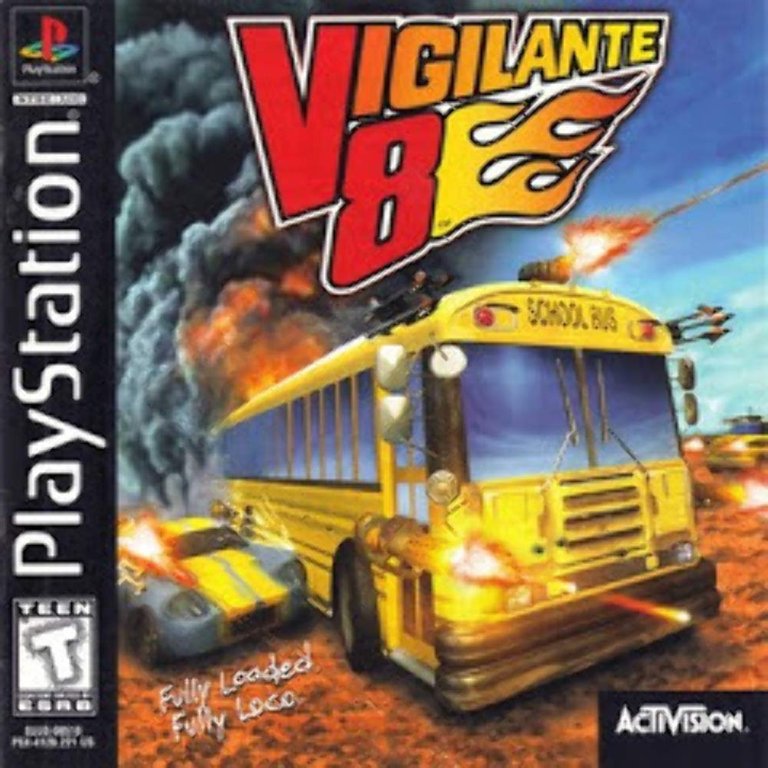 Vigilante 8 is a vehicular combat video game developed by Luxoflux and published by Activision for multiple consoles of its time (1998). It is a derivative of the video game Interstate '76.
Vigilante 8 es un videojuego de combate vehicular desarrollado por Luxoflux y publicado por Activision para múltiples consolas de su epoca (1998). Es un derivado del videojuego Interstate '76.
History 🎥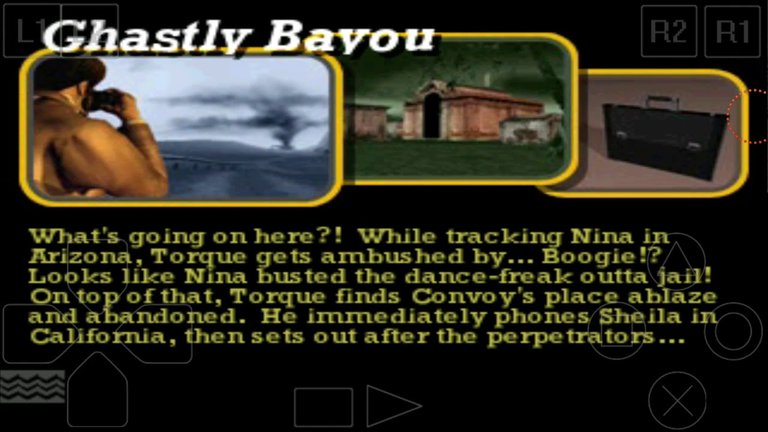 In an alternative 1975, Sid Burn and his band of Coyotes are hired by OMAR to get rid of all the competing oil companies in the United States so they can become the richest company in the United States. After hearing reports of destruction by the Coyotes, a man named Convoy, a good-hearted truck driver, forms his own group, the Vigilantes, to fight the Coyotes and stop the tyranny of OMAR.
En un 1975 alternativo , Sid Burn y su banda de Coyotes son contratados por OMAR para deshacerse de todas las compañías petroleras competidoras en los Estados Unidos para que puedan convertirse en la compañía más rica de Estados Unidos. Después de escuchar informes de destrucción por parte de los Coyotes, un hombre llamado Convoy, un camionero de buen corazón, forma un grupo propio, los Vigilantes, para combatir a los Coyotes y detener la tiranía de OMAR.
Characters 😎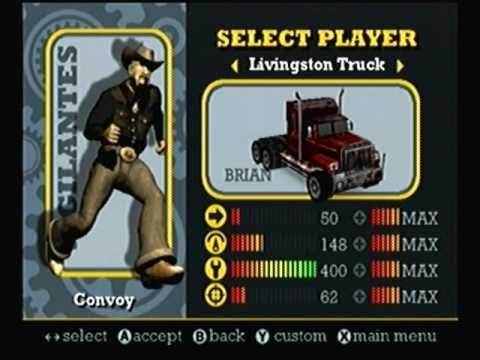 The protagonists of the game are the Vigilantes, a group of residents from various states of the United States who come together to preserve law and order. Their leader is Convoy, an old cowboy who drives a semi-trailer. He is joined in the fight by Sheila, John Torque, Dave, Slick Clyde, and Chassey Blue.
The game's antagonists are the Coyotes, a group of hitmen recruited to carry out OMAR's plan by terrorizing commercial facilities throughout the region. Its founder is the terrorist Sid Burn. His cohorts are Boogie, Loki, Beezwax, Houston 3, and Molo.
An alien named Y - The Alien appears in the game as a secret character.
Los protagonistas del juego son los Vigilantes, un grupo de residentes de varios estados de Estados Unidos que se unen para preservar la ley y el orden. Su líder es Convoy, un viejo vaquero que conduce un semirremolque. Lo acompañan en la pelea Sheila, John Torque, Dave, Slick Clyde, y Chassey Blue.
Los antagonistas del juego son los Coyotes, un grupo de sicarios reclutados para llevar a cabo el plan de OMAR al aterrorizar las instalaciones comerciales en toda la región. Su fundador es el terrorista Sid Burn. Sus cohortes son Boogie, Loki, Beezwax, Houston 3, y Molo.
Un extraterrestre llamado Y - The Alien aparece en el juego como un personaje secreto.
Combat 💣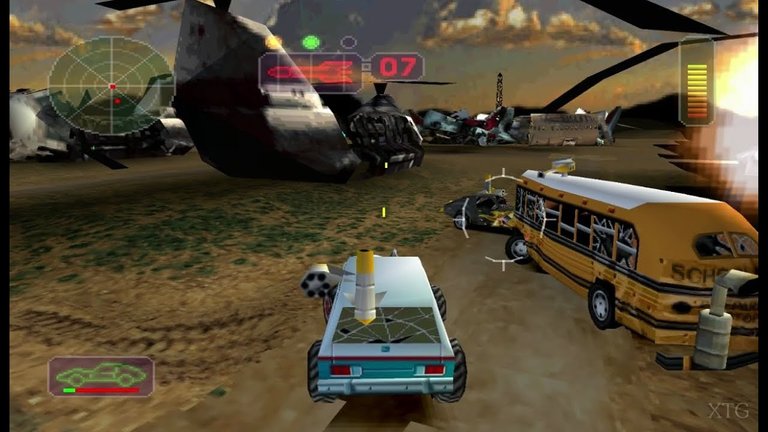 With a game style similar to Twisted Metal, Vigilante 8 is full of frantic combat and different weapons to achieve victory.
The game brings two modes, History or Arcade. Each stage has interactive features, such as missiles and airplane launching. All the vehicles are equipped with a machine gun, but the players can add up to three of the five available weapons: mines, automatic cannons, rockets, mortars and missiles, besides a special weapon exclusive of the vehicle.
I remember that three types of special attacks could be carried out using each of the five standard weapons, at a higher cost in ammunition.
Different objects of different uses are scattered throughout the different scenarios; the keys repair the damage and the yellow zigzag lines temporarily block the opponent's search weapons.
Con un estilo de juego similar al de Twisted Metal, Vigilante 8 esta lleno de combates frenéticos y diferentes armas para alcanzar la victoria.
El juego trae dos modos, Historia o Árcade. Cada etapa tiene características interactivas, como misiles y el lanzamiento de aviones. Todos los vehículos están equipados con una ametralladora, pero los jugadores pueden agregar hasta tres de las cinco armas disponibles: minas, cañones automáticos, cohetes, morteros y misiles, además de un arma especial exclusiva del vehículo.
Recuerdo que se podía realizar tres tipos de ataques especiales usando cada una de las cinco armas estándar, a un costo mayor en municiones.
Por los distintos escenarios se encuentran esparcidos distintos objetos de diversos usos; las llaves reparan los daños y las líneas amarillas en zigzag atascan temporalmente las armas de búsqueda del oponente.
I hope you enjoyed this review, this was one of the first games I played in my childhood, and thanks to it I developed a great taste for this great lifestyle, I hope you have a great day!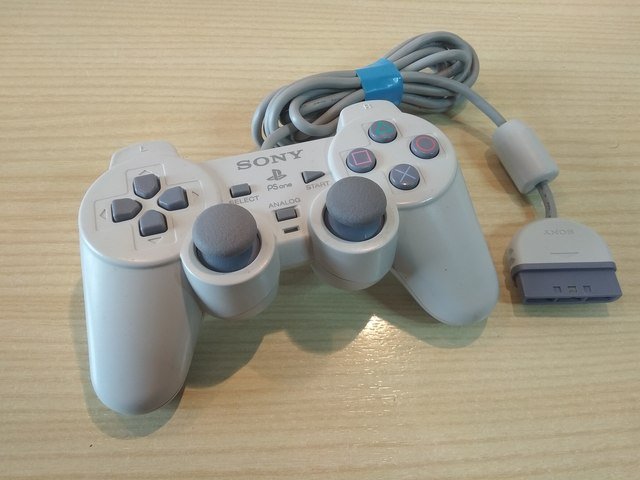 Espero que hayan disfrutado mucho de esta reseña, este fue uno de los primeros juegos que jugué en mi infancia, y gracias a el desarrolle un gran gusto por este gran estilo de vida, espero que tengan un excelente día!