The YouTube train has no breaks so on last day of holidays I just had to push out another video. This time I'm checking out a game I stumbled over on Steam called Lost Light. It's an Extraction Shooter much in the style of Escape From Tarkov and you need to watch the video to learn more.
If you want to help me reach out to a bigger audience on YouTube you can do that by liking the video and leaving a comment on it. That's one of the factors YouTube looks at when recommending content to people.
Lost Light on PC is Actually Good, Believe it or Not
I'm now only 14 subscribers away from reaching 100 subscribers and getting my customized URL for the channel. I would appreciate it a lot if you subscribed to the channel. In case you didn't know; subscribing to a YouTube channel is free and pretty much just another name for "follow".
---
Behind the scenes
When I downloaded this game I kind of expected to not like it that much due it being a game that's been ported from mobile to PC. Mobile games in general have a lot of features that tend to grind my gears so I expected that if I was to make a video about it that it would turn into mostly a rant. To my surprise that wasn't the case.
I actually ended up liking the game pretty well and so the video got a positive vibe to it after all. Although there is a bit of a ranty section in there on the topic of microtransactions.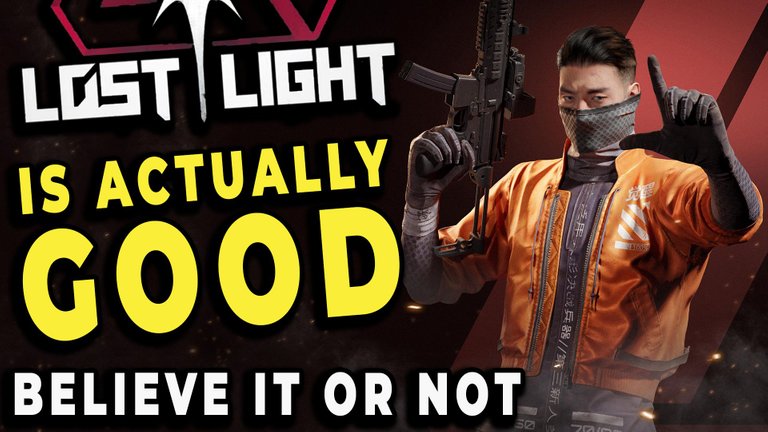 This is probably the video I've spent the less time on for the technical side of things. The script took a little longer than usual but since I'm not talking to much about features and mechanics that I needed to show off on screen the editing went by in no time.
That might be a thing I'm changing going forward as well seeing as videos where I get deep into mechanics and features are the ones that have the less retention rate. This can be seen pretty easily in the comparison below. The top and bottom videos are pretty heavy on mechanics and features while the two in the middle provide more tips and knowledge about the game. In general the content is more valuable to the viewers.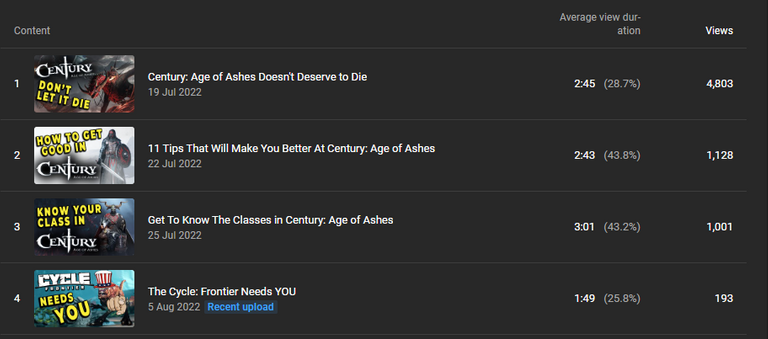 These analytics that YouTube provide are extremely valuable and helpful. I spend a fair bit of time, maybe a bit to much sometimes, analyzing the performance of my videos and I do it because I want to improve. With every upload a learn a little bit more and the more videos I make that I can compare to others the more I learn in return.
This video about Lost Light (that I published yesterday and have around 26 hours of data on) is my first review style video to break the 30% mark on retention. It's sitting close to 38% and I think that's because I made the video more opinionated. There's less mechanical babble and personal thoughts. I'm definitely moving over to a more opinionated reviewing style going forward.

I'm also having my best day yet on the channel in terms of performance. Views are through the roof today and I'm pulling in 30-40 views per hour right now. That's more than I've ever had and I'm loving it. It's doing wonders for my subs as well as I've gained 10 subs in the last 20 hours. That's also the most amount of subs I've gotten after the initial bump all you guys from Hive gave me when the channel was brand new.
What's extra cool about this is that pretty much ALL my videos are performing. My Knockout City video is pretty dormant but all of my Century: Age of Ashes videos are pulling in steady views and my recent video on The Cycle: Frontier is my best performer.
YouTube is currently pushing that video out to people on their Home Screens which is pretty is awesome. This is another metric I can see through the analytics. My click-through rate is plummeting but the views are being raked in. For those who don't know, click-through rate is calculated from the amount of people that see my video thumbnail somewhere on YouTube and then click to watch it. Strong titles and thumbnails tend to get a lot of clicks.
In just an hour YouTube has shown that video to close to 1000 people and 5% have clicked to watch the video. I've been contemplating changing the title and thumbnail to try and increase the click-through rate but I'm afraid they'll stop recommending it to people if I do. I'm gonna just ride it out for now.
Enough technical talk. I hope you enjoy the video!
Don't forget to help me out by liking and commenting on the video on YouTube. As mentioned that will make YouTube recommend my videos to more people. Also drop a sub if you like my content and want to learn more about free-to-play gaming!
---
All images in this post are screenshots taken by me.