Join me on my stream
The stream has now ended but you can watch the VOD below. It will be available for 14 days.
I had a lot of fun today! Me and Demotry crossed the ocean on the raft back to the start to defeat the first boss, Eikthyr. This let us craft ourselves pickaxes which we can use to get even better gear. I didn't get around to making the portal from the starting area to the community village so that will have to wait for tomorrow.
We have a few people on here now! RubenCress has started construction on a community building where we'll have smelters and such. CastleBerry also joined us for a bit but he didn't make it over to the community village yet. It's quite the trip on that raft.
Really looking forward to spending more time on this server!
Stream info
Streaming live from the new Hive Gaming Community Valheim Server! The server has been live for a good few hours now and there's a few of us who has stared playing. @demotry, @incublus and @rubencress has already been on and established themselves and I know there's more people to come. Anyone is welcome to join us! Go read the announcement post for more information about how.
Game progress
We are in the early game but we've found a nice location for a shared village. This will most likely end up being a place where people have their own houses and estates and we'll probably set up a shared crafting area with upgraded workbenches and such for everyone to use.
The goal of this stream is to get the village going and perhaps take down the first boss, Eikthyr, so we can craft ourselves some pickaxes. That will make it easier to get ourselves some nice tools and start progressing into the Black Forest. We also need to set up a portal from the starting area to our village. It's quite a distance away from the starting area and you'll even have to take a raft over the ocean.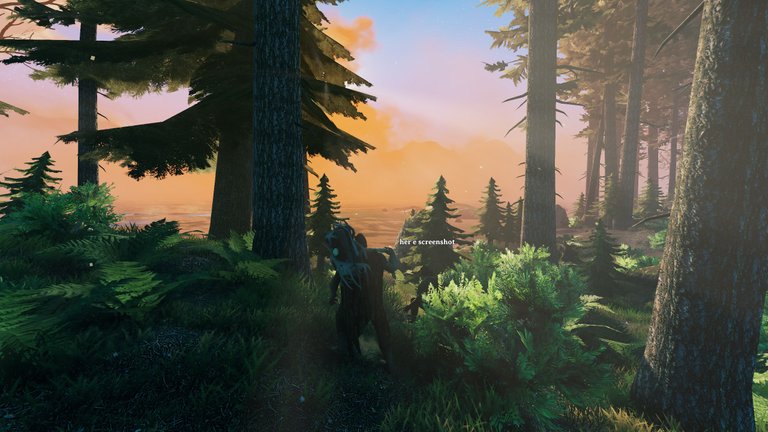 ---
All images in this post are screenshots taken by me.