After 6 months of testing, tweaking, editing and playing, from the basic work related stuff to gaming, finally I think it's time that I post about my new PC.
Who would've guessed it? That to get a new PC in 2021/22, one would have to jump over countless obstacles and pay ridiculous prices for the very basic and readily available PC parts. We all know how messed up the GPU market was during Covid. Forget about crypto and its moonshots, a bear - bull cycle takes 3 to 5 years, but if you would've invested in a big stock of GPUs just before Covid, then you quite easily could've gotten a 2x to 3x in just a year or so.
Fortunately, that so called "GPU shortage" pumped some sense into the average consumer and their noggins. Which led to a fairly effective 1 year protest or so, which then made the prices drop a bit. Right then and there around September 2022 I saw a window and just went YOLO, going ahead and building my new PC
My previous PC is now 8 years or old and somehow it's still keeping up. But in terms of productivity and a smooth gaming experience, it just wasn't up to par for me and my activities. That PC started lagging behind badly since early 2021; hence, the upgrade was almost necessary at that point.
The older PC is now in the hands of my younger brothers, and I say they're putting it to good use, getting to know the PC and Windows ecosystem better.
---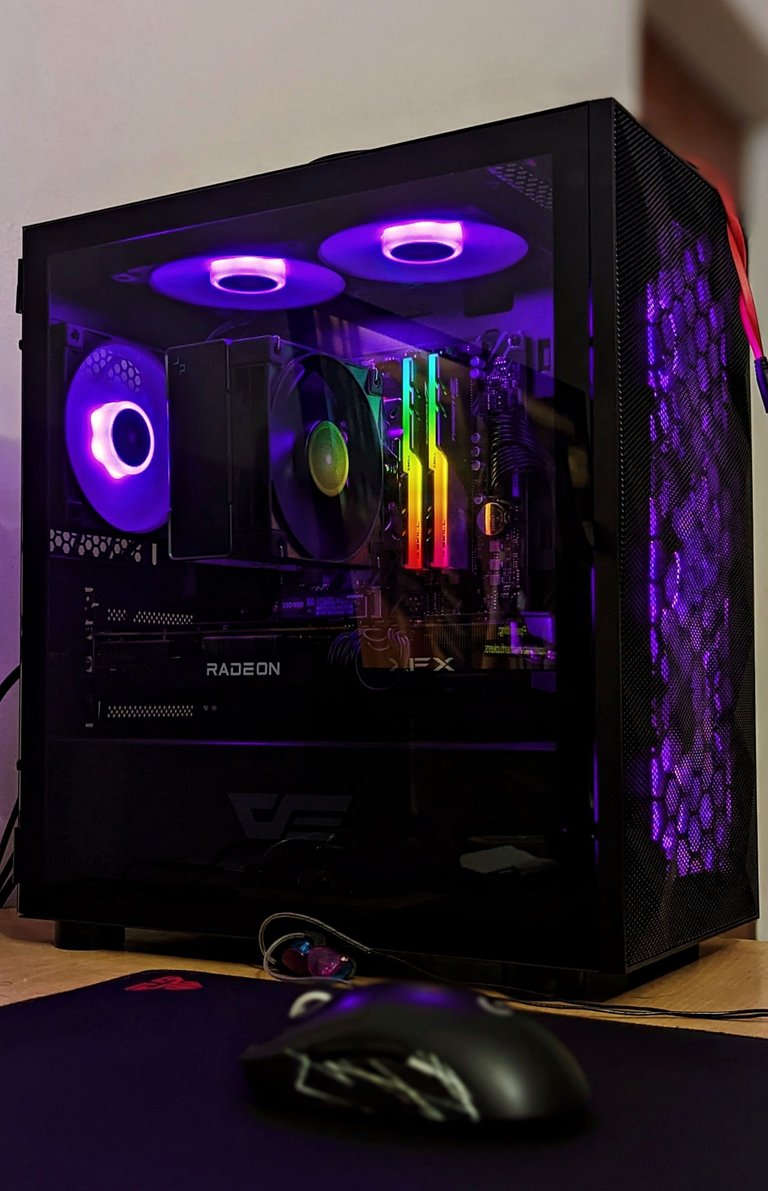 ---
This new rig is fairly small in size, it's an mATX build and my previous build was a Mid-Tower, but this thing here surely is powerful, so don't let its size deceive you.
I went for a smaller form factor this time, because I needed more space on my table. And why get a bigger rig if a smaller form factor does the job just as well?
Throughout this whole PC building and hunting sessions, only I know how many builds I had to go through, to come finally up with this thing in the end. I've probably built and experimented between 10 to 15 builds in over a year, trying to squeeze out the most performance from every cent that was going to be spent.
The goal being to build the best looking and performing setup, keeping every category in check, while also trying not put a hole in my pockets.
After a lot of shuffling, from Intel to Ryzen, from Nvidia to AMD, this was and probably still is the best setup. I say it has the best set of parts for a "budget friendly" gaming + productivity build, in our country that is.
Because even though the global price of PC parts are going down in most countries, the price over here is still quite high. Retailers still being quite adamant and greedy about their decisions and price tags; always having a set of excuses ready to throw at the consumers, excuses you can never counter, not even with logic, nor with global prices, stats, demand or supply.
---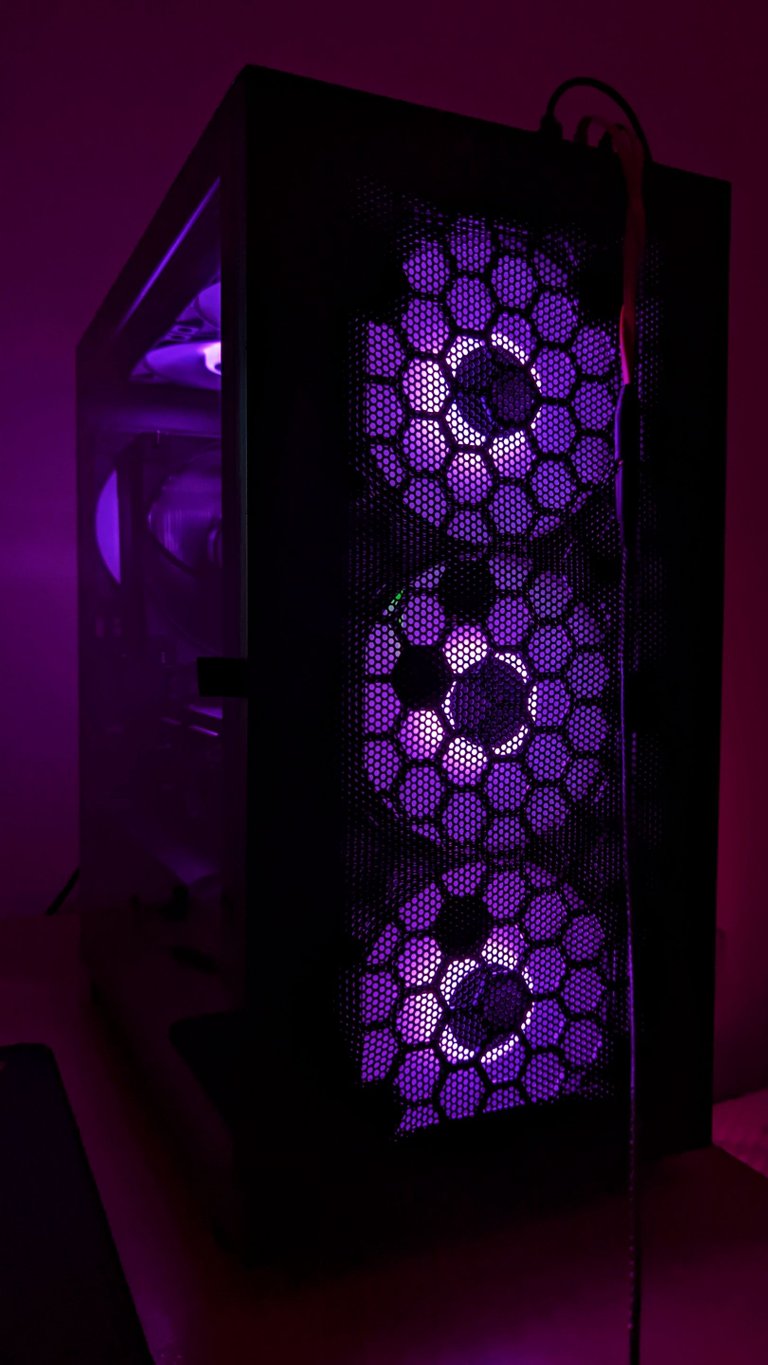 ---
Anyone see a theme here? From the wallpaper on the monitor, to the fans, to the RAM, I tried to maintain a lighting combo of purple and cyan, it's without a doubt my favorite combo. Even my room is lit with a sunlamp, one that is set to project purple rays. Even my pair of IEMs are in a purple and cyan combo.
I don't like too much RGB, so I say this is the perfect lighting setup for me. Only my keyboard has RGB mode on, and that's acceptable, because I've tuned down the brightness. For some reason too much light and RGB is way too distracting for me.
So, something subtle instead, that's what I prefer. Either dimmed and low, or no lights at all, which is even better, sometimes.
---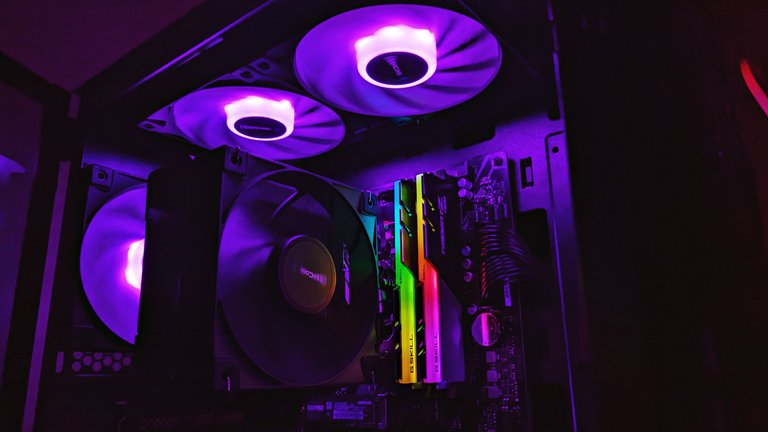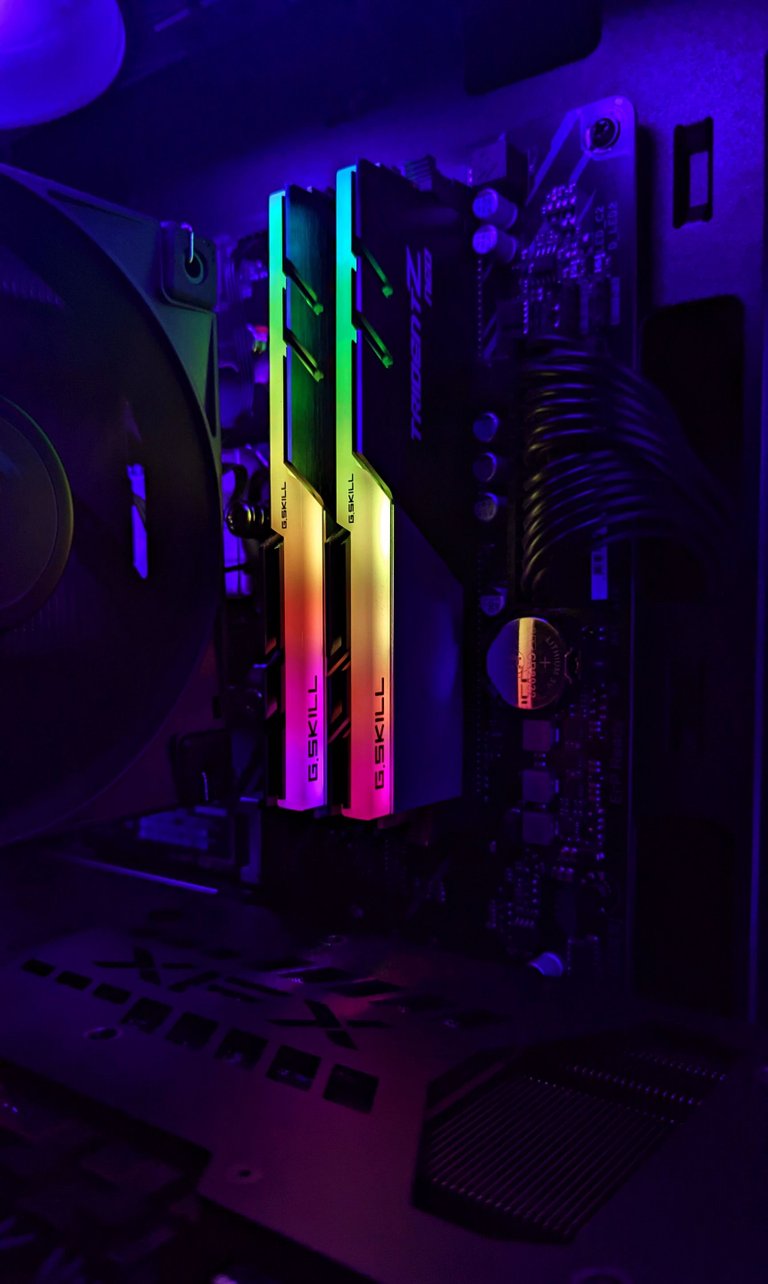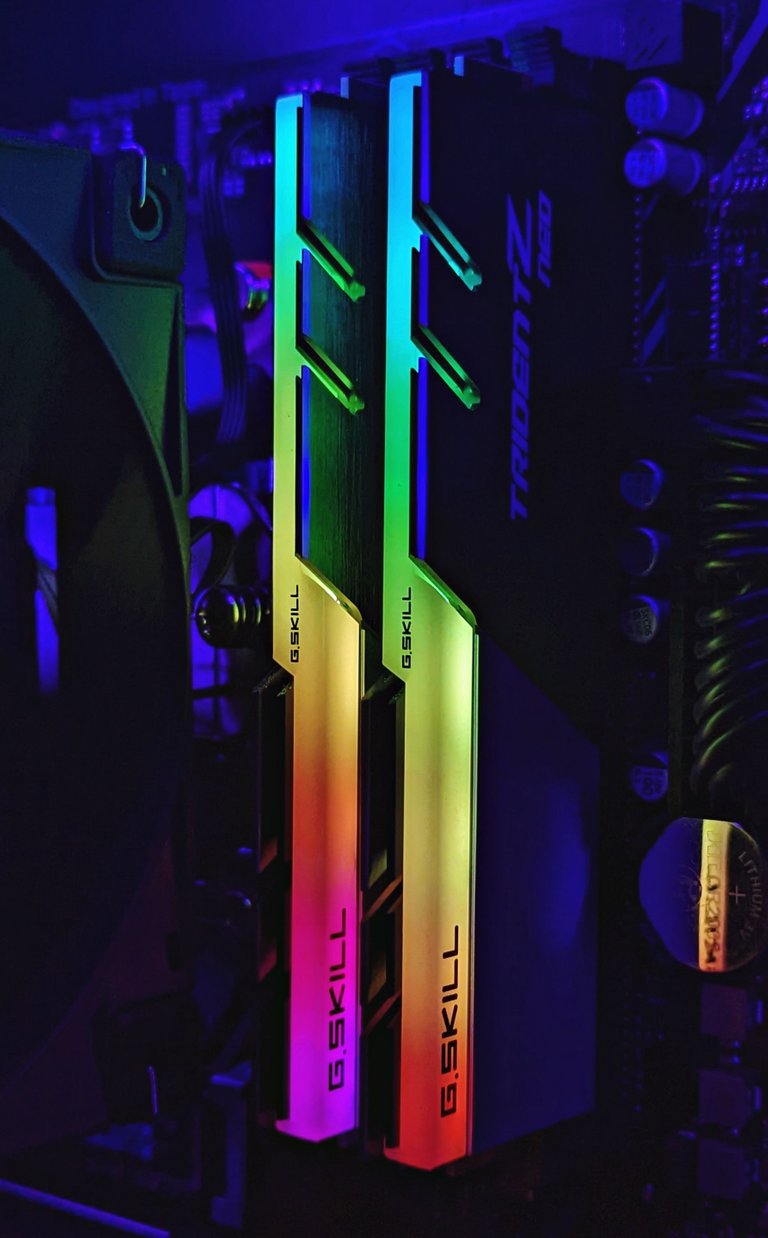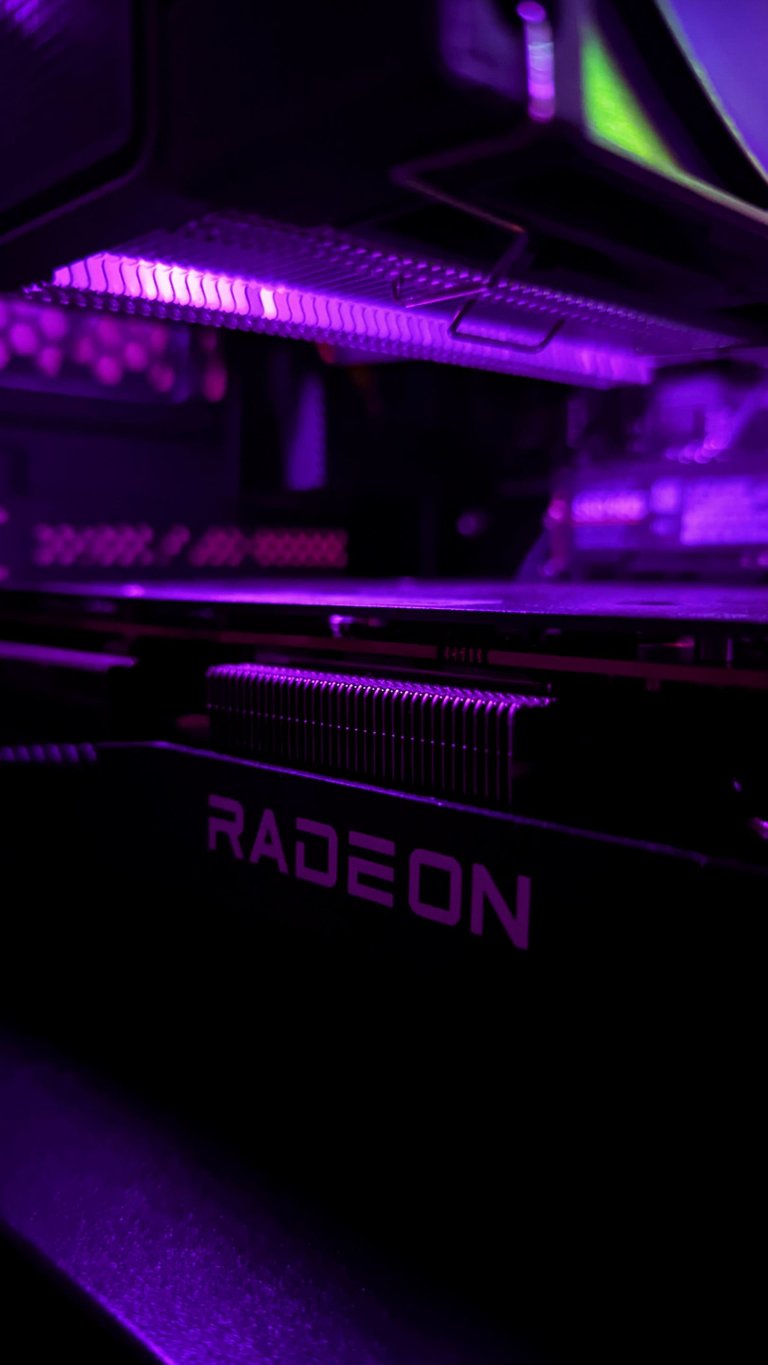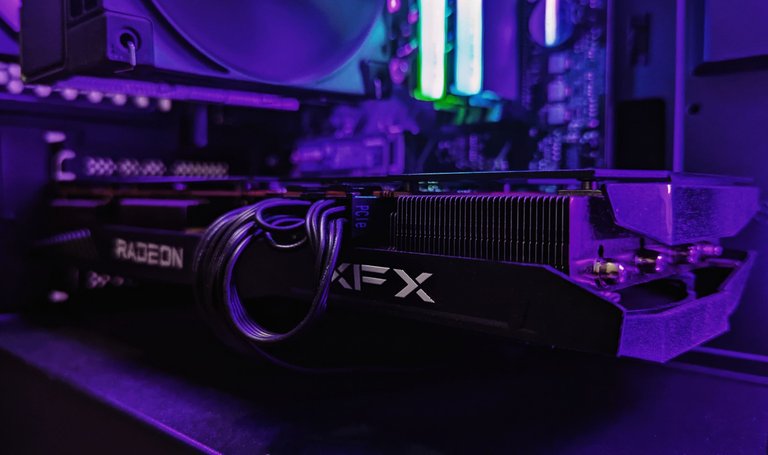 ᴵᵐᵃᵍᵉˢ ᵃⁿᵈ ᵒᵛᵉʳᵃˡˡ ᶜᵒⁿᵗᵉⁿᵗ ᵃʳᵉ ᵐʸ ᵒʷⁿ ᵘⁿˡᵉˢˢ ᶦᵗ'ˢ ᵐᵉⁿᵗᶦᵒⁿᵉᵈ
---
Now, the whole setup and specs, here you go:
• R7 5700X w/ Deepcool AK400
• Aorus Elite B550M
• GSkill Trident Z RGB Neo 32GB DDR4 3600Mhz
• Samsung 980 1TB
• XFX Speedster SWFT309 RX 6700XT
• Deepcool DQ850-M-V2L 850W GOLD
• Deepcool FC120 3 Fans Set x2
• Aigo DarkFlash DLM21
---
The monitor is an LG UltraGear 24GN650-B. 24 inches in size and a 144Hz panel with AMD FreeSync. I got this thing back in June 2022, few months before getting the whole PC. It was just introduced to the market and it caught my eye right then and there, so I just went for it early. Such monitors are rare here, the retailers don't bring in a big enough stock, so I decided to secure an unit ASAP.
Going for Ryzen was imminent, but I did explore Intel. After having used Intel for over 2 decades, it was time for a change. And now I'm glad that I went with Ryzen, especially the 5700x, it was the perfect choice for me and for what I do. The motherboard hunt was a pain the ass back, I wanted to go with MSI or ASUS, but most of those options were out of stock. So, in the end only Aorus seemed to have some proper options for my budget and build.
The may seem a bit overkill, but 32GBs and 3600Mhz right now seems like the sweet spot. And it will be the sweet spot for 3 more years at least, the same goes for DDR4 RAM.
Yes, there's no HDD in this build, just 1TB of super fast SSD only. I will install another 1TB for more files and gameplay footage, but 1TB will do for now. After what I've experienced with my previous HDD, from now on HDDs are a big NO for me.
The GPU of choice was a surprise, for me and the ones around me. They and even I thought Nvidia was the one and only option for us "gamers" and content creators, but I guess I was wrong, terribly wrong. This GPU was the only available option that was priced close to an average international MSRP, it was about $500 when I got it, and MANNN was it a steal.
Also, the combination of a whole Ryzen setup just boosts the performance so high and makes it all so stable, the results after a few tests and benchmarks were just mind boggling.
Also, you people know that I'm mostly playing COD, and turn outs it's a game that favors AMD/Ryzen more than Intel and Nvidia. So whaddayaknow, with a few tweaks and tricks, on a lot of games this thing can pump out a lot more frames than a 3080 even. A proper 3080 back then cost almost triple of what I paid for my RX 6700XT and a 3070 was close to double lol.
So, it was another big fat NO, for Nvidia this time.
Yes, the PSU is overkill, but the 750w version wasn't available. And my mind was set on this exact PSU, so I just had to. I've seen quite a few reviews and tests, a few of my fellow gamer buddies have used this PSU too, so it was kind of a no brainer.
The CPU cooler and the fans are both from Deepcool, same as the PSU. It's quite a nice brand, Deepcool, and they've managed to take over quite a big market share in our country in a short period of time too, and I say they deserve it. I went the old fashioned way with the cooler, good ole air cooling it is, I just don't trust liquid coolers, not yet, nor do I wanna spend 3 to 5 times more on a cooler alone.
The fans were new to the market, and seemed like a solid option, so 2 sets of those, meaning 6 fans in total covering the whole case. Perfection!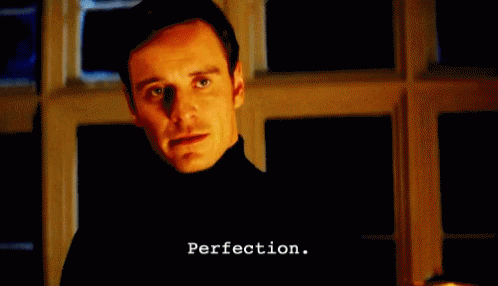 I say the air cooling option is simply superior for my build, because my casing of choice was always a mesh case, built for good airflow, and the overall combo of air cooling was cheap too. My previous casing alone cost as much as the case, fans and cooler we have here, so why the hell not?
---
That's about it I guess, a much needed upgrade and the wait was worth it too.
Thus, once again, a bit of waiting and the continuous practice of patience has not let me down. Thanks to my effort and timing, instead of sour grapes, I ended up with something sweet.
Cheers & GG🥃☮️
---
---

---