🔴English⚫🟡Español🔵
❗Hi Hivers❗🐝 welcome to a new post, in which we are going to return to injustice 2 mobile after so long, after a while I have finally started to continue progressing in the video game again, today we are going to promote a character of the multiverse, having said this, join me ❗ and let the post begin ❗🐻🚀🎮
❗Hola Hivers❗🐝 bienvenidos a un nuevo post, en el cual vamos a volver después de tanto tiempo a injustice 2 mobile, luego de un tiempo finalmente he comenzado nuevamente a seguir progresando en él videojuego, el día de hoy vamos a promover un personaje del multiverso, dicho esto acompáñenme ❗y que comience el post ❗🐻🚀🎮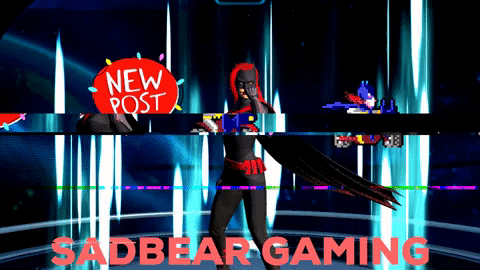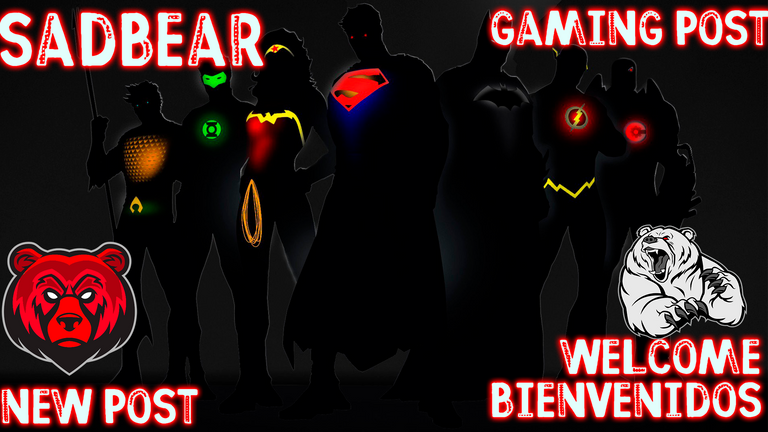 Today we are going to promote the character of BatGirl from the multiverse, this character is really quite good, since it allows us to have a very good agility when fighting with characters from the multiverse in our team, in addition to that I plan to teach this character in combat later, he really is a character with excellent performance.


El día de hoy vamos a promover al personaje de BatGirl del multiverso, este personaje realmente es bastante bueno, ya que nos permitir tener una muy buena agilidad a la hora de combatir con personajes del multiverso en nuestro equipo, además de eso tengo pensado enseñar este personaje en combate más adelante, realmente es un personaje con un rendimiento excelente.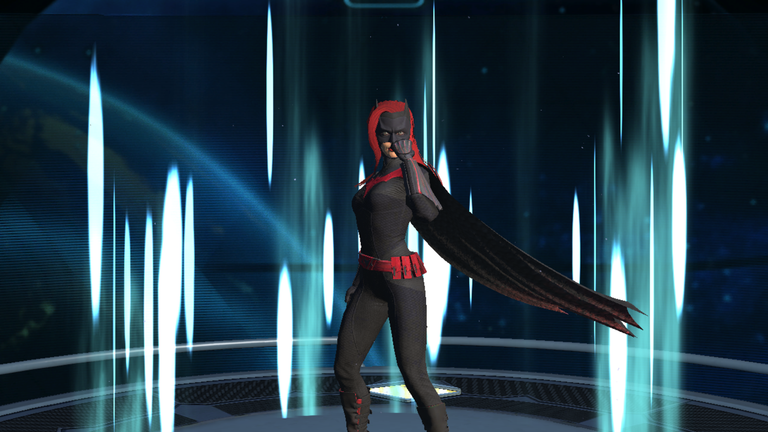 As you can see, the character will be promoted to 4 stars, this character is at least curious because it is a character that does not usually appear in the arena event or challenge, since it is a character that is available only in the arena store for be bought with tokens or crystals of the character in 5 in 5, or by opening chests with gems from the multiverse category of characters, as you can see the threat level of the character is almost reaching 60,000 and in this promotion we will try to maximize that level of threaten as much as possible.


Como pueden observar el personaje será promovido a 4 estrellas, este personaje es cuanto menos curioso debido a que es un personaje que no suele salir en el evento de arena ni desafío, ya que es un personaje que está disponible solo en tienda de la arena para ser comprado con fichas o cristales del personaje en 5 en 5, o abriendo cofres con gemas de la categoría de personajes de multiverso, como pueden observar el nivel de amenaza del personaje esta casi llegando a los 60.000 y en esta promoción intentaremos maximizar ese nivel de amenaza lo más posible.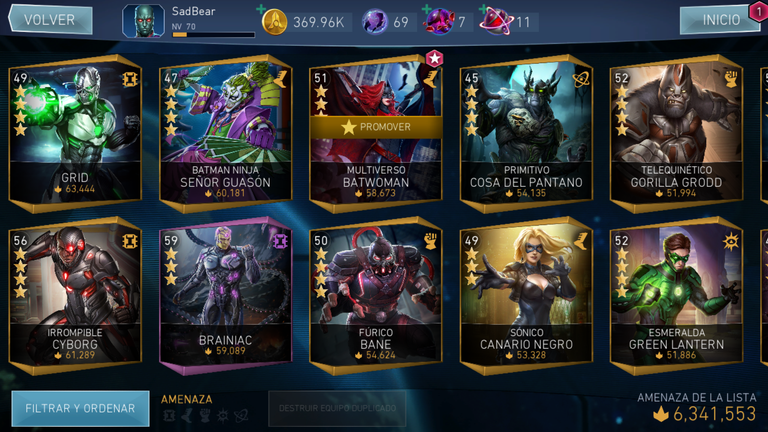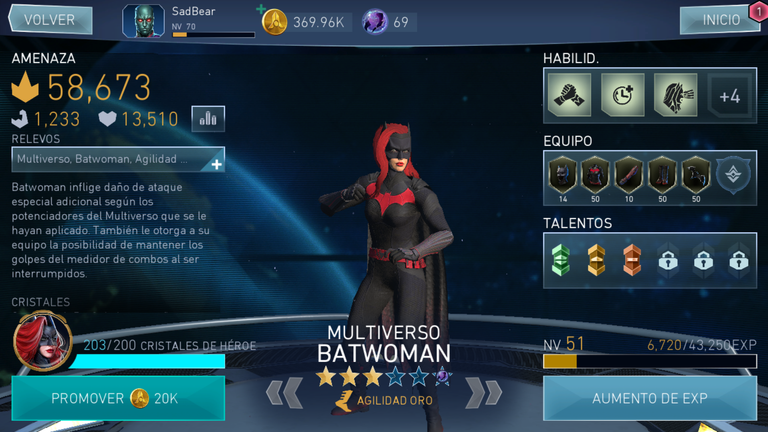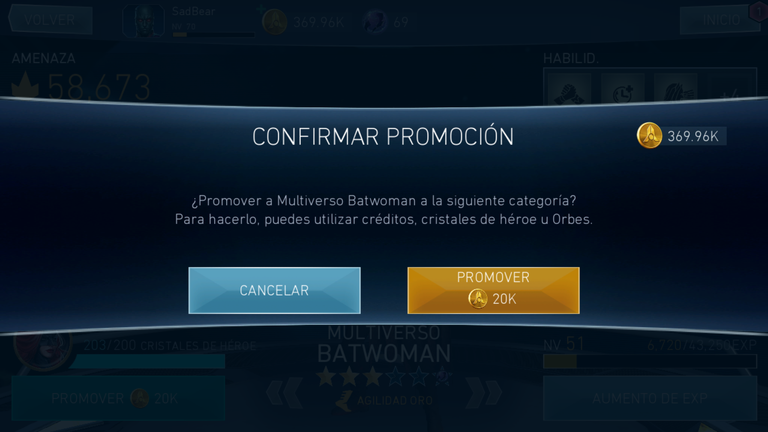 Once the character is promoted to 4 stars, we obtain a threat increase of 73,000 points in total, so now we are going to begin to improve the character's passive skills to obtain a greater threat, the first ability that we have of this character leads by name "tactical attacks", with this ability we will have 25% special attack damage per multiverse enhancer this means that for each attack we use of the multiverse team characters in combat, we will have an increase in BatGirl's hits until adding 150% damage in total, now with the improved level 4 of this skill we will have more attack range to be able to do a greater amount of damage, either in arena battles or in invasion battles, which could be quite effective against bosses of league invasion or single invasion bosses.


Una vez promovido el personaje a 4 estrellas, obtenemos un aumento de amenaza de 73.000 puntos en total, por lo que ahora vamos a comenzar a mejorar las habilidades pasivas del personaje para obtener una mayor amenaza, la primera habilidad que tenemos de este personaje lleva por nombre "ataques tácticos", con esta habilidad tendremos un 25% de daño de ataque especial por potenciador del multiverso esto significa que por cada ataque que utilicemos de los personajes de equipo del multiverso en combate, tendremos un aumento de los golpes de BatGirl hasta sumar un 150% de daño en total, ahora con el nivel 4 mejorado de esta habilidad tendremos más rango de ataque para poder hacer mayor cantidad de daño, ya sea en combates de arena o en combates de invasión, que podría ser bastante efectivos contra jefes de invasión de liga o jefes de invasión individual.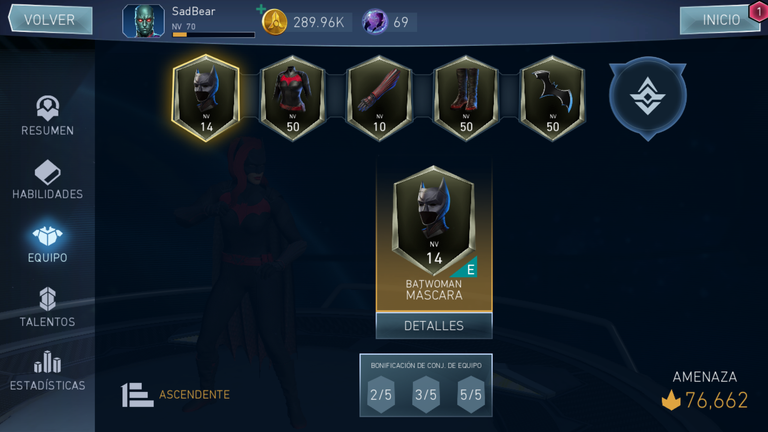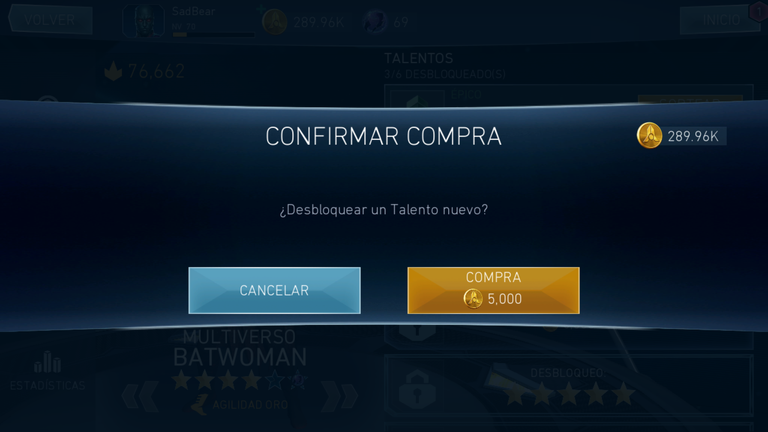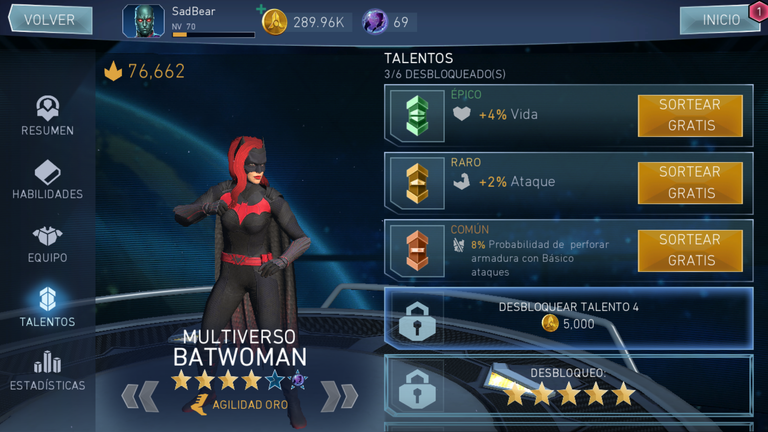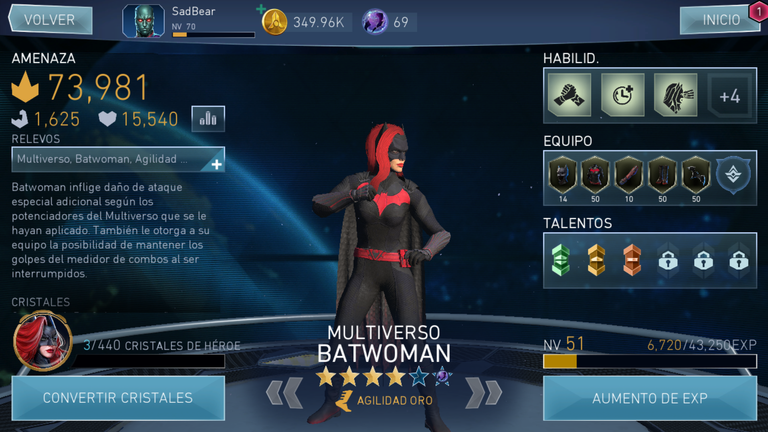 In the character gears we can notice a variety of levels, since we have a level 14 in the BatGirl mask. A level 50 in his suit, level 10 in his gloves, level 50 in his boots, and finally level 50 in the character's batarang, all this adds up to a still better amount of threat, since although I do not have all the gears at their maximum level, if I have most of them quite close to the maximum level, which in this case would be 60, and to maximize it even more we could bring the gears to level 70, in the character's talents we have several effects, in this In case we have a total of 4 talents, being 1 epic talent, 1 rare, and 2 common, now with this promotion we will have a total of 4 possible effects on the character that we can change later to get all the epic talents in this character.
In the character summary, as you can see, we have managed to bring the character's threat level to almost 80,000 points, having an excellent performance now in combat, and with more lethal skills, and this is how we went from having threat levels compared to furious bane to having threat levels that equal characters like atrocitus and beating Harley Quinn from batman ninja in my rooster, The truth is, I'm quite happy with the result achieved with this promotion, so we have a total of 198% damage points per critical attack, and a 33% probability of giving these attacks, in addition to having a 25% block and a 21.2% defense in total for the character, being now a more effective character to be able to give good attack combos and do more critical damage against bosses or opponents in the arena.


En los gears del personaje podemos notar una variedad de niveles, ya que tenemos un nivel 14 en la máscara de BatGirl. Un nivel 50 en su traje, nivel 10 en sus guantes, nivel 50 en sus botas, y finalmente nivel 50 en el batarang del personaje, todo esto nos suma todavía una cantidad de amenaza mejor, ya que a pesar de que no poseo todos los gears en su nivel máximo, si tengo la mayoría de ellos bastante cerca del nivel máximo, que en este caso sería el 60, y para maximizarlo todavía más podríamos llevar los gears a nivel 70, en los talentos del personaje tenemos varios efectos, en este caso tenemos en total 4 talentos, siendo 1 talento épico, 1 raro, y 2 comunes, ahora con esta promoción tendremos un total de 4 efectos posibles en el personaje que podremos ir cambiando más adelante para logar obtener todos los talentos épicos en este personaje.
En el resumen del personaje como pueden observar hemos logrado llevar el nivel de amenaza del personaje casi a los 80.000 puntos, teniendo un excelente rendimiento ahora en combate, y con habilidades más letales, y es así como pasamos de tener niveles de amenaza comparados a bane fúrico a tener niveles de amenaza que igualan a personajes como atrocitus y superando a Harley Quinn de batman ninja en mi rooster, la verdad estoy bastante contento con el resultado logrado con esta promoción, por lo que tenemos un total de 198% puntos de daño por ataque crítico, y un 33% de probabilidad de dar dichos ataques, además de tener un 25% de bloqueo y un 21.2% de defensa en total para el personaje, siendo ahora un personaje más efectivo para poder dar buenos combos de ataques y hacer un daño más críticos contra jefes o oponentes en la arena.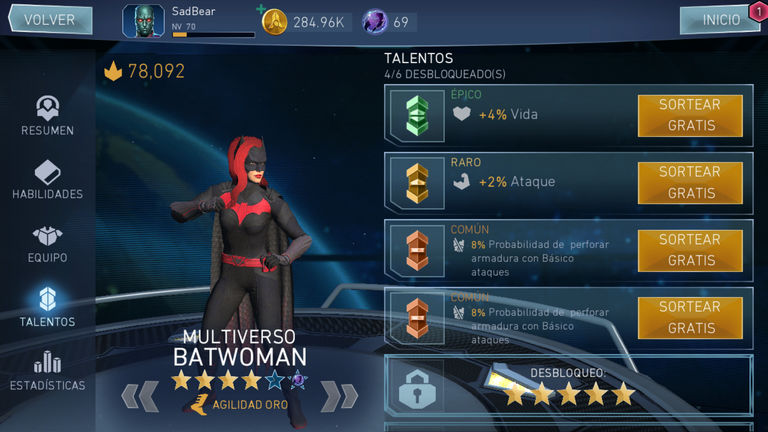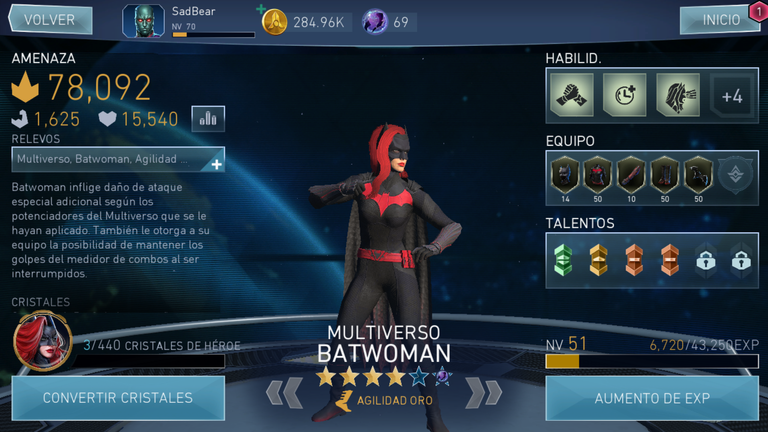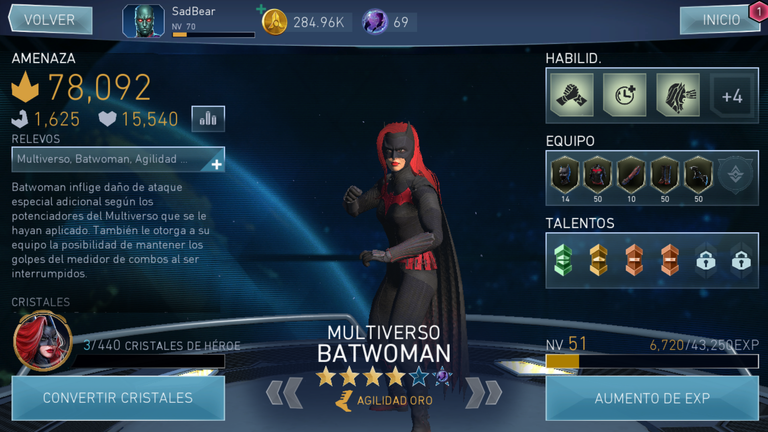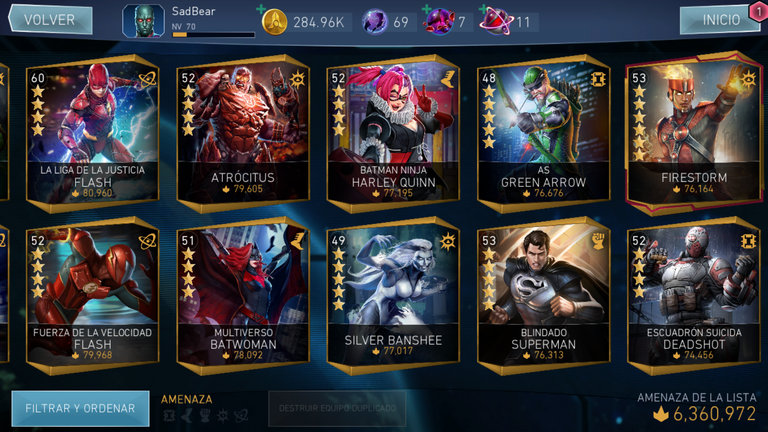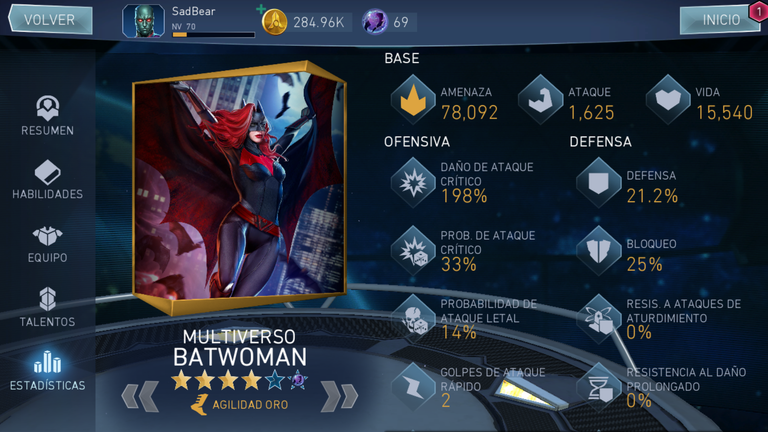 And so far today's post Hivers, I hope you liked it, but above all you enjoyed it, what did you think of the BatGirl Multiverse character? What skill did you like the most this time? Let me know in the comments, yes Do you like my content, do not forget to follow me so as not to miss anything in your Hive feed, without more than saying I wish you a good morning, afternoon or evening, SadBear says goodbye from the cave ❗Until another time❗🐻🚀

All the images and gifs you saw in this post were taken and edited by me from Injustice 2 Mobile INGAME.🐺
Add me in discord if you want to give me suggestions for posts or know some information # SadBear # 6392👽
Captures taken With Samsung S5 Edge.🐯

Y hasta aquí el post de hoy Hivers, espero que les haya gustado, pero sobretodo lo hayan disfrutado, ¿Qué te pareció el personaje de BatGirl Multiverso?, ¿Cuál habilidad te gustó más en esta ocasión?, házmelo saber en los comentarios, si te gusta mi contenido no olvides seguirme para no perderte de nada en tu feed de Hive, sin más que decir te deseo unos buenos días, tardes o noches, Desde la Cueva se Despide SadBear ❗Hasta otra ocasión❗🐻🚀

Todas las imágenes y gifs que viste en este post fueron sacadas y editadas por mí de Injustice 2 Mobile INGAME.🐺
Agrégame en discord si quieres darme sugerencias para posts o saber alguna información #SadBear#6392👽
Capturas tomadas Con Samsung S5 Edge.🐯