Since this game was announced I added it to my to-play list, I had many intentions to play it since everything I saw called my attention. Necrobouncer is a new roguelike that will take us through different dungeons located in a bar. A game that, although it did not turn out to be as I expected, did not disappoint me at all, since it has curious and fun mechanics that can keep you tied to it for several hours.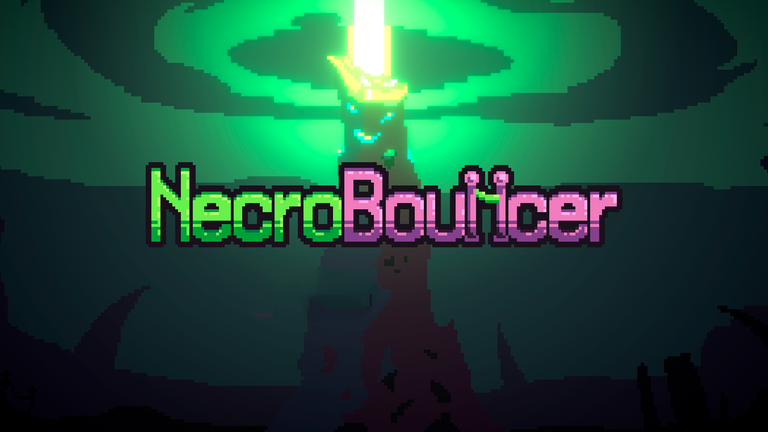 As always in this type of titles the story is completely secondary and almost nonexistent, however, the game has the delicacy to show us a small context of things; We wake up unconscious in a cellar of a bar, we do not know what happened but everything seems to be destroyed, when we go up to the main floor we will find a bartender who will offer us a job as a security guard and will ask us to clean the different rooms of the bar, which will be infested with enemies. We, having nothing else to do, accept the job and embark on the various floors of this mysterious bar.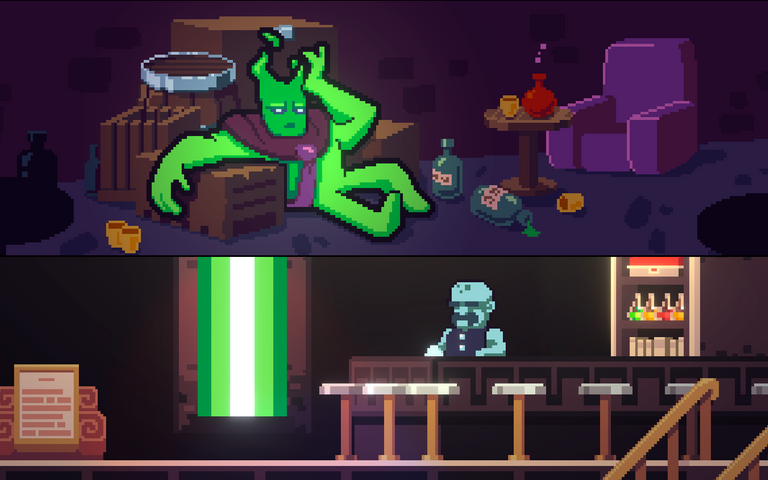 The combat of the game is quite simple; We will have a basic attack, a small dash that will make us invulnerable and a couple of special abilities that will give us that little extra when fighting. These abilities can be things like summoning minions or launching energy slingshots that in addition to doing damage, will pierce and hit several enemies. Each ability will consume a percentage of energy, so many times we will have to take into account what strategy we take and if it is better to fight in a simple way and save the skills for later.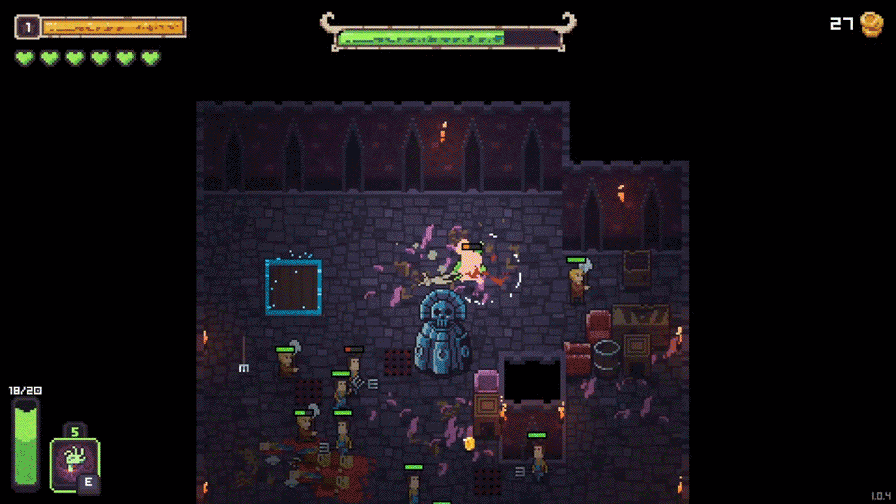 Another important thing is that fighting will not always be the objective, I explain; Each room will have a mechanic, in some we will simply have to defeat enemies to advance, however, there will be others where we have to destroy crystals before they generate enemies, push statues to their corresponding locations or collect essences to fill the energy bar of a statue. We will have a variety of rooms that will expand as we advance.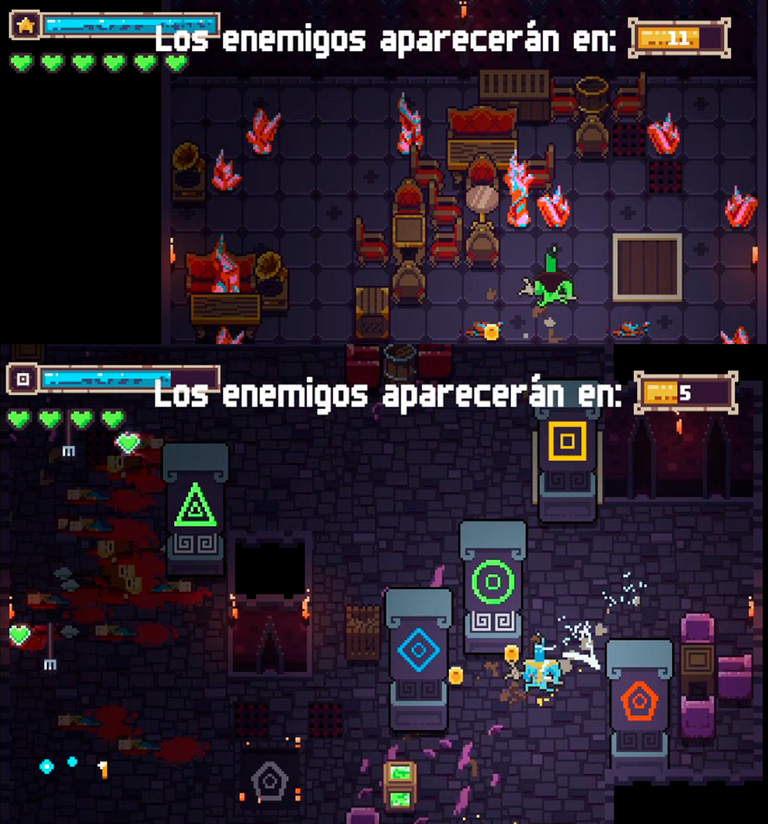 These rooms will be generated randomly, once we complete one, we will be shown a small map where we can choose where to go, allowing us to make decisions based on our situation at that time, since in some rooms the power to use special abilities will be essential, and if we do not have enough energy, perhaps it is best to avoid them.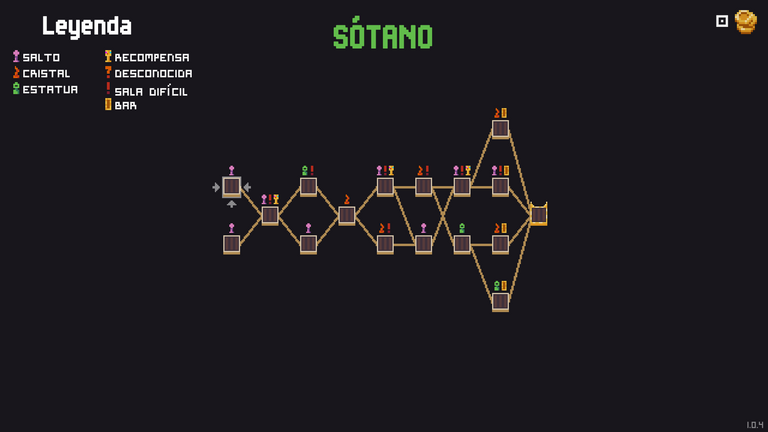 There will be specific rooms that after completing them, will give us access to different types of rewards. These rewards will be temporary improvements such as increasing a portion of life, inflicting a higher percentage of damage, increasing our maximum energy and many other things.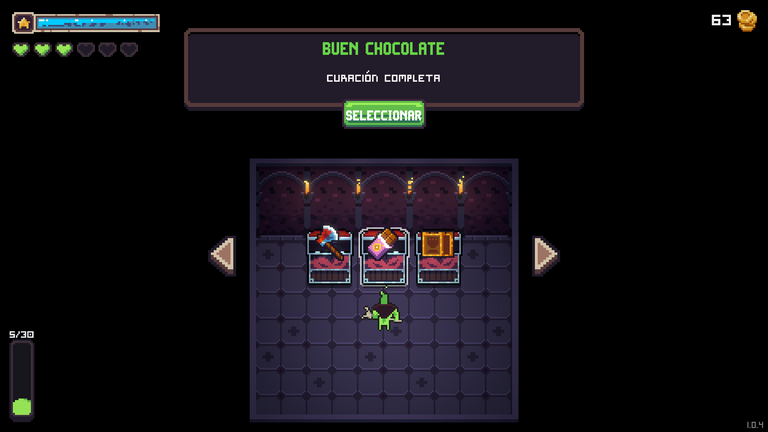 All these rooms will be located in levels, first level, second level, etc. At the end of each level we will find the boss room, where we will face a powerful enemy that we will have to defeat to advance to the next level. Each of these bosses will have its own mechanics to take into account when facing it, although they are not particularly complicated fights, we must take into account that before reaching the boss we will go through dozens of rooms, since being a roguelike, each time we will have to start from the beginning, which means that we will not always reach these bosses with a full life bar, so I would say that the difficulty is pretty good, it will surely make more than one of us sweat.


On the other hand, every time we advance to a certain point and complete certain objectives, we will unlock a new suit that we can equip before starting. There are several of these suits to unlock and once we equip one, it will not be possible to change it until we die and start again.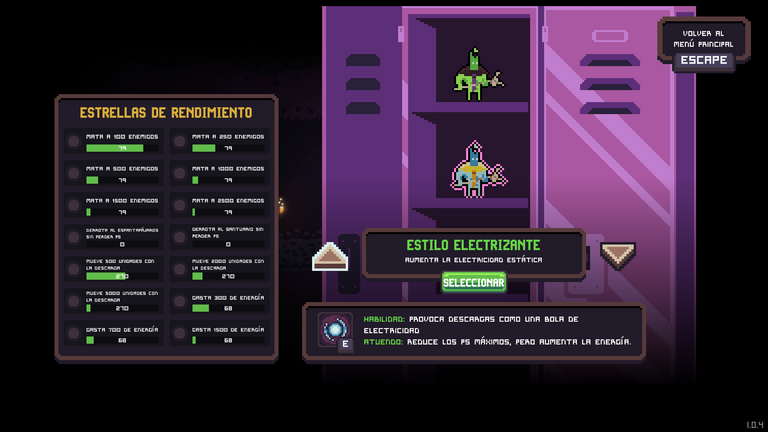 The best thing about this is that these suits will not only change our appearance, but will also influence our stats and special abilities, for example; With the common suit that we have when we start, our ability will be to summon henchmen, but with the second suit that we unlock, our ability will be to become an electric ball that will bounce off the walls and cause shocks to enemies. The more advanced suits are the ones that will give us better and more fun skills, so the feeling of progression is very present with this mechanic.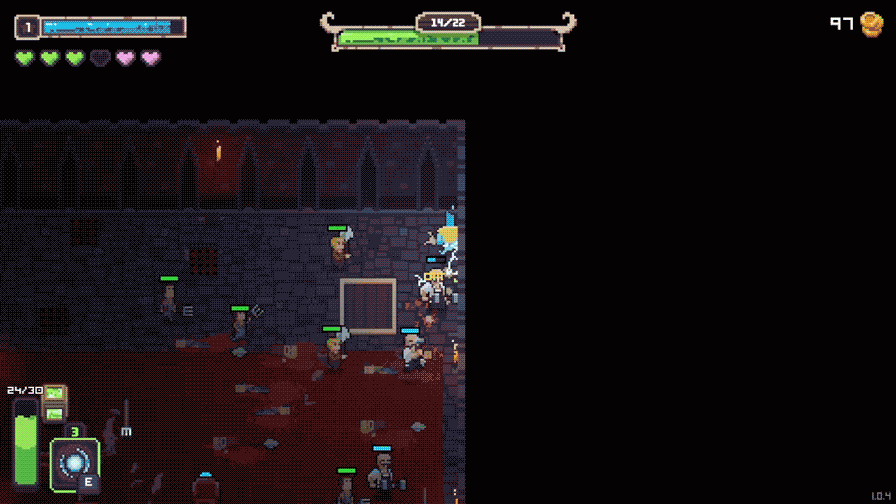 I really liked Necrobouncer, very fun and with the ability to give you dozens of hours of content, because to "complete the game", it is necessary to go from the first level to the last without dying, something that at first seems impossible, but once you adapt to the mechanics, learn certain patterns and unlock some costumes, you realize that it is perfectly feasible. Perhaps my only criticism would be in the sound section, as many times I felt a lack of feedback when hitting or defeating enemies, but they are small things, it is a very good game that I could easily recommend to anyone.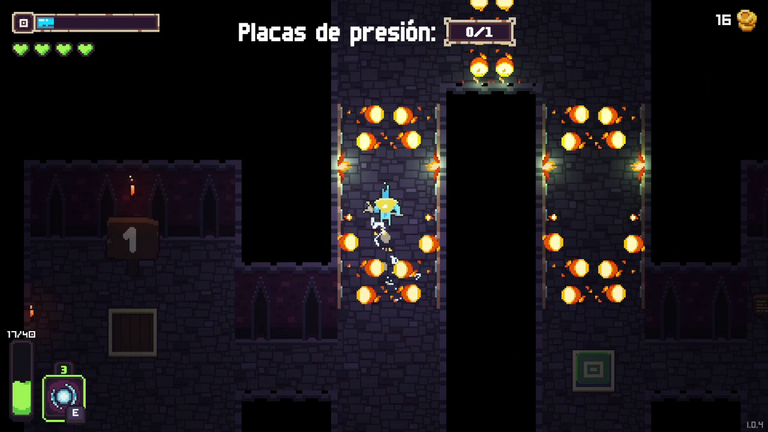 All images/gifs used in this post have been taken and/or created by me
---
---

Desde que se anunció este juego lo agregué a mi lista de pendientes, tenía muchas intenciones de jugarlo ya que todo lo que veía llamaba mucho mi atención. Necrobouncer es un nuevo roguelike que nos llevará a través de distintas mazmorras ubicadas en un bar. Un juego que, si bien no resultó ser como esperaba, no me decepcionó en lo absoluto, ya que cuenta con mecánicas curiosas y divertidas que pueden mantenerte atado a él por varias horas.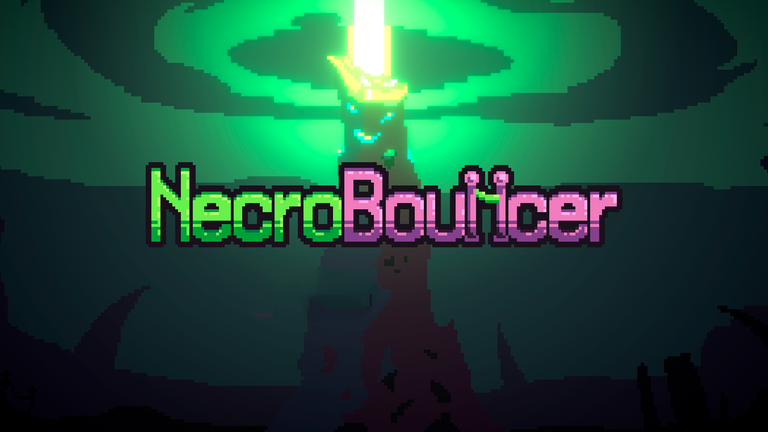 Como siempre en este tipo de títulos la historia es completamente secundaria y casi que inexistente, sin embargo, el juego tiene la delicadeza de mostrarnos un pequeño contexto de las cosas; Despertaremos inconscientes en una bodega de un Bar, no sabemos que sucedió pero todo parece estar destruido, al subir a la planta principal nos encontraremos con un cantinero que nos ofrecerá un trabajo de guardia de seguridad y nos pedirá que limpiemos las distintas salas del bar, las cuales estarán infestadas de enemigos. Nosotros, sin tener nada más que hacer, aceptaremos el trabajo y nos embarcaremos por las distintas plantas de este misterioso bar.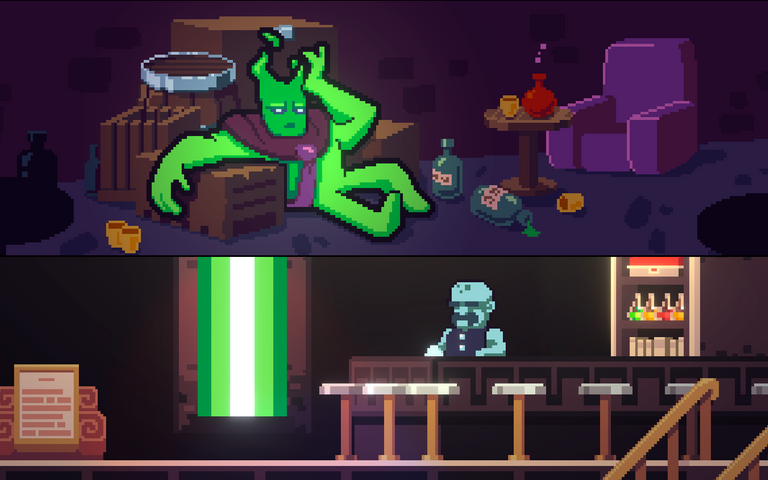 El combate del juego es bastante simple; Contaremos con un ataque básico, un pequeño dash que nos hará invulnerables y un par de habilidades especiales que nos darán ese pequeño plus a la hora de luchar. Estas habilidades pueden ser cosas como invocar esbirros o lanzar hondas de energía que además de hacer daño, atravesaran y golpearan a varios enemigos. Cada habilidad consumirá un porcentaje de energía, por lo que muchas veces habrá que tener en cuenta que estrategia tomamos y si conviene más combatir de forma simple y guardarnos las habilidades para después.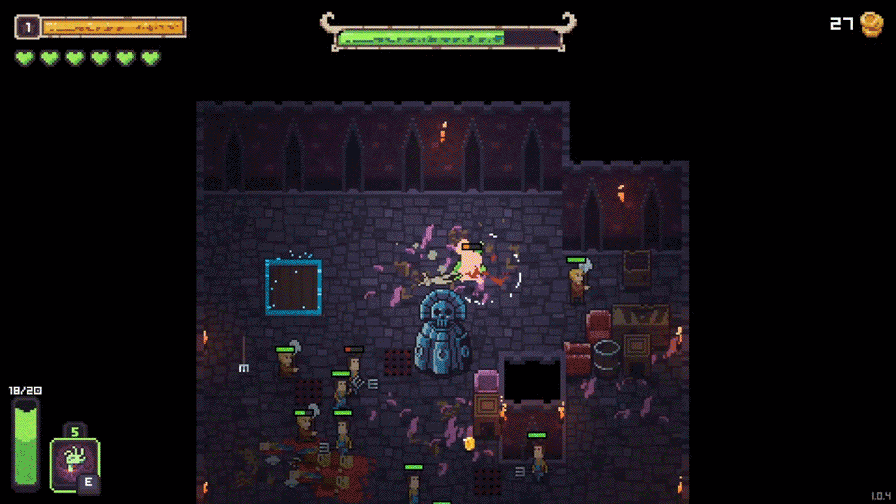 Otra cosa importante es que, luchar no siempre será el objetivo, me explico; Cada sala tendrá una mecánica, en algunas simplemente deberemos derrotar a los enemigos para avanzar, sin embargo, habrá otras donde tengamos que destruir cristales antes de que estos generen enemigos, empujar estatuas a sus ubicaciones correspondientes o recolectar esencias para rellenar la barra de energía de una estatua. Tendremos una variedad de salas que se irá expandiendo conforme avancemos.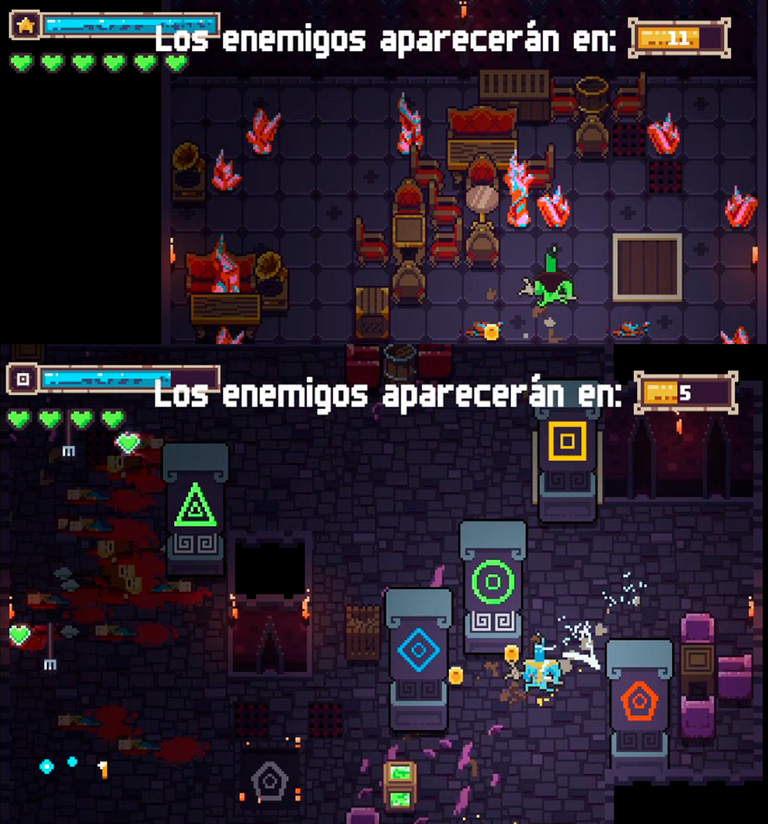 Estas salas se generarán de forma aleatoria, una vez completemos una, se nos mostrará un pequeño mapa donde podremos elegir a donde ir, lo que nos permitirá tomar decisiones en función a nuestra situación en ese momento, ya que en algunas salas el poder usar habilidades especiales será esencial, y si no contamos con la energía suficiente, quizás lo mejor sea evitarlas.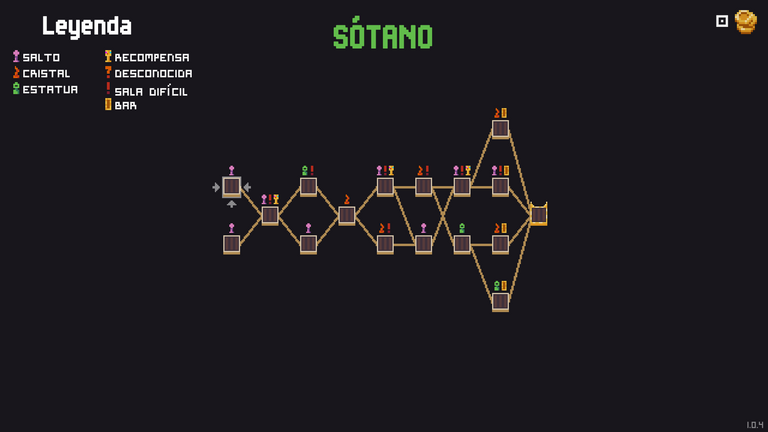 Habrá salas específicas que luego de completarlas, nos darán acceso a distintos tipos de recompensas. Estas recompensas serán mejoras temporales como aumentar una porción de vida, infligir un porcentaje mayor de daño, aumentar nuestra energía máxima y muchas cosas más.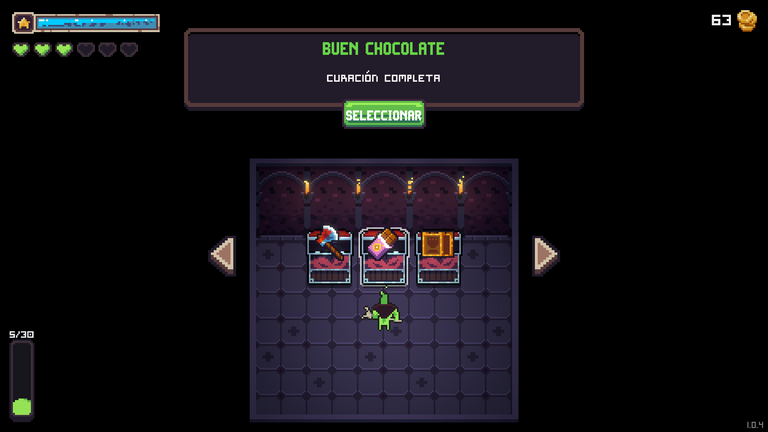 Todas estas salas estarán ubicadas en niveles, primer nivel, segundo nivel, etc. Al final de cada nivel nos encontraremos con la sala del jefe, donde nos enfrentaremos a un enemigo poderoso que habrá que derrotar para avanzar al siguiente nivel. Cada uno de estos jefes tendrá su propia mecánica a tener en cuenta a la hora de enfrentarlo, si bien no son combates especialmente complicados, debemos tener en cuenta que antes de llegar al jefe pasaremos por decenas de salas, ya que al ser un roguelike, cada vez que nos derroten habrá que comenzar desde el principio, lo que significa que no siempre llegaremos a estos jefes con la barra de vida llena, por lo que diría que la dificultad está bastante bien, seguramente hará sudar más de uno.


Por otro lado, cada vez que avancemos hasta cierto punto y completemos ciertos objetivos, desbloquearemos un traje nuevo que podremos equiparnos antes de comenzar. Hay varios de estos trajes por desbloquear y una vez nos equipemos con uno, no será posible cambiarlo hasta morir y comenzar de nuevo.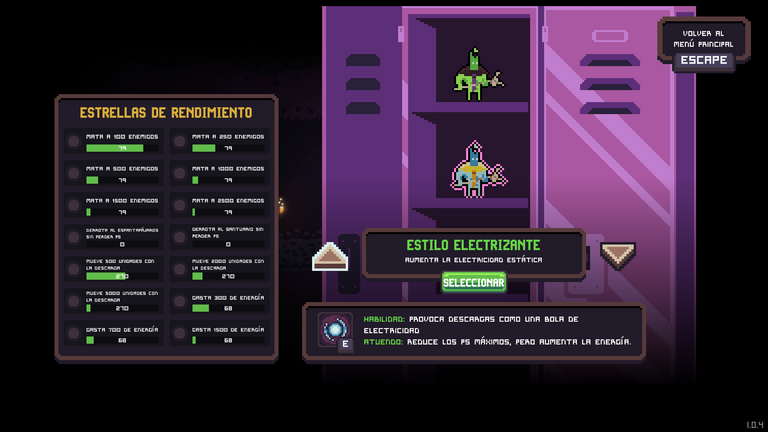 Lo mejor de esto es que estos trajes no solo cambiarán nuestra apariencia, sino que también influirán en nuestras estadísticas y habilidades especiales, por ejemplo; Con el traje común que tenemos al iniciar, nuestra habilidad será invocar esbirros, pero con el segundo traje que desbloqueamos, nuestra habilidad será convertirnos en una bola eléctrica que rebotará en las paredes y causará descargas a los enemigos. Los trajes más avanzados son los que nos brindaran mejores y más divertidas habilidades, por lo que el sentimiento de progresión está muy presente con esta mecánica.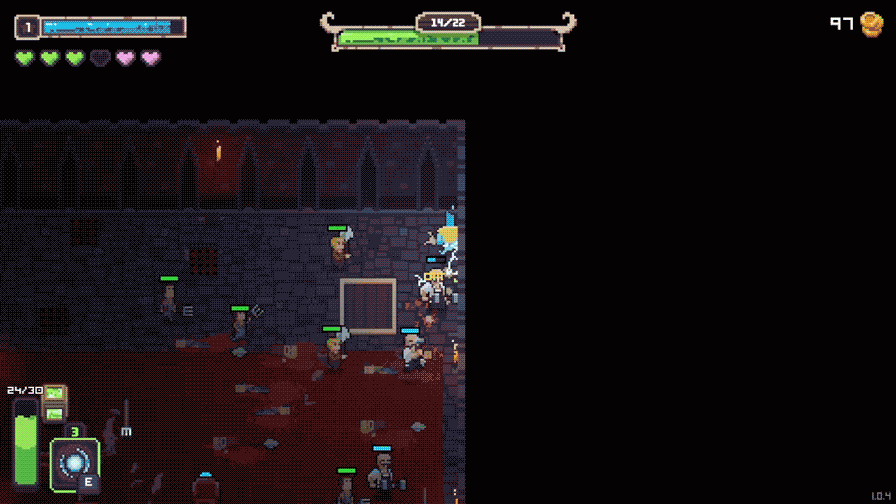 Me gustó mucho Necrobouncer, muy divertido y con la capacidad de darte decenas de horas de contenido, porque para "completar el juego", es necesario ir del primer nivel hasta el último sin morir, algo que al principio parece imposible, pero que una vez te vas adaptando a las mecánicas, aprendes ciertos patrones y desbloqueas algunos trajes, te das cuenta de que es perfectamente viable. Quizás mi única crítica sería en el apartado sonoro, ya que muchas veces sentí una falta de feedback al momento de dar golpes o derrotar enemigos, pero son pequeñeces, es un juego muy bueno que podría recomendar fácilmente a cualquiera.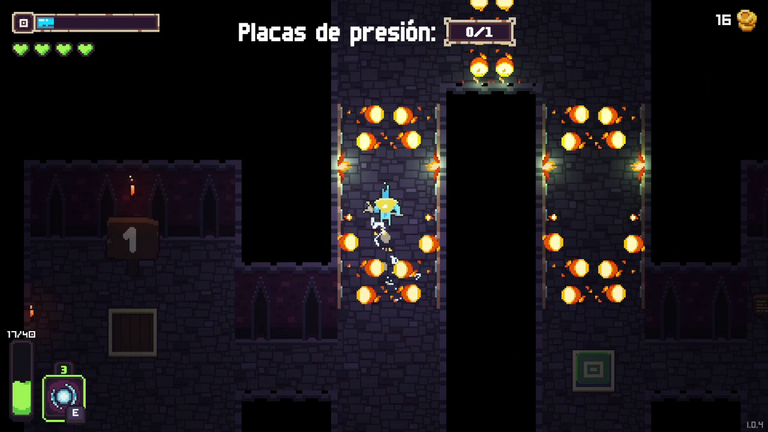 Todas las imágenes/gifs utilizadas en esta publicación han sido tomadas y/o creadas por mí