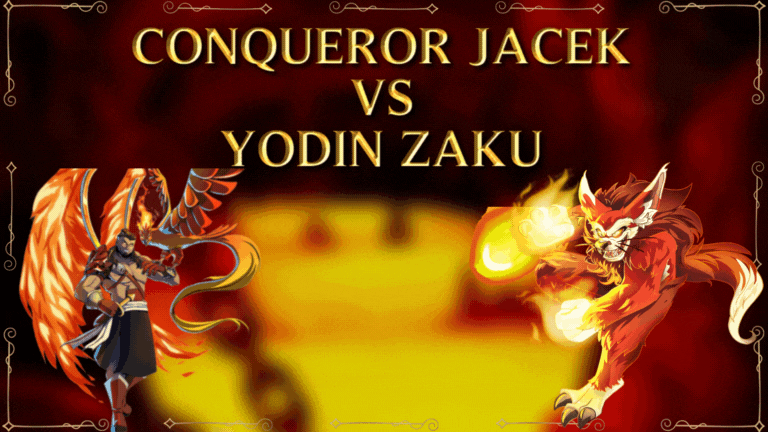 Não é novidade para ninguém que os invocadores são cartas extremamente impactantes nas partidas de Splinterlands, principalmente quando estamos falando dos invocadores lendários que trazem consigo um kit exclusivo de benefícios para o seu time.
Recentemente foi lançado um novo invocador lendário de Fogo

através do airdrop que está conquistando seu espaço dentro do jogo. Hoje eu quero compartilhar uma partida com vocês entre o Conqueror Jacek e o já consolidado com sua imensa força Yodin Zaku!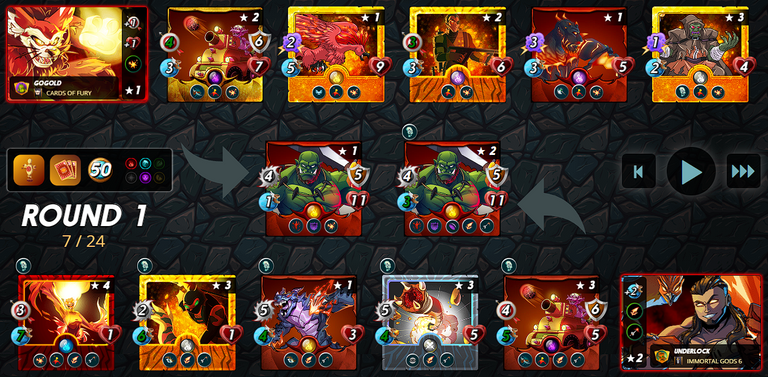 Muitos consideram o Yodin Zaku o melhor invocador do jogo (outros preferem a Byzantine Kitty) pois seu conjunto de bônus é extremamente agressivo. Nessa partida seu potencial fica ainda maior por causa da regra Target Practice
pois amplifica o poder do Blast

causando dano em até três cartas em um só ataque.
Já o Conqueror Jacek lançou causando polêmica por causa da habilidade Scattershot

mas que vem se provando muito melhor do que eu imaginava. Utilizando este invocador com cartas que naturalmente possuem Blast

é possível utilizar sua habilidade para tentar aumentar o dano explosivo.
Ambos funcionam de modos semelhantes, um depende de cartas com velocidade alta (Yodin Zaku) para funcionar bem e o outro depende de cartas com Blast

(Conqueror Jacek), nas condições ideais ambos funcionam de modo muito semelhante. E ai, quem ganha nessa disputa?


Essa disputa se resume em velocidade vs dano. Enquanto o time do Yodin possui mais capacidade de dano, meu time foca na velocidade para eliminar os inimigos antes de conseguirem atacar, afinal, morto não causa dano né? kkkkkkk
Nesta partida a velocidade levou vantagem pois meu time conseguiu eliminar três cartas do oponente antes mesmo delas atacarem. Isso fez meu oponente perder muuuito dano, muito mesmo!

Goblin Shaman: 1+1+1 de Dano Mágico


Djinn Inferni: 3+2+2 de Dano Mágico

(eu não sei se o dano causado pelo Blast no Grum seria amplificado pela habilidade Giant Killer

)


Ferexia General: 3+2+2 de Dano a distância

Ao todo foram 17 de dano negados por não terem conseguido atacar. Esta é a principal vantagem da velocidade e nesse aspecto o Conqueror Jacek é ótimo.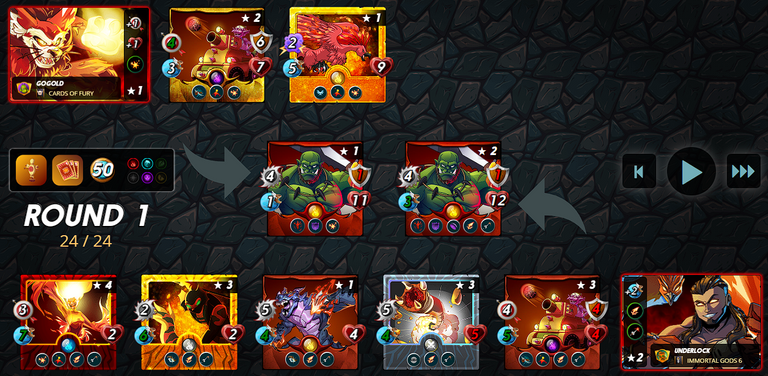 Já sabemos qual o destino do segundo round já que todas as minhas cartas permanecem vivas e preparadas para atacar com tudo o time inimigo. Neste caso a vitória foi fácil de se conquistar!
>>>
Entretanto nem sempre isso acontecerá pois é fácil resolver o problema do Yodin, basta utilizar cartas com a habilidade Swiftness

e Slow

para melhorar sua principal falha. Um exemplo de carta que combina perfeitamente com este invocador é a Countness Sinash.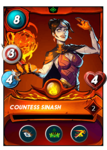 Esses dois invocadores por serem tão diferentes mas tão parecidos serão eternos inimigos disputando para descobrir quem permanecerá no topo do rank como melhor invocador lendário de Fogo

.


Entender os pontos fortes e fracos de cada invocador é crucial pois assim você poderá montar um time com cartas que cubram esses pontos fracos, resultando em um time equilibrado e extremamente poderoso. Nesta partida o Conqueror Jacek levou a melhor, mas qualquer pequeno detalhe consegue mudar o destino dessa disputa. Ambos os invocadores possuem grande potencial, basta você conseguir extrair sua verdadeira força!
Muito obrigado a todos que leram até aqui, espero que tenham gostado. Se vocês curtirem meus conteúdos, peço que deixem o seu voto na postagem e sigam o meu perfil para poderem acompanhar as futuras postagens.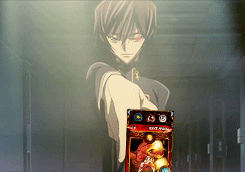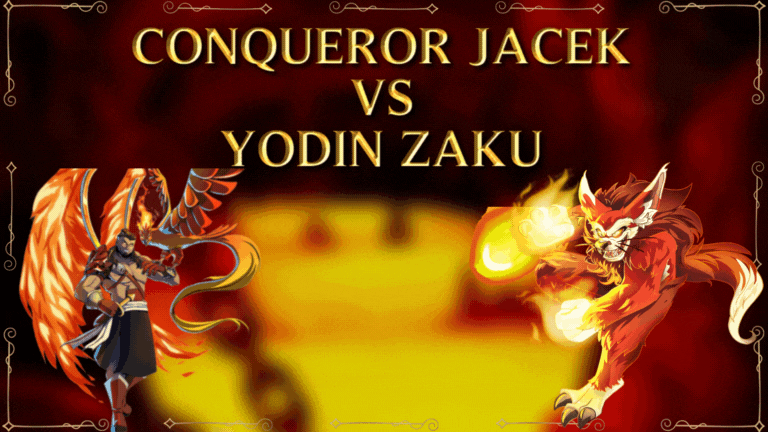 It is not news to anyone that summoners are extremely impactful cards in Splinterlands matches, especially when we are talking about the legendary summoners that bring with them a unique kit of benefits for your team.
Recently a new legendary summoner of Fire was released

through airdrop that is conquering its space within the game. Today I want to share a match with you between Conqueror Jacek and the already established with his immense strength Yodin Zaku!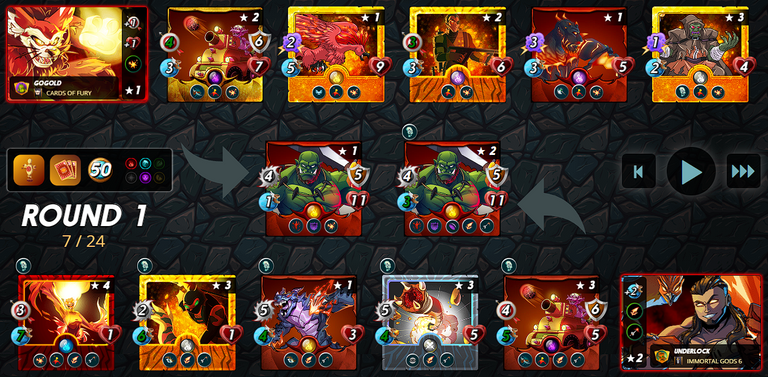 Many consider Yodin Zaku the best summoner in the game (others prefer Byzantine Kitty) as his bonus set is extremely aggressive. In this match his potential is even greater because of the Target Practice
rule as it amplifies the power of Blast

causing damage to up to three cards in one attack.
The Conqueror Jacek launched causing controversy because of the Scattershot

ability but it is proving to be much better than I imagined. By using this summoner with cards that naturally have Blast

it is possible to use his ability to try and increase explosive damage.
Both work in similar ways, one depends on cards with high speed (Yodin Zaku) to work well and the other depends on cards with Blast

(Conqueror Jacek), in ideal conditions both work very similarly. So what's up, who wins in this battle?


This dispute comes down to speed vs damage. While Yodin's team has more damage capability, my team focuses on speed to eliminate enemies before they can attack, after all, dead doesn't cause damage, right? 😅
In this match, speed had the advantage because my team managed to eliminate three of the opponent's cards before they could attack. This made my opponent lose a lot of damage, a lot!

Goblin Shaman: 1+1+1 of Magic Damage


Djinn Inferni: 3+2+2 of Magic Damage

(I don't know if the Blast damage on Grum would be amplified by the Giant Killer

ability)


Ferexia General: 3+2+2 from Ranged Damage

In all there were 17 damage negated for failing to attack. This is the main advantage of speed and in that respect the Conqueror Jacek is great.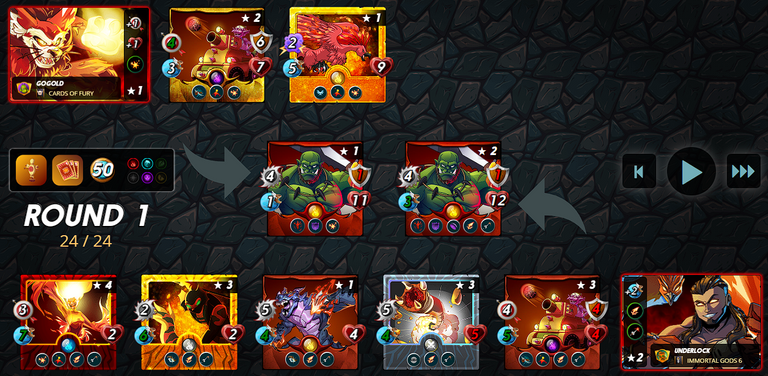 We already know the fate of the second round since all my cards remain alive and ready to attack the enemy team with everything. In this case the victory was easy to achieve!
>>>
However this will not always happen as it is easy to solve the problem of Yodin, just use cards with the ability Swiftness

and Slow

to improve its main flaw. An example of a card that matches perfectly with this summoner is Countness Sinash.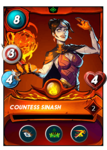 These two summoners being so different yet so similar will be eternal enemies vying to find out who will remain at the top of the rank as Best Legendary Fire Summoner

.


Understanding the strengths and weaknesses of each summoner is crucial because then you can build a team with cards that cover those weaknesses, resulting in a balanced and extremely powerful team. In this match, the Conqueror Jacek got the best of it, but any small detail can change the destiny of this dispute. Both summoners have great powers.
Thank you so much to everyone who read this far, I hope you enjoyed it. If you like my content, I ask you to send your vote on the post and follow my profile so you can read future posts.