They said "Education is the key to success", it has been three years I left secondary school and seeking for admission in the university. Three years of waiting and yes I learnt a skill and worked for diffrenet people.
Finally I got what i wanted in the school I applied as my first choice but, it was PHYSICS instead of COMPUTER SCIENCE I accepted because I couldnt wait much longer.
Some weeks ago when I left the city of Port-Harcourt for Ebonyi, Abakiliki (Ikwo) capital of Ebonyi-State to be precise. I arrived earlier than I thought six hours journey was four hours and few minutes. My first night was a dark night no one to communicate like i used to with siblings and friends back home.
I realized am alone, shortly it started raining that night it was a cold welcome to me by Ikwo community 'I ASSUMED' with a smile on my face hoping for the best I studies and Life.
A week and two days since I left P.H city for my studies I recall the last time I came to Ebonyi which I stayed four days and began to notice skin irritation due to environmental changes, the Water, Food and other factors.
Temperature at Ikwo is extreme when it wants to rain it rains heavily the sun is something else, 'SMILES'
After paying my tuiation I begin to think about earning little for myself and not hoping on my parents for everything.
THE RICHEST MAN IN BABYLON

One day after class I remembered that I someone sent a file to me with the title seems intresting. It was a hundred and sixty-four pages at last a book full of words that would fatten my purse "THE RICHEST MAN IN BABYLON by GEORGE S. CLASON".
I started reading and was acquisitive because these contents are interesting:
1.THE MAN WHO DESIRED GOLD, PAGE1.
2.THE RICHEST MAN IN BABYLON, PAGE9.
3.SEVEN CURES FOR A LEAN PURSE, PAGE22.
4.MEET THE GODDESS OF GOOD LUCK, PAGE43.
5.THE FIVE LAWS OF GOLD 59
6.THE GOLD LENDER OF BABYLON, PAGE74.
7.THE WALLS OF BABYLON, PAGE89.
8.THE CAMEL TRADER OF BABYLON, PAGE94.
9.THE CLAY TABLETS FROM BABYLON, PAGE106.
10.THE LUCKIEST MAN IN BABYLON, PAGE118.
11.AN HISTORICAL SKETCH OF BABYLON, PAGE138.
According to the book these Seven Cures For a Lean Purse was helpful to Men of accient Babylon who thought Impossible will never be possible, men who thought they knew it all and men who knew and finding it difficult to achieve greater heights; These were the formula:
START THY PURSE TO FATTENING " for every ten coin thou placest within thy purse take out far but nine.
CONTROL THY EXPENDITURES.
MAKE THY GOLD MULTIPLY "To put each coin to labouring that it may reproduce its kind even as the flecks of the field and help bring to thee income a stream of wealth that shall flow constantly into thy purse".
GUARD THY TREASURES FROM LOSS " Guard thy treasure from loss by investing only where thy principal is safe, where it maybe reclaimed if desirable and where thou will not fail to collect a fair rental, consult with wise men. Secure the advice of those experienced in the profitable handling of GOLD. Let their wisdom protect thy tresure from unsafe investment".
MAKE OF THY DWELLING A PROFITABLE INVESTMENT.
INSURE A FUTURE INCOME.
INCREASE THY ABILITY TO EARN.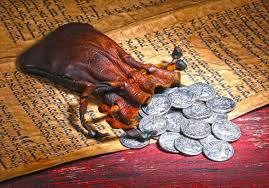 I believe a lot has seen this before, good luck to people seeing these for the first time, blessed be the man who use these accient formula to fatten thy purse!.
Life is not about fattening purses whereas man could live happily without much worries, but their is a need to, because we live in a world where men need to pay taxes/bills, build houses, feed our families, and enjoy the goods of this world.
One thing is sure Life is not easy, better things are much difficult to acheive than we watch in movies and read in novels.
After reading I had gained more knowledge and tools, so what next.
The story of NOMASIR was my favorite in the book, though he had much pressure on him It would hurt so much to see a father giving his riches to an unknown man instead of his own blood. (I apologize for not explaining much of the details)
NOMASIR had a treble fall thinking he knows everything the was to succed is not always easy as we imagine, after the fall he had one thing in mind;
-To become a man among men, or
-Remain broke and watch another man inherit his fathers wealth.
Alas, he endured, worked hard with the seven cures his father had given to him and discipline was the key factor he returned Babylon to prove to his father that his blood was worthy of becoming his heir "IT WAS NEVER EASY TO ACHIEVE".
Another story that motivates me on my mission is the story of TARKAD, a skilled man but the need to fatten his purse begin to set in soon. Soon he became a debtor, his wife returned to her father's house he was unable to feed hiself and his family.
He left Babylon thinking he would overcome tought situations by running from them, he was sold later on an turned a slave situations turning bad to worse for TARKAD. One thing is for sure when they understood it was part of life, they understood the need to be man among men THE SEVEN CURES WAS A GAME CHANGER.
If TARKAD a slave in another land could raise after the fall (I think Tarkad's situation was the worst) could pay his debts, a famous camel trader, his wife returned and have enough to eat why can't you/I do better in our time.
Tough situations will come that one has to hold fame to over-come, we have to build a wall (discipline our selves) just like the accient men of Babylon. There will always be a time when fatigue sets in those who endure to the end will celebrate " A PATIENT DOG EAT THE FATEST BORN"
Accient Babylonians understood the need for a mighty wall around their city that is the reason they were known as the richest of their time. Though a lot of them didnt know these Cures but we are lucky to come across them when we need it most, they did what they thought was best like everyone does, talking about handling of gold yes these men were naive they paid the price and after the fall they applied the Formula alas, they became way better than what they were, "THOUGH SOME HAVE AWFUL EXPERIENCES AND EXCUSES WE JUST HAVE TO WORK ON OURSELVES AND KEEP HOPING FOR BETTER DAYS AHEAD".
A lot of people want to earn more than they could work for SMILES, its not just about earning cash that pay bills, feed our get nice things if you(I) want to be wealthy THESE SEVEN CURES are my formula.
Savings, investing and reinvesting it they key, starting small is not the problem but how consistent one is to achieve the impossible.
After reading all these I've set an impossible² goal for myself you can also do the same. Because we have life nothing is impossible being consistent to achieve our goal is possible.
Days later, I decided to buy some usdt from a lady P2P was the only option thanks to our ludicrous Central Bank deposit has been disabled in our wallets we are missing out so bad. We agreed yet she made away with 80% of what i paid for, this is inhuman it hurts so bad. I being to wonder if am becoming NOMASIR 'SMILES'
I lost my cooper because already THE ACCOENT MEN OF BABYLON were alughing at me " I THOUGHT" is this a lesson of what they experienced or am just getting started.
 EXPERIENCE IS THE BEST TEACHER!!

I'd love to share these words as well:
-BUT NOW FINISH DOING IT ALSO, SO THAT JUST AS THERE WAS THE READINESS TO DESIRE IT, SO THERE MAY BE ALSO THE COMPLETION OF IT BY YOUR ABILITY.
-AND LET ENDURANCE HAVE ITS PERFECT RESULT, SO THAT YOU MAY BE PERFECT AND COMPLETE, LACKING IN NOTHING.
-Are You So Foolish? Having Begun By The Spirit, Are You Now Being Perfected By The Flesh?