🇬🇧 ENGLISH VERSION 🇬🇧
Good evening dear Hive friends, you know I'm a bit strange, I pursue innovation but I fall in love with history. In fact today I want to share a place that I found magical, the old train station of Laconi, Sardinia.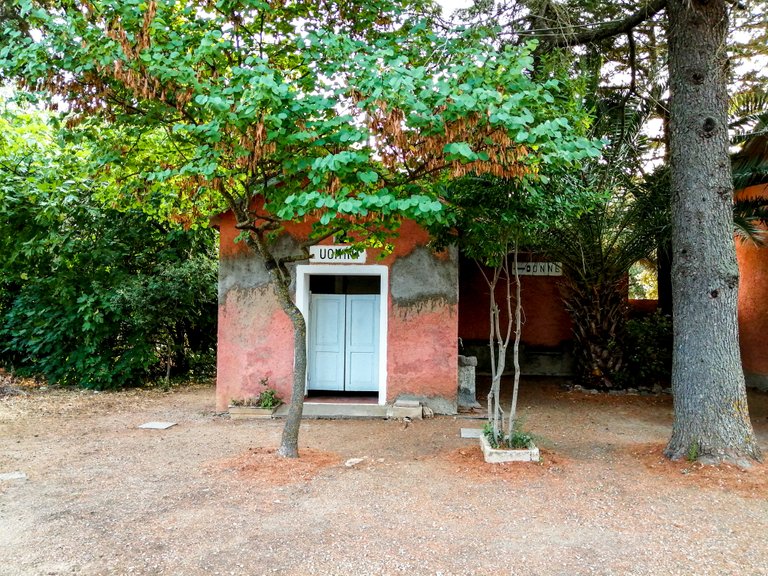 While my partner Giovanna and I were staying in her birthplace in Laconi, one afternoon before dinner, she told me that she would take me to a place she was close to, because he liked to go as a little girl to find some calm. Just two minutes by car we were already in the place, where I saw an old building and that's it at first glance, but Giovanna told me to follow her through the vegetation that had partially enveloped the building and the place. From then on it was a wonderful turning point, I was practically teleported into the past when I found myself in front of an ancient railway station surrounded by nature, which was slowly recovering the spaces removed. But this fusion of the past and nature seemed to have an almost perfect balance.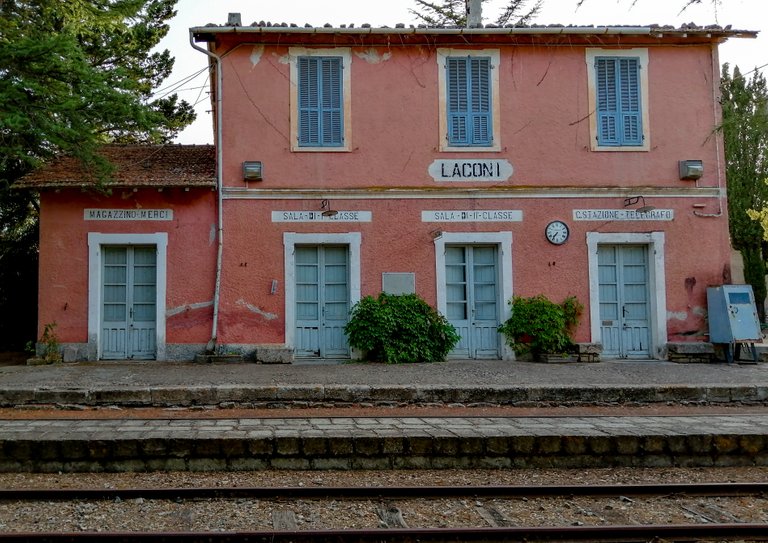 I had never seen such a station before, very characteristic, with doors that gave access to the first and second class rooms and in the outer space there were public toilets that are still functioning and well maintained. It was the first time I had seen an ancient, perfectly maintained station. In Veneto, my region or in the other regions around, the stations, both old and new, are gray and gloomy, places that inspire nothing and at most you see a few red train houses in the remote countryside, abandoned to themselves itself.
In Laconi instead, I really felt immersed in a new dimension, full of positive energy, created by the harmony I mentioned before between history and nature. I was really fascinated by the care of the place, keeping it natural despite everything and with that magical touch of wildness that characterizes Sardinia.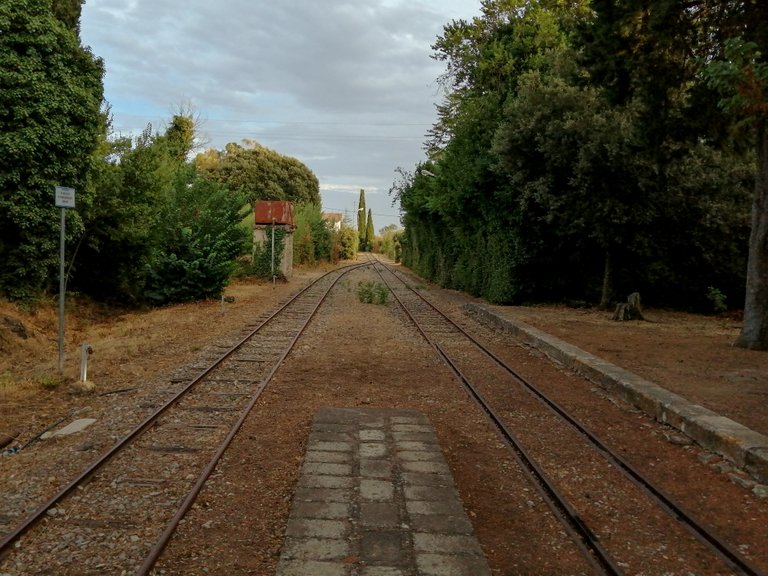 The station seems abandoned despite its excellent condition, in fact it is no longer in service, but the train tracks are functional and every now and then I pass an ancient locomotive which makes a panoramic tour through the valleys and woods in the heart of Sardinia, a journey which I think is spectacular. Definitely a place I'll want to go back to, to re-embrace that magical energy it gave me. If you have the opportunity to visit the old Laconi railway station, I heartily recommend it, you will be amazed by the place itself, more than the structure.
Dear friends, even for today and everything, I hope you enjoyed this short trip that I shared, I send a big hug to all of you.
---
All images in this post are the property of the author.
Dear, I hope you found this post interesting. Stay tuned for the next news, Thanks for your attention.

🇮🇹 VERSIONE ITALIANA 🇮🇹
Buonasera cari amici di Hive, sapete che sono un po' strano, inseguo l'innovazione però mi innamoro della storia. Infatti oggi voglio condividere un luogo che ho trovato magico, la vecchia stazione ferroviaria di Laconi, Sardegna.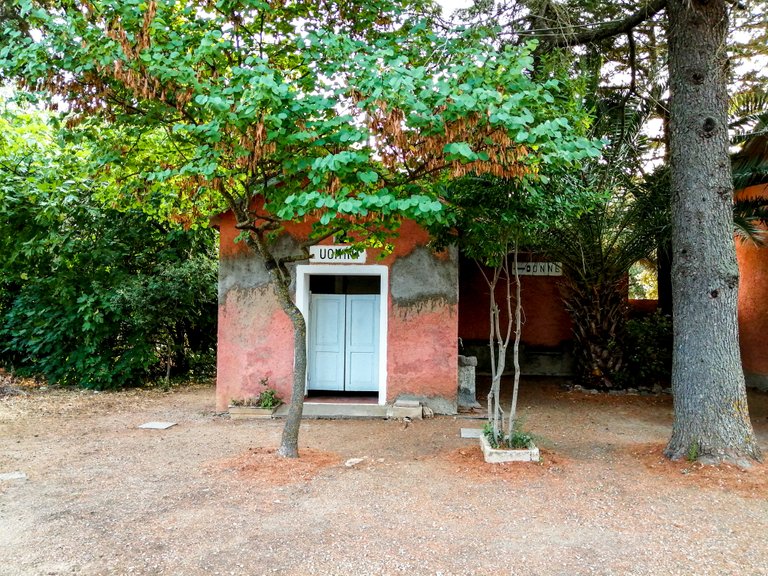 Mentre io e la mia compagna Giovanna, soggiornavamo nella sua casa natale a Laconi, un pomeriggio prima di cena, mi disse che mi avrebbe portato su un luogo a cui era legata, perchè gli piaceva andare da ragazzina per trovare un po' di tranquillità. A soli due minuti di macchina eravamo già nel posto, dove vedevo un vecchio stabile e basta a primo impatto, ma Giovanna mi disse di seguirla attraverso la vegetazione che aveva in parte avvolto il stabile e il luogo. Da li in poi fu una meravigliosa svolta, fui praticamente teletrasportato nel passato quando mi ritrovai dinanzi un'antica stazione ferroviaria immersa tra la natura, che lentamente si stava riprendendo gli spazi tolti. Ma questa fusione tra passato e natura, sembrava avere un equilibrio quasi perfetto.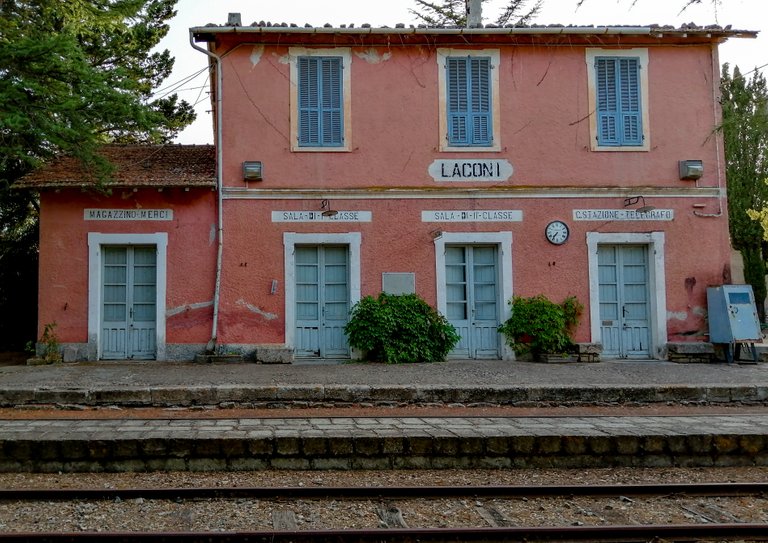 Non avevo mai visto prima una stazione simile, molto caratteristica, con le porte che davano accesso alle stanze per la prima e seconda classe e nello spazio esterno vi erano i bagni pubblici tutt'ora funzionanti e ben tenuti. Era la prima volta che vedevo una stazione antica, perfettamente mantenuta. In Veneto, la mia regione o nelle altre regioni nei d'intorni, le stazioni sia vecchie o nuove, sono grige e cupe, luoghi che non ispirano nulla e al massimo si vede qualche casetta rossa del treno tra le campagne sperdute, abbandonata a se stessa.
In quella di Laconi invece, mi sono sentito davvero immerso in una dimensione nuova, ricca di energia positiva, creata dall'armonia che citavo prima tra storia e natura. Sono rimasto davvero affascinato dalla cura del luogo, mantenendolo nonostante tutto naturale e con quel tocco magico di selvaggio che caratterizza proprio la Sardegna.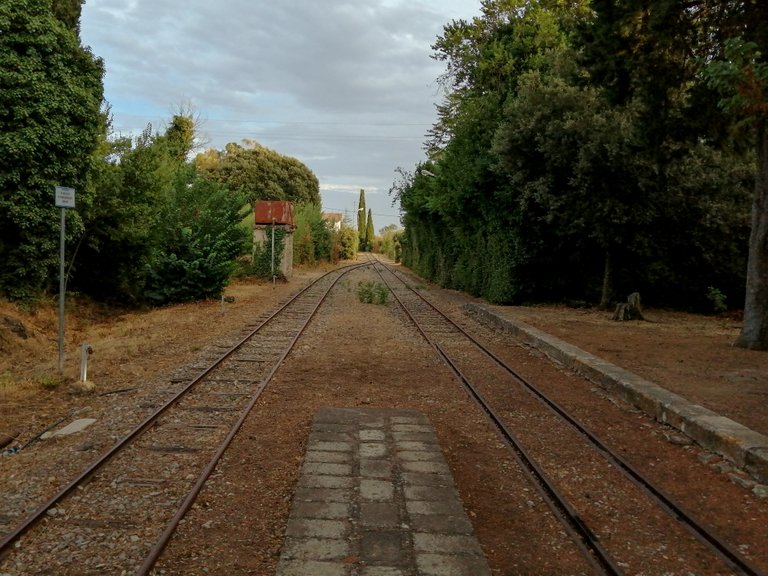 La stazione sembra abbandonata nonostante le ottime condizioni, infatti non è più al servizio, ma i binari del treno sono funzionanti e ogni tanto passo un antico locomotore che effettua un giro panoramico tra le vallate e boschi nel cuore della Sardegna, un viaggio che credo sia spettacolare. Sicuramente un luogo in cui vorrò tornare, per riabbracciare quell'energia magica che mi ha trasmesso. Se avrete occasione di visitare la vecchia stazione ferroviaria di Laconi, ve lo consiglio di cuore, rimarrete stupiti dal luogo in se, più che la struttura.
Cari amici,anche per oggi e tutto, spero che questo breve viaggio che ho condiviso, vi sia piaciuto, mando un grande abbraccio a tutti voi.
---
Tutte le immagini presenti in questo post, sono di proprietà dell'autore.
Cari amici, spero che abbiate trovato interessante questo post. Rimanete connessi per le prossime novità, Grazie per la vostra attenzione.