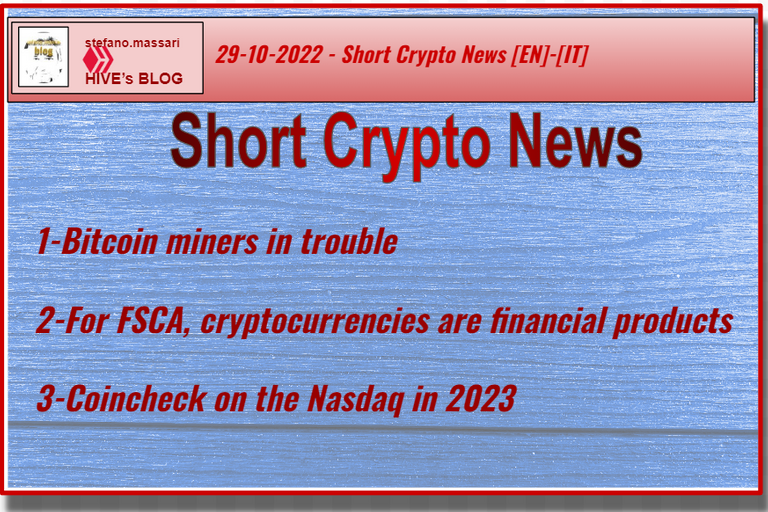 ---
~~~ La versione in italiano inizia subito dopo la versione in inglese ~~~
---
ENGLISH
1-Bitcoin miners in trouble
According to an article by Bhushan Akolkar written for CoinGape, due to rising energy costs, Bitcoin miners are facing severe earnings difficulties. The journalist in the article wonders whether this could be a signal that anticipates further sales on Bitcoin.
In a report by an investment company, it is written that miners' earnings are down 80% since October 2021.
2-For FSCA, cryptocurrencies are financial products.
The Financial Sector Conduct Authority (FSCA) has issued a ruling classifying cryptocurrencies as financial products. According to some estimates it seems that South Africa already has 6 million cryptocurrency users and this figure seems to be growing. The South African Reserve Bank is showing a measured interest in trying to create regulations for the crypto sector. The approach seems to be that of an institution that wants to give a minimum of protection to users without unduly hindering blockchain innovation.
3-Coincheck on the Nasdaq in 2023
Coincheck plans to list on Nasdaq in July 2023. Coincheck is a cryptocurrency exchange founded in 2014 whose CEO is Keisuke Wada and COO is Yusuke Otsuka. The exchange also owns the iOS app called Coincheck Bitcoin Wallet.
My Opinion
1-I believe Bitcoin has yet to face its winter and can still drop towards the $15,000 mark and maybe even approach the $10,000 mark.
2-Another bit of news that takes another small step towards mass adoption of the crypto sector.
3-It seems that in the future, stock exchanges will welcome more and more companies working in the cryptocurrency sector.
Previous Posts
https://hive.blog/hive-146620/@stefano.massari/20-10-2022-short-crypto-news-en-it
https://hive.blog/hive-146620/@stefano.massari/04-10-2022-short-crypto
https://hive.blog/hive-146620/@stefano.massari/26-09-2022-short-crypto-news-en-it
https://hive.blog/hive-146620/@stefano.massari/06-09-2022-short-crypto
Referral
My HIVE referral link:
https://hiveonboard.com?ref=stefano.massari

ITALIAN
Notizie brevi dal mondo delle criptovalute
1-Minatori di Bitcoin in difficoltà
Secondo un articolo di Bhushan Akolkar scritto per CoinGape, a causa dell'aumento dei costi energetici, i minatori di Bitcoin si trovano ad affrontare forti difficoltà di guadagno. Il giornalista nell'articolo si chiede se questo può essere un segnale che anticipi di nuovo altre vendite su Bitcoin.
In un rapporto di una società di investimento è scritto che i guadagni dei minatori sono scesi dell'80% rispetto ad ottobre 2021.
2-Per FSCA le criptomonete sono prodotti finanziari.
La Financial Sector Conduct Authority (FSCA) ha emesso una sentenza la quale classifica le criptomonete come prodotti finanziari. Secondo alcune stime sembra che il Sudafrica abbia già 6 milioni di utenti di criptovalute e questo dato sembra in crescita. La Reserve Bank sudafricana sta dimostrando un misurato interesse per cercare di creare delle norme a riguardo del settore cripto. L'approccio sembra proprio quello di un ente che vuole dare un minimo di protezione agli utenti senza ostacolare in maniera eccessiva l'innovazione blockchain.
3-Coincheck sul Nasdaq nel 2023
Coincheck ha intenzione di quotarsi sul Nasdaq nel luglio 2023. Coincheck è un exchange di criptovalute fondato nel 2014 di cui il CEO è Keisuke Wada, mentre il COO è Yusuke Otsuka. L'exchange possiede anche la app per iOS chiamata Coincheck Bitcoin Wallet.
La mia opinione
1-Io credo che Bitcoin debba ancora affrontare il suo inverno e che possa ancora scendere verso la soglia dei 15.000$ e forse avvicinarsi anche alla soglia dei 10.000$.
2-Un'altra notizia che fa fare un altro piccolo passo in avanti verso l'adozione di massa del settore crypto.
3-Sembra che in futuro le borse accoglieranno sempre di più aziende che lavoreranno nel settore delle criptovalute.
Domanda
Voi cosa ne pensate di queste tre notizie? Qual'è la vostra opinione a riguardo?
Post precedente
https://hive.blog/hive-146620/@stefano.massari/20-10-2022-short-crypto-news-en-it
https://hive.blog/hive-146620/@stefano.massari/04-10-2022-short-crypto
https://hive.blog/hive-146620/@stefano.massari/26-09-2022-short-crypto-news-en-it
https://hive.blog/hive-146620/@stefano.massari/06-09-2022-short-crypto
Referral
Il mio referral link di HIVE:
https://hiveonboard.com?ref=stefano.massari
---
source news 1:
https://coingape.com/bitcoin-btc-miners-rewards-shrinking-fast-is-another-sell-off-coming/
source news 2:
https://cointelegraph.com/news/south-african-crypto-landscape-primed-for-tradfi-growth-after-fsca-ruling
source news 3:
https://cointelegraph.com/news/crypto-exchange-coincheck-plans-nasdaq-listing-in-july-2023
THE END