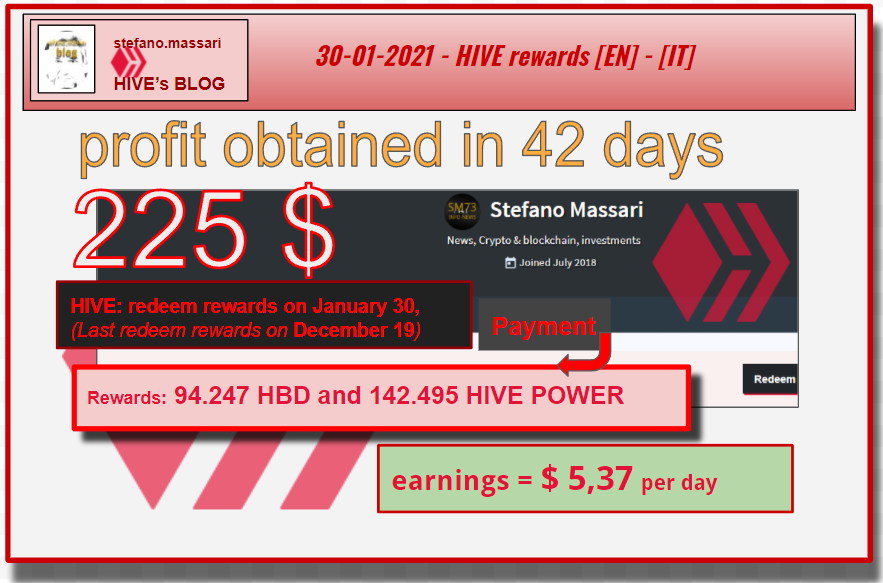 logo source: https://hive.io/
---
~~~ La versione in italiano inizia subito dopo la versione in inglese ~~~
---
ENGLISH
Considerations
On January 30, 2022, I picked up the rewards I earned over the past 42 days of blogging.
I earned the following rewards:
94,247 HBD and 142,495 HIVE POWER
Let's do some calculations and try to understand the countervalue in dollars and in euros.
Today HBD is worth 0.96$ while HIVE is worth 0.95$.
Taking into account these values, today the amount withdrawn would be worth $225.85, which is equivalent to €202.65.
Now I'm going to calculate the daily average. Currently the revenue from blogging is around $5.37 per day, which corresponds to €4.82 per day.
The platforms that run on HIVE and that I use the most are Hive.blog, LeoFinance and Splintertalk.
HIVE's blockchain ecosystem has expanded a lot in 2021 and is continuing to do so.
The blockchain is bringing a different value to information and helping so many independent bloggers. I think this new way of doing information on the blockchain is unstoppable.
HIVE empowers content creators to monetize their knowledge and also empowers curators to monetize the time they spent on the platform.
Conclusions
By blogging on HIVE in 42 days I earned the equivalent of $225.85, which equates to $5.37 per day. My daily average over the past month has dropped from $6.18/day to $5.37, marking a 14% drop. My activity on the platform has remained steady, so this drop I think is largely due to the depreciation that the HIVE token has had lately. A depreciation that however the whole cryptocurrency sector has suffered.
Question
HIVE allows blogging in a different way, it allows content creators and curators to earn from their work, what do you think about this new way of blogging?
Previous Posts
https://hive.blog/hive-146620/@stefano.massari/19-12-2021-hive-rewards-en-it
https://hive.blog/hive-146620/@stefano.massari/hive-rewards-of-16-october-2021-en-it
Guidelines or usage information
HIVE: Registration and First Login with PeakD (Tutorial)
https://peakd.com/hive-177682/@libertycrypto27/hive-registration-and-first-login-with-peakd-tutorial
Disclaimer
I am not a financial advisor, so what is written in this post is a personal opinion, not financial advice. If you want to invest, you have to do it consciously and on your own responsibility.
Referral
My HIVE referral link:
https://hiveonboard.com?ref=stefano.massari
---
ITALIAN
Considerazioni
Il 30 Gennaio 2022 ho ritirato le ricompense ottenute negli ultimi 42 giorni di blogging.
Ho ottenuto le seguenti ricompense:
94,247 HBD and 142,495 HIVE POWER
Facciamo due calcoli e cerchiamo di capire il controvalore in dollari ed in euro.
Oggi HBD vale 0,96$ mentre HIVE vale 0,95$.
Tenendo conto di questi valori, oggi la somma ritirata varrebbe 225,85$, che equivalgono a 202,65 €.
Ora vado a calcolare la media giornaliera. Attualmente il ricavo dal blogging si aggira sui 5,37$ al giorno, che corrispondono a 4,82 € al giorno.
Le piattaforme che girano su HIVE e che uso di più sono Hive.blog, LeoFinance e Splintertalk.
L'ecosistema della blockchain di HIVE si è ampliato molto nel 2021 e sta continuando a farlo.
La blockchain sta dando un valore diverso all'informazione e sta aiutando tanti blogger indipendenti. Credo che questo nuovo modo di fare informazione sulla blockchain sia inarrestabile.
HIVE dà la possibilità ai creatori di contenuti di monetizzare il loro sapere e dà anche la possibilità ai curatori di monetizzare il tempo che hanno speso sulla piattaforma.
Conclusioni
Facendo blogging su HIVE in 42 giorni ho guadagnato il corrispettivo di 225,85$, che equivalgono a 5,37$ al giorno. La mia media giornaliera, nell'ultimo mese, è passata da 6,18$ al giorno a 5,37$, segnando così un calo del 14%. La mia attività sulla piattaforma è rimasta costante, quindi questo calo penso sia dovuto in gran parte al deprezzamento che ultimamente il token HIVE ha avuto. Un deprezzamento che comunque ha subito tutto il comparto delle criptovalute.
Domanda
HIVE permette di fare blogging in un modo diverso, permette ai creatori e ai curatori di contenuti di guadagnare dal loro lavoro, cosa ne pensate di questo nuovo modo di fare blogging?
Post precedenti
https://hive.blog/hive-146620/@stefano.massari/19-12-2021-hive-rewards-en-it
https://hive.blog/hive-146620/@stefano.massari/hive-rewards-of-16-october-2021-en-it
Guide o informazioni per l'utilizzo
HIVE: Registrazione e Primo Login con PeakD (ITA)
https://peakd.com/hive-146620/@libertycrypto27/hive-registrazione-e-primo-login-con-peakd-ita
Disclaimer
Non sono un consulente finanziario, quindi ciò che è scritto in questo post è un'opinione personale, non un consiglio finanziario. Se volete investire dovete farlo consapevolmente e sotto la vostra responsabilità.
Referral
Il mio referral link di HIVE:
https://hiveonboard.com?ref=stefano.massari