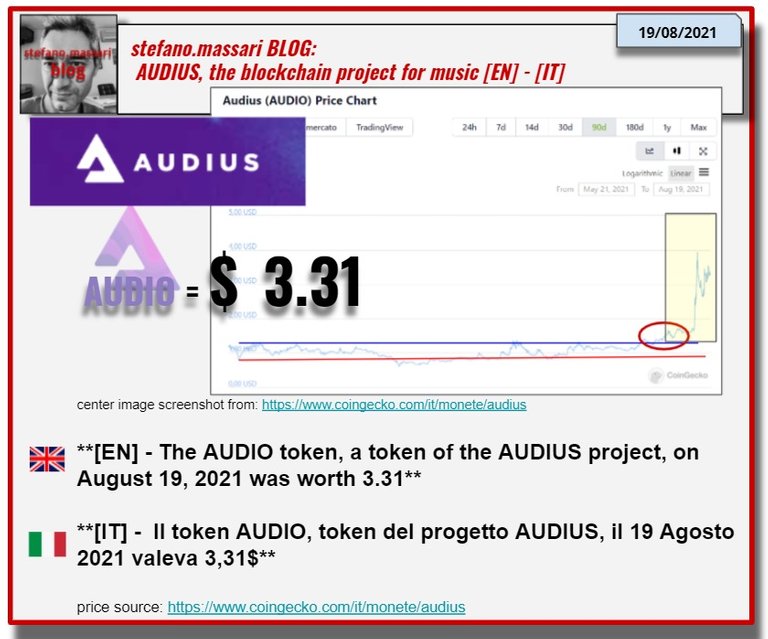 [EN] - The AUDIO token, a token of the AUDIUS project, on August 19, 2021 was worth 3.31
[IT] - Il token AUDIO, token del progetto AUDIUS, il 19 Agosto 2021 valeva 3,31$
price source: https://www.coingecko.com/it/monete/audius
---
ENGLISH
Considerations
Today, 19 August 2021, the AUDIUS token is worth $3.31. What is amazing is how the token has doubled in just a few days. On 12 August it was worth $1.5, on 17 August it was worth $3.
AUDIUS is a project that is aimed at the music industry. As of today, you can already see the platform where the music tracks are shared.
If we look at AUDIO's chart for the last 90 days, we see that for most of this period the price was in a side channel between $0.65 and $1.2, then in mid-August the price exploded. A few weeks ago the news came out that AUDIUS will migrate to SOLANA.
The project had been built on Ethereum, but this project could never fully take shape due to Ethereum's transaction fees. Now a decision has been made by the AUDIUS team, the decision is to migrate to SOLANA.
Conclusions
I believe the price explosion that the AUDIO token had in mid-August is due to the news that AUDIUS will migrate to SOLANA. This shows the willingness of the developers to create something that works all the way through and this has reactivated the buyers. Until now AUDIUS has never been fully functional due to Ethereum's high transaction fees.
Question
How do you judge Audius' move, i.e. to migrate from Ethereum to Solana?
Previous post
https://hive.blog/leofinance/@stefano.massari/audius-weezers-insert-their-page-by-releasing-a-song-en-it
My first post on AUDIUS
https://hive.blog/cryptocurrency/@stefano.massari/stem73-news-audius-what-is-it
My AUDIUS Profile
https://audius.co/stem73
---
ITALIAN
Considerazioni
Oggi, 19 Agosto 2021, il token AUDIUS vale 3,31 $. Quello che stupisce è come il token abbia raddoppiato in pochissimi giorni. Il 12 Agosto valeva 1,5$, il 17 Agosto valeva 3$.
AUDIUS è un progetto che è rivolto al settore musicale. Ad oggi si può già vedere la piattaforma dove vengono condivisi i brani musicali.
Se guardiamo grafico di AUDIO degli ultimi 90 giorni, vediamo che per gran parte di tutto queto periodo il prezzo viaggiava su un canale laterale compreso tra 0,65$ e 1,2$, poi a metà Agosto il prezzo è esploso. Qualche settimana fa è uscita la notizia che AUDIUS migrerà su SOLANA.
Il progetto era stato costruito su Ethereum, ma questo progetto non ha mai potuto prendere forma fino in fondo a causa delle tasse di transazione di Ethereum. Ora è stata presa una decisione da parte del team di AUDIUS, la decisione è quella di migrare su SOLANA.
Conclusioni
Credo che l'esplosione di prezzo che ha avuto il token AUDIO a metà Agosto sia dovuta alla notizia che AUDIUS migrerà su SOLANA. Questo mostra la volontà degli sviluppatori di creare qualcosa che funzioni fino in fondo e ciò ha riattivato i compratori. Fino ad ora AUDIUS non è mai stato completamente funzionante a causa delle alte tasse di transazione di Ethereum.
Domanda
Come giudicate la mossa di Audius, cioè di migrare da Ethereum a Solana?
Post precedente
https://hive.blog/leofinance/@stefano.massari/audius-weezers-insert-their-page-by-releasing-a-song-en-it
Il mio primo post su AUDIUS
https://hive.blog/cryptocurrency/@stefano.massari/stem73-news-audius-what-is-it
Il mio profilo di AUDIUS
https://audius.co/stem73
Il mio referral link di HIVE:
https://hiveonboard.com?ref=stefano.massari