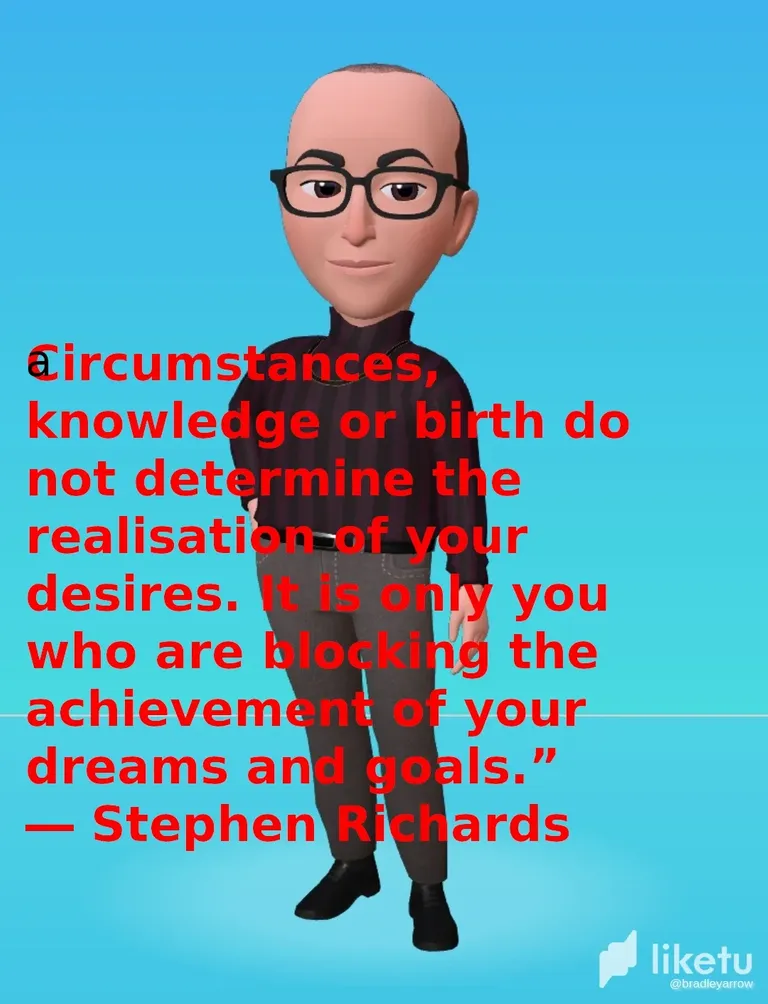 It is Monday morning here LikeTu'ers and Hivians,
Today is my first day going back into the office since 9 days ago. Wow. Time flies.
Lets have a look at the quote.
"Circumstances, knowledge or birth do not determine the realisation of your desires. It is only you who are blocking the achievement of your dreams and goals."
― Stephen Richards
I been preaching this sort of message to you for ages. The only thing in your way of your success here on Hive is YOU.
I know, I know, some of you are rolling your eyes as you read this, but I know some of you are taking what I am reading and using it.
If you are willing to put in the time, the effort, the work here on Hive (and in life) then the circumstances, your knowledge or lack of, and were on the planet you were born does not matter.
That is the awesome part about Hive and Web3.0. We are all on an even playing field.
Go get what you want.
GOALS
Post on Hive at least once a day
Bring some joy to my wife today
Onboard Vanessa to Hive
Stay positive and keep a good attitude
Promote Hive to someone new
Get Curation Trial to 200 people
Hit 6000 HP by end of 2023
Do 2000 strait days posting on Hive
LPUD every month in 2023
Save 1 Million HBD in my life time
FOOTER
Please check out CTPX
Please check out List Nerds
Don't forget to check out the The PIzza Plan
Don't forget to check out our Curation Trail
Have a super positive day everyone.
All roads lead to Hive.
Bradley
---
For the best experience view this post on Liketu