Hola #hivers ❤
Como se sienten el dia de hoy? Cansados, estresados, no pudieron dormir bien por la noche, fatigados, de mal humor, con dolor de espalda, cuello y hombros? A menudo nos recargamos por el exceso de trabajo, realizamos algún mal movimiento, cargamos exceso de peso, o preocupaciones, malas posturas que nos producen profundo dolor de espalda.
Hoy quiero compartir contigo que me estas leyendo 3 posturas que ayudaran aliviar tu insomnio, y dolores de cuello, hombro, espalda.
Hello #hivers ❤
How are you feeling today? Tired, stressed, unable to sleep well at night, fatigued, in a bad mood, with back, neck and shoulder pain? We often overload ourselves with work, make bad movements, carry excess weight, or worry, bad posture that causes us deep back pain.
Today I want to share with you that you are reading 3 postures that will help relieve your insomnia, and neck, shoulder, and back pain.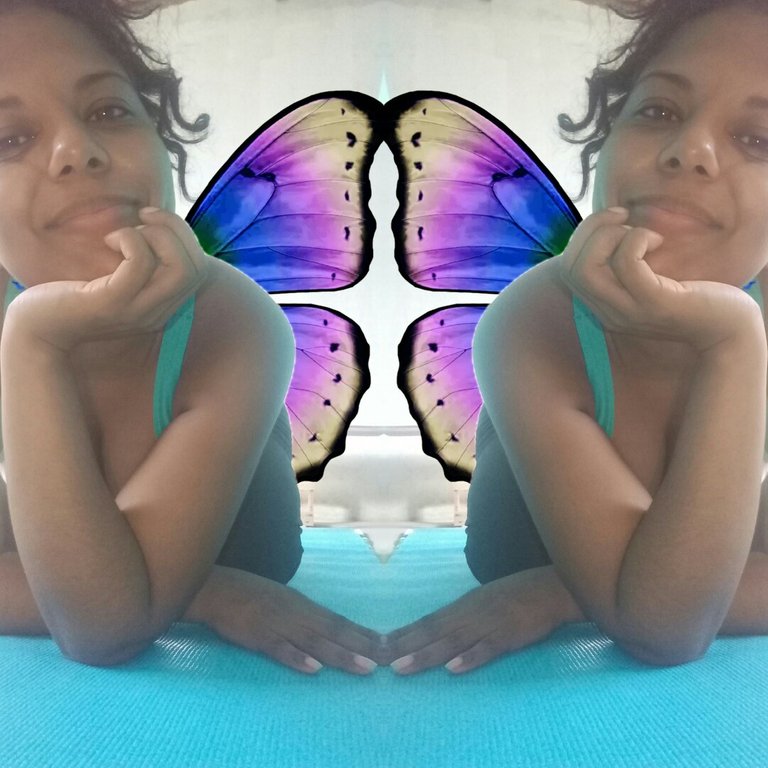 Lo primero que debes recordar es respirar correctamente inhalando y exhalando por la nariz de forma calmada para relajar mente y cuerpo, en el YOGA la respiración es muy importante.
The first thing to remember is to breathe correctly by inhaling and exhaling through the nose in a calm manner to relax mind and body, in YOGA breathing is very important.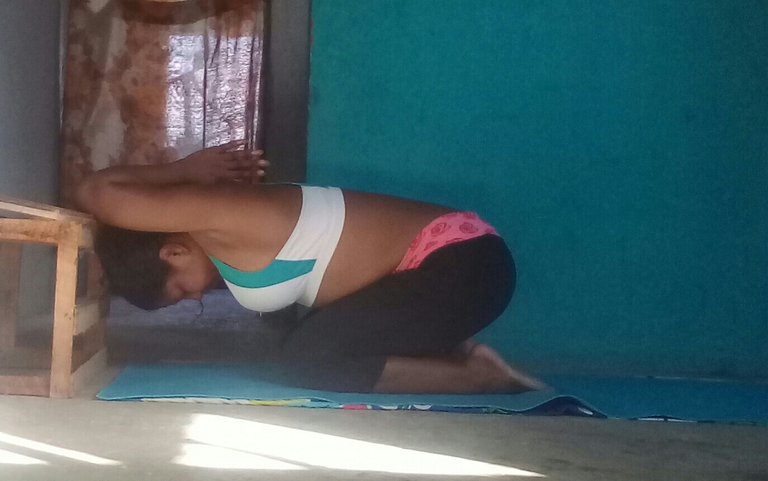 1_Apertura de hombros con la ayuda de un bloque para yoga o algun banquito donde puedas apoyar los codos como hice yo en esta ocasión improvisé donde apoyarme, de rodillas frente al bloque coloca tus codos sobre él, las manos juntalas en posición de oración y llevalas a tu espalda relaja la cabeza y mantén la postura por lo menos 10 respiraciones profundas.
1_Open your shoulders with the help of a yoga block or some bench where you can support your elbows as I did this time I improvised where to lean, on your knees in front of the block place your elbows on it, hands together in prayer position and bring them to your back relax your head and keep the posture at least 10 deep breaths.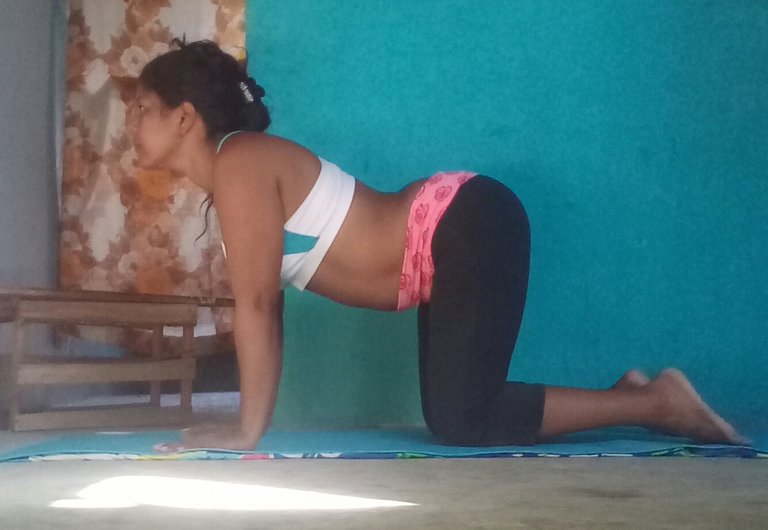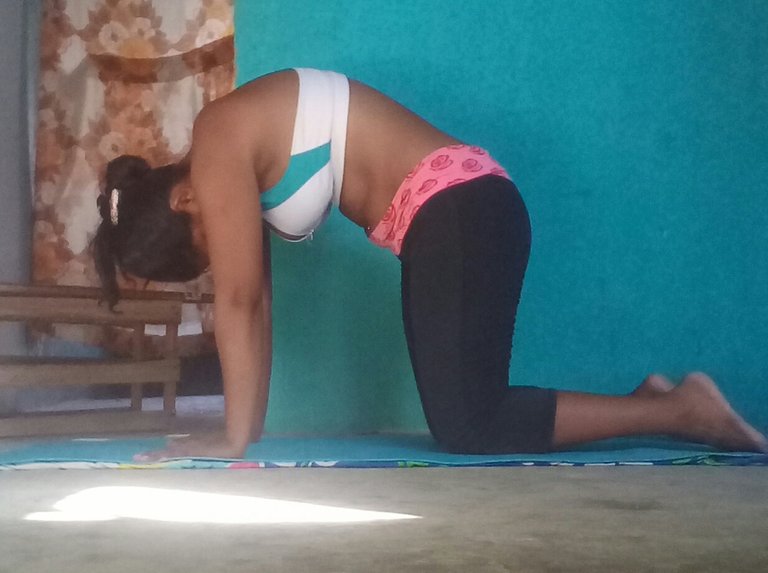 2_La postura del gato ayuda a flexibilizar la eapalda, cuello y caja tóraxica, previene y/o alivia el dolor de espalda, fortalece las muñecas, hombros y antebrazos, entre otros beneficios que nos aporta, es fácil de realizar desde posición cuadrúpeda (4 patas) vaciamos los pulmones luego vamos a inhalar subiendo la cabeza manteniendo los brazos extendidos al bajar la cabeza exhalamos y miramos hacia nuestro abdomen contrayendolo realizaremos 10 respiraciones y se puede repetir la postura unas 6 veces.
2_The cat posture helps to make the back, neck and chest more flexible, prevents and/or relieves back pain, strengthens the wrists, shoulders and forearms, among other benefits it brings, it is easy to do from a quadruped position (4 legs), we empty our lungs and then we go to inhale, raising our head and keeping our arms extended when we lower our head, we exhale and look at our abdomen, contracting it, we do 10 breaths and the posture can be repeated about 6 times.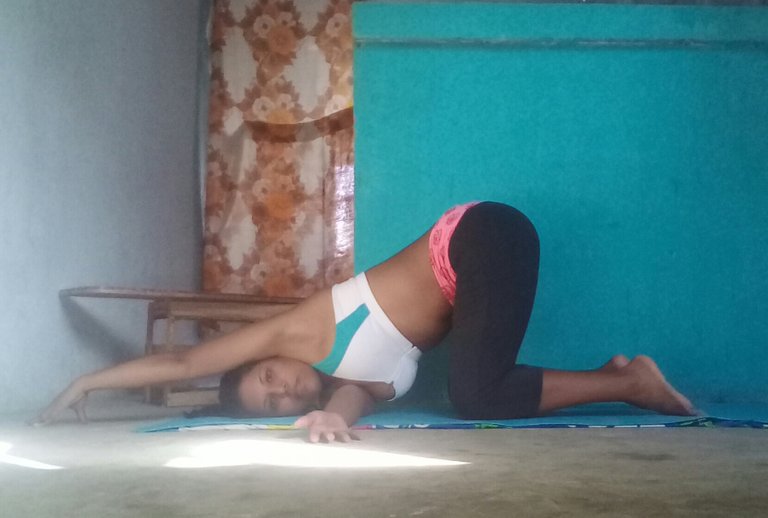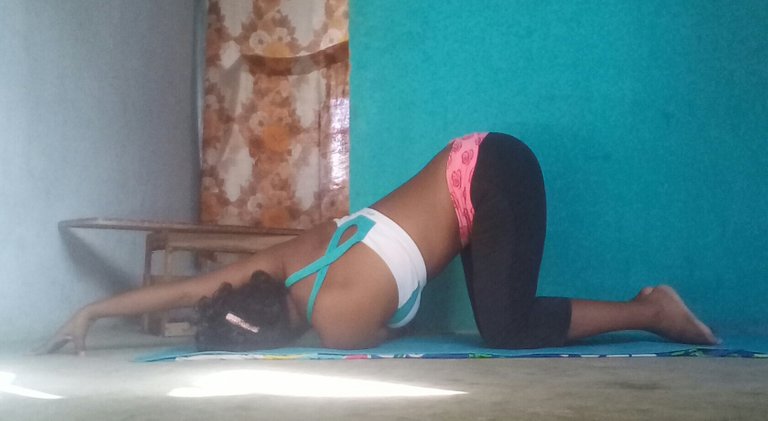 3_Enhebrando la aguja te ayuda a relajar la columna y flexibilizarla, asi mismo todos los músculos de la espalda, cuello y hombros, desde la posición de cuatro patas estira tu brazo derecho al piso y permite que tu hombro derecho se relaje el brazo izquierdo estiralo hacia adelante pasandolo por encima de la cabeza mantén la postura 10 respiraciones profundas y luego repite con el otro lado.
3_Threading the needle helps you to relax your spine and make it more flexible, as well as all the muscles in your back, neck and shoulders. From the four-legged position, stretch your right arm to the floor and allow your right shoulder to relax and pull your left arm forward over your head.
#hiveamigos espero te ayuden estas posturas fáciles de realizar no te tomara mucho tiempo y lo puedes hacer antes de acostarte para que te relajes y tengas un sueño reconfortante en próximos post compartiré mas posturas que espero sean de tu beneficio como lo ha sido para mí, muchas gracias por tu visita Namasté 🙏 💖
hiveamigos i hope these easy postures will help you, it won't take long and you can do it before you go to bed so you can relax and have a comforting sleep in next post i will share more postures that i hope will be of your benefit as it has been for me, thank you very much for your visit Namaste 🙏 💖
Todas las imágenes son de mi propiedad tomadas con teléfono Samsumg J2 Prime, la primera imagén fue editada por mi con App Picsa
All images are from my property taken with Samsumg J2 Prime phone, the first image was edited by me with App Picsa