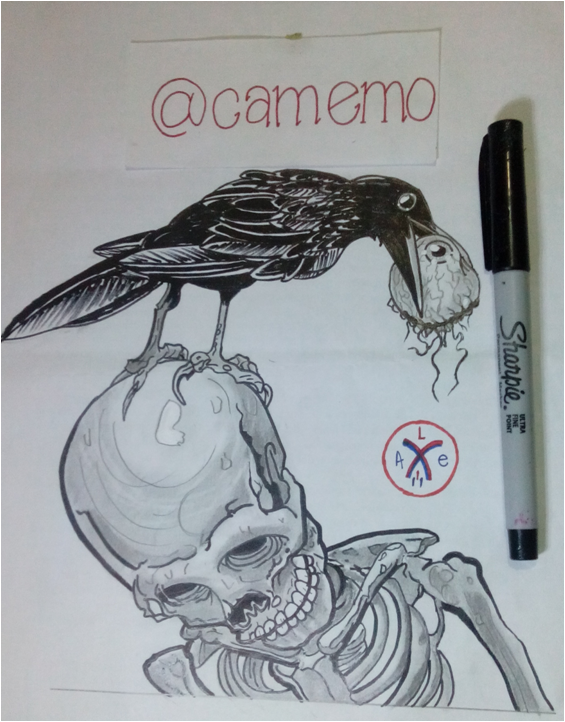 El Cuervo
Hola que tal amigos de esta comunidad, conocedores del arte en general, hoy regreso con mi participación en los concursos de arte de splinterlands en los que me alegro de participar.
Luego de que una batalla concluye, los cuervos aprovechan de darse un festín con los cuerpos de todos los monstruos que mueren en batalla, es por esto que nace la inspiración de compartirles este dibujo que muestra en resumen lo que sucede al terminar cada batalla.
Hello, how are you friends of this community, connoisseurs of art in general, today I return with my participation in the splinterlands art contests in which I am glad to participate.
After a battle concludes, the crows take advantage of feasting on the bodies of all the monsters that die in battle, that is why the inspiration is born to share this drawing that shows in summary what happens at the end of each battle.

MATERIALES UTILIZADOS // USED MATERIALS
---
Lapices (H,HB) - Pencils (H, HB)
Portaminas para Ojos - Mechanical Pencil for Eyes
Hoja de Papel - Paper sheet
Marcador - Marker

PROCESO DE CREACIÓN // CREATION PROCESS
---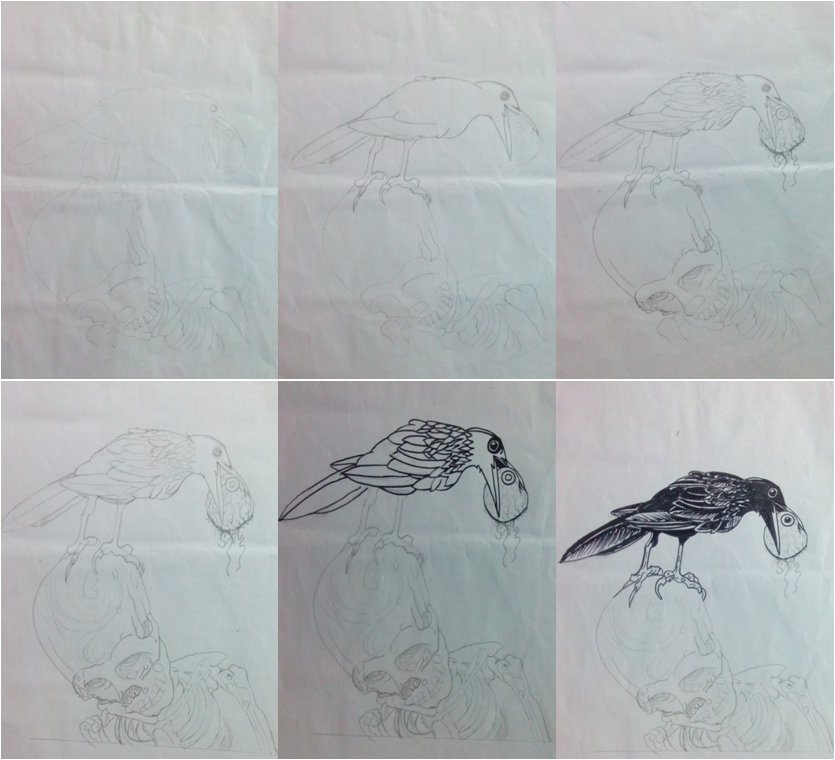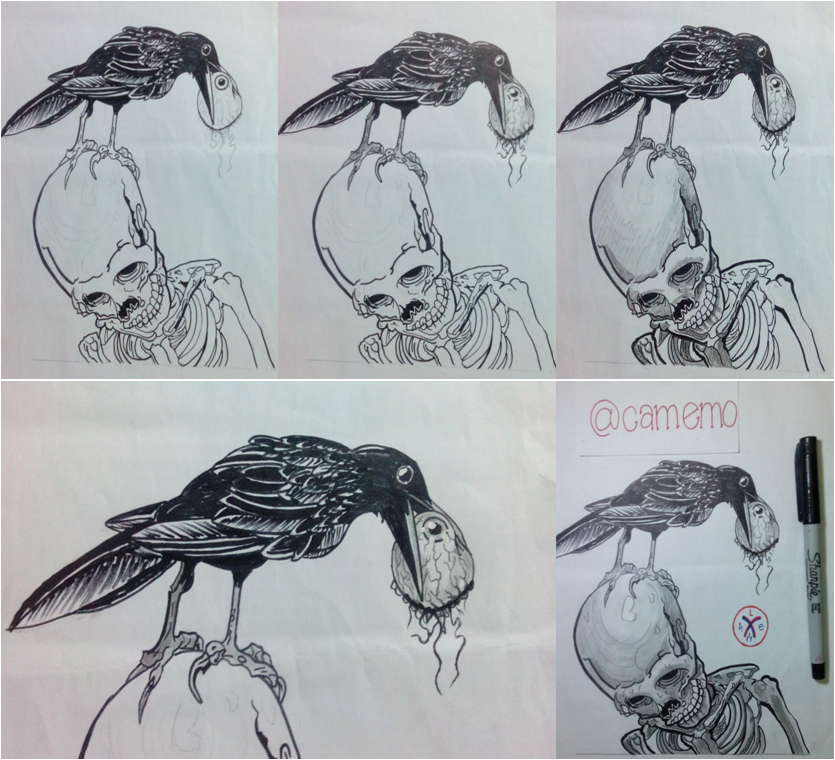 El inicio de este dibujo es realizando un boceto muy claro de la figura para poder eliminar cualquier defecto fácilmente. Luego con un lápiz mas oscuro voy poco a poco resaltando las lineas principales de la ilustración para darle el sentido a la misma. Seguido a esto me concentré en el cuervo para con ayuda de un marcador negro poder dar todos los detalles que resaltan en este animal, el plumaje, las patas, el ojo en su pico, todo el dibujo se concentra en él. Luego es momento de realizar el esqueleto que esta vez fue victima de sus deseos para poder terminar la creación, en él resaltan las sombras realizadas con un lápiz muy claro para dar todos los efectos de reflejos y profundidad.
The beginning of this drawing is making a very clear sketch of the figure to be able to eliminate any defect easily. Then with a darker pencil I go little by little highlighting the main lines of the illustration to give meaning to it. Following this I focused on the crow so that with the help of a black marker I could give all the details that stand out in this animal, the plumage, the legs, the eye in its beak, the whole drawing is concentrated on it.
Then it is time to make the skeleton that this time was the victim of his wishes in order to finish the creation, in it the shadows made with a very light pencil stand out to give all the effects of reflections and depth.

ESTA ES MI CREACIÓN PARA PARTICIPAR EN EL CONCURSO DE SPLINTERLANDS DE ESTA SEMANA. ESPERO QUE LES GUSTE TANTO COMO A MI Y TAMBIÉN ESPERO LEER SUS OPINIONES Y COMENTARIOS.
THIS IS MY CREATION TO ENTER THIS WEEK'S SPLINTERLANDS CONTEST. I HOPE YOU LIKE IT AS MUCH AS I DO AND I ALSO HOPE TO READ YOUR OPINIONS AND COMMENTS.
NO QUIERO DESPEDIRME SIN ANTES INVITARLOS A QUE PARTICIPEN EN LA INICIATIVA #POSH QUE ESTA PREMIANDO CON VOTOS A LOS CREADORES DE CONTENIDO Y TAMBIÉN A LOS QUE REALIZAN BUENOS COMENTARIOS. PUEDEN VER SU EXPLICACIÓN AQUÍ
I DON'T WANT TO GO UP WITHOUT BEFORE INVITING YOU TO PARTICIPATE IN THE #POSH INITIATIVE WHICH IS VOTINGLY AWARDING CONTENT CREATORS AND ALSO THOSE WHO MAKE GOOD COMMENTS. YOU CAN SEE HIS EXPLANATION HERE

SIGUEME EN MIS REDES SOCIALES