Buenas noches #hivers hoy queremos contarles un poco más de nosotros, de los que nos gusta, de lo que hacemos, como es esa convivencia en el trabajo, como separamos lo profesional de lo personal.
Good night #hivers today we want to tell you a little more about ourselves, about those we like, about what we do, how is that coexistence at work, how we separate the professional from the personal.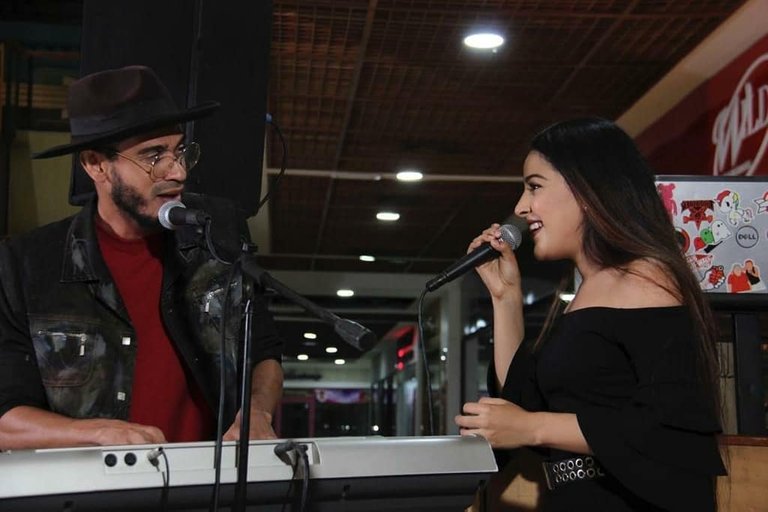 Comenzamos contandoles que Jorge y yo somos pareja, tenemos ya casi dos años desde que nos casamos y la verdad ha sido increíble.
La música para Jorge siempre estuvo presente, desde su niñez, en su familia casi todos son músicos, y creció en ese ambiente, rodeado siempre de tíos, primos mayores que respiraban música.
We begin by telling you that Jorge and I are a couple, we have almost two years since we got married and the truth has been incredible.
Music for Jorge was always present, since his childhood, in his family almost everyone is a musician, and he grew up in that environment, always surrounded by uncles, older cousins ​​who breathed music.
En mi caso, la música estuvo presente pero no tanto como en la vida de el o no de la misma manera, yo siempre fui fan de cantantes como Rocio Dúrcal, Gloria Trevi y Celia Cruz, fueron cantantes que me inspiraron muchísimo, me se muchas de sus canciones, y básicamente mientras limpiaba en mi casa siempre ponía música y trataba de cantar las.
En el día a día, tenemos siempre la música presente, cuando no estamos trabajando, estamos en el carro y vamos cantando, o cuando estamos en la casa nos sentamos a estudiar junto al piano y a la guitarra, cuando estamos cocinando pues escuchamos música, es un tema que siempre está presente en nuestro día a día y que de verdad no nos aburre en lo absoluto.
In my case, music was present but not as much as in his life or not in the same way, I was always a fan of singers like Rocio Dúrcal, Gloria Trevi and Celia Cruz, they were singers who inspired me a lot, I know many of his songs, and basically while cleaning at my house I would always put on music and try to sing them.
On a day-to-day basis, we always have music present, when we are not working, we are in the car and we sing, or when we are at home we sit down to study next to the piano and guitar, when we are cooking because we listen to music, it is a theme that is always present in our day to day and that really does not bore us at all.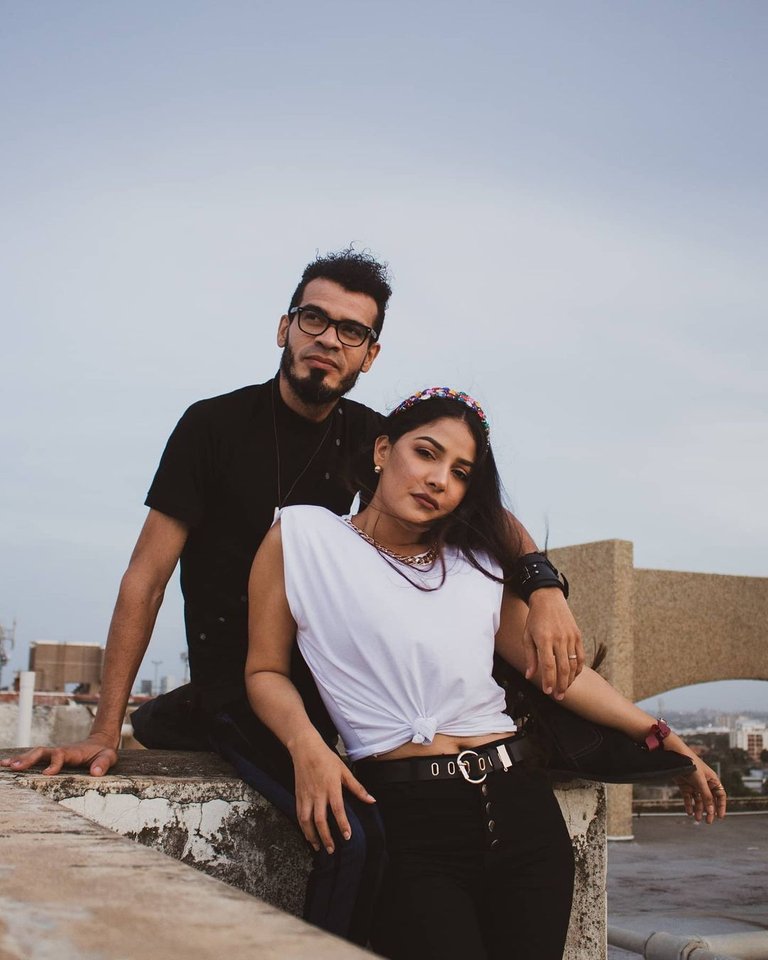 Jorge siempre está enfocado en llevar la música a un nivel extremadamente profesional, el estudio musicología y trabajo durante varios años como Vocal coach para diferentes artistas emergentes del país, en realidad eso era lo que el hacía. El dúo que estamos conformando hoy en día, forma parte de un proyecto relativamente nuevo en nuestras vidas.
Cuando comenzamos a trabajar en este proyecto, decidimos hacerlo porque era realmente lo que nos apasionaba y nos llenaba a los dos, así que bueno, comenzamos a ensayar y a hacer conexiones hasta que poco a poco hemos ido surgiendo, trabajando y superando obstáculos.
Jorge is always focused on taking music to an extremely professional level, he studied musicology and worked for several years as a Vocal coach for different emerging artists in the country, actually that was what he did. The duo that we are forming today is part of a relatively new project in our lives.
When we started working on this project, we decided to do it because it was really what we were passionate about and it filled us both, so well, we started rehearsing and making connections until little by little we have emerged, working and overcoming obstacles.
La verdad es que nos sentimos bastante emocionado de estar en esta plataforma y poder conocer y compartir con gente diferente y apasionada por lo que hace.
The truth is that we feel quite excited to be on this platform and to be able to meet and share with different people who are passionate about what they do.