Hi everyone!
Today I went to visit some customers in person, a activity that is usually normal for me, but in this period it is not daily, as I am still alternating the classic working method with the remote one.
As mentioned in the past, I deal with sales and consultancy to pharmacies and manage some leading brands in the sector. For this reason, physical presence and direct contact with my interlocutor are fundamental for the planning of all our sales strategies and the achievement of the objectives we have set ourselves.
So, while waiting for my client to free himself from a commitment he had before my arrival, I went out for a walk in the square in front of the pharmacy.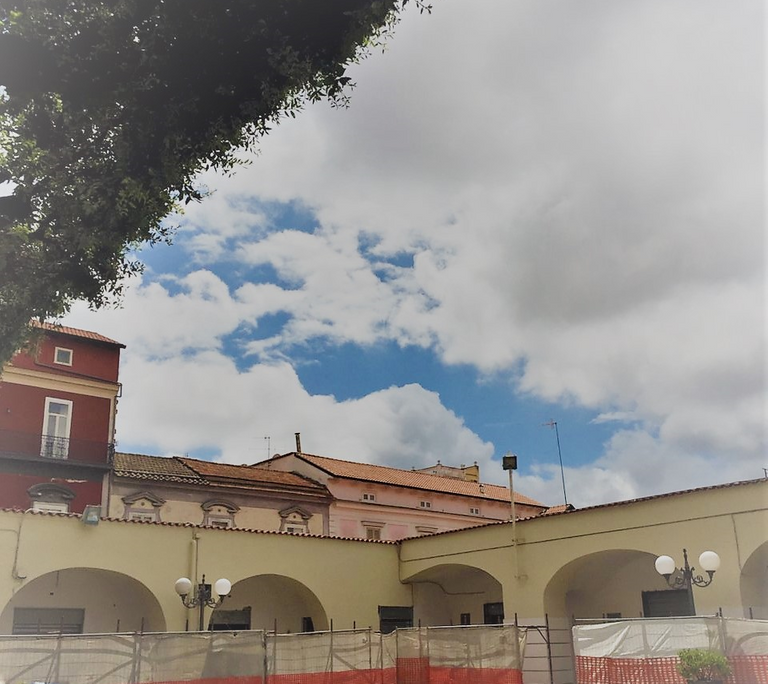 I was in Villaricca, a municipality north of Naples and it was 2 p.m., so there were very few people on the street.
The only ones who saw me taking photos at the time were the workers who were busy renovating the facade and some arches: in fact, as you can see, there are scaffoldings in the photo.
One of these workers, a picturesque man with thick white hair, yelled at me to return in a few days to photograph the square after the work was finished, assuring me that it would be more beautiful. I smiled at him from under the mask and nodded to him.

The Italian villages are all very rich in history and, in fact, it took me little to realize that I was in an important square in that city. It wasn't the first time I went there, but I never realized it before.
In fact, it's Piazza Maione, a place dedicated to the pilot captain Giuseppe Maione who was the victim of an accident that occurred on April 18, 1939 during an exercise on the airfield of Mondovì (Turin).
This you see here is the marble plaque that celebrates him, narrates his exploits, to mention his sad end.
The plaque is affixed to the facade of the Baronial Palace, a 15th-century construction commissioned by Baron Giovanni Antonio Parisio, who at the time owned the village of Panecoclo (ancient name of Villaricca).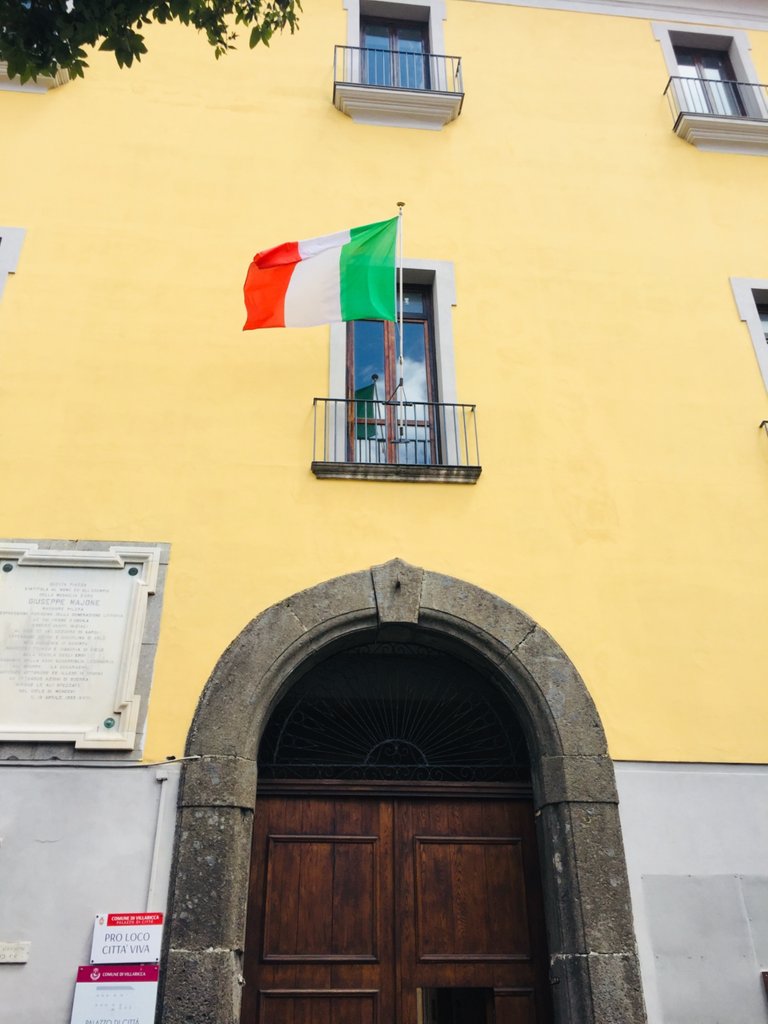 The Palace, which today hosts events and meetings, but is also the headquarters of the municipal offices, has an underground that extends up to 30 meters deep, where the dungeons dating back even to the Norman era are located.
In short, many times I had been in this place rich in history and I didn't know it...
The square is also full of beautiful trees and, although it was hot, it felt really good because there was a breeze that dampened the strength of the sun.
In this view it is possible to appreciate the beauty of nature combined with that of the history of this square...I think it is really very characteristic.
In some moments it almost felt like I was in a park, as these photos can testify and I was almost about to sit and relax on one of the benches in the square.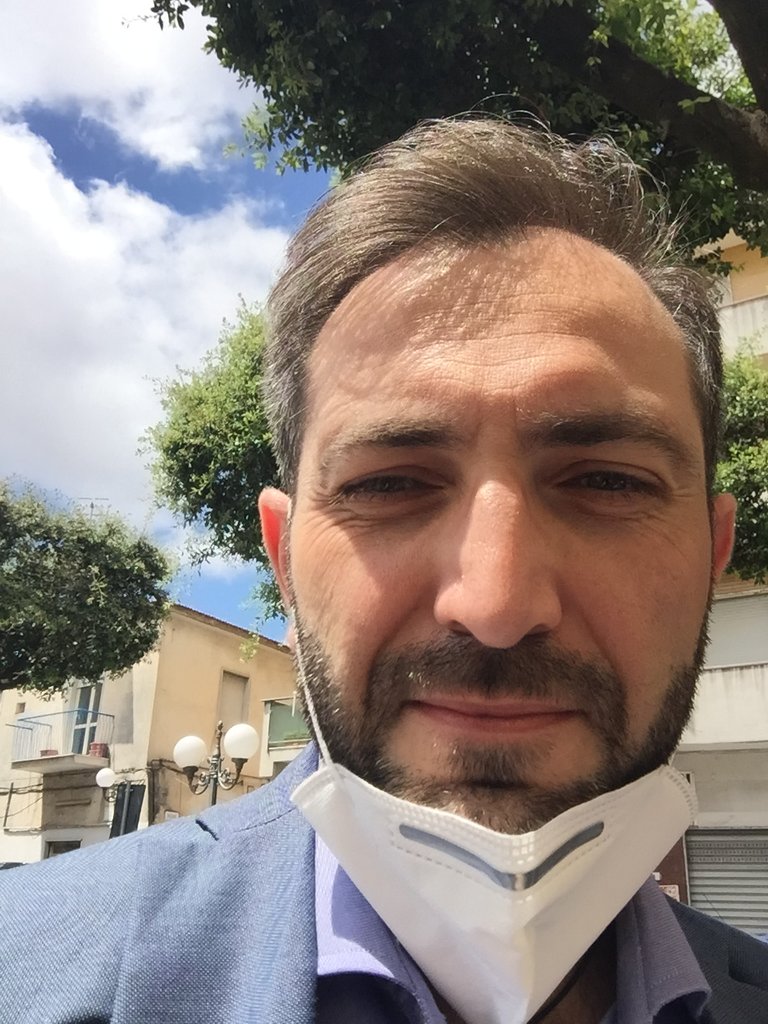 But then I remembered that I was there for work...so I pulled up the mask again and headed for the pharmacy.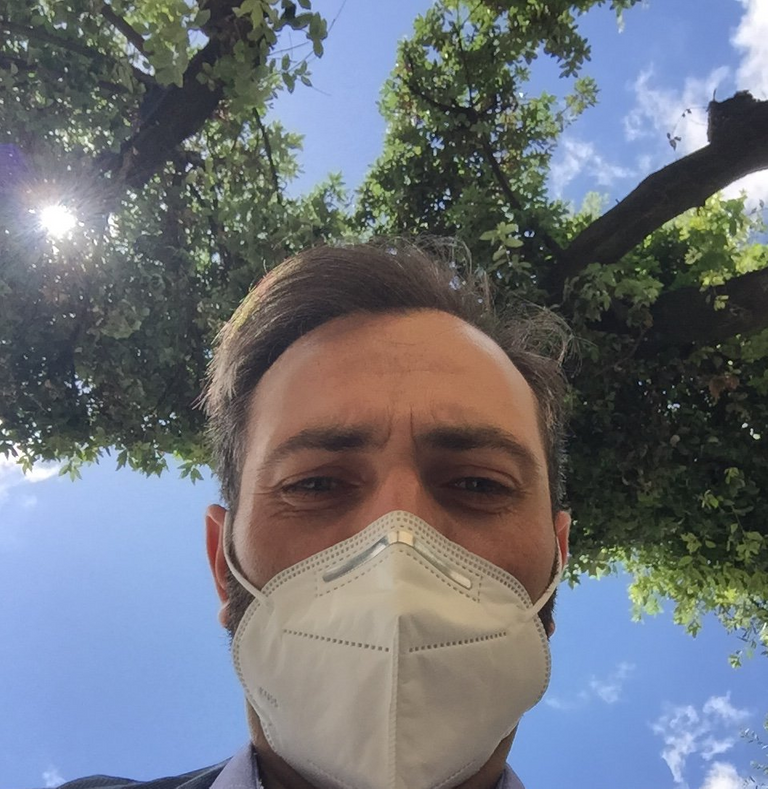 Happy to have shared this beautiful place with you, hoping you enjoyed the post, I greet you with affection.
See you next time!

Thanks to all of you for reading my article.
If you liked it, share it on your blog and write me a comment with your impressions.
See you soon!
GM
---
All images are exclusive property of the author
---

Credits @doze