Hola queridos lectores, curadores y comunidad en general, hoy se lanzaron las nuevas cartas de Splinterlands y en esta publicación presento mi opinión.
Hello dear readers, curators and community at large, today the new Splinterlands letters were released and in this post I present my opinion.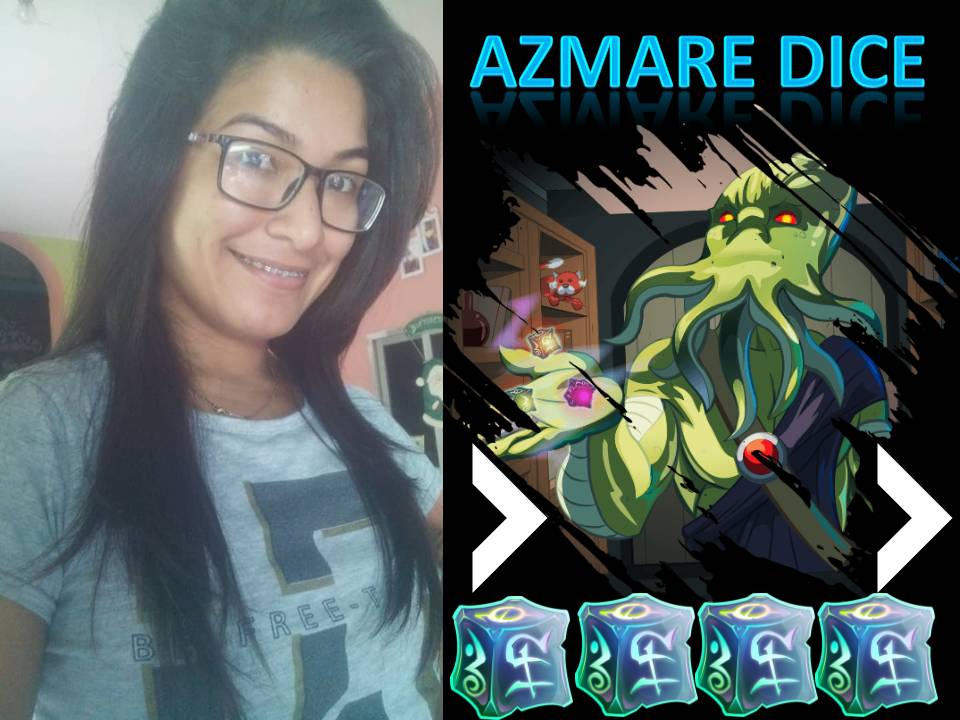 FUENTE

Splinterland es un juego de cartas coleccionables y batallas muy entretenido y con buenas recompensas para sus jugadores. Participar en los retos semanales también e una buena forma de obtener recompensas ya que si cumples todas las reglas recibirás un voto del equipo de Splinterlands que te ayudará a crecer en la plataforma y por supuesto en el juego.
Empieza en este gran juego desde este Link
Los dados Azmaré son una nueva actualización de cartas que se lanzaron el día de hoy pero que ya muchas personas lo conocen porque en el transcurso de las ultimas semanas se han dado avances de los monstruos que incluirán y las nuevas habilidades. Esta es una actualización que se esperaba hace mucho tiempo ya que la edición promo de cartas se había quedado sin paquetes al acabarse los orbes.
Pueden leer las noticias oficiales desde el Blog Oficial.
Lo que si conocemos es que seran 25 nuevas cartas de las cuales se conocen 20 y las otras 5 serán lanzadas como airdrop. Ademas, solo se podrán comprar con DEC y que ademas los DEC que se utilicen para comprar serán quemados o sacados de circulación para evitar la sobrecarga de DEC. Solo el día de hoy se han quemado más de 40M de DEC que se gastaron en dados.
Splinterland is a very entertaining collectible card and battle game with good rewards for its players. Participating in the weekly challenges is also a good way to get rewards since if you follow all the rules you will receive a vote from the Splinterlands team that will help you grow on the platform and of course in the game.
Get started in this great game from this Link
The Azmaré dice are a new update of cards that were released today but that many people already know about it because in the course of the last weeks there have been advances of the monsters that they will include and the new abilities. This is a long overdue update as the promo card edition had run out of packs when the orbs ran out.
You can read the official news from the Official Blog.
What we do know is that there will be 25 new cards of which 20 are known and the other 5 will be launched as an airdrop. In addition, they can only be purchased with DEC and that also the DEC used to purchase will be burned or taken out of circulation to avoid DEC overload. Just today, more than 40M DEC have been burned, spent on dice.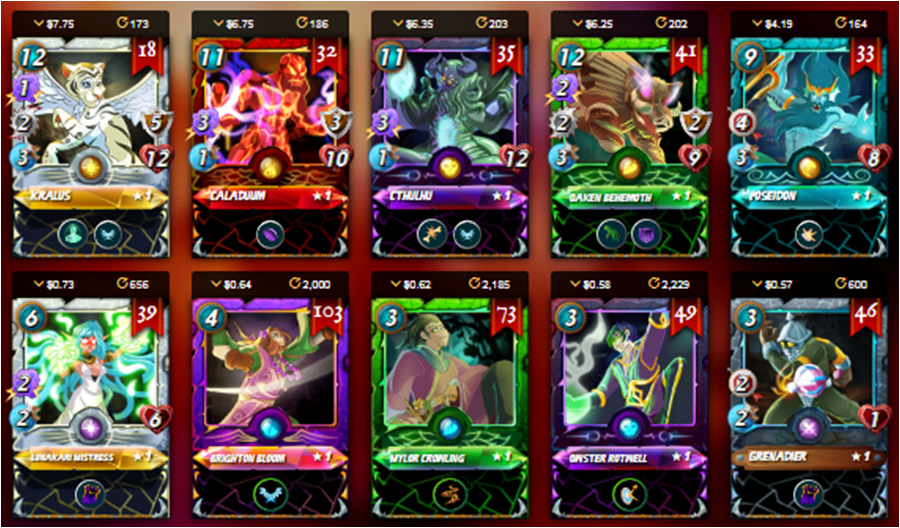 FUENTE
En este link pueden encontrar las reglas a seguir para que ustedes también puedan participar y ganar sus votos.
En la imagen anterior se muestra un resumen de las mejores cartas que se han obtenido hasta los momentos organizadas por su valor en el mercado, en las cuales como era de esperarse se ubican principalmente las cartas legendarias.
In this link can find the rules to follow for that you too can participate and win your votes.
The image above shows a summary of the best cards that have been obtained so far organized by their market value, in which, as expected, the legendary cards are mainly located.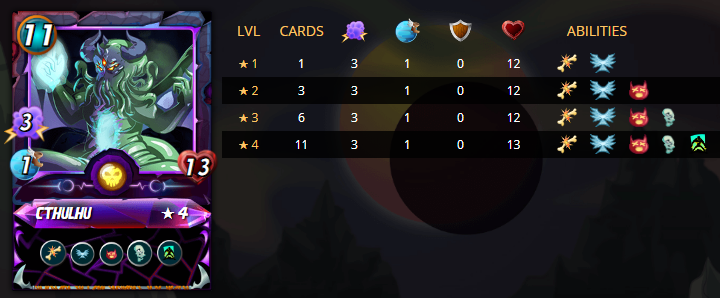 De las nuevas cartas que se han conocido la que les muestro en la imagen anterior es la que mas llama mi atención, debido a su cantidad y calidad de las habilidades que posee. No siempre vemos una carta con 5 habilidades y mucho menos con las que este posee. Lo que tal vez puede jugar en su contra es el nivel de mana de 11 pero vale cada nivel el poder utilizarla ya que al ser legendaria su nivel de mana debe ser alto.
Of the new cards that have become known, the one I show you in the previous image is the one that most catches my attention, due to its quantity and quality of the skills it possesses. We do not always see a card with 5 abilities, much less with the ones it has. What may work against it is the mana level of 11 but it is worth each level to be able to use it since being legendary its mana level must be high.

SPLINTERLANDS SIEMPRE SE ENCUENTRA AL PENDIENTE DE RENOVAR LA FORMA Y CARTAS DENTRO DEL JUEGO PARA SIEMPRE MANTENERLO ENTRETENIDO Y NO DEJAR DE SER UN ATRACTIVO PARA TODOS LOS JUGADORES ACTUALES Y LOS NUEVOS QUE PUEDAN LLEGAR.
SPLINTERLANDS IS ALWAYS ON THE PENDING OF RENEWING THE FORM AND CARDS WITHIN THE GAME TO ALWAYS KEEP IT ENTERTAINED AND NON-STOP BEING AN ATTRACTIVE FOR ALL CURRENT AND NEW PLAYERS THAT MAY COME.
LOS INVITO A DEJAR SUS COMENTARIOS A CONTINUACIÓN, ASÍ ESTARÁS PARTICIPANDO EN LA INICIATIVA

#POSH

LA CUAL PUEDES ENCONTRAR SU EXPLICACIÓN EN ESTA

PUBLICACIÓN

Y TU TAMBIÉN PARTICIPAR.

I INVITE YOU TO LEAVE YOUR COMMENTS BELOW, SO YOU WILL BE PARTICIPATING IN THE #POSH INITIATIVE WHICH YOU CAN FIND ITS EXPLANATION IN THIS POST AND YOU ALSO PARTICIPATE.

Traducido por GOOGLE TRADUCTOR