Roughly six years ago we entered the foster care scene because our five children had grown up and were venturing out on their own. After our home emptied so quickly we felt a bit at a loss and didn't quite know what to do. I realize many parents would treasure that alone time and pursue their hobbies but we're a little different.
Children have been our lives and we have never really been without them. So when suddenly every room in the house is empty and there are no voices, laughter, or stomping feet, it gets eerily quiet and lonely.
Looking at three empty bedrooms, empty beds, boxes of old toys, cupboards of unwanted clothes, and a shed of children's bikes... we entertained the thought of homing other children. But whose? Then one day an ad popped up on my PC and it was a fostering crowd looking for people to foster children.
Fostering is not something you get into because you want to earn an extra income, to the contrary... it's a money hungry venture, especially in New South Wales. We realized this from the start as we looked further into the requirements to become foster parents.
The fostercare agency wasn't that big so we figured it might be better than a really large organisation which might be more impersonal.
We read all the fine print and ensured we had everything they specified in order for us to have foster children in our home. Safety railing, fencing, lockable first-aid cupboard, bedding, beds, their own bathroom, cellphone, comprehensive car insurance, house insurance, citizenship status, working with children clearance, and recent police check. You even have to undergo a personal health check!
After approaching the agency they came out to check what type of home we had, so they could decide what type of children we could house.
Not long after, we were enrolled in one of their foster care courses to help us better understand the environment these kiddies came from. Abusive homes, addictions such as drugs, and alcohol. Violence... physical and mental abuse, and the list of horror stories continued during those 6 weeks of training.
Our heads were spinning with a serious overload of information but also with the thoughts of being able to help some kids who needed a safe place to live. The day we finished our fostercare course we left with a glossy certificate around lunchtime.
We did some shopping in town before we would head back 36 kilometres down the road to our 130 acre property, but we received a phone call asking if we were still in town and could we pick up our first foster child that afternoon. That's how we entered foster care.
Caring for children is in our nature and when these kiddies arrived at our place, most were seriously beaten, bruised and battered because we had opted for emergency care firstly and short-term secondary. Fleas, lice, scabs, filthy knotted hair with scalp sores, were the most common issues... next to bruises. The one thing you don't see is the mental abuse that has occurred.
These children came with the clothes they had on and if we were lucky enough a bag with some extras. Sometimes the Case Worker would leave us with a toothbrush, or nit stuff, but mostly nothing more than... "here's the kid, bye".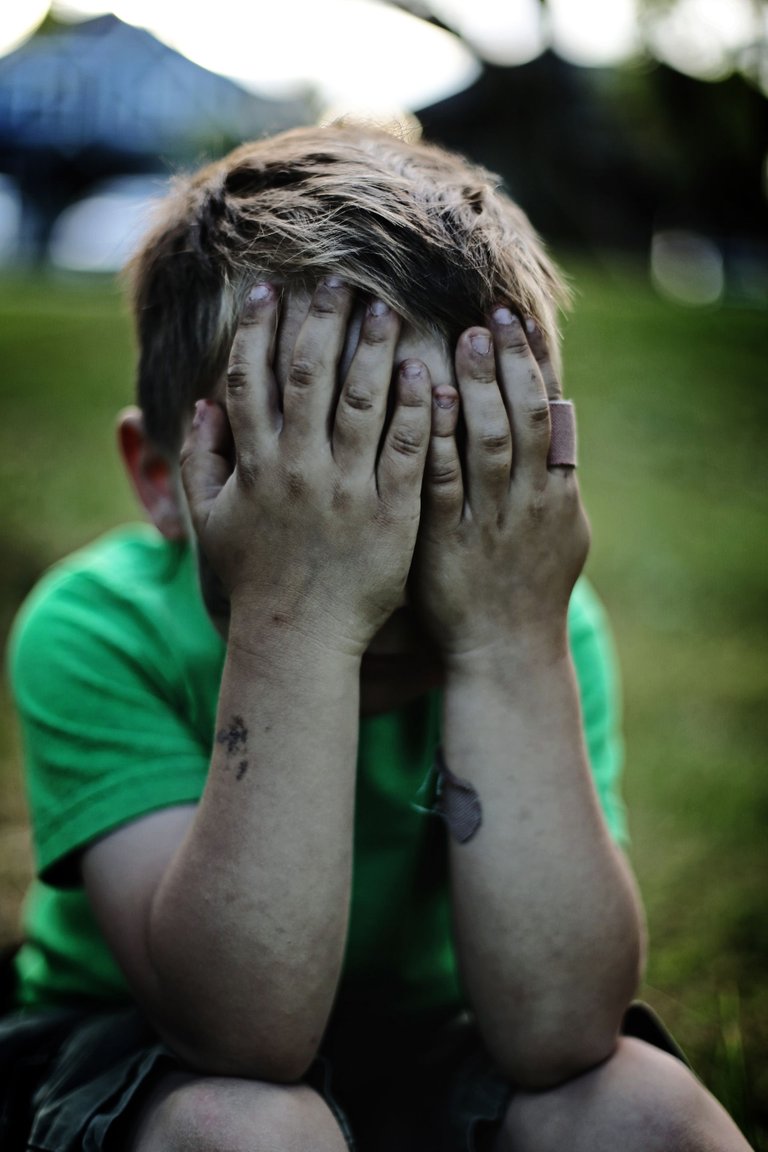 Source: https://www.unsplash.com
Emergency care is like that I guess... (going by our experience), unless we had an agency that didn't practice proper care.
We had some beautiful children in our care, absolutely adorable little characters. They were enormously appreciative of anything we did for them. We had some great times with all 27 placements we were given during those 18 months. Their ages ranging from 2 years to teenage years and from Caucasian to Indigenous.
Basically we had children overnight, weekends, and some stay for up to six months with an extra one here and there. The most interesting thing about fostercare is the fact that you never know who you are going to get next.
A knock on the door at midnight and we were left with 2 siblings, a four and a two year old. Scabs, nits, festering wounds... and yet these little darlings managed to smile. Amazing resilience these kids have but I'm sure their mental health will suffer, but probably not show until later on in life.
Sexually abused children are common too besides the physical and mental abuse some had suffered. The delicate balance of care... touch, hug, hand shake, or keep your distance is basically trial and error. Put your feelers out and see what each child prefers.
With the little ones we usually found after we bathed them and tended to all their sores... or ouchies, as we called them, put cozy new pyjamas on them, and gave them their own pillow and blanket they were more than ready for a hug, snuggle or some comforting arms from Nanny and Poppy, as we introduced ourselves to them. We didn't like the first name basis so we became Nanny and Poppy to them... and the children loved it.
Being parents of five children ourselves , we know the importance of a loving touch and relationship, and the most difficult part is when you form that relationship. You can't afford to get attached to every child that crosses your threshold because you and the children will get hurt. You can't keep them unless you become a forever family where you adopt your foster child. The attachment you form is to help the child to establish a safe feeling, so they can continue living in a completely different environment. Obviously very different from where they came from.
Foster caring is definitely not for everyone but if you are contemplating to go this direction you won't be disappointed. It's most rewarding to help children who need a safe place. There is a downside to everything and same goes for fostercare.
It's generally not the children that are the problem but the agency for not providing the services needed in order to help these little darlings better. For example, it took an incredible amount of time (15 months) just to organise orthopaedic shoes for one girl in our care. She had been waiting for these shoes while she was in care with other people.
One teenage boy had been waiting three years for dental treatment. His teeth were almost non- existing. Nothing happens in a hurry in foster care so it seems. That is one of the most disappointing things for me because these children need help now... not months or years down the track.
Name changes happen occasionally too. Children came into our care who had a different name to their birth name. Especially indigenous children. Some children were old enough to relay their given birth name (first and surname).
Reason for this?
Protection from violent parents for some of the children... or unauthorised removal from parents for others perhaps.
It's hard to know what to do under those circumstances but you just push on and do the best you can. As foster carers you can't afford to get to involved because you will be classed as non- team players if you do, and you won't receive any further help from the agency, as we found out. Sadly that's the reality of this world we live in. Unfortunately it's the children that suffer... again.
Parents effected under forced removal of their children by government child protection services suffer greatly. Some removals are warranted while others are totally unjustified and sadly lengthy court cases create further stress and suffering for these families. There are few groups out there who will support and help those people.
Due to the fact fostercare agencies have policies and procedures, you will need to abide by these. Unfortunately they're not guidelines that can be broken or worked around, much to the distress of the many children, parents, grandparents, and foster carers that are entangled in this system... due to no fault of their own obviously.
I spoke to one couple who had seen both sides of the fostercare system... they had been social workers as well as foster carers. According to them the fostercare system in Australia was a "legalised child slave trade". Strong statement because of their personal experiences in a system where frustration reigned supreme. Their mental health and physical well-being suffered due to factors such as zero support from their fostercare agency, no encouragement from other people, no respite care, and no extra money to cover unexpected expenses.
I fully understood where they were coming from because we received a meagre $225 a week per child. You literally pay for everything, shoes, clothes, nappies, food, school fees, uniforms, and school outings. Fortunately the children have healthcare cards but all medication is supplied by the agency anyway. You're not allowed to give children any prescription medication without agency approval.
Some fostercare agencies are better than others and provide wonderful support, extra financial assistance and respite care. Carefully consider the agency to join if you wish to venture out into this area and do your research. Should you decide to tackle fostercare then you will definitely make some children extremely happy by providing a safe place for them.
Anyone can become a carer; foster carers can be a married couple, single, or same sex couples. You can become a carer even if you have biological children living with you already, but consider the ramifications of bringing other children into your home and how this could have positive or negative impacts on your family.
Whatever you decide, I hope it's the right decision for you and your family. If you're interested in some statistics in Australia follow this link https://www.aihw.gov.au/reports/australias-welfare/child-protection
Quote
"State and territory child protection services supported more than 178,800 children in 2020–21. This has increased from about 168,300 in 2016–17.
Between 2016–17 and 2020–21, notifications increased by 40% (around 379,500 in 2016­–17 to nearly 531,900 in 2020–21) while substantiations increased by only 7.2% (around 68,000 to nearly 72,900).
Nearly 49,700 children were subject to substantiated abuse or neglect. Emotional abuse (55%) was the most common primary type of abuse or neglect substantiated through investigations in 2020–21. This was followed by neglect (21%), physical abuse (14%), and sexual abuse (10%).
At 30 June 2021, more than 46,200 children were in out-of-home care, a 7.3% increase from 30 June 2017 when the number of children was approximately 43,100. At 30 June 2021, 91% were in a home‑based care placement and 68% had been continuously in out-of-home care for 2 years or more."
End quote

Images and written work is my own unless otherwise specified
©️ingridontheroad