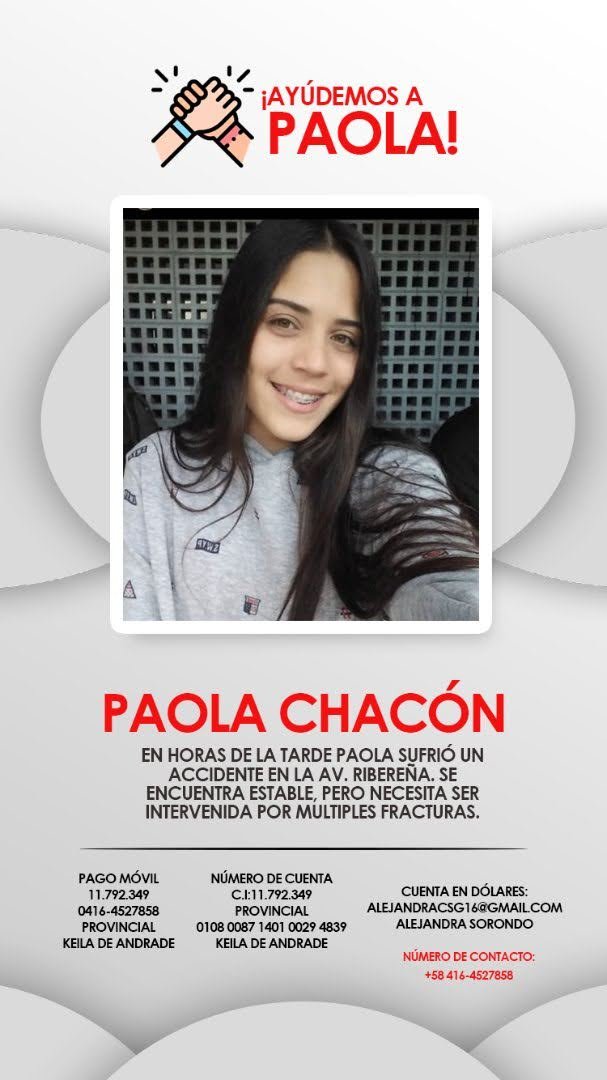 Paola Chacon is a fellow student at my university, yesterday September 14 suffered a major accident in which he suffered multiple fractures around his body, by the same means I come to ask for your help, as their parents do not have the means to afford all operations and medical expenses, through today and September 15 she has already undergone several operations, likewise ask for help from the community hive so that all together we can give some support.
Paola chacon es una compañera de estudios de mi universidad, el dia de ayer 14 de septiembre sufrio un gran accidente en el cual sufrio multiples fracturas alrededor de su cuerpo, por los mismos medios vengo a pedir su ayuda, ya que sus padres no cuentan con los medios necesarios para poder costear todas las operaciones y gastos medicos, por el mediante ya hoy 15 de septiembre ella ya ha sido sometida a varias operaciones, de la misma manera pido ayuda a la comunidad de hive para que todos juntos podamos darle algo de apoyo.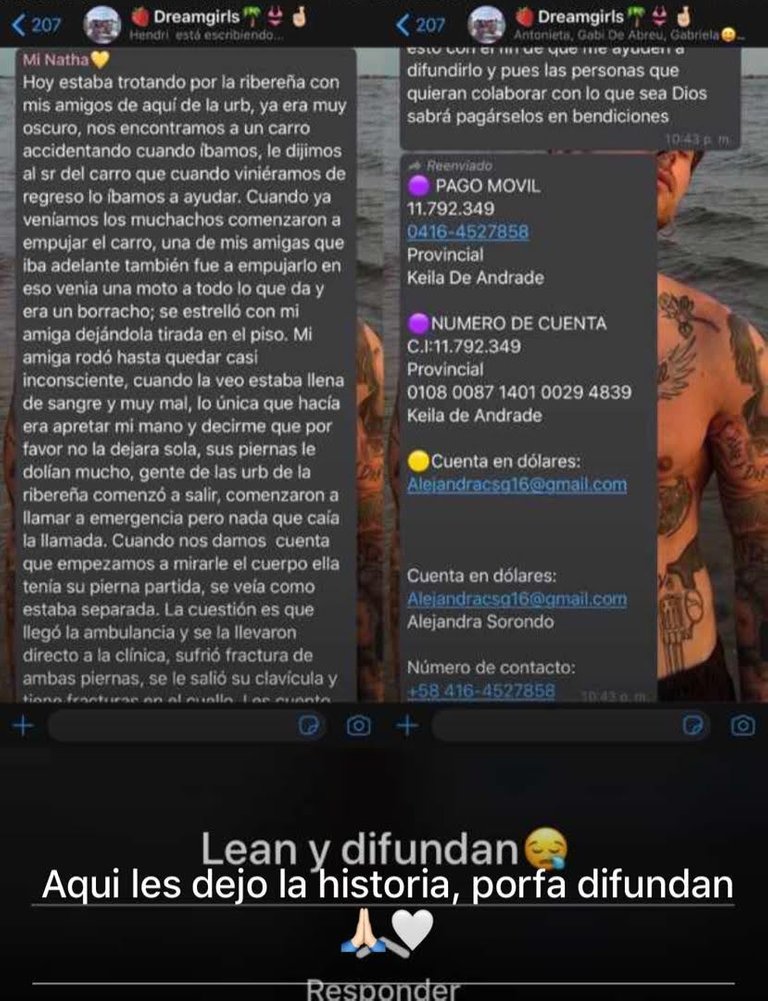 Translation.
Today I was jogging along the Av Ribereña with my friends from here in the urb, it was already very dark, we found a crashed car as we were going, we told the gentleman in the car that we would help him on the way back. We started to push the car, one of my friends who was ahead also went to push it in that came a motorcycle at full speed and was a drunk, was spoiled with my friend leaving it lying on the floor. My friend rolled over until she was almost unconscious, when I saw her she was full of blood and very bad, the only thing she did was to squeeze my hand and tell me that ¨ please don't leave her alone ¨ her legs hurt a lot, people from the urbanization of the riverside began to call emergency, but the calls did not go through. When we realized that they had taken a good look at her body, she had a broken leg and it looked like she was separated. The question is that the ambulance arrived and they were able to take her to the clinic. She suffered a fracture in both legs, her collarbone came out and she has a fracture in her neck.
This was yesterday.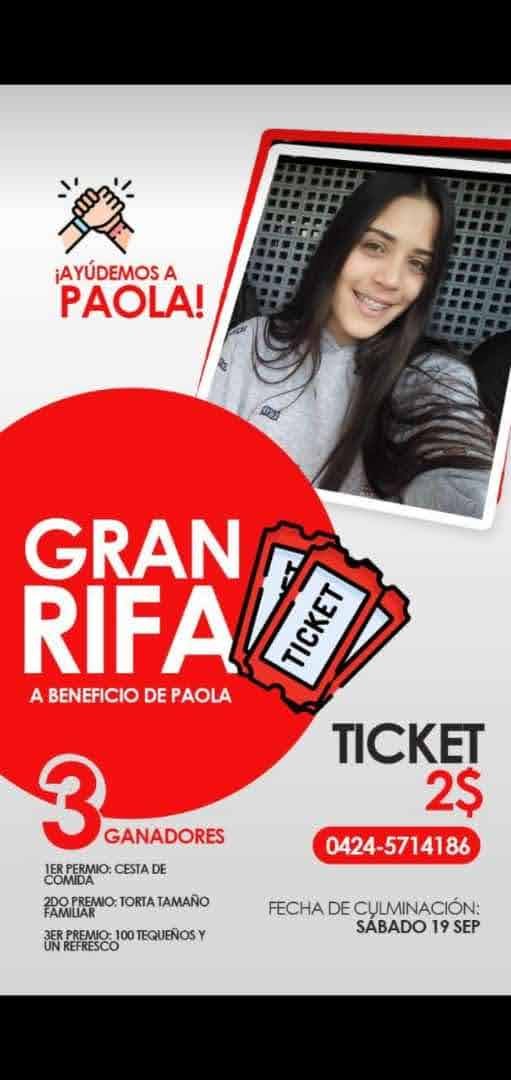 Raffles are being organized, you can participate, if you have to win, I will take care that they are donated to people in need and I will update the status of this post.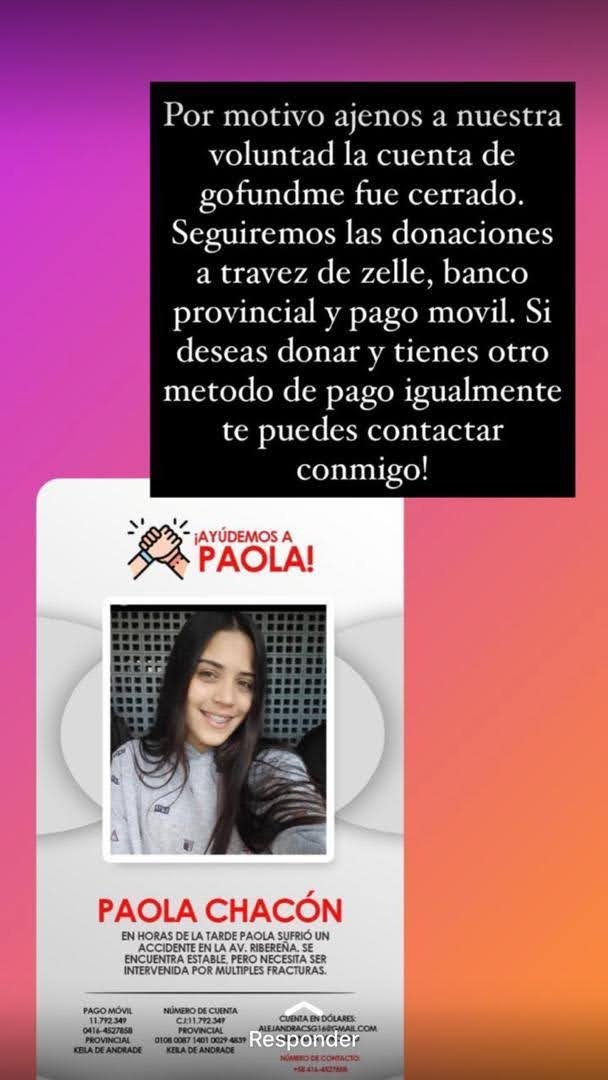 Currently we do not have a gofundme campaign since the one we had needed a resident in the United States, we did not have that capacity and unfortunately they closed the campaign.
I will leave you some links, the first one is the instagram publication that her sister made, the other one is a story of a reporter from my state, who is spreading paola's story. Any collaboration is welcome. All profits from this post will be paid with reward.app to be sent to her family.
Thanks to my friend @brataka , who sent me hives, for me to make the change to my local currency, in this way it will reach his family.
https://instagram.com/gabiteran?igshid=179fq3q8hnn2h