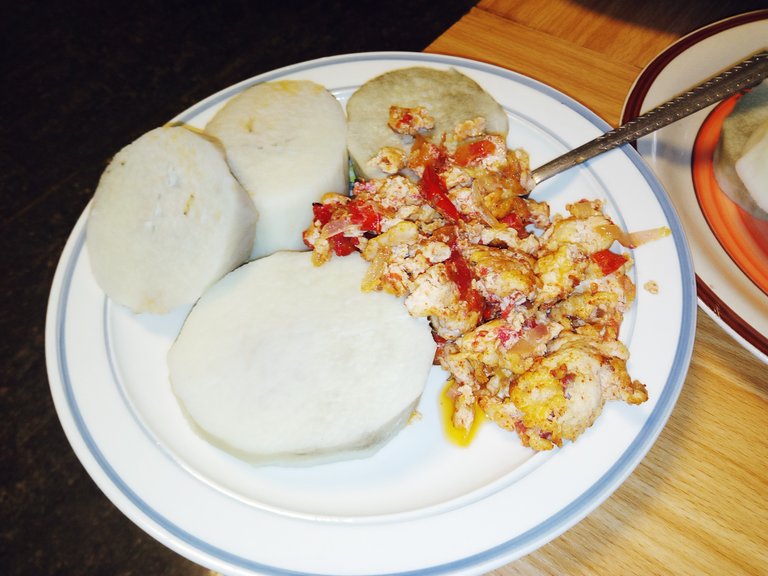 Hello Hivers 💕💞,
it's Holiday. Here in ilorin kwara State Nigeria and throughout some parts of the country it is due to the fact that it is Ileya festivity period. Ilorin kwara state being a Muslim dominated town made everything more simpler, how and what do I mean by this ? The traffic is lesser than what it used to be.
I was out to the farm today to see the affairs of my poultry birds which are the Turkey. And I find out that almost everywhere connected to each other was found scanty. Everybody is indore doing and celebrating this festival. But for myself personally I rove round the town and it's like just a ghost town but I'm just feel occasions I saw people in the market and also selling Ram and chicken for this particular festival as well.
Along unity road, here in ilorin kwara State Nigeria we actually saw so many people gathered and also selling chicken birds for this particular festival too. It's a great time enjoying the holiday indore with my family members. For the breakfast we had this and I was unable to post it due to some reasons but now it is here and it is very hot hot.
Yam With Dried Egg Sauce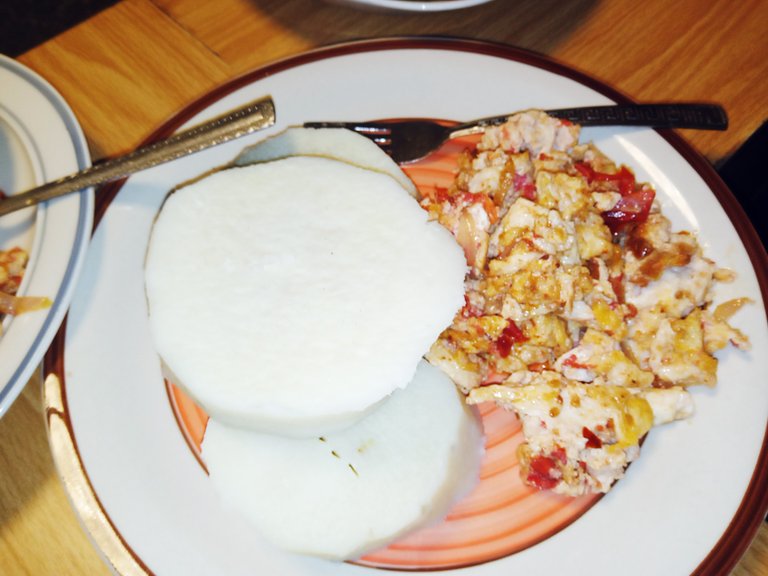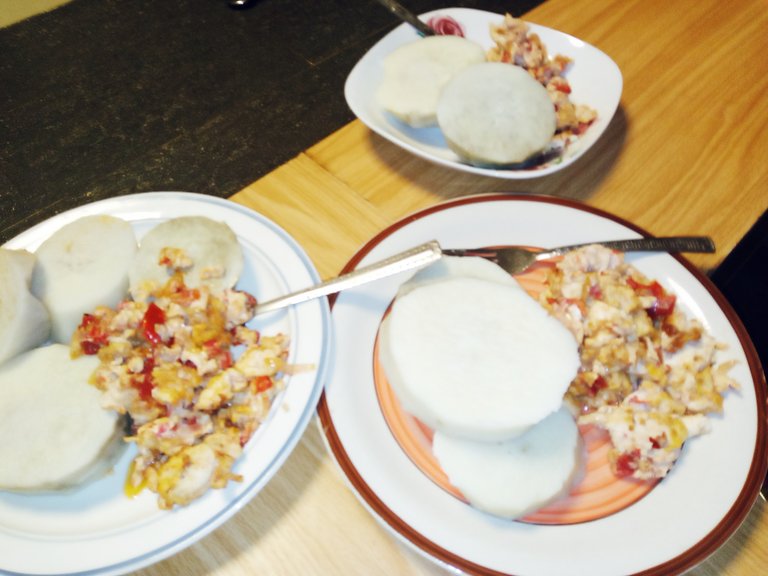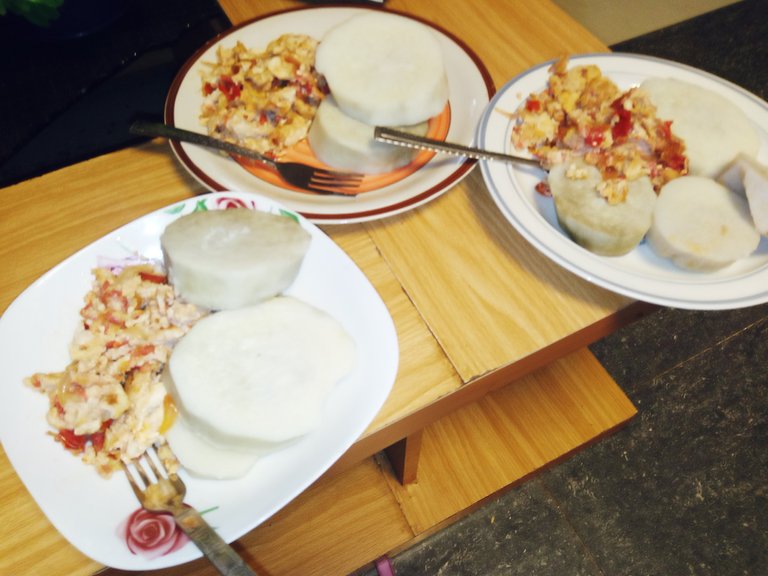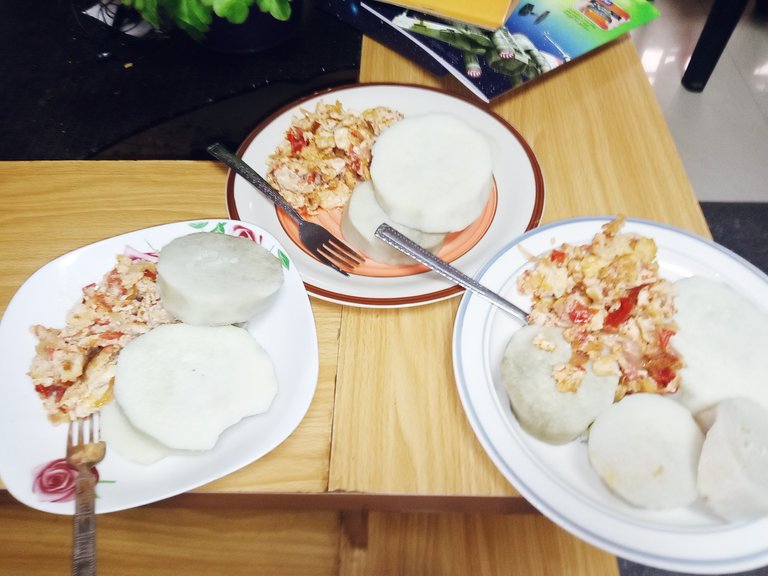 Happy New Month Of August ✌️✌️.
Join The New Community For Agricultural Mindset 🌴🌿🍀🐐🐃🐇🦌🐰🦡🐺 On Hive
Mobile Phone Capture Details. ( Infinix Note 5 )
MAIN CAMERA
Single 12 MP, f/2.0, 1/2.8", 1.25µm, PDAF
Features Dual-LED dual-tone flash, panorama, HDR
Video [email protected]
SELFIE CAMERA
Single 16 MP, f/2.0, 26mm (wide), 1/3", 1.0µm
Features LED flash
Video [email protected]
---
Thanks For Stopping by And checking Out My Blog 📝📖🗒️
---
Original content by me, @mattsanthonyit
---
Please important note▶️, order than any stated link in my post otherwise every other photographs used in my posts are originally taken and owned by me @mattsanthonyit, if you like them and wish to use any of my images please contact me privately. Thanks🔛.
---
🗓️Date Capture: 1/8/2020. 📸Medium capture: Infinix Note5 Smartphone. 🌍Location: Ilorin.Kwara State. Nigeria. 🕰️Time: 5:29pm ⚡Posted with: peakd.com
---
If you actually like what you see😃😄😉,watch📷📺📸 and read📖📋 I would equally be grateful for an upvote♥️⚡ a very cool comment under my comment box or a resteem 🌀😏 for everyone to see ... and perhaps maybe you would like to follow me for more of my Post to show on your own feeds. Don't miss any of my Post.🔝. Special thanks to all who put big smiles on my face with Auto Upvote for always being supportive to me 💞💯.
---
Thank you for visiting my blog.
---
You Can As Well Join Me On Other Social Platform.
Twitter:
Check out Matthew O. Akinlotan [peakd @mattsanthonyit ] (@mattsanthonyit): https://twitter.com/mattsanthonyit?s=09
---
Instagram:
https://instagram.com/officialoluwagb...
---
YouTube:
[https://m.youtube.com/channel/UCPBPk8al3dnLy5xAWnbWT1w
---
Facebook:
( https://mobile.facebook.com/akinlotan...)
---
Hive:
---
⬇️⬇️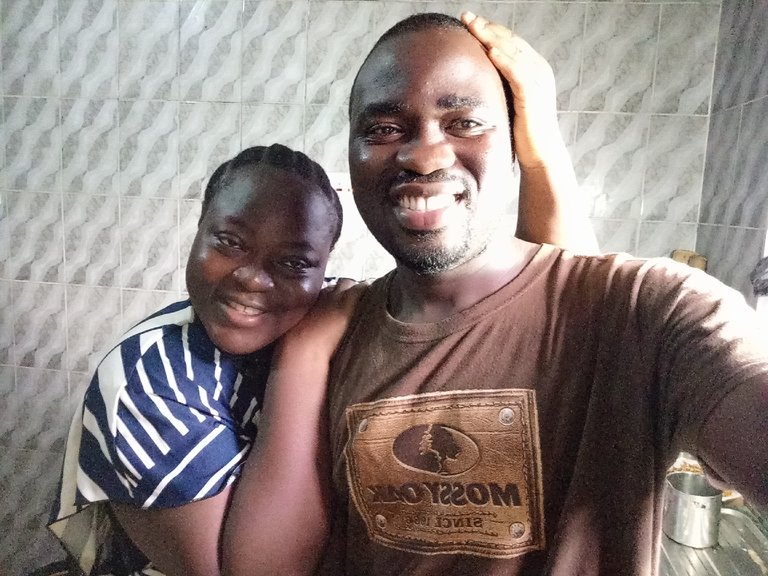 Matthew is a farmer and lover of Hive. HIVE has really helped my life to grow more healthier than I was, HIVE testimony. I'm a Dad, husband and a hustler. Farmer who loves animals, he practice what he preaches . He is also a Photographer, Traveller , Mr Chef ( Loves Cooking) and above all, he is a blogger and a vlogger♣️♠️.