HIVE has been the talk of the town in the mouths of crypto-anarchists across different social media platforms. Which is definitely a very good pinpoint for hive users. More people get to know about HIVE the better.
---
Now it is probably time to prepare yourself for the long run, instead of thinking short term. As there are plenty of Dapps, visions are being laid out, which would definitely change the course of Hive Blockchain differently. Keeping that in mind let me guide you through a quick tutorial of converting your HBD to HIVE (vice-versa) via the internal market. I am powering up every day by converting a small portion of my HBD. Which is helping me to reach my goal (50k HP).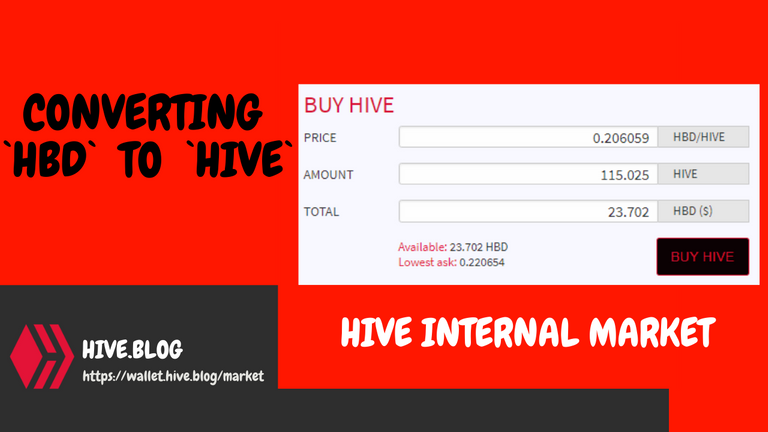 ---
---
---
Before starting that I want to show you how optimistic users are about HIVE Blockchain. Twitter has been one of the most effective ways to make the word of Hive go loud. Still we need much more to go.
---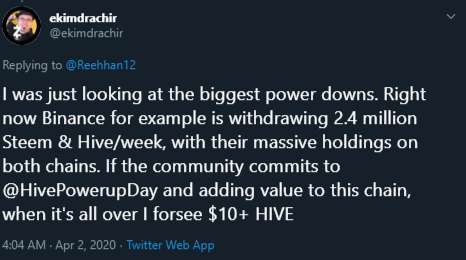 ---
I was just looking at the biggest power downs. Right now Binance, for example, is withdrawing 2.4 million Steem & Hive/week, with their massive holdings on both chains. If the community commits to @HivePowerupDay and adding value to this chain when it's all over I forsee $10+ HIVE

A tweet reply of a Hive user
---
Conversion of 13.498 HBD using Internal Market
---

---
Since I like to keep track of my journey, I am documenting/writing down my steps for some motivation to thyself which helps me to think straight even if I am distracted. Creating blogs can be a nice way to do so.
---
Once you are in the Hive internal market, check my blog here for some insight about Hive Internal Market. Once we are there, let's set up our trade.
---
---
---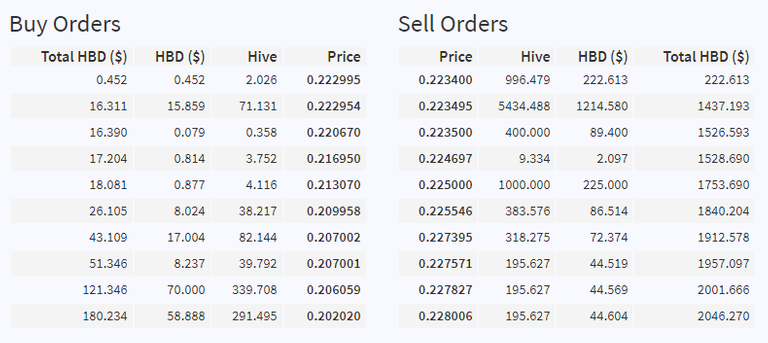 ---
I will be buying Hive with my HBD. As you can notice, there are some large sell orders of Hive (996+5434 Hive) placed at 0.223400 HBD/HIVE and the buy order is at 0.22995 HBD/HIVE. So I will be placing my order at 0.206059 HBD/HIVE. as the bigger volume starts from there and from what I see some people are trying to sell some hive & they are probably being impatient (just a guess of mine lol).
---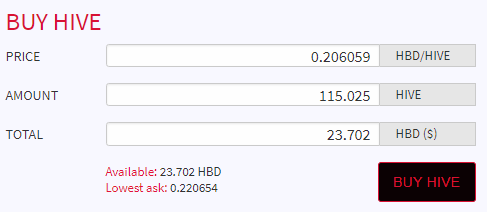 ---

---
The order is placed as you can see above. I will be switching my orders if need be. This is sort of a mind game and lots of patience is required when you are trading. As I am a low amount trader, I tend to go with some viewpoints of mine and my guts ;). On another note, you can also buy HDB with Hive in the same way from the market.
---
Once the trade goes is executed and bought by someone you will get the liquid Hive in your Hive wallet. And you can also check the update https://hiveblocks.com/@username. While this is just a guide for anybody who is thinking of trying to get some hive by converting HBD for the time being. And FYI this is not any kind of financial advice DYOR.
---
---
---
---
Enjoy Your Day
---

---
Be a part of my Vlogging journey on DTUBE
---
Watch my Videos on Youtube
---
Best regards
Rehan
---